Blazing a trail along America's back roads, hopping from one dive bar to the next, Long Beach's own John Fylpaa recently turned a childhood dream into a reality.
Along with a rotating group of lifelong friends and classmates, Fylpaa went coast-to-coast on a mission to visit all 30 Major League Baseball stadiums. That journey came to a close last month, when a visit to the Oakland Coliseum completed his map of MLB ballparks.
After a lengthy career at Long Beach City College, where he served as Associated Student Body advisor, dean of student affairs, and dean of athletics, Fylpaa has remained actively engaged in the Long Beach sports community. He served as president of the Long Beach Century Club and has also served on the board of the Long Beach Grand Prix Association, but the sport of baseball has always been special to him.
Fylpaa's traveling crew included fellow Millikan High grads John Franklin, Jeff Lee, Mike Rico and Terry McHatton. Their friendship began at Carver Elementary School, then onto Marshall Middle School, and they've remained close into their retirement years.
Their love of baseball–and specifically the hometown Dodgers–started at a young age. Back in the late 1950s, the Franklins would rent out their home to Dodgers players during the summer while they were off traveling.
"Carl Erskine used to stay in his house, and I think Duke Snider was there too," Fylpaa recalled. "Back in those days, these guys didn't make much money and a lot of them had second jobs. So finding housing on the cheap was kind of a thing. So they had rented to them a couple of times and they became really big Dodger fans."
More than a half century later, the game has changed quite a bit. Fylpaa grew up watching his beloved Dodgers play at the LA Coliseum until their permanent home in Chavez Ravine was opened for the 1962 season. Today, Dodger Stadium is the third-oldest ballpark used in MLB, behind only Fenway Park (1912) in Boston and Wrigley Field (1914) in Chicago.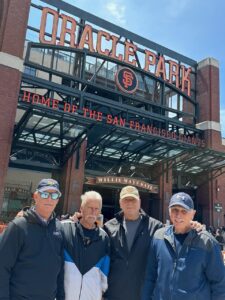 The quest to see all 30 MLB stadiums began in earnest back on April 4, 2012. Fylpaa and a group of friends were in South Florida and decided to catch the first regular season game played at Marlins Park in Miami.
"It was all over the news," remembers Fylpaa of their visit to Miami's new ballpark. "We walked in and got interviewed; you know, the whole bit about what we thought about the stadium. We said, 'Well, we're from out of town, but it must be good for this old neighborhood because we just parked our car on somebody's lawn and they made a few bucks that they probably wouldn't have before.'"
After leaving Miami, the group made its way on a cross-country road trip, with noteworthy pit stops in New Orleans and Houston, where the next ballpark was crossed off the list. That was the first of several trips back east, up north, and through the midwest, tracking homestands and road trips for each MLB team to visit as many new ballparks as they could.
Along the way, the group made countless memories that wouldn't show up in a box score. Once the nine innings were over and it was off to a new city, that's when the real magic began, as the crew from Long Beach traversed the country in rented minivans with a well-stocked cooler in the back.
"Most of these trips we've done driving from place to place, and our deal is always backroads," Fylpaa explained. "Small little towns, tiny bars and restaurants, to get a little flavor of what America is like. And all I can tell you is that America is not like it's portrayed on the news. Get off the beaten path, get off the freeways and roadways, you learn what America is. Little diners, little dive bars, I mean, it's really special."
Fylpaa's final game was in Oakland, the day after A's fans staged a reverse protest in an attempt to keep their team in the Bay Area beyond the 2024 season. It appears the A's will be relocating to Las Vegas in the next few years, and could have a brand new ballpark by the 2027 season.
As the years go by, there will surely be more ballparks popping up across the country, leaving Fylpaa and company with another venue to conquer. But that's just another reason to hit the back roads, see a different part of America, and get the fellas together for a ballgame.
"I've been blessed in my retirement to have the time and the resources to do it, like my buddies have, and it's just been fun," Fylpaa said. "When I was growing up, there wasn't much beyond baseball for kids. So baseball is kind of the sport for people my age, and it's hung in there with me and my buddies all these years."
Homegrown Belmont Shore Rugby Club wins U18 national championship