Take a look at your house right now. I'm gonna be generous and say that it probably looks OK. You're not an animal; you keep things up.
If you want to be picky about it, though, there's a newspaper scattered on the coffee table along with a half-filled glass of iced tea—or maybe it's bourbon. There's a dog bed in front of the fireplace and the dining room table is sort of a work-from-home office with a few notebooks and various work-related paper and pens along with a coffee cup with "I Hate Mondays" and a cartoon picture of Garfield on it.
Would you list it for sale the way it looks right now? It's acceptable to you; you're comfortable with it, but what would a prospective home-buyer think if they visited it or even looked at pictures of it on any number of real estate websites?
That's why real estate agents will tell you to have your house professionally staged by experts who can both imagine what would be its best look and can make those ideas a reality by bringing in attractive furniture, artwork, rugs, vases, flowers and plants and other trappings. You won't even recognize your place and may even have some regrets about selling once you see it in its staged form.
The value of staging
"When I see an unstaged house for sale it pains me," says Realtor Kristi Faber Vento, who works with her mother Carolyn Faber listing prestige properties all over town, including some of the more stately homes in Los Cerritos.
"You've gotta try harder to sell your house. Staging always—always—pays off for the seller," she says.
How much does it pay off? Plenty. One of the Fabers' go-to stagers, Teresa Bradshaw, who specializes in coastal properties as well as contemporary and traditional styles, says, "When I ask agents how much staging increases the sales amount, they tell me they get about $50,000 to $75,000 more for small and medium-size houses and $100,000 to $150,000 for large homes. It's pretty consistent." That's a significant return on investment for home-sellers, who are generally the ones who pay for the staging, which can run from about $1,500 to $6,000 or more.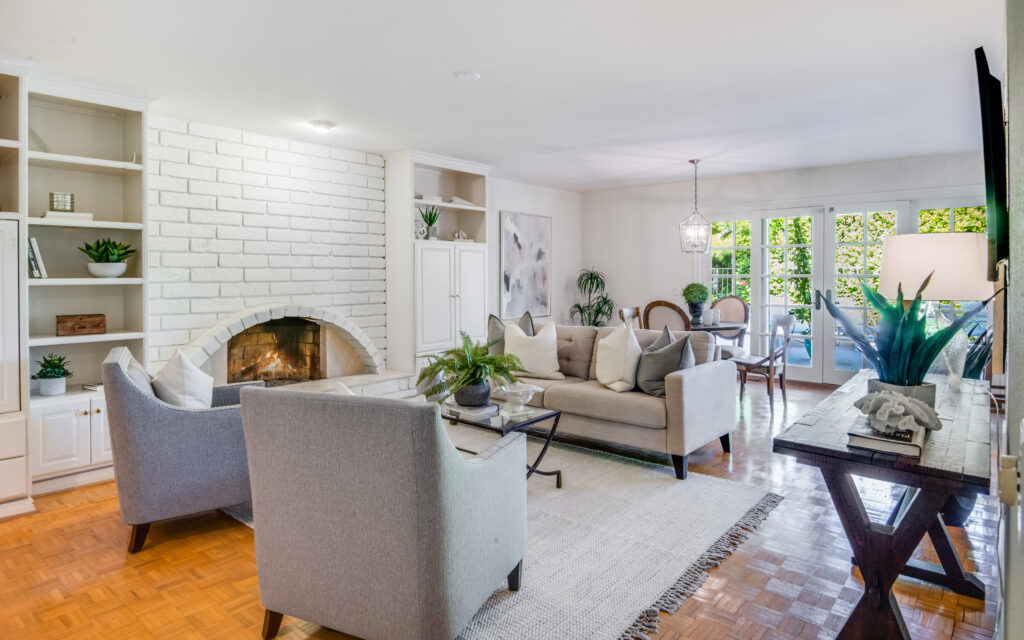 Real Estate websites have plenty of examples of homes that are not only unstaged, but instead are seemingly anti-staged. Some are perhaps intended to visual disclosures that the home is fairly irredeemable in its current condition while others just might be due to the fact that the sellers simply want to dump the place and don't want to incur staging expenses to put lipstick on a pig.
An idealized version of your home
But for those who have a fairly nice home to sell, staging can make a remarkable difference, showing a home in an absolutely ideal light.
Staging "helps buyers envision how they see each room," says Heather South, a Long Beach-based stager and owner of Housebird Designs. Among other things, she says, staging shows the possibilities of a home's awkward spaces and niches. "We'll take a funky layout and make the most of it so people don't have to scratch their heads and wonder what they'll do with the odd small space. Instead, they'll see that it can be a reading nook or a wine cellar." Further, she says, with an unstaged vacant and empty house, buyers will focus on problems, but with proper staging they can see the home's potential.
That's why stagers tend to prefer working with an empty and vacant home. "It's like a blank canvas," says South.
"Staging is easier than interior design," she says. "It's not really functional, so we get to live in a fantasy world of white couches and chairs that don't work in the real world when you have dogs and kids running all over the place with dogs."
The process of staging
Explaining the process of staging, South says that her crew of three measures the spaces in the house and then, keeping in mind the home's architecture and the demographic of likely buyers they go to their warehouse of furnishings in Signal Hill and come up with a design plan and then  box up and load everything from art and pillows and plants to sofas and dining room sets into trucks and drive back to the home, where they take about two days to stage he property. The entire process takes about a week, South says.
Housebird Designs can do several styles, but South specializes in Mid-Century Modern, a particularly hot form that's grown considerably in the last decade.
South and her husband bought their first home, a rundown place on Woodruff Avenue before the Mid-Century craze started, and after months of hard work transformed it into a Mid-Century look right down to the horizontal wood fences that are now a staple of the style. The home, South says, attracted passersby who would frequently stop to take pictures of the house. Among these were Realtors Doug and Rochelle Kramer who are the founders of SoCal Modern, a collection of Mid-Century Modern listings and news.
At the time, the Kramers were selling the Cliff May homes in East Long Beach's Ranchos neighborhood, but they weren't in the high demand as they are today.  "Rochelle was like, 'Wow what a great idea to take these ranchos and embrace them and make them look cool,'" South recalls.
So, inheriting some interesting Mod-Modern pieces from her mother's home on the Peninsula, South began specializing in the style, not only in the Ranchos, but also in a similar Mid-Century Modern enclave of Joseph Eichler homes in the city of Orange.
Modernizing the art
Aside from Mid-Mod staging, South also does several other styles, including farmhouse and more traditional and contemporary homes in Naples.
When she started Housebird 11 years ago, South said that most standing consisted of little more than painting everything white so it looked clean. She says she wanted to expand on a sort of vanilla style and break the mold.
"I wanted to create a company that considered  all the features of a home from its architectural style, to its paint colors, and finishes as well as the demographic to create a staging design that made the house make sense, let buyers see its full potential and how they would be able to use the spaces. To add a bit of spice to a room they'll throw in some touches like adding a guitar or a surfboard or some adventurous art into the mix.
"We call it 'hipping it up'," South says.
The price we pay to not live in Texas