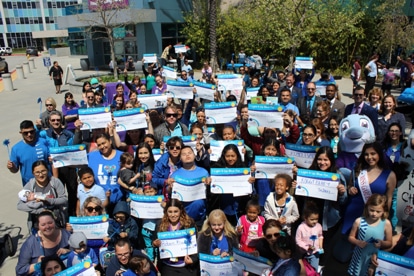 Miller Children's & Women's "Lights It Up Blue" with pinwheels representing 1 in 59 children with autism to kick off autism awareness month
Autism is a complex developmental disability that can affect a person's ability to communicate and interact socially with others. It's a spectrum disorder that affects individuals in many different ways and on a varying range of levels.
"Autism is a disorder that can't be overlooked or ignored, but needs to be embraced," says Gary Feldman, M.D., medical director, Stramski Children's Developmental Center. "Early interventions and finding support can have a strong influence in the long-term, and really help families find the appropriate therapies and developmental support for their child."
To raise awareness and to show the prevalence of autism, attendees dressed in blue and placed one large blue and white pinwheel surrounded by 58 smaller blue pinwheels on the Miller Children's & Women's lawn to represent the 1 in 59 children diagnosed with autism in the U.S.
Patients and families also took part in sensory activities like making blue slime and blowing bubbles. Many even pledged their support of a loved one affected by autism on "Light It Up Blue" posters.
Chick-fil-A at the Long Beach traffic circle, generously catered the event, providing snacks and cookies for attendees. They also brought along their mascot, the Eat More Chikin Cow, who took time to dance and take pictures with children along with the Miller Children's & Women's mascot, Millie the Dolphin.
"This really is a great event," says Ioana Pal, PsyD, licensed clinical psychologist, Stramski Children's Developmental Center. "It brings together the community in support of our patients and families and allows them to connect and have fun with others who are going through a lot of the same experiences."
The Stramski Center at Miller Children's & Women's is a comprehensive center that cares for children — from birth to age 21 — with behavioral and developmental conditions, such as autism, Fragile X, ADHD/ADD, Down Syndrome and other learning disabilities. The Stramski Center is home to Southern California's only Fragile X Program with families coming from all over the Southwest to be treated. Fragile X Syndrome is the most common known single gene cause of autism.
Support our journalism.
Hyperlocal news is an essential force in our democracy, but it costs money to keep an organization like this one alive, and we can't rely on advertiser support alone. That's why we're asking readers like you to support our independent, fact-based journalism. We know you like it—that's why you're here. Help us keep hyperlocal news alive in Long Beach.