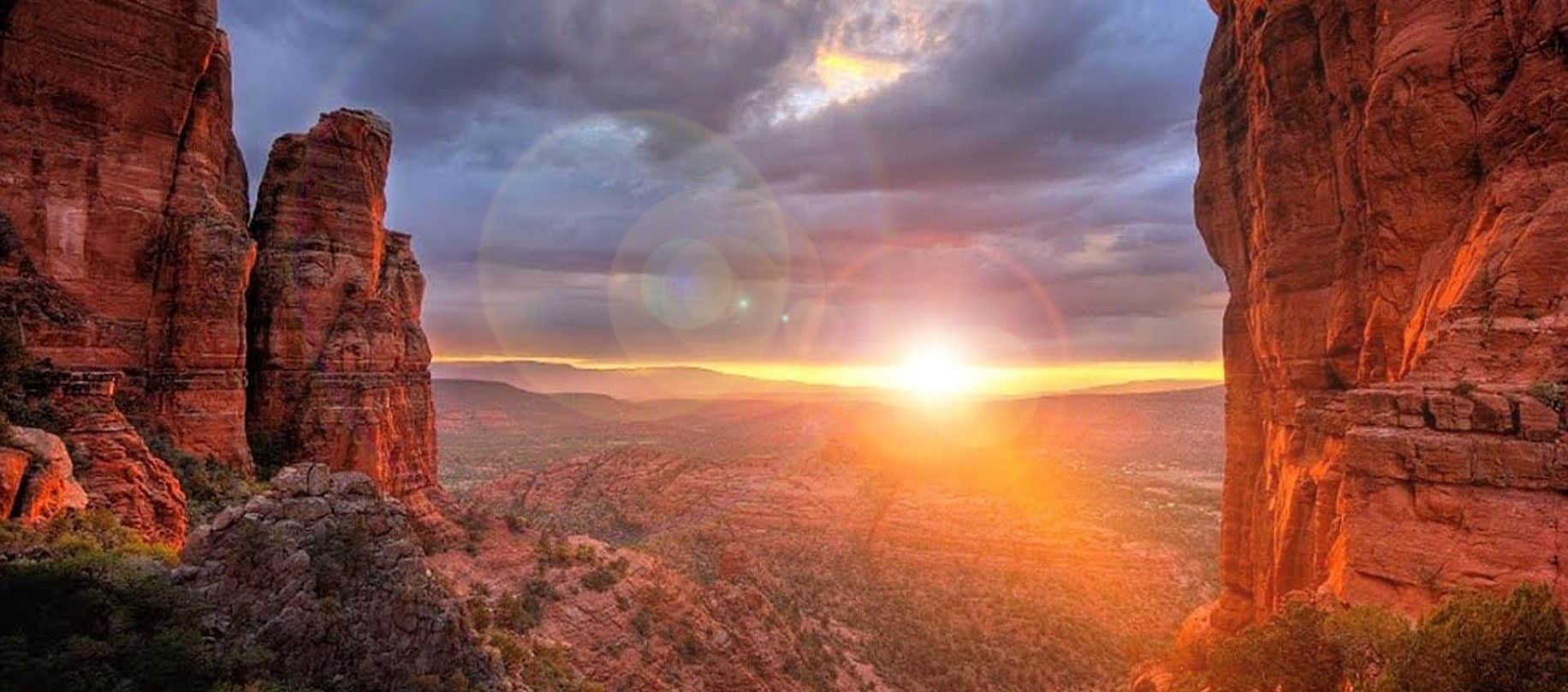 Red Rock of Sedona, America's very own wonder of the world
Imagine yourself immersed in deep happiness among the stunning Red Rock of Sedona, America's very own Wonder of the World. Go further and picture bringing that luxurious beauty, powerful stillness, and glorious grace back home to your everyday life and relationships.
This is what you will gain from the Inspirational Retreat Fulfilled Inside and Strong Together!, June 14-17 at the Poco Diablo Resort just minutes from both Bell and Cathedral Rocks. Book before May 15 and receive an Early Bird Discount of up to $190 off. Mention Promo Code SedonaLBP.
These are fraught new times in which the energy is just plain crazy, with rules changing, competing demands pulling us this way and that, and so many ways of communicating but at the expense of authentic talk. "No one's been spared," a friend said about how deeply people have had to take stock of what their lives have become.
A not-uncommon story was shared with me recently, of a heart-broken mom and dad feeling they had no choice but to send their 10-year old son to a live-away wilderness program and boarding school. His "behavior was crying out for help," they wrote, and their deepest wish is to re-discover the "sweet adolescent" who can "manage in a world that is too complex for him right now." The mom concluded, "Our instinctual parenting has not worked well."
What if it's not our instinctual, but our programmed parenting and relationship skills that are failing us? In our modern American society, we tend to think that the skills to create exceptional relationships is different in each of our spheres – family, intimate, business – and it is all oh-so-confusing. We aren't really taught the building blocks of love and as we grow into adulthood, we can only write song after song about it. "What's Love Got to Do with It?" we wail. That's one reason Rita Harrison developed this particular retreat for "everyone," she says, "singles, couples, families and friends, women, men, and everyone who loves to be loved."
What is unique about Harrison and all of her sessions, seminars and retreats is that she has stripped the "aerie faerie" out of holistic healing to deliver laser-like methods that fundamentally and quickly change lives for the better. While there will be time at her Inspirational Retreat in Sedona for walking in nature, reflecting, spending time with family or someone you will meet for the first time, she is also fierce about delivering information and tools that will ground all those musings and dreams into your body and every fiber of your being.
The "Tidying-Up-Family-Dynamics" Method is one of the cornerstones of her healing system called Willow. Adapted from Family Dynamics research and Constellation Therapy which originated in Europe after WWII, she can detect disbalances in a system by how people, even things or concepts, are placed in relationship to the client.
In demonstrations with volunteers, she has uncovered in only 15-20 minutes the root causes of problems as diverse as sleeplessness to fractured relationships, and most often, the discoveries are surprising and not where traditional doctors or therapists look. She refers often to Einstein's quote, "No problem can be solved from the same level of consciousness that created it," drawing the parallel that if we continue to focus on a problem, we won't be able to see the solution.
What's more, says Harrison, a group's dynamics are usually not visible to its members, but understanding how "unhealthy ancestral patterns" can influence everyone's choices and actions is fundamental in restructuring dysfunction and tackling recurring problems. At a Willow Demo in recent memory, an Iranian mother's plight illustrated this vividly and with a swiftness that took the audience by surprise.
Her wish was that her angry, troubled, and obese daughter "be released of all her troubles so that she can go forward with a bright future." A fan of talk therapy, the mother was familiar with the drill about proper boundaries and not taking on issues that weren't hers. What she wasn't prepared for was Harrison's classic Systemic Dialoguing or 'weird' question – "What would you do to keep these worries?"
The mother, startled by the question, shifted her thoughts to answer. The group saw her catch her breath as she began to access her history. "I'm coming from a culture where I was forced to leave the country after the revolution…as an activist. I've lost three family members through execution."
She gasped again, making the connection from ancestor to daughter, "From the minute I discovered my pregnancy, I worried, 'What if I lost my child the same way my mom and grandmother did?'"
Using her unique combination of family dynamics knowledge, systemic dialoguing and systemic kinesiology testing, Harrison discovered that "correcting" the ancestral constellation was the truth that would set this mom free. According to Rita's directions, she placed her female lineage behind her to feel supportive and stabilizing. In her mother tongue, she then 'outed' the Injustice at the root of her daughter's unhappiness, and the release was palpable.
If clients have experienced these swift transformations guided by Harrison and her Willow System, imagine how breath-taking it will be to create Love – the most powerful force in the universe – within the vortex of Bell Rock! Visitors flock to bathe in the swirling energy emanating from the earth and speak unanimously of Sedona's awesomeness (in the old-fashioned sense of the word). With your capacity expanded mind, body, and soul by both information and energy, you will learn how to make your everyday life part of this joyful and exciting journey.
To date, Harrison has delivered this kind of life-changing healing for over 35 years and to more than 55,000 clients. Now she is also offering trainings in most of her primary modalities, for you to benefit and share with others. When you attend a workshop or training with Rita, you come away with the 'feel-good' that comes from mastery, not painkillers or illusions.
Willow System – Healing Mind, Body, and Soul
Rita Harrison, developer of Willow System treatments, has over 35 years of practical experience and with over 38 well-researched modalities. An integration of these and more to deal with and heal pain, sickness and life challenges that seem intractable, the Willow System is total self-care that combines the ancient and cutting-edge into solutions that are precisely what's needed in these stressful times. A European government-registered physical therapist, naturopathic doctor, systemic dialoguing and organizational dynamics expert, she has helped people all over the world find and maximize their potential, deal with acute or chronic conditions, enhance athletic performance, and sustain and maximize their well-being. Visit www.willow4u.com for more information or a free strategy session.
Support our journalism.
Hyperlocal news is an essential force in our democracy, but it costs money to keep an organization like this one alive, and we can't rely on advertiser support alone. That's why we're asking readers like you to support our independent, fact-based journalism. We know you like it—that's why you're here. Help us keep hyperlocal news alive in Long Beach.