The number of people experiencing homelessness in Long Beach grew by about 2% since the city's last point-in-time count in 2017, putting the city on a much different trajectory than the surrounding region, which has reported vastly larger population growths during the same time frame.
According to figures released by Long Beach, the 2019 homeless count found 31 more people living on the streets or in some other non-permanent housing situation, an increase of about 2%. The total number of sheltered and unsheltered people rose from 1,863 in the 2017 count to 1,894 this year.
Los Angeles County figures released Tuesday showed an increase of 12% countywide and figures released by Orange County officials earlier this year showed an increase of over 40%. Unlike the county, Long Beach conducts its count every two years instead of annually.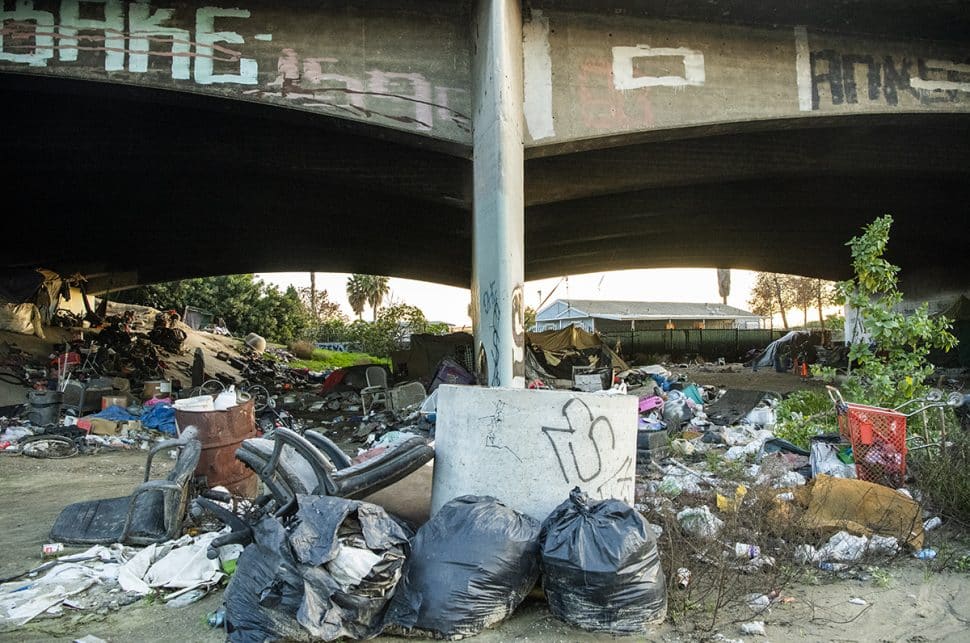 Mayor Robert Garcia said that the figures are promising, considering what is happening across the region, but said that more can and should be done to draw down the number of unhoused people in the city.
"While we remain flat, and we're grateful of all the work that's happening in the community to keep us there, we're not satisfied nor should we be," Garcia said. "I think it's our goal in Long Beach to eliminate street homelessness, and I think that's the goal of everyone."
The report included a heat map of where the largest concentrations of those experiencing homelessness were counted earlier this year. Downtown Long Beach as well as portions of the city's central, west and north areas are where 31-60 persons were counted. The largest clusters were located near the Wrigley area and the city's westside.
City Council approves $9.5 million purchase for year-round shelter
While the city was able to provide shelter to about 620 persons according to this year's count, the number of unsheltered people increased to 1,275 from the 1,208 counted in 2017.
The city did see a drop in its homeless veteran population (4% decrease) and those experiencing chronic homelessness (8% decrease).
Chronic homelessness is defined as experiencing homelessness for one year or longer or having had four separate episodes of homelessness in the past three years that totaled more than 12 months. According to the report, about 60% of those counted had eclipsed the one-year mark of experiencing homelessness.
Garcia said that one particularly troubling statistic revealed in this year's count was that over half of those surveyed during the count said that they were homeless for the first time.
This, he said, is directly tied to the affordable housing crisis that has gripped the state for years. He added that the production of housing needs to increase to help stop people from ending up on the streets.
The cost of living in the city has continued to rise and a wave of displacement has pushed the City Council to confront the topic of adopting housing policies that provide more protection for renters. Earlier this month, it approved an ordinance that would require landlords to provide financial assistance in some cases where rent hikes or notices to vacate force people from their homes.
While the City Council and Garcia have expressed a reluctance to bring a form of rent control to the city in the past, Garcia said he thinks a state bill that would place caps on how much rents can increase statewide is "fair" and he could see himself supporting it.
"The state and the city have to take some measures that are beyond what we've done in the past in order to help the situation that we're in right now," Garcia said. "We've got to build more housing. No one wants to have this conversation and people want to keep things the way they've been but that's just not going to work anymore."
This year's slight increase breaks a streak of decreases in the city's homeless population that reached back into the previous decade.
The 2017 homeless count showed a 21 percent decrease from the 2015 total that found over 2,300 people experiencing homelessness in Long Beach. In 2009, nearly 4,000 people were counted by city officials and volunteers.
Homelessness Still Decreasing but New Development, Maintenance Efforts Pushing Homeless Elsewhere
Long Beach has been able to systematically reduce that figure due in large part to the city having its own continuum of care, said Kelly Colopy, the director of the city's Health and Human Services Department.
Colopy said that Long Beach is just one of eight unified funding agencies in the country and that allows it to bring in additional federal dollars that go directly to city projects aimed at getting people off the streets.
This year, the city brought in over $9 million from the U.S. Department of Housing and Urban Development. It also brought in another $5 million from the countywide Measure H and over $12 million in statewide funding.
Those dollars helped the city purchase a year-round shelter site in North Long Beach earlier this year, and allow it to financially help those in danger of falling into homelessness, something Colopy said is critical.
"The most difficult place to get someone re-housed from is once they hit the street," Colopy said. "So, if we could be doing all this work up front and keep people from becoming chronically homeless, we're going to be in far better shape moving forward."