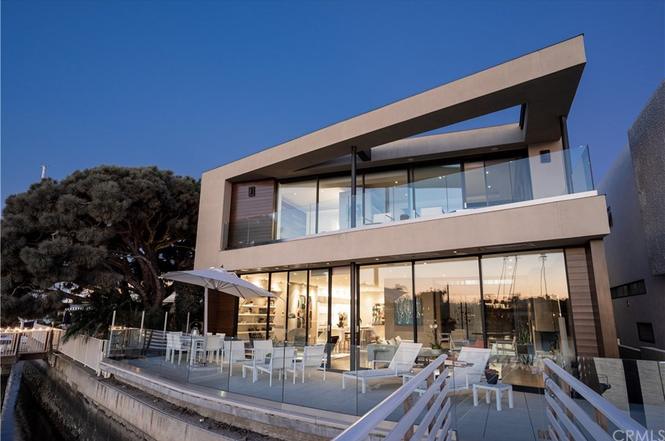 Is this Naples home worth $6.4 million? Yeah, it kinda is
Is $6.4 million too much to pay for a house in Long Beach? Even in the plushest, high-dollar neighborhood of Naples, that's a price tag about 350% higher than the median home value in that area.
But is it too much? Well, that depends, first, on how much money you've got, and, second, how nice of a house are we talking about.
In this case, we're talking about a really nice house at 5436 East The Toledo, on the open water of Alamitos Bay/Naples. The four-bedroom, four-bath home is the strikingly beautiful work of Modernist James Choate principal architect of the Atlanta-based firm of Shurber Barber Choate + Hertlein.
Choate's bold geometric shapes and lavish use of glass makes this house stand out even in the architecturally adventurous Naples Island. Its sharp, triangular roof and upper deck are evocative of a ship's prow plowing through this nautical neighborhood.
If your tastes run fairly parallel with mine, you're going to want this house as soon as you walk in (if not sooner) and get a load of the central courtyard (disclosure: my house doesn't have a central courtyard, so I'm perhaps more easily impressed) that features a lap pool and spa and a sprawling, wide-open living space.
When you scamper back outside, which is only barely distinguishable from the inside, thanks to the overly-charitable use of glass, you're on an expansive deck that leads to the home's private 43-foot boat slip, because, yeah, you're gonna want a 43-foot boat that will get you out to sea in a flash with no bridges between you and the deep blue sea.
The architectural firm's project description states that "the mild climate allows for open-air living, with interior spaces opened to the outside for most of the year. Retractable glass door systems allow the interior and exterior to merge with the terraces along the waterfront, as well as into the pool courtyard, capturing breezes throughout for natural ventilation."
All OK, but, again, is $6.4 million too much? In this case, and as long as I'm using your money, no. The home, listed by Realtor Sue La Bounty, stacks up well against some of the city's most expensive properties, and I might even argue it's more of a trophy home than many other places in the $5 million-plus range.
The buyers, say Realtors who specialize in Naples and the Alamitos Peninsula, come from other pricey locations, chiefly from the South Bay and the ritzy towns of South Pasadena and San Marino, with top dollars being paid for such properties as 11 N. Sea Isle, the home that belonged to developer Tom Dean who died in a plane crash that also killed Mark Bixby and three others in 2011. The home sold later that year for more than $8 million. And a home at 55 Vista Del Golfo sold in 2015 for $8.525 million, a couple of mil down from its initial listing of $10.9 million.
The home on The Toledo, says longtime Naples/Peninsula Realtor Keith Muirhead, has had several owners, including the English actor, comedian, singer Michael Crawford. The property previously at that address was an Edward Killingsworth-designed home which was, frankly, not one of the architect's best works, certainly not as inspired as the residence that replaced it.
Support our journalism.
Hyperlocal news is an essential force in our democracy, but it costs money to keep an organization like this one alive, and we can't rely on advertiser support alone. That's why we're asking readers like you to support our independent, fact-based journalism. We know you like it—that's why you're here. Help us keep hyperlocal news alive in Long Beach.