Long Beach ranked 2nd in state for gonorrhea; 3rd for chlamydia
Overall rates for chlamydia—the most common sexually transmitted disease—dropped by 8% in Long Beach in 2018, but the city still ranked third in the state that year despite the lower numbers, according the latest report from the Long Beach Health Department.
The department's annual STD/HIV surveillance report comes as city officials have vowed to invest more resources in fighting a troubling trend in the rise of STDs. Long Beach in recent years has seen a dramatic increase in STD rates, mirroring a nationwide trend of record syphilis, gonorrhea and chlamydia cases.
The city last year announced a comprehensive health strategy aimed at reducing HIV and STD infections by the year 2022 through education, increased testing and expansion of healthcare programs.
A city memo released last week noted that while HIV and chlamydia rates dropped from 2017 to 2018, gonorrhea cases increased.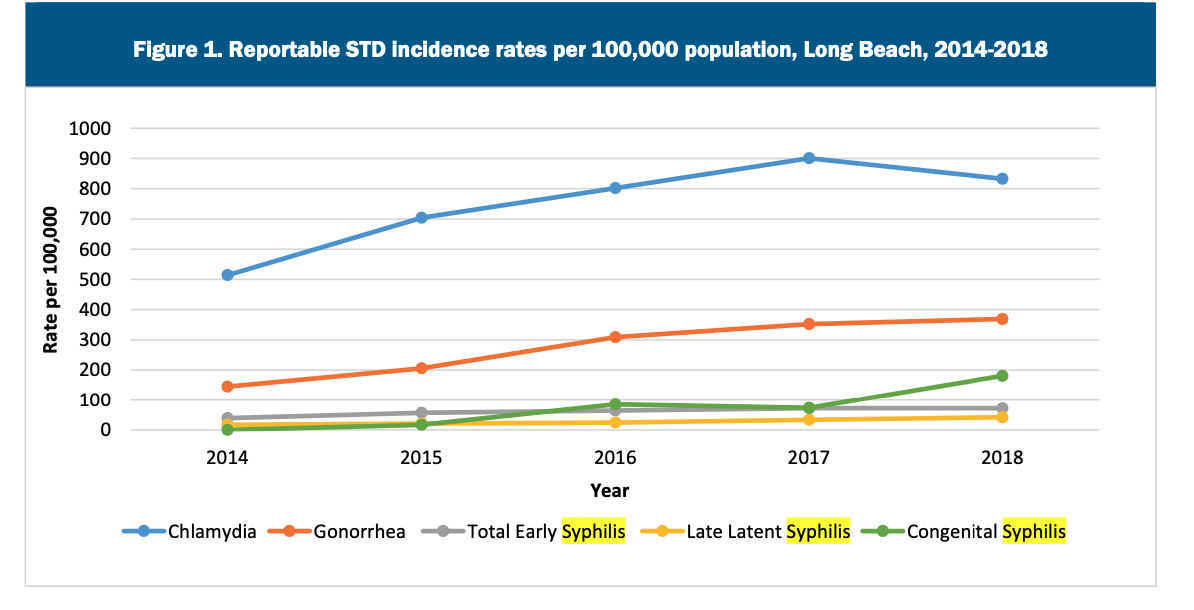 The statistics showed:
The rates for chlamydia, gonorrhea, and total early syphilis in Long Beach have seen an overall increase from 2014 to 2018. Chlamydia was the only STD that decreased by 7% from 2017 to 2018.
People aged 15 to 34 had the most STD diagnoses.
The highest rates of chlamydia occurred in the 90804 and 90802 ZIP codes; gonorrhea rates were highest in 90802; and total early syphilis rates were highest in 90802 ZIP code.
From 2014 to 2018. chlamydia rates in Long Beach increased by 62% for 3,974 cases. San Francisco had the state's highest rate.
Gonorrhea rates in Long Beach increased by 154% for 1,762 cases.
The number of new HIV diagnoses dropped by 23% overall from 124 individuals in 2014 to 96 individuals in 2018.
The report noted an alarming rise in syphilis cases in pregnant women. Congenital syphilis cases (in which a baby contracts the disease from the mother) increase 150% with 10 new cases.
The report attributed drug use, poverty, stigma, and unstable housing as a factor in the increase in congenial syphilis cases.
While the state has increased funding for STD control services for the current fiscal year, the funds available "fail to keep up with the rising level of STDs," the city memo said.
The city since last year has been implementing its new HIV/STD outreach strategy, which officials hope will have a positive  impact on the 2019 rates.
Among the efforts, the city has expanded no and low cost STD, HIV and PrEP (Pre-exposure Prophylaxis) services and provided sexual health education to more than 1,000 local high school students. The city has also distributed condoms and developed an STD resource hotline.
"While the efforts mentioned above have made an impact, more is needed to turn the tide on STDs in order to prevent lifelong devastating consequences," the city memo said. "Urgent action is required by all stakeholders, as well as strong collaboration and coordination with city partners, and with the County, to help control STD and HIV rates in Long Beach."
Support our journalism.
Hyperlocal news is an essential force in our democracy, but it costs money to keep an organization like this one alive, and we can't rely on advertiser support alone. That's why we're asking readers like you to support our independent, fact-based journalism. We know you like it—that's why you're here. Help us keep hyperlocal news alive in Long Beach.