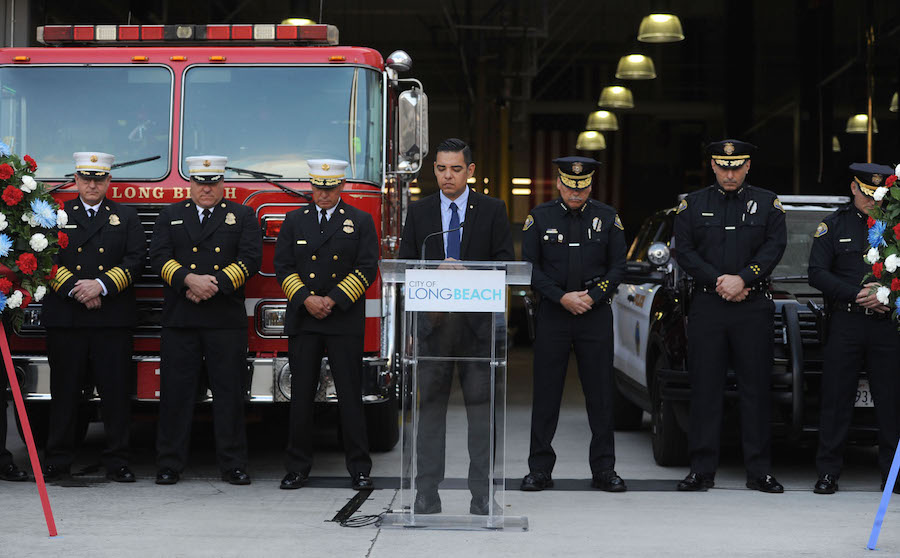 Long Beach remembers 9/11 attacks with annual moment of silence
Mayor Robert Garcia shared his memory of the 9/11 terrorist attacks Wednesday morning as dozens of city officials and community members gathered in solidarity for Long Beach's annual memorial at Fire Station 1.
"I was a student at Long Beach State…I remember so clearly gathering with my friends and folks that I was living with and watching the TV in horror as we saw the Twin Towers come down," he said.
It's been 18 years since the terrorist attacks of 9/11 rattled the nation. The mayor said he also clearly recalled the "immense national unity we felt as a country" in the days after.
"I think we all yearn for that national unity that came out of Sept. 11," he said. "Yes it was a horrific, tragic day but this country also rose to the occasion … "
Garcia asked the crowd to give the men and women of the Long Beach fire and police departments a round of applause before inviting attendees to join him in a moment of silence to remember those who died on 9/11.
"As we look around us this morning, we see folks that are protecting us every single day," Garcia said. "They are running towards danger, they are on the other side of the phone when you call 911."
After the ceremony, first responders and community members lingered to share their memories of 9/11.
"Anyone that you talk to can tell you exactly where they were, what they were doing and how they reacted," Garcia told the crowd.
Gina Liwananag, an accounting technician for the Long Beach Police Department, said she was working for Tower Health downtown in a high rise when she and her coworkers heard the news.
"We were all sent home, and people were scared," Liwananag said.
Long Beach Chief of Police Robert Luna, who was a lieutenant on the morning of 9/11, said when he saw the attacks his attention immediately turned to Long Beach.
"I got the call that morning…and like everyone else, I was shocked," Luna said. "The first thing you start thinking is 'what about our city?'"
Luna recalled the urgency felt in Long Beach to find out what exactly was happening.
"Thank God Long Beach wasn't attacked, but we were ready," Luna said. "So many stories of heroism came from that day, some we probably don't even know about … instances that took a significant amount of courage."
Support our journalism.
Hyperlocal news is an essential force in our democracy, but it costs money to keep an organization like this one alive, and we can't rely on advertiser support alone. That's why we're asking readers like you to support our independent, fact-based journalism. We know you like it—that's why you're here. Help us keep hyperlocal news alive in Long Beach.