Details and preliminary renderings for a much anticipated development spanning two council districts in North Long Beach were revealed to residents at Jordan High School Tuesday evening.
The revelations of what LAB Holding founder Shaheen Sadeghi—the man behind OC's Anti-Mall concept—will be bringing to North Long Beach in the next several months was part of Councilman Rex Richardson's new conversation series called #UpTownHall.
With dozens of former city properties to work with, mostly along the Atlantic corridor, Sadeghi's team presented designs with one focus in mind: community.
"Community these days matters," Sadeghi told the full room. "Every city is looking for culture and community to celebrate."
In North Long Beach, Sadeghi's team hopes to create that sense of community with The Beat—the name for the development which they say includes three components: community, art and commerce.
It's also a nod to the city's musical history they hope to carry on.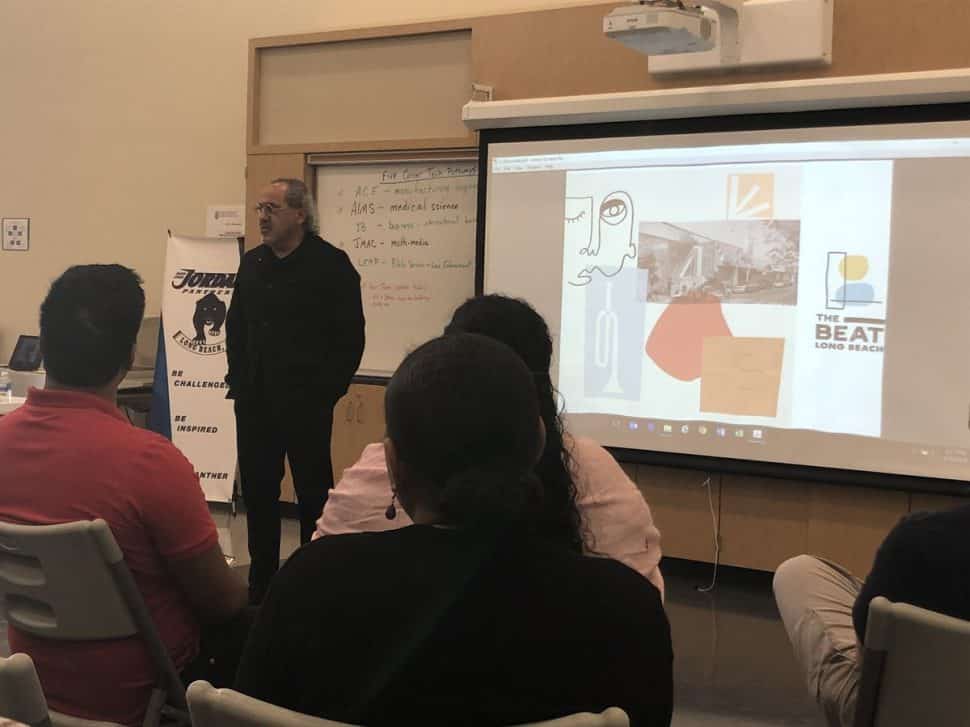 One way they hope to create that sense of community is with plans to push storefronts back to create "front porches" through gardens, parklets or bulbouts—similar to the ones on Retro Row—to slow down traffic on Atlantic Avenue and create spaces for people to congregate.
Sadeghi said the plan is also to transform smaller lots into pocket parks until additional land is acquired to build on.
When one resident noted the potential for people to loiter in these spaces, Sadeghi had a simple solution: "We'll program them."
LAB plans to bring in live music and food trucks, similar to the programming at his OC developments.
Richardson pointed to the monthly #PopUpTown social events his office hosts at the Michelle Obama Library in the 9th Council District.
One of the biggest plans includes a "mixed-use village" at a vacant lot across the street from the Michelle Obama Library.
Considered the anchor project for the whole development, it would feature an open air park with pavilions and gardens with edible plants at the ground level and housing on the second level.
Artist bungalows with shared studio space were also proposed in the 8th Council District on Lime Avenue, south of South Street.
Plan is to push storefronts back to create "front porches" on Atlantic. pic.twitter.com/9KxJ6dXVLo

— Stephanie Rivera (@StephRivera88) May 1, 2019
While inclusion of affordable housing hasn't been determined yet—an issue that has been brought up in the past by housing advocates—Richardson said that the price point on market rate housing in that area are generally affordable compared to other parts of the city.
Sadeghi said more residents will be needed to support the commercial development coming in. And when audience members asked about parking, both men assured the crowd that it will be taken into consideration, noting that some lots are zoned with specific parking requirements.
Sadeghi also mentioned that local alternative transportation options have also made headway, pointing to Metro's renovation of the Blue Line which goes through Long Beach.
He also noted his company's efforts in working with the city of Anaheim to bring in FRAN, a company that provides free rides around neighborhoods using electric vehicles, to the area of the city that houses LAB's Anaheim Packing District project.
"It's about the neighborhood," Sadeghi said. "If I can't get a person across the street to come get a cup of coffee then we've failed."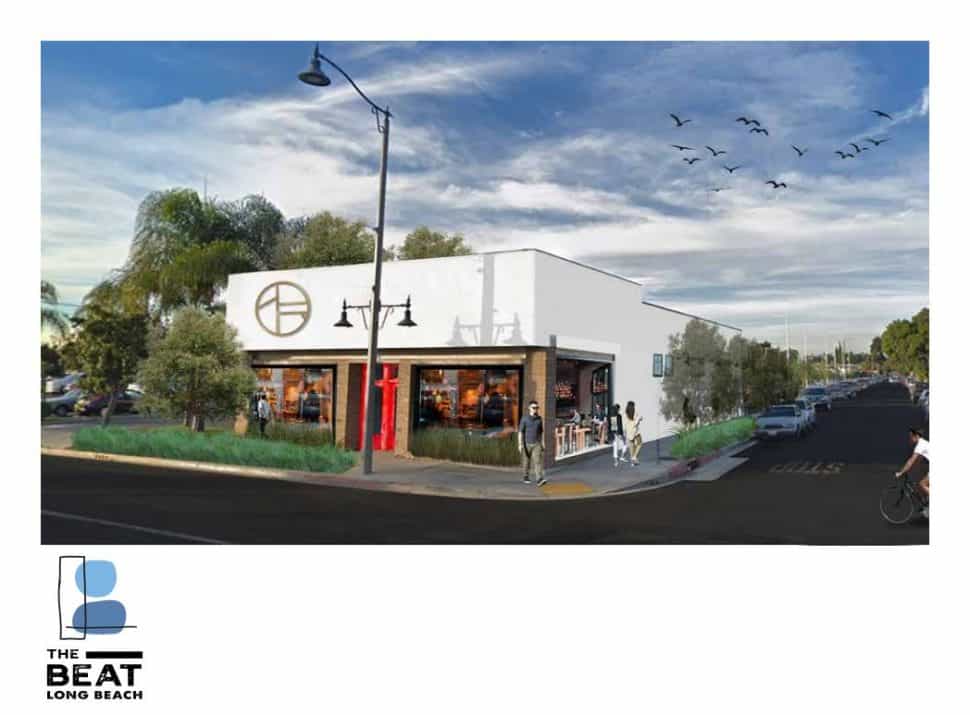 Richardson said the whole point of this discussion is to bring in community input—similar to recent efforts in gaining community support for a year-round homeless shelter in his district—before the "formal process" with the city's planning commission begins later this year.
A few weeks ago, Richardson also held a tour with residents in his 9th District Leadership Council to tour the Anaheim project, specifically the Anaheim Packing House which the mixed-use village will be similar in scale.
"Before we begin the formal planning process, I wanted to engage the residents in a very informal process, giving the [community] leaders the time and space to get to know the LAB team and to place the interests of the local neighbors at the center of the design of the project," Richardson said.
The community can expect to see completion of the anchor project in 24 to 36 months.