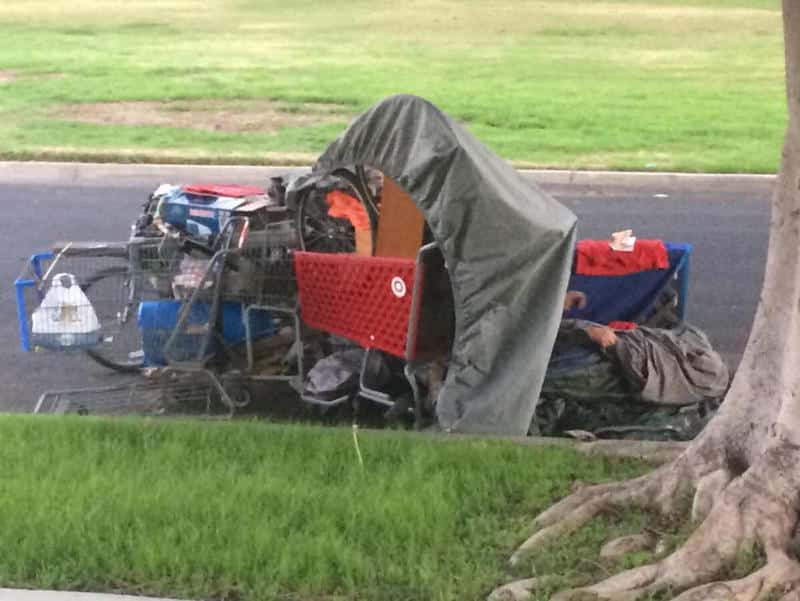 Mostly disgust, but a ray of compassion, for the homeless man sleeping in the gutter
Do I want homeless people parking their shopping carts on my curb and sleeping in front of my house? At the risk of sounding disturbingly candid, no, not really.
But, in my defense, I don't want anyone besides my wife and kids anywhere near my house, because I'm not overly fond of a group I call "other people." So, don't start with the "if you're so compassionate about the homeless, why don't you let them crash in your house?"
I'm compassionate about a lot of things, like animals, but I'm not going to throw the rumpus room open to give safe haven to one of the last remaining black rhinos in the world. I will, however, cheerfully agree not to shoot one for the sweet and potent aphrodisiacal  properties of its horn.
Compassion is today's topic, and let me start with a question: Where do you turn for compassion when you're on the Internet?
If you guessed the neighborhood social website Nextdoor, I truly don't appreciate the sarcasm, though it was, in fact, the answer I was looking for.
I've leaned a little heavily on Nextdoor over the years, I'll admit, but where else are you going to find such open-hearted admissions of how horrible people have become, as told in their own words?
I don't always go running to the site for columns. You didn't hear a peep from me when its members exploded into rage and unnecessary NIMBYism after I wrote a prediction that El Dorado Regional Park was going to be turned into The Jackie and Ernie Kell Homeless Center in 2019. I wasn't happy with my willowy editor for writing a headline proclaiming the column to be "not so serious" because what kind of moron did she think would take it seriously? There is an answer to that question, and you could look it up on Nextdoor.
The fun this week begins with an East Long Beach resident's photo of a homeless person sleeping in the gutter next to a shopping cart loaded with his belongings. The resident typed, "Hey Robert Garcia & Stacy Mungo, THIS is our new Long Beach Pride poster!  The view right outside my front door. You steal our money and do nothing for us!"
Now, if we can skip past the ensuing argument over the various latter-day ramifications of the word "Pride," we can jump into the matter at hand, which is people living in the gutter.
To be fair, for once, to Nextdoor posters, there were quite a few who urged a certain measure of compassion and love, though plenty had no truck with libtard alligator tears.
"I'm so sorry that you're having to deal with this," wrote one Nextdoor neighbor. "It's absolutely disgusting. If the 'average' person was to throw a fast-food hamburger wrapper on a public street, legally, it would be considered littering and that individual could be cited and fined. Apparently, laws that apply to people who sleep in their own excrement differ from laws that the average person must live by."
And another, from someone who lives near me (note to self: if I become homeless, don't hang around my future ex-house): "I sure hope code enforcement doesn't come by and send you a nice registered reminder letter for having trash in front of your house on the wrong day. So sorry, I know from personal experience what it's like to have others use the front of your house for their trash and extra storage. We have given up on Long Beach."
Kbye.
Back to our original poster, who employs the homeless-by-choice argument, because who wouldn't rather be homeless than have a home? Ah, the carefree life of a hobo!
"The problem is that this individual does not want a bed or treatment. He wants to live in the gutter in front of my house and I don't have the right or power to get him to leave. He's not homeless because he HAD a home and chose to live in the street. Now, we have to live with him in our gutter…if that's where he chooses to sleep!  Yay California!!"
At last, true compassion butts uninvited into the fray with a lovely post from a Carson Park neighbor:
"I understand that you wouldn't want someone sleeping in front of your house, but can we show a little compassion toward others too? We don't need to kick these people when they're down… they're just trying to survive. "Put yourself in their shoes, they're probably so exhausted from being constantly on the move (and lack of energy from improper food) that they just needed to lay down and rest. Homeless people are constantly being told that they 'can't be here' the second they stop to rest. I'm not surprised he just plopped right in front of your house, he was probably pooped. We all get to go home and lay down at the end of the day, someone like him has to find a 'new home' every night. I just ask that we try to put ourselves in their shoes — because if we were in their shoes, we'd be pretty exhausted too."
Nextdoor with a heart. The whole world's gone crazy. I realize many are saying, "He wasn't pooped, he was on drugs or alcohol."
Like you would even know.
Support our journalism.
Hyperlocal news is an essential force in our democracy, but it costs money to keep an organization like this one alive, and we can't rely on advertiser support alone. That's why we're asking readers like you to support our independent, fact-based journalism. We know you like it—that's why you're here. Help us keep hyperlocal news alive in Long Beach.