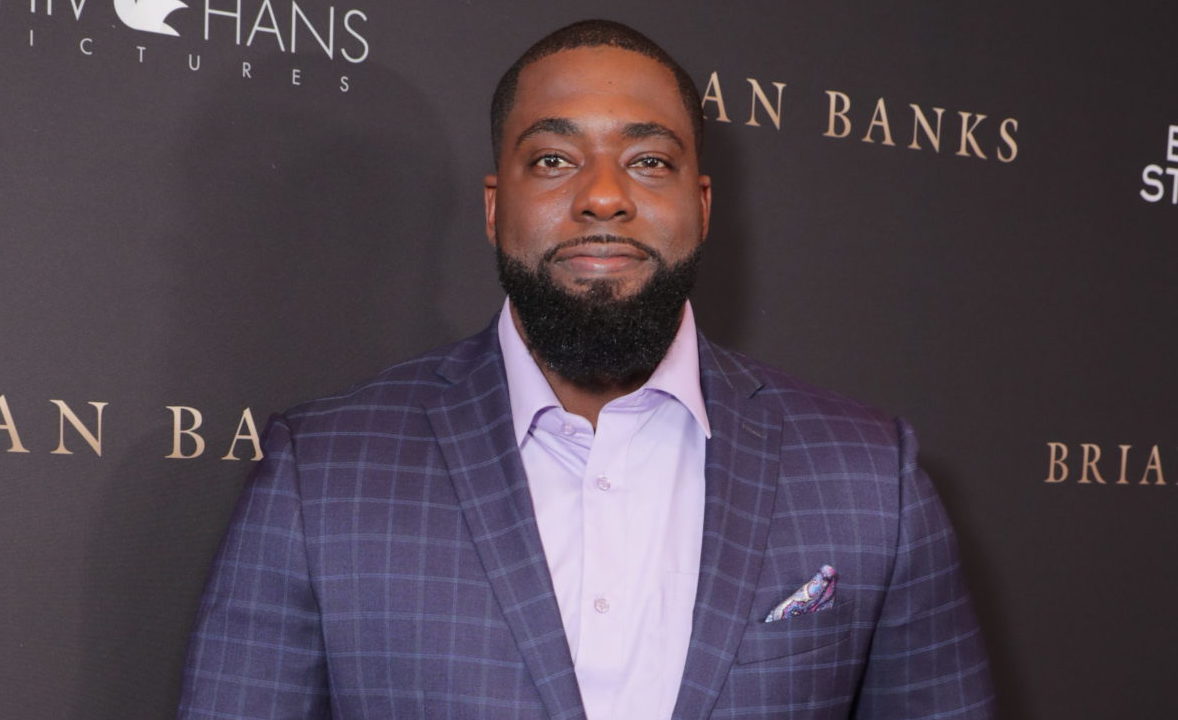 'Part of the fabric of this city': Brian Banks shares his story of wrongful conviction with his hometown
Former Poly High School football star Brian Banks recently returned to the Long Beach theater where he watched movies growing up—this time for a special screening of a film based on his wrongful rape conviction and eventual exoneration.
"This was the goal," Banks said during the red carpet portion of the event inside the Long Beach Towne Center's Regal Edwards Cinema lobby last week. "I had this in mind when we first got to the point where we were going to have this movie come out to theater. I told myself that we need to have this premiere back home where this story took place."
The story is that of a 16-year-old Banks accused of rape by a classmate in 2002. Despite DNA evidence proving his innocence, bad legal advice and a broken judicial system led him to plead no contest and ultimately serve over five years in prison with an additional five years on parole.
The series of events ruined any chance Banks had of a successful football career; he was verbally committed to USC at the time of his arrest. However, never giving up on himself, Banks was able to eventually prove his innocence and find freedom. He now advocates for others who have been wrongly imprisoned.
Banks called his story "part of the fabric of this city" and said it was important for him to screen it in Long Beach. It will open widely in theaters Friday.
"I think it was important to make this full circle to be taken and kidnapped from my city and put into a cage to return home free, innocent, vindicated and a better person," Banks said.
While the 90-minute film doesn't fully capture Bank's 10-year struggle—it uses flashbacks to capture significant moments in prison, including lessons learned from his mentor played by Morgan Freeman—it succeeded in showing his perseverance and resilience when no one believed him.
From the beginning, Banks knew he was fighting an uphill battle, yet he fought on, convincing others to do the same on his behalf.
"I know the system doesn't care about me—I've known my whole life—the question is do you?" Banks, played by Aldis Hodge, says to California Innocence Project Director Justin Brooks, played by Greg Kinnear.
The film shows that even with evidence proving his innocence, Banks' case was difficult to take on for Brooks, who leads a San Diego-based nonprofit that provides pro bono legal services to the wrongly convicted.
Even before receiving help from the Innocence Project, Banks took it upon himself to learn the legal system and his own rights while in and out of jail.
He recommends others do the same.
"Be informed, know about your system, know about the flaws and figure out ways that you can play a role in making it better," Banks said.
"Also, never allow one moment in your life to dictate the duration of your life," he said. "It's not what you go through but how you allow it to affect you and what you choose to do moving forward."
The Brian Banks film comes out in theaters Friday, Aug. 9. 
Support our journalism.
Hyperlocal news is an essential force in our democracy, but it costs money to keep an organization like this one alive, and we can't rely on advertiser support alone. That's why we're asking readers like you to support our independent, fact-based journalism. We know you like it—that's why you're here. Help us keep hyperlocal news alive in Long Beach.