Adopt, and then shop: Escape the madding crowd and take home some emotional support
Virtually Pets
Thanksgiving weekend has come to resemble one of those little personal calendars that gives you a daily task or mantra. Yesterday, you gave thanks for what you have, maybe fed some less fortunate people, ate yourself sick, and got into a political squabble with your sister's significant other. Today's Black Friday, a day dedicated to devotion to deep discounts when you shop and grappled with the madness in the mall. Then off to Small Business Saturday, which helps stave off the big dinosaurs from eating the little guys for lunch; on Sunday, we rest, walk off the calories, watch sports, and eat leftover leftovers; on Monday, we drag ourselves to our laptops and tablets and order more deeply discounted stuff, thus feeding a dinosaur ourselves; and then finally comes Giving Tuesday, when we think of others who miss out on what we're lucky to have and ferret out any spare change from behind the sofa cushions. What starts off as a day of thanks morphs into the seasonal spending solstice.
Back to Black Friday. I'm doing the the thing that myriad photos and graphics do every Friday after Thanksgiving to promote black cats and dogs and maybe run some two-for-one deals. Long Beach Animal Care Services sent me two black cats and two black rabbits in the spirit of the season. Here they are, in all their noir beauty.
Black animals deserve a break. I already described the difficulty of adopting them in a Halloween article—not so much out of superstitious belief but for the way they fade into the background and their faces all but disappear when they close their eyes.
Not just Halloween: Black fur goes with everything, any day!
But whatever the coat color, every one of them deserves to go home.
Maybe it's the tryptophan in the Tofurkey, or maybe it's because our shelter, like shelters everywhere, is overrun with dumped and abandoned animals, but I'm feeling slightly punk today about getting gimmicky with adoption. But here's an idea—celebrate Giving Tuesday every day. Donate to a shelter or a rescue. Speaking of ferrets, there are no ferret rescues I'm aware of here, but there are links to rescues in the Adopt, adopt, adopt section that would love some of that sofa change. Long Beach Animal Care Service's donation page can be accessed here. Bring in-kind donations of blankets, food, cat litter or whatever's on their wish lists (you can buy them cheaper on Cyber Monday, no doubt). And best yet, give some hope to an animal who has none—take one or two home forever.
Things to do, pets to support
Please send any Long Beach or Seal Beach pet-related events or projects to [email protected]. Posting subject to approval.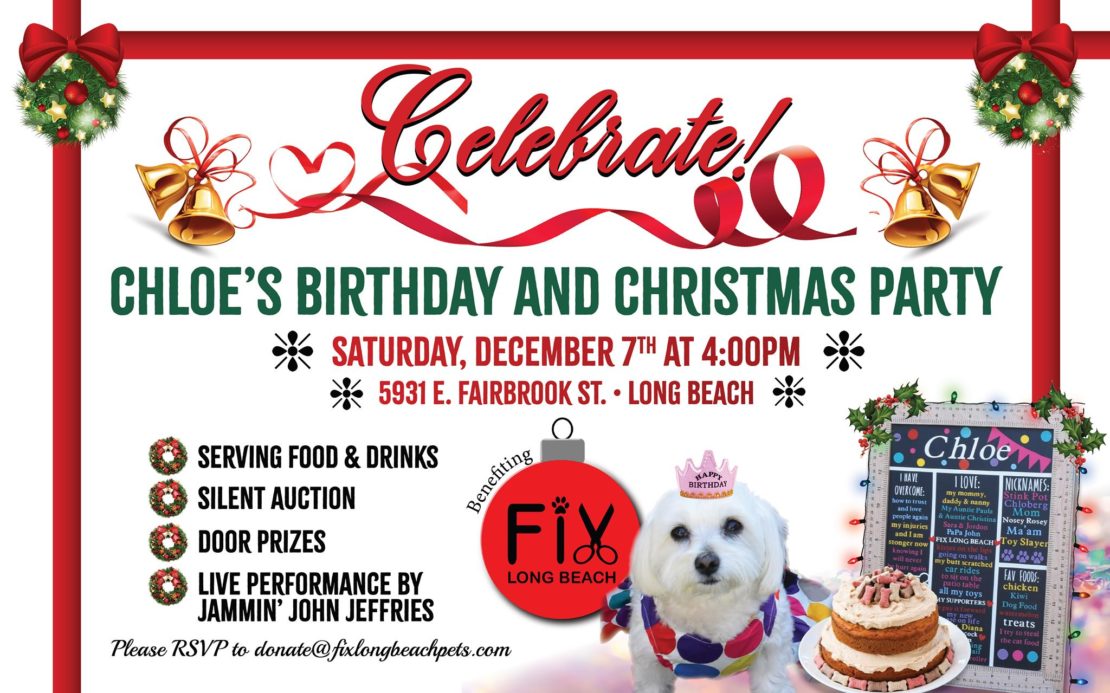 Events
Holiday Paint & Purr event: Friday, Dec. 6, 7–9 p.m., Feline Good Social Club, 301 Atlantic Ave., Long Beach, $45.
Break out the tempura! Paint a festive snowcat while hanging out with the FGSC cats and mostly having fun in the best environment possible. All materials will be supplied and instructions provided. You'll leave the session with a piece of festive cat art you can proudly hang on the wall, and maybe even with an adoptive buddy! Purrchase tickets here.
Chloe's Birthday and Christmas Party Fundraiser: : Saturday, Dec. 7, 4 p.m., 5931 E. Fairbrook St., Long Beach, donations accepted.
It stinks that you have to have a sad story to lead to a happy ending, but it's nice when you get one, anyway, because they're so few. Readers may remember the story of Chloe, who was found nearly dead in a dumpster, covered in food waste and human urine. Chloe recovered and was adopted by a wonderful local couple, who have been saying thanks and passing all the good stuff forward ever since Chloe went home. They're throwing a party for what they figure is her birthday, and in the holiday spirit are asking for donations to Fix Long Beach, the organization responsible for the little dog's recovery. The celebration will include food, drinks, a silent auction, door prizes and live music. As for Chloe, she's going to be wagging her tail and enjoying her happy ending, which will likely be forever after.
Fix Long Beach Free Spay/Neuter Clinic: Saturday, Dec. 14, 7:30 a.m.–3 p.m., Somerset Park, 1500 E. Carson St., Long Beach, free spay/neuter appointments for qualifying people; free microchips, shots, flea-med doses, dewormers and nail trimmings $10 each.
The best way to mitigate shelter euthanasia is to tamp the source, and that's why we're here. Our shelter and rescues are packed with cats and dogs, and everyone doing rescue is chasing their tail trying to get them all adopted. The best way for our community to help out is to turn off the taps at the other end so that more won't be born. Remember: it's the law to fix your pet in Long Beach, and Fix is here to help you do just that. Appointments are available for future clinics—make one at [email protected], or PM us on Facebook. More information is available here.
Inaugural Home for the Pawlidays Pet Adoption Fair: Saturday, Dec. 14, 10 a.m.–3 p.m., Long Beach Civic Center, 411 W. Ocean Blvd., Long Beach, adoption fees vary.
Be the best Santy Claws at the mall at this great event! The best gift in the world is a forever home for a cat, a dog or a rabbit, and there are good little critters from our shelter and local rescues who are deserving. About 100 of them will be present Receive free microchips for your pets, learn how to bottle-feed fragile newborn kittens, and take home items from a raffle that will benefit our shelter pets. This inaugural event is sponsored by Mayor Robert Garcia with support from Second District Councilmember Jeannine Pearce. It's held in collaboration with the Little Lion Foundation, Helen Sanders CatPAWS and Long Beach Animal Care Services, with support from Stray Cat Alliance, The Cat Cove, Live Love Animal Rescue and others.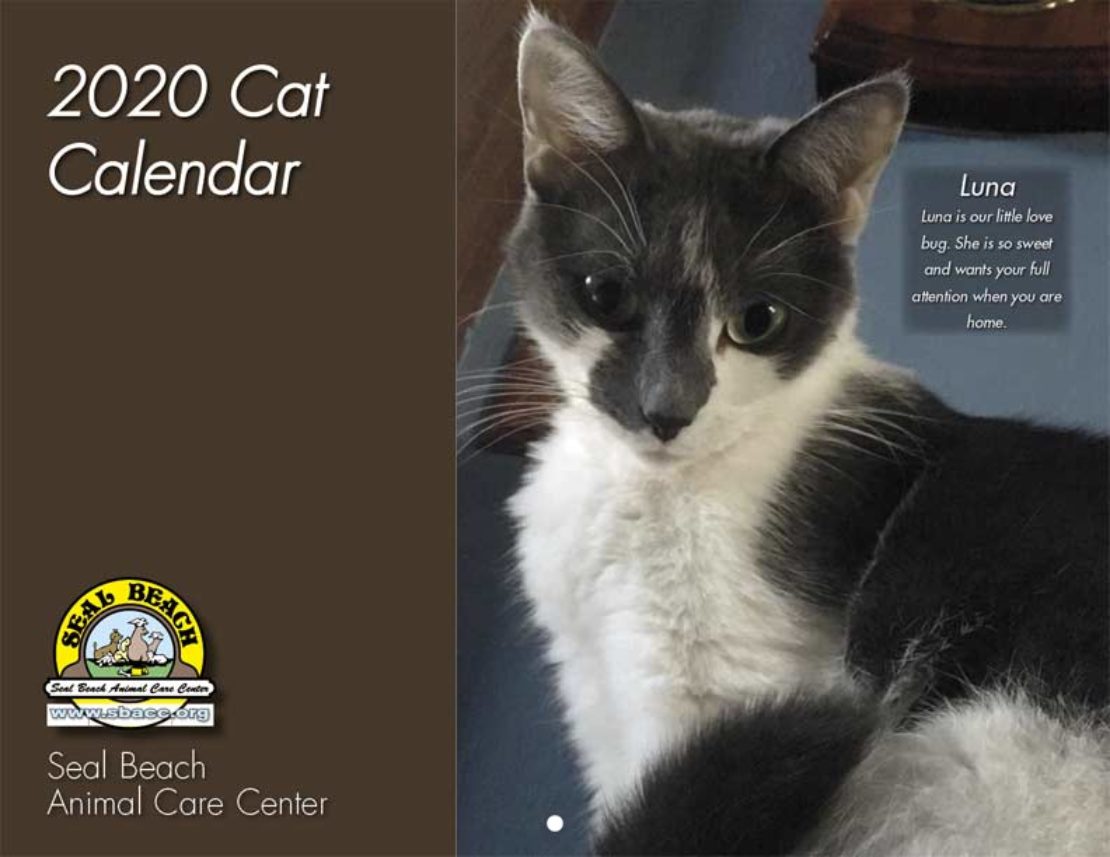 Calendars
The 2020 pet calendars are ready to wag in the new year, with favorite pinups on each month.
Helen Sanders CatPAWS Show Us Your Kitties calendar: $10 each, available here.
Southern California Bulldog Rescue Ador-a-bull Calendar: $25 each, available here.
Seal Beach Animal Care Center 2020 Calendar: available here
Has your dog been waiting for that walk down the runway? Has your cat been waiting to be discovered as the star they know they are?  It is now their time to shine! The 13 cats and 13 dogs with the most votes will become a monthly model, with the top cat and top dog as cover pets. Whether you're a winner or a beloved entrant, the pets at Seal Beach Animal Care Center will profit from your entry—all funds will go to their care. Details available here.
Shelter Shenanigans
Have an overnight with a kitty with Foster Fridays! The shelter has kittens coming out of the walls—literally. The shelter manager constantly has a few in her office! The shelter is at capacity, especially where cats are concerned, so fosters are sorely needed. Every Friday from 2-5 p.m., shelter staff is inviting residents who have the necessary accommodations—a safe space, time to feed them and play with them, and a propensity to say "Awwww!" every 15 minutes—to take a healthy, weaned kitten home for a while. Shelter will provide food, litter and a carrier and will cover any offsite medical. Time commitment is two weeks, with an option to adopt—of course! Foster fail! Have questions? Contact the shelter director at [email protected].
Other/ongoing
Instructional Pack Walk: First Saturday of the month, 10–11 a.m., Bixby Park, 130 Cherry Ave., Long Beach, free, donations accepted.
The public is invited to take part in a walk sponsored by Trot's Dog Walking and Training that will help you and your best buddy learn proper leash manners and focus on each other instead of the distractions of the "real world." Trot's experienced pack leaders are there to guide you through the process. Meet at the park at the corner of Ocean and Junipero at 10 a.m.
Donations accepted for Pets of the Homeless
Pets of the Homeless' home page gives a self-description as the only organization focusing only on providing food and care for pets belonging to homeless people. Businesses and other organizations across the country receive in-kind donations of food and other needs that the dogs and cats' human families can pick up at outreach locations. The following Long Beach businesses will accept your donations:
Trendi Pawz, 3726 E. Seventh St., Long Beach.
Belmont Heights Animal Hospital, 255 Redondo Ave., Long Beach.
Paw Shoppe Pet Center, Inc., 6416 E. Spring St., Long Beach
Food and supplies are available at Beacon for Him Ministries, 1535 Gundry Ave. Long Beach, Mondays from 9 a.m. to noon and Saturdays from noon to 3 p.m.; and at Christian Outreach in Action, 515 E. Third St., Long Beach, Thursday from 9 to 11 a.m. Donations will be gratefully accepted at these locations as well.
Adopt, adopt, adopt
The following pet-related businesses regularly feature cat, dog and rabbit adoptions. If you're a Long Beach-area rescue and don't see your adoption event listed here, please email [email protected]. Click on the links for each rescue in case of updates or changes.
Chase Bank, 5200 East Second St., Long Beach
The Farmer's Marketplace of Long Beach, 5000 E. Spring St. (Spring and Clark), Long Beach
Gelson's Market, 6255 East Second St.
Kahoots Pet Store, 18681 Main St. #102, Huntington Beach
Pet Food Express, 4220 Long Beach Blvd., Long Beach:
PetSmart Cerritos, 12741 Towne Center Drive, Cerritos
PetSmart Compton, 1775 South Alameda St., Compton
PetSmart Garden Grove, 9835 Chapman Ave, Garden Grove
PetSmart, Long Beach Exchange, 3871  Lakewood Blvd., Long Beach
PetSmart Seal Beach, 12341 Seal Beach Blvd., Seal Beach.
PetSmart Signal Hill, 2550 Cherry Ave., Signal Hill
PetSmart Towne Center, 7631 Carson St., Long Beach
Unleashed by Petco, 600 Redondo Ave.
Support our journalism.
Hyperlocal news is an essential force in our democracy, but it costs money to keep an organization like this one alive, and we can't rely on advertiser support alone. That's why we're asking readers like you to support our independent, fact-based journalism. We know you like it—that's why you're here. Help us keep hyperlocal news alive in Long Beach.