Cat VideoFest will have audiences clawing their seats in delight (plus, it benefits a local rescue)
You're not up to here already with cat videos, are you?
Well, good. Because Long Beach's historic Art Theatre is presenting three hour-and-a-half showings of feline nuttiness this weekend. This means that you can go to one of them Saturday afternoon, grab a quick bite on Retro Row, and then see the show again in the evening. Go home, dream some furball dreams, and come back Sunday evening for the final viewing.
Some of us catfolk would hit replay without any necessary prodding, poking, or knocking the pens off the desk. But if you're wild about cats—and of course, you are—or simply wish them well, you'll be glad to know that 10% of the $10 ticket price will go to the Feline Good Social Club cats for their upkeep, toys, meds and all.
Since it opened last year, Feline Good has appeared in The Scratching Post in articles and in event blurbs about Cats and Mats Yoga, Sound Baths and all other the yowling-good fun events. But the club is at its heart a nonprofit rescue with a nearly ideal situation for the pets—second only to forever homes. The cats, brought in mostly from rescues Long Beach Felines and the Long Beach Spay & Neuter Foundation, wander freely inside the Social Club from food dish to cat tree to litter box to scores of toys to your lap, or onto your back while you're doing Cats and Mats yoga. Most of them are adoptable—there are permanent residents who act as social directors—and they'll all benefit from the donations and publicity from this event.
"We chose Feline Good Social Club firstly because of their proximity to the theater," said Debbie Gonzales, member of the Art management team. "Supporting our local community and neighbors is part of our mission, and FGSC is only one mile away! We also love their out-of-the-box—or cage—concept to adoptions. We know there are quite a few rescue and adoptions agencies in Long Beach, and we would love to support them all!"
Put on your cat suit, curl up on one of the velveteen seats that feels just like a kitty proboscis, and have—OK, I'll say it—a purrfect time. The only hisses will come from the performers.
See fur-ther de-tails under Things to do, pets to support.
Representatives from Feline Good Social Club will be on-site with information about their adoptable cats. The other day, I visited the Club, and we decided to make our own cat videos.
And a few of the stars:
Featuring Pam Leslie, Feline Good Social Club founder and She Who Cavorts with Cats
Tutee2, who is adoptable, bats a toy with help from his brother, Fancy Feet, the resident social director.
Thunder creates his own CGI-type effects.
Publicity shots:
Meet the rest of the group here.
Things to do, pets to support
Please send any Long Beach or Seal Beach pet-related events or projects to [email protected]. Posting subject to approval.
Events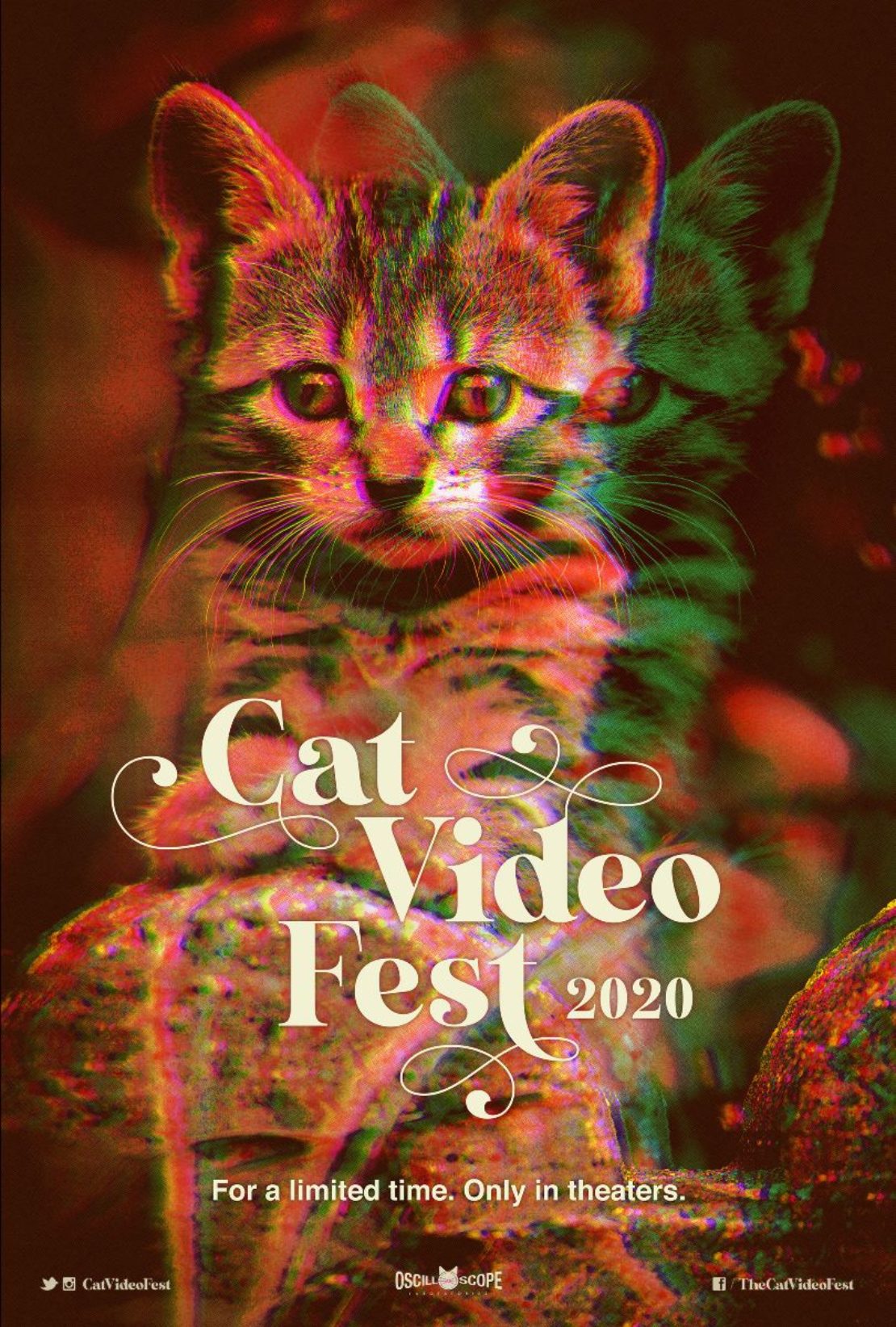 CatVideo Fest: Saturday, Feb. 22, 3 p.m. and 5 p.m., and Sunday, Feb. 23, 5 p.m., Art Theatre of Long Beach, 2025 E. Fourth St., Long Beach, ticket prices here
What can't we get enough of? That's right—cat videos! The Art Theatre is presenting three showings of a compilation reel of animations, music videos and, of course, classic internet memeows. "But," you may say, "I can get all that on the internet and make my own popcorn." But CatVideoFest is only available as a special theater production and raises money for cats in need through partnerships with local cat charities, animal welfare organizations and shelters. The Art will donate 10% of this showing to the cats at the Feline Good Social Club kitty lounge. Wear a cat costume and get a free popcorn! The best will win a prize!
Fix Long Beach Free Spay/Neuter Clinic: Saturday, Feb. 22, 7:30 a.m.–2 p.m., Somerset Park, 1500 E. Carson St., Long Beach, free spay/neuter appointments for qualifying people; free microchips, shots, flea-med doses, dewormers and nail trimmings $10 each.
The best way to mitigate shelter euthanasia is to tamp the source, and that's why we're here. Our shelter and rescues are packed with cats and dogs, and everyone doing rescue is chasing their tail trying to get them all adopted. The best way for our community to help out is to turn off the taps at the other end so that more won't be born. Remember: it's the law to fix your pet in Long Beach, and Fix is here to help you do just that. Appointments are available for future clinics—make one at [email protected], or PM us on Facebook. More information is available here.
Meatball Fundraiser: Saturday, Feb. 22, 11 a.m.–5 p.m., Seal Beach Animal Care Center, 1700 Adolfo Lopez Drive, Seal Beach, choose your donation amount
If you could help pay for a cat's surgery by eating a meatball sandwich, would you do it? Sure—best conflation ever. A dear little tuxedo named Hazel was brought in to the center gasping for breath and partially paralyzed, likely the result of having been hit with a car. The Center paid for her costly surgery and she's doing fine. If you come for lunch or an early dinner—meatball sandwiches either carnivore or vegan, salad, dessert, beverage—and choose a donation of any amount for reimbursement of Hazel's medical bills, they'll hear the cheering in Philadelphia.
National Adoption Weekend: Friday, Feb. 28–Sunday, March 1, 11 a.m.–5 p.m., PetSmart stores nationally, adoption fees apply
Nearly 4,000 animal welfare organizations will bring adoptable pets—dogs, cats, rabbits, birdies—into PetSmart stores everywhere during this weekend. PetSmart will have specially trained Adoption Ambassadors on hand to answer questions, help you with all that paperwork, and offer tips on getting your new pet settled into their new home. And, of course, finding your perfect match! Find PetSmart locations here.
Free vaccines at Hogs and Dogs event: Saturday, March 7, 10 a.m.–2 p.m., 1517 Pacific Coast Highway, Harbor City, free to first 100 pets
Pedro Pet Pals will sponsor free vaccines to first 100 attendees: rabies and distemper/parvo for dogs and FVRCP vaccine for cats.
CatPAWS Bowling Fundraiser: Saturday, April 25, 3–5;30 p.m., Westminster Lanes, 6471 Westminster Blvd., Westminster, tickets $40, includes shoes and lunch
Want to show your cat that you can knock more things over than they can? Join the CatPAWS team and bowl, bid on a diversity of prizes, and in all, know that your donation will help hundreds of cats and kittens pulled from our shelter and cared for until they also hit a strike and find a forever home. include bowling, refreshments, raffles and a silent auction. Tickets available here.
Shelter Shenanigans
The shelter needs volunteers, like, yesterday. Animals need socializing for adoption, doggies need baths and walkies, events need attendance and gaps need to be filled where there are more needs than humans to fill them. If you want to make a real difference, fill out an application here and attend a volunteer orientation meeting.
Have an overnight with a kitty with Foster Fridays! The shelter has kittens coming out of the walls—literally. The shelter manager constantly has a few in her office! The shelter is at capacity, especially where cats are concerned, so fosters are sorely needed. Every Friday from 2-5 p.m., shelter staff is inviting residents who have the necessary accommodations—a safe space, time to feed them and play with them, and a propensity to say "Awwww!" every 15 minutes—to take a healthy, weaned kitten home for a while. Shelter will provide food, litter and a carrier and will cover any offsite medical. Time commitment is two weeks, with an option to adopt—of course! Foster fail! Have questions? Contact the shelter director at [email protected].
Other/ongoing
Cats and Mats Yoga: Feline Good Social Club, 301 Atlantic Ave., Long Beach, every Saturday, 11 a.m.–noon and 5:30–6:30 p.m., $20 per person
Can you side-plank on a mat? Can you do it with a cat? That's the idea at Long Beach's Feline Good Social Club, where you can have their resident kitties join you in asanas, which is really the best way! Bring a mat and wear comfy clothes that you don't mind getting fur on. For ages 10 and up. Schedule available here. Reservations are recommended and may be made on the events page.
Instructional Pack Walk: First Saturday of the month, 10–11 a.m., Bixby Park, 130 Cherry Ave., Long Beach, free, donations accepted
The public is invited to take part in a walk sponsored by Trot's Dog Walking and Training that will help you and your best buddy learn proper leash manners and focus on each other instead of the distractions of the "real world." Trot's experienced pack leaders are there to guide you through the process. Meet at the park at the corner of Ocean and Junipero at 10am.
Donations accepted for Pets of the Homeless
Pets of the Homeless' home page gives a self-description as the only organization focusing only on providing food and care for pets belonging to homeless people. Businesses and other organizations across the country receive in-kind donations of food and other needs that the dogs and cats' human families can pick up at outreach locations. The following Long Beach businesses will accept your donations:
Trendi Pawz, 3726 E. Seventh St., Long Beach
Belmont Heights Animal Hospital, 255 Redondo Ave., Long Beach
Paw Shoppe Pet Center, Inc., 6416 E. Spring St., Long Beach
Food and supplies are available at Beacon for Him Ministries, 1535 Gundry Ave. Long Beach, Mondays from 9 a.m. to noon and Saturdays from noon to 3 p.m.; and at Christian Outreach in Action, 515 E. Third St., Long Beach, Thursday from 9 to 11 a.m. Donations will be gratefully accepted at these locations as well.
Adopt, adopt, adopt
The following pet-related businesses regularly feature cat, dog and rabbit adoptions. If you're a Long Beach-area rescue and don't see your adoption event listed here, please email [email protected]. Click on the links for each rescue in case of updates or changes.
Chase Bank, 5200 E. Second St., Long Beach
The Farmer's Marketplace of Long Beach, 5000 E. Spring St. (Spring and Clark), Long Beach
Gelson's Market, 6255 E. Second St.
Kahoots Pet Store, 18681 Main St. #102, Huntington Beach
Pet Food Express, 4220 Long Beach Blvd., Long Beach:
PetSmart Cerritos, 12741 Towne Center Drive, Cerritos
PetSmart Compton, 1775 S. Alameda St., Compton
PetSmart Garden Grove, 9835 Chapman Ave., Garden Grove
PetSmart, Long Beach Exchange, 3871 N. Lakewood Blvd., Long Beach
PetSmart Seal Beach, 12341 Seal Beach Blvd., Seal Beach.
PetSmart Signal Hill, 2550 Cherry Ave., Signal Hill
PetSmart Towne Center, 7631 Carson Blvd., Long Beach
Unleashed by Petco, 600 Redondo Ave.
Support our journalism.
Hyperlocal news is an essential force in our democracy, but it costs money to keep an organization like this one alive, and we can't rely on advertiser support alone. That's why we're asking readers like you to support our independent, fact-based journalism. We know you like it—that's why you're here. Help us keep hyperlocal news alive in Long Beach.