Inaugural 'Home for the Pawlidays' promises over 100 pets seeking homes
Animal advocates often take the mic at City Council meetings to speak up for voiceless creatures. This Saturday, the pets take over.
The inaugural Home for the Pawlidays Pet Adoption Fair will be a literal occupaw of City Hall on Saturday, Dec. 14. Over 100 pets of every stripe, spot, patch and brindle from local rescues will be sitting up and begging their right to forever homes just by being adorable and winning. Their efforts will be buffered by pet vendors that include the Moon Cat Café and a bunch of folks who specialize in furnishings, clothing, food and toys for animals.
The public caucus, barkcus and meowcus will includes food, face painting, free microchips for pets and, most importantly, adoptions. Representatives from Stray Cat Alliance will demonstrate how to trap feral cats, and volunteers from the Long Beach Little Paws Project will show how to bottle-feed neonatal kittens. Pet Food Express will have gift bags for adopted pets, and opportunity drawings will benefit our shelter at Long Beach Animal Care Services.
Pawlidays is a collaborative effort of the shelter and a lot of local rescues. Mayor Robert Garcia is sponsoring the event, with support from District 2 Councilwoman Jeannine Pearce. The entire gathering is serendipitous: Two cat-rescue groups were trying to put together an adoption event and were tussling with getting a permit from the Department of Parks, Recreation and Marine before their scheduled date.
"A parks person reached out to me to ask about it," said shelter director Staycee Dains. "Because the groups happen to be our partners in other areas, I called them and asked them how I could help."
Dains found that the permitting process would take too long to complete on time. She then tossed out the idea of an event between the shelter and the two rescues and asked the mayor if he'd sponsor it to help negate the necessity for certain permits. This was met with enthusiasm.
"Then we thought, why not make this a pet fair that would give our Long Beach pet businesses and rescues an opportunity to engage the community in a festive and fun way?" Dains said.
The City of Irvine Animal Care Center hosts Home for the Holidays annually, and Dains said that a number of residents had suggested to her that Long Beach should do something similar and make it an animal event as well. She and the staff tweaked Irvine's title and came up with "Pawlidays." Animal puns do rule.
Dains, her staff and the rescues plan to have a Home for the Pawlidays every year. If shelter pets—and there are, sadly, a lot of them—had the vote, they'd give the idea unanimous suppawt.
Read more about Home for the Pawlidays in Adopt, adopt adopt, and check out some of the fine furries from the rescues. Click the links to see more pets from each one and adoption application and contact information.

One thing more—every year, The Scratching Post reminds people that pets aren't gifts. We're the gits to them, although it works both ways, figuratively speaking.
But people still promise their kids, spouses, friends and other loved ones a puppy, a kitten or a bunny for Christmas. So, here's what you do: Download the handy coupon above and hand it to the recipient. Then, go with them to the shelter or a rescue and have them and the new friend pick each other out. You pay the adoption fee and buy whatever extra needs and goodies you like. Everyone's happy.
And remember, adult pets need the gifts as much as the babies. Maybe more.
Things to do, pets to support
Please send any Long Beach or Seal Beach pet-related events or projects to [email protected]. Posting subject to approval.
Events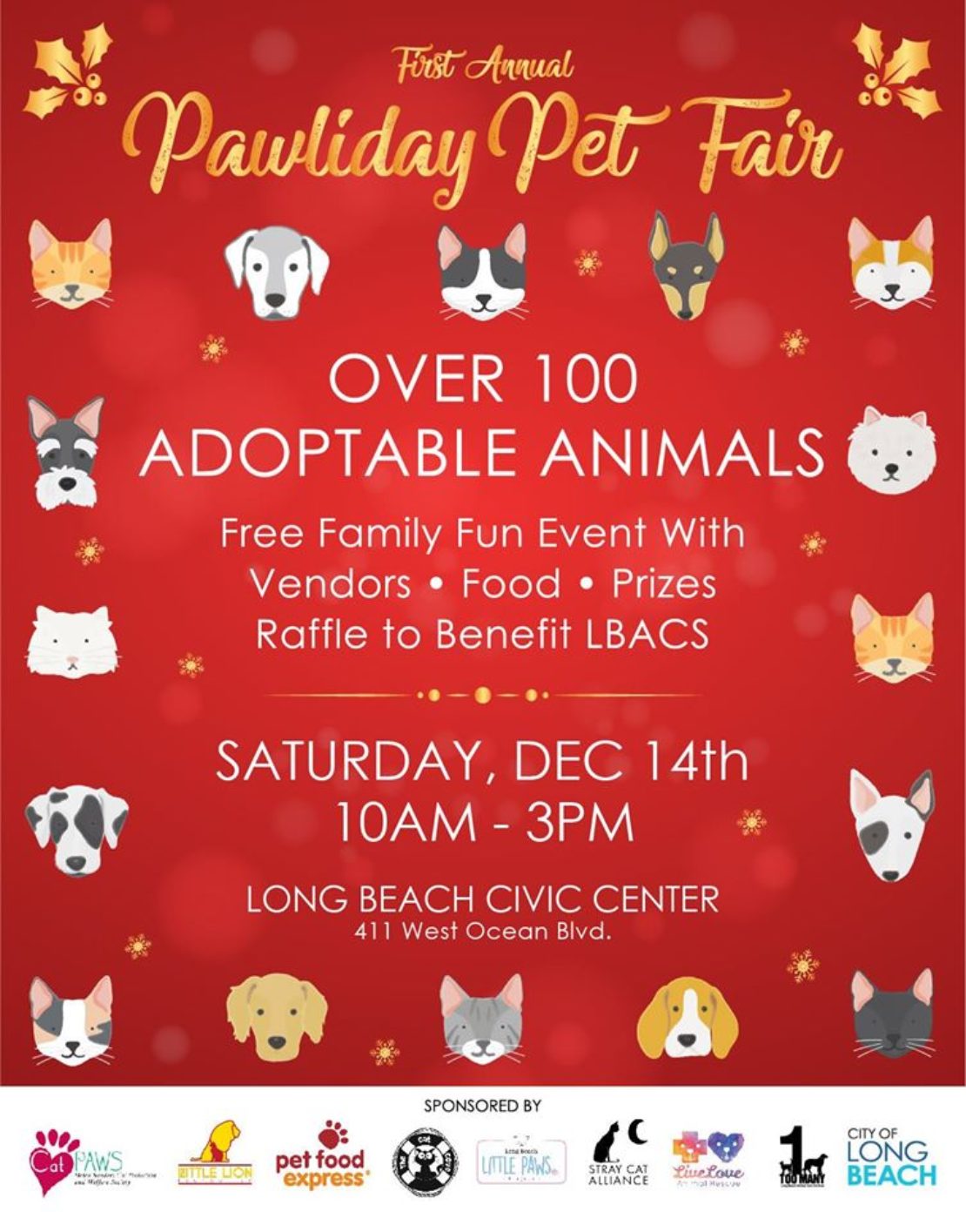 Inaugural Home for the Pawlidays Pet Adoption Fair: Saturday, Dec. 14, 10 a.m.–3 p.m., Long Beach Civic Center, 411 Ocean Blvd., Long Beach, adoption fees vary
Be the best Santy Claws at the mall at this great event! The best gift in the world is a forever home for a cat, a dog or a rabbit, and there are good little critters from our shelter and local rescues who are deserving. About 100 of them will be present Receive free microchips for your pets, learn how to bottle-feed fragile newborn kittens, and take home items from a raffle that will benefit our shelter pets. This inaugural event is sponsored by Mayor Robert Garcia with support from Second District Councilmember Jeannine Pearce. It's held in collaboration with the Little Lion Foundation, Helen Sanders CatPAWS and Long Beach Animal Care Services, with support from Stray Cat Alliance, The Cat Cove, Live Love Animal Rescue and others.
Fix Long Beach Free Spay/Neuter Clinic: Saturday, Dec. 14, 7:30 a.m.–3 p.m., Somerset Park, 1500 E. Carson St., Long Beach, free spay/neuter appointments for qualifying people; free microchips, shots, flea-med doses, dewormers and nail trimmings $10 each.
The best way to mitigate shelter euthanasia is to tamp the source, and that's why we're here. Our shelter and rescues are packed with cats and dogs, and everyone doing rescue is chasing their tail trying to get them all adopted. The best way for our community to help out is to turn off the taps at the other end so that more won't be born. Remember: it's the law to fix your pet in Long Beach, and Fix is here to help you do just that. Appointments are available for future clinics—make one at [email protected], or PM us on Facebook. More information is available here.
Santy Claws Photo Ops: Saturday and Sunday, Dec. 14, 15, 21, 22, noon–4 p.m., Petco, 6500 Pacific Coast Highway, Long Beach, and PetSmart, 12341 Seal Beach Blvd., Seal Beach
Helen Sanders CatPAWS has already laid out the glass of goat milk and dog cookies, so all you need to bring is your pet to get their photo taken with Santa. You can always adopt a kitty there and pose with them—you know, that's what any of them would ask for if they sat on Santa's lap—a loving home.
Mercury Wine Club's Sip and Support fundraiser for Live Love Rescue: Saturday, Dec. 21, kollin altomare architects 4265 E. Conant St., Suite 101, Long Beach, $15 tasting fee online or $20 at door.
Drink a little merlot for the mutts. Mercury Wine Club is offering 20% of purchases and tasting tickets to Live Love Pet Rescue. All pours are from wineries that give back to rescues and animal welfare. Bottles are available for purchase. Further details are available here.
Ongoing
Operation Santa Paws: P.D. Pitchford Companion Animal Village, 7700 E. Spring St., Long Beach, to Dec. 21
It's the most wonderful time of the year if you're a cat, a dog or a bunny spending the holidays in a kennel in a shelter. Long Beach's most unstoppable community organizer, Justin Rudd, knows everyone, including Santa Claus' more furry brother, Santa Paws. Mr. Paws will be stopping at four shelters, beginning with Long Beach Animal Care Services and continuing to spcaLA, Seal Beach Animal Care Services and the new Orange County Animal Care Services in Tustin. Santy needs help filling the sleigh, so you get to be an elf. You can either set up a collection box in a local business—doesn't have to be in Long Beach—or you can purchase toys and shelter needs—the pets' version of underwear and socks—and drop them into boxes that have been set up (check the link here for the wish list, the destinations and other information). The best part is following Santa to the shelters and watching the pets enjoy their gifts. Maybe you'll be the one to give one of them the ultimate present—a forever home—but no pressure.
Support our journalism.
Hyperlocal news is an essential force in our democracy, but it costs money to keep an organization like this one alive, and we can't rely on advertiser support alone. That's why we're asking readers like you to support our independent, fact-based journalism. We know you like it—that's why you're here. Help us keep hyperlocal news alive in Long Beach.