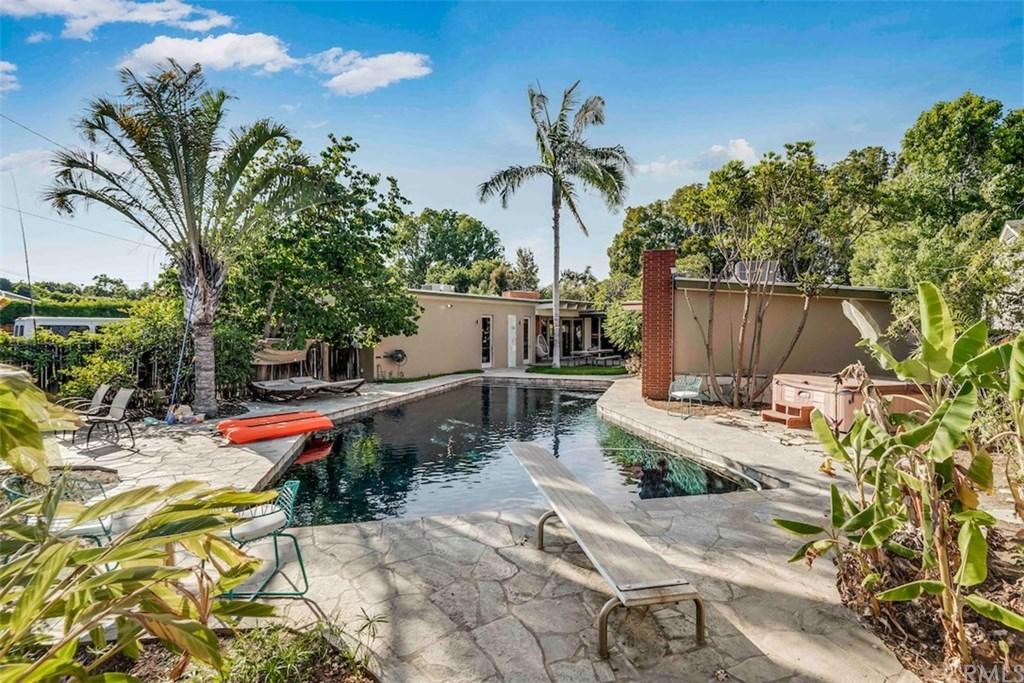 Breaking the 10th Commandment over a pair of mid-century homes in Los Cerritos/Bixby Knolls
Scanning the recent real estate offerings last week, I stumbled upon a couple of places in town that sort of choked me up with covetousness. It's hard sometimes to write about real estate when I don't have a million dollars in my checking account to squander whenever I see something shiny, so I'm relegated to take a slobbering look at these homes or take a sprint through them before slinking back to my sub-million-dollar home that's totally bereft of ocean views or even a spiral staircase and is so plain-looking that I'm not sure I could pick it out of a line-up.
The overly astute reader will realize that I'm sort of smitten with the mid-century modern architecture, of which there are numerous examples in Long Beach, with the bulk of them in the Cliff May Ranchos east of Studebaker Road and in Park Estates west of Cal State Long Beach.
This week I'm looking at some ultra-cool mid-century works in the Bixby Knolls/Los Cerritos area that are even more striking in appearance than many of the more typical models.
Most jaw-dropping is the Hastings Residence at 1062 E. Tehachapi Drive in Bixby Knolls. The three-bedroom, two-bath home was built in 1954 and was designed by the Long Beach-based architectural firm of Powers, Daly & DeRosa, an outfit best known for designing bowling alleys throughout Southern California, including Long Beach's beloved and lamented Java Lanes and the historic Covina Bowl. Their designs were often a quirky blend of Tiki and Aerospace, a sort of Space-Age Polynesia, generally with over-the-top Islander cocktail lounges inside (Java Lanes had the East Indies Room and the Lava Lounge).
The Tehachapi property, listed at $1.499 million, has many of the same architectural hallmarks, with sharp triangles dominating the interior geometry, and the architects went hog-wild in employing the mid-century-modern theme of bringing the outside in by installing a koi pond in the living area where it's shaded by a large and living fiddle leaf fig tree.
Listing real-estate agent Nate Cole says the current owners have totally upgraded the home. "They lived out of the home for a year while they redid most the systems: They opened up the walls and put in insulation; they've installed owned solar panels for the home and pool; they've put in new plumbing, new wiring, installed cork flooring, upgraded the kitchen and baths and put in speakers throughout the house," he said. "They treated the home like it was something they were going to live in for the rest of their life, but now, lo and behold, they're moving."
Other trappings of the home include floor-to-ceiling glass walls a swimming pool and liberal use of original wood, flagstone and slate.
Our colleague Brian Addison wrote about the home in a similarly jealous manner last time it was on the market in 2014.
Del Mar Avenue duplex
Skipping merrily over to the nearby Cerritos Circle, the neighborhood between Country Club Drive and the Los Angeles River in Los Cerritos, you'll find this terribly cool garden home duplex at 4121 Del Mar Avenue. It looks particularly great from the street, like a massive catamaran about to mow you over.
The interior is what you'd expect from a classic mid-modern home: glass walls, an open floor plan, post and beam design. And, says Cole, each unit feels as private as a single-family dwelling.
The symmetrical pair of residences, each roughly 1,200 square feet with two bedrooms and two baths, were listed at $1.049 million. The twin buildings were designed in 1963 by architect Clifton Jones Jr. in a tract of garden homes developed on a 28-acre parcel of land that his father bought from the Dominguez family in the 1940s, said Cole, who also listed this property.
Jones Jr. built the Crown Pointe homes adjacent to Country Club Drive, many of which remain owned by the Jones family.
The Del Mar Avenue property is on part of a 10-area tract below the bluff line that was used as pasture, training facility and a workout track for the thoroughbreds that the Joneses bred and raced throughout the country, according to Gail Jones, the architect's wife. "During World War II, the paddock was turned into a victory garden for the war effort," she said.
Among Jones' mentors and instructors at the USC School of Architecture, was the famed Long Beach architect Edward Killingsworth, whose influence is apparent in many of the Cerritos Circle homes with their post-and-beam ceilings and generous use of glass.
Its current owner bought the duplex to sell it and has made lots of improvements, said Cole. There's new roofing, renovated kitchens and baths, upgraded electrical panels, landscaping and irrigation.
The bad news, if you're interested in owning the Del Mar Avenue duplex, is that it's now in escrow. But it is a duplex that's currently vacant, so you've still got a potential shot at it as a renter.
Support our journalism.
Hyperlocal news is an essential force in our democracy, but it costs money to keep an organization like this one alive, and we can't rely on advertiser support alone. That's why we're asking readers like you to support our independent, fact-based journalism. We know you like it—that's why you're here. Help us keep hyperlocal news alive in Long Beach.