In the horse race for District 2, you gotta go with the horse
The Backroom is a column by the staff of the Long Beach Post with notes and analysis, along with bloops and blunders, from the city's political scene. It runs every Thursday. To contact us, email [email protected]. For questions or concerns, please contact Managing Editor Melissa Evans: [email protected] or 562-437-5814. 
As the year fizzles to a merciful end, the race for City Council's District 2 is shaping up to be one of the greatest political contests in United States History, with eight people and a horse sprinting toward the finish line on March 3.
And, yeah, there's a horse in the race, or at least a guy who wears a horse head around town. His name (and it's the only name he'll give) is Horsey Horseshoe. We talk to politicians and candidates all the time. You could call it our hobby. But interviewing Mr. Horseshoe, well, it's pretty much all downhill from there.
---
Be the first to know.
Get the Backroom delivered to your inbox every Thursday.

---
In our most serious journalistic voice, we asked Mr. Horseshoe whether he would actually be on the ballot: "Well," he said, "I emailed the city clerk and sent in an application. But for my name I just put Horsey Horseshoe, so I don't know how far I'll get."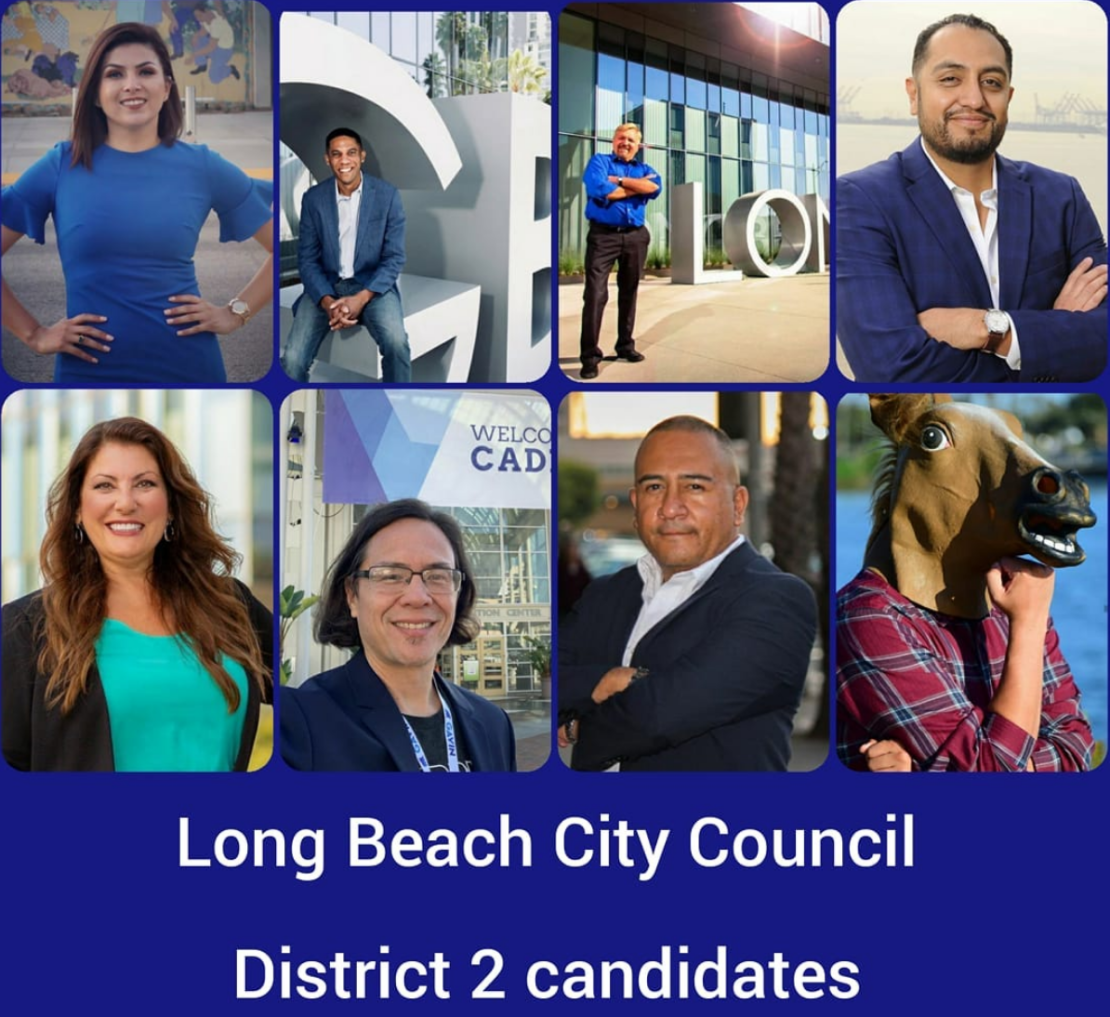 Horsey said he's been wearing the horse head since 2013 as he gallops around the city attending community events, like Bixby Knolls' First Fridays. He said he has a strict rule of not showing his (human) face. And insisting on always wearing a horse head has, you won't be surprised, gotten him into the occasional hot water.
"I went into a liquor store once and the guy said, 'You better be joking because I have a gun.' I ran away like a little boy."
Horseshoe lives in the 2nd District, near Redondo Avenue and Seventh Street, and he says he's talked to many of the candidates in the district race. (He hasn't yet met with Cindy Allen, Jeanette Barerra and Eduardo Lara).
Our handicappers, as much as they enjoy the ponies, aren't enthusiastic about the prospects of a horse taking a seat in the council chambers. For one thing, Monique DeLaGarza, Long Beach's city clerk, told us on Tuesday that she hadn't heard from anyone named Horsey Horseshoe, no matter how much we tried to refresh her memory ("Looks like a horse?" "Whinnies a lot?" "Has an affinity for oats and apples?"). She said that even if he runs as a write-in, he still has to register, pick up an information packet and get 20 signatures from humans who live in the 2nd.
Mr. Horseshoe—and anyone else wanting to run for election in any of the seats up in March 2020 (districts 2, 4, 6 and 8, along with Board of Education for LBUSD seats 2 and 4)—must file papers with the clerk by Dec. 11. For incumbents, the deadline is Friday, Dec. 6.
We're trying to rally one of the discarded mascots for CSULB to run against Councilman Daryl Supernaw in the 4th—we're in talks with that guy in the giraffe costume—who is thus far the only uncontested incumbent.
An awkward pause 
"So," Councilman Rex Richardson said during Tuesday's council meeting. "How was everyone's Thanksgiving?"
The question came during a solid 60 seconds of awkward silence after Richardson's colleague on the dais, Stacy Mungo, asked if we could "pause for a moment" during discussion of whether the city should reduce taxes on some cannabis businesses.
Councilwoman Jeannine Pearce had recused herself from the discussion because of conflicts of interest. The Post reported on May 30 that she had received payments for work in the cannabis industry on behalf of one of the principals who operates the Queen Mary.
On May 31, at 7:15 a.m., Assistant City Manager Tom Modica blasted out an email to a handful of city officials that no one was to discuss anything related to cannabis, the Queen Mary, Carnival Cruise Lines and other topics—we're paraphrasing—with Pearce. Ever.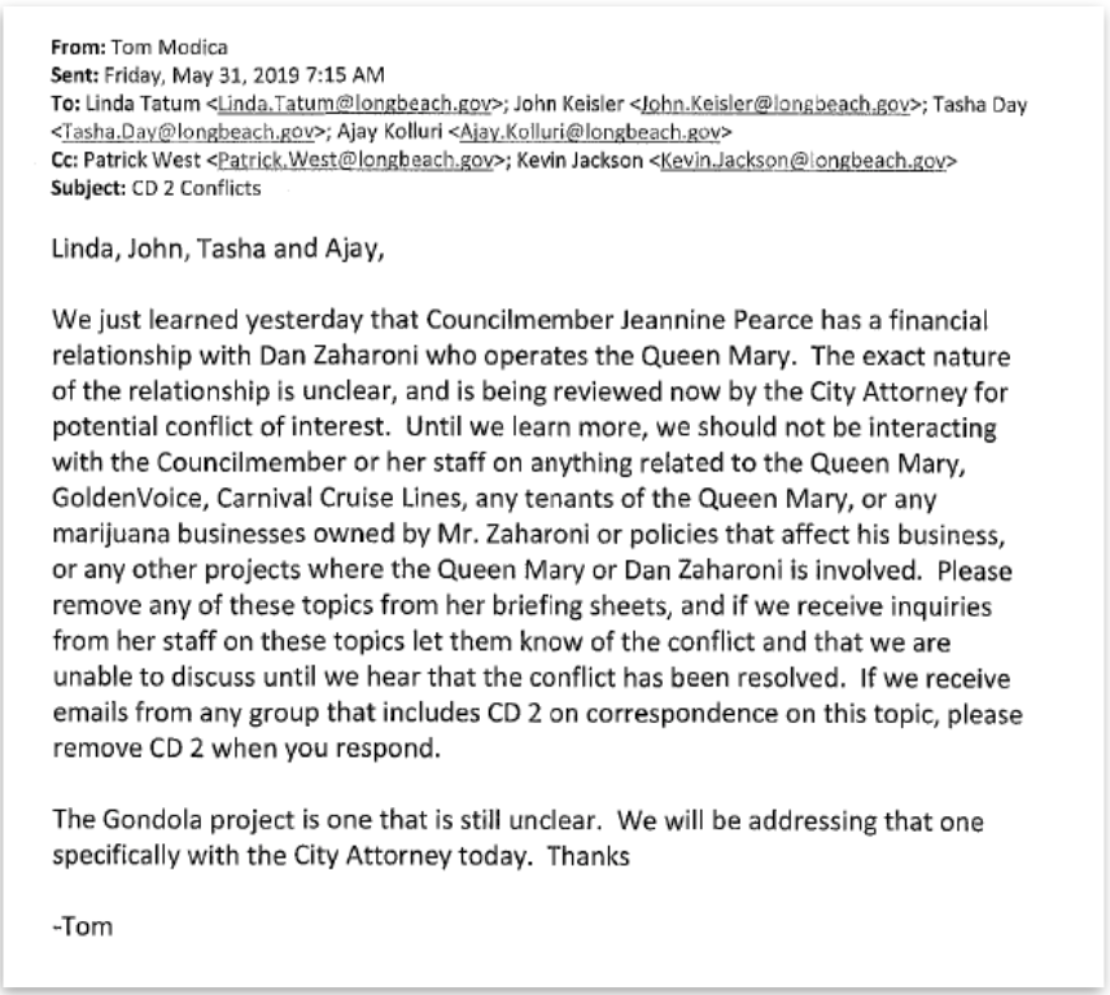 But on Tuesday, after Pearce excused herself from the dais, she reemerged in the audience, mingling with cannabis officials in attendance as the council discussion unfolded.
Text messages began flying faster than bats from beneath Congress Bridge. The gist of the messages, we imagine, was something to the effect of "What is she doing here?"
So they sat in silence as Assistant City Attorney Mike Mais got Pearce out of the room in accordance with the city's ethics guide for elected officials, as well as Fair Political Practice Commission regulations.
"Having fun Mary?" Councilman Roberto Uranga quipped to Mary Zendejas, who had been sworn in that night to represent District 1. (Her response, if there was one, was not audible.)
Pearce told us in a text message on Wednesday that it was a simple mistake: "I walked in prematurely, notified the vote wasn't over and I left."
Now can we have jelly-covered doughnuts?
The Angels deal is dead? Good. We didn't want some tired, junior-loop team coming to Long Beach, and tying up traffic and losing money at a Queen Mary pace.
And so, the Elephant Lot remains as little more than a place to park elephants and put in three days' work every year in the Grand Prix. Now, with a major league ball club out of the picture, Long Beach's power brokers and developers have this beautiful 13-acre waterfront parcel burning a hole in their pockets.
The obvious choice, and one that we'd go with if we owned the land, would be to hurriedly put up a high-rise condo building with expensive ocean views and then just sit in our Barcalounger  by the mail slot and watch the checks come in.
But we don't own it, so we'd prefer it be used for something we could use like, say, a 13-acre park. A good and useful park as opposed to that sporadic Victory Park that pops up in small patches in front of office buildings along on Ocean that only a few dozen people even know is a park. The park we're envisioning would be a proper modern park with hyper-safe play equipment and the return of the long-buried Promenade Amphitheater that used to host great free events such as Allen Ginsberg readings and concerts by Curtis Mayfield and the Texas Tornadoes.
Or how about a world-class garden: a.) we're talking about something along the lines of Copenhagen's Tivoli Gardens, b.) this is something that's never going to happen, so forget we even brought it up, c.) in fact, look, quit bringing in things from overseas to make the city seem fancier than it is.
A third option would be to leave it alone and allow it to be a parking lot for the doomed-to-not-happen gondola ride across Queensway Bay to the Queen Mary, once Urban Commons gets its development done and it attracts a million people a day.
Sports, meanwhile, is not dead, but maybe we can lower our sights a bit and put up a mid-size arena as a home for the WNBA's L.A. Sparks and the South Bay Lakers, the Lakers' G League team. We know pro baseball has never caught on in a big way in town, and, well, there's the sad Ice Dogs saga—we even had a brief fling with indoor soccer. But we promise we'd go see some hoops if that will help you make up your mind.
Whatever decision the city makes, we insist that there's a jelly-covered-doughnut component to the project. At the turn of this century, while brainstorming how to draw tourists to the Queensway Bay waterfront, then-5th District Councilwoman Jackie Kell highly touted jelly-covered doughnuts on a stick, which she claimed had tourists clamoring for at the—once again—Tivoli Gardens in Copenhagen. We could find no evidence that jelly-covered doughnuts on a stick are even a thing. Anywhere. But, sure, we'd try one.
Support our journalism.
Hyperlocal news is an essential force in our democracy, but it costs money to keep an organization like this one alive, and we can't rely on advertiser support alone. That's why we're asking readers like you to support our independent, fact-based journalism. We know you like it—that's why you're here. Help us keep hyperlocal news alive in Long Beach.