Over the next nine months, the city's residents will elect five City Council members and determine if a one-time temporary sales-tax increase will become permanent. Mailers will go out, yard signs will be planted into lawns, and of course, endorsements will be touted.
Political campaigns in Long Beach seem to follow a uniform track: A seat opens up, a handful of candidates announce their campaigns and endorsements roll in.
The cynical voter would say that, like mayors before him, Mayor Robert Garcia has taken a heavy hand in choosing his City Council over the past few years, bestowing endorsements on those he trusts and doing everything in his power to ensure that they win.
Garcia's endorsements have often been followed by a parade of other incumbents, from in and out of the city, lining up behind candidates, heaping praise upon them and throwing fundraisers for them. And to a large extent those candidates and causes have succeeded on election day.
Long Beach election results: Measure BBB, which changes term limits, passes
Measure A, a campaign led by Garcia to enact a sales-tax increase in the city to fund infrastructure improvements and public safety, passed in 2016. A quartet of city charter amendments, including Measure BBB that extended the term limits of sitting council members and the mayor, passed.
He's recently pushed for Measure A to become permanent and the City Council agreed to add it to the March 3 ballot.
The current City Council has remained intact since 2014, with the mayor and council members lining up behind their colleagues for re-election bids, all of which have been successful. Some incumbents have run unopposed.
Garcia has already started to release his endorsements for the 2020 cycle, announcing that he would again back councilmen Al Austin and Dee Andrews, two beneficiaries of Measure BBB.
But is Garcia's support, or that of the political establishment, enough to win an election?
Jim Newton, a lecturer of public policy at UCLA and a former reporter with the Los Angeles Times for 25 years, said it's not that simple. In a low turnout area, a person who is able to mobilize a lot of votes could be a powerful ally, Newton said, but turnout isn't the whole game.
There's fundraising and getting volunteers to walk the district with you as you spread your message to potential future constituents. The latter could come in the form of endorsements from unions, which often volunteer their members to campaign for candidates.
Newton said that mayors or other politicians putting their weight behind candidates is not uncommon. Endorsements and deal-making are the stock and trade of politics, he said, and they're tools that everyone uses.
"There's nothing nefarious about trying to get the people you think can do a good job to serve and discouraging the ones you wouldn't think could be as good," Newton said. "There are ways that could be unsavory, but ways that are by the book."
In the end, there's a safety valve for the public: If they don't like the feeling that someone is being anointed, they can vote against them.
"It really is an instance where voters have the last word," Newton said. "In the end, voters can say 'No' to that."
Beating the political establishment is not easy, but it's also not impossible.
Councilmembers Stacy Mungo and Daryl Supernaw overcame their opponents' endorsements from the establishment to win their first races in 2014 and 2015, respectively.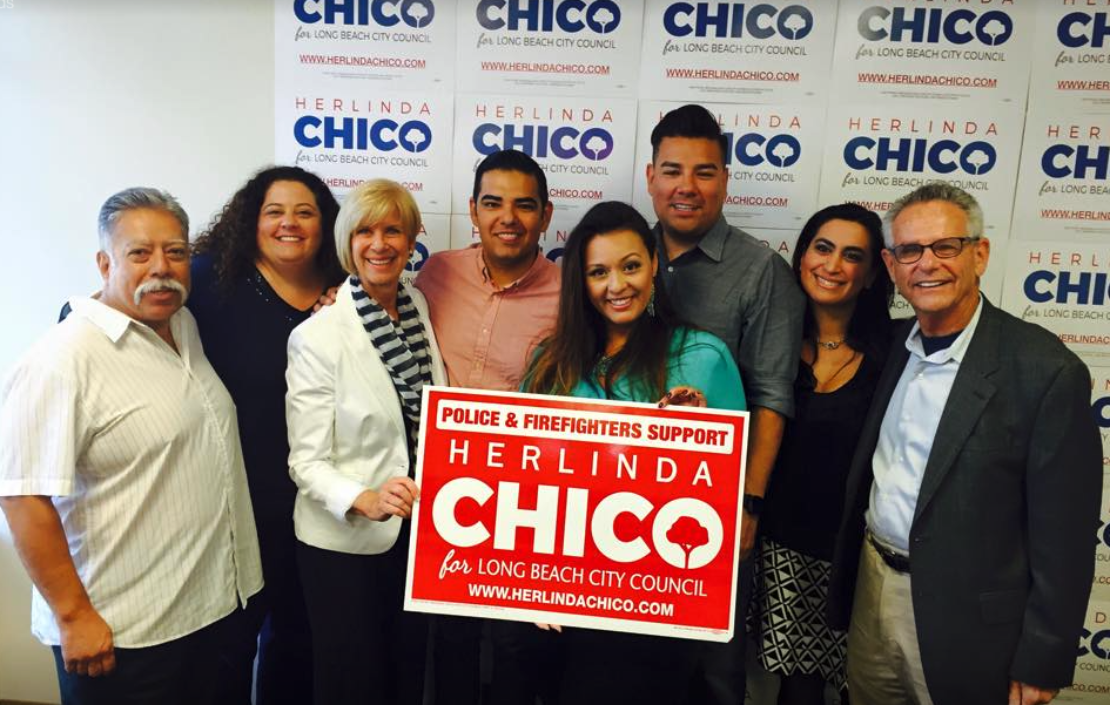 Supernaw's victory was a special election in which his opponent, Herlinda Chico, had the endorsements of Congress members Janice Hahn and Alan Lowenthal as well as Garcia and then State Sen. Ricardo Lara. Supernaw still won, beating Chico by 10 points.
"I went up against the juggernaut," said Supernaw, who had the backing of the Chamber of Commerce and other business groups.
Former Los Angeles County Supervisor and Los Angeles City Councilman Zev Yaroslavsky also defeated a juggernaut en route to his long and distinguished career as a Los Angeles politician.
Yaroslavsky, who now works as the director of the Los Angeles Initiative at the UCLA Luskin School of Public Affairs, said that the public is thirsty for authenticity and if office-seekers can present that to the public they have a chance to win, even if they start off at a competitive disadvantage because of the political muscle behind their opponents.
"A candidate is like a preacher," Yaroslavsky said. "You go out there and you're trying to convert people to your religion. And your religion is, 'I can do the job.'"
At 26, Yaroslavsky was able to convert enough of West Los Angeles to his religion en route to unseating Frances Savitch, a former aide to then-Los Angeles Mayor Tom Bradley.
He recalled that Savitch had the backing of nearly every Democrat in the state, yet his insurgent campaign was successful and he became the youngest Los Angeles City Council member. At his swearing in, Bradley congratulated him on becoming part of the establishment, to which Yaraslovsky said, "but the establishment is not a part of me."
Yaraslovsky does not deny the power of the establishment, but he said that's just a starting point. Endorsements can substitute for shoe leather but he believes that ultimately voters can see through the smoke and mirrors to pick out a genuine candidate.
"The landscape is littered with insurgent candidacies that have prevailed and surprised a lot of people," he said.
A special election on Nov. 5  to decide a new 1st District City Council person was brought to the city courtesy of a special election to fill a vacant State Senate seat. The condensed timeline and winner-take-all format will create a campaign that will resemble a sprint more than a marathon.
There are now seven candidates in the race, but the establishment has already picked sides. Mayor Robert Garcia and now state Sen. Lena Gonzalez, who previously held the seat, announced their endorsement for Transit board member Mary Zendejas. A number of prominent unions have since endorsed her as well.
For his part, Garcia says he doesn't believe he plays an outsize role in Long Beach elections. He said his endorsements are a reflection of who he thinks is best suited for the job and who will be the best in that position.
He said he tries to focus on selecting good people and supporting those who are already doing good work. While he doesn't believe there's some sort of magic endorsement that puts a candidate over the top, he hopes his backing means something when he decides to get behind a candidate.
"I have a strong interest in making sure there is strong leadership," Garcia said. "If I do [endorse] I'll be committed to that candidate and will support them in any way I can."