Memes to an end: D.C. news, now with cats!
The Backroom is a column by the staff of the Long Beach Post with notes and analysis, along with bloops and blunders, from the city's political scene. It runs every Thursday. To contact us, email [email protected]. For questions or concerns, please contact Managing Editor Melissa Evans: [email protected] or 562-437-5814. 
The president was impeached yesterday. Did you hear? Do you care?
It should be a big deal. It's only happened twice before (Bill Clinton and Andrew Johnson in 1868). Yet public sentiment is apathetic at best. At worst you've got the meme-posting fanatics who clogged up our Facebook post about an impeachment-eve rally in Long Beach Tuesday, one-upping each other with hundreds of photos of crowd-sizes and Don Jr. looking dour and clueless. And cats. The haters love cats.
We called our guy in D.C., Rep. Alan Lowenthal, to see if the mood was any different where the action was taking place.
On the floor of the House, it was more somber than usual, he said; normally the place is like a playpen at school, where kids frolic around talking with friends: "There was no walking around. Representatives were slowly walking in, saying their peace, listening for a while and leaving."
There wasn't much lobbying by Republicans and Democrats to rally votes or change minds, either, he said.
Outside is where Lownenthal said he noticed the biggest difference. Normally when Congress is debating controversial issues—like DACA, for example—massive crowds gather out on the lawn. This week, no one was there.
"That shocked me," he said.
The mood mirrored the divided state of the nation.
Consider this: In mid-November, a Marist/NPR survey concluded that two-thirds of Americans would not change their mind on impeachment, no matter what information or circumstances arose during the proceedings.
We're not sure how to feel about this. We're not sure we're able to feel anymore. We're only certain of one thing….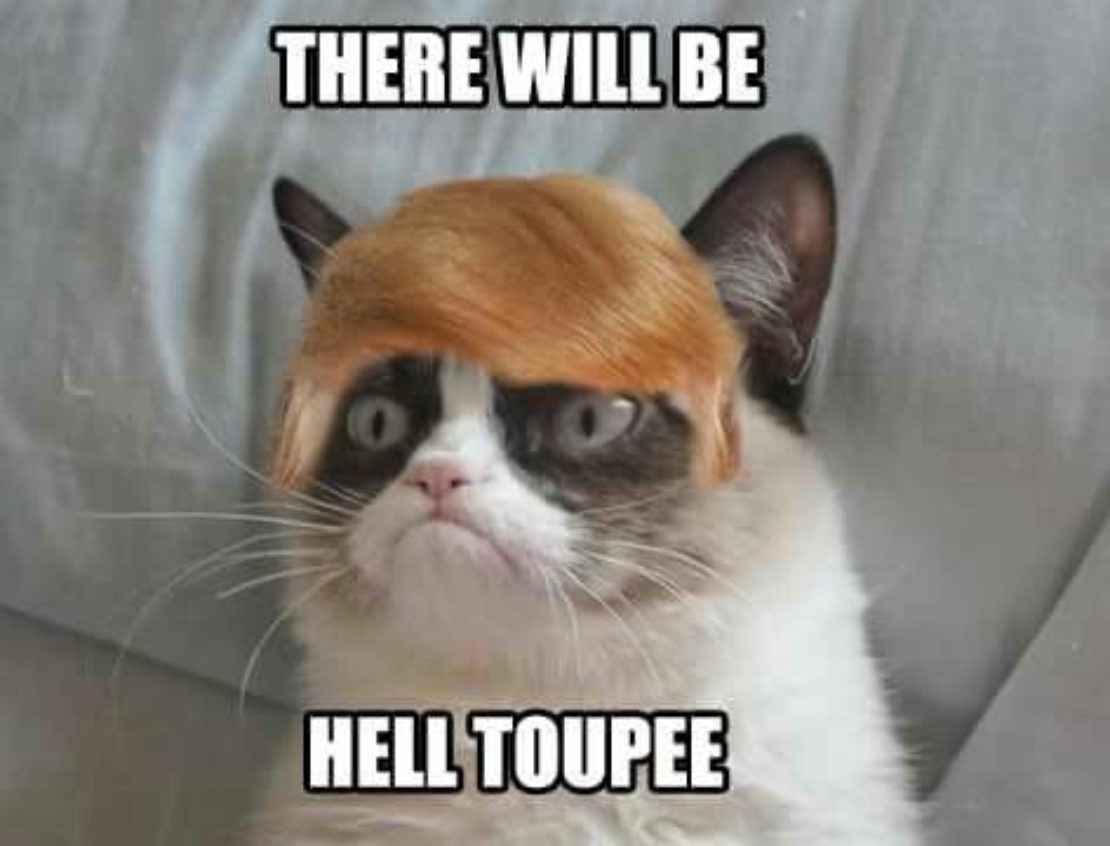 Ouch
A couple of years ago we were mewling about how boring the city elections were. Now, as 2019 comes to the final few feet of its torturous crawl to the grave, the elections are starting to be interesting again — that is, if you find cockfights to be interesting.
On Dec. 12, a half dozen of the candidates running for election in Council Districts 2, 6 and 8, met at the Elinor bar in Downtown Long Beach to fight over endorsement from the progressive group Our Revolution, which arose from the Bernie Sanders 2016 presidential candidacy.
Everyone seeking the group's endorsement was there, save for 8th District candidate Tunua Thrash-Ntuk, who couldn't attend because of a work conflict. Opting out of the forum were incumbents Al Austin of the 8th District and Dee Andrews of the 6th. Speaking on candidate Thrash-Ntuk's behalf were the tag team of outgoing 2nd District Councilwoman Jeannine Pearce and Thrash-Ntuk's husband, LBCCD Trustee Uduak-Joe Ntuk.
The candidates' responses to questions from the public regarding such subjects as the climate crisis, rent control and LGBTQ issues were fairly uniform, save for slight variances in progressivity.
The tensest moment, perhaps, came when Pearce pointedly asked Jeanette Barrera, who seeks to replace Pearce in the 2nd, what her leadership skills are and, somewhat caustically, where she has been during Pearce's tenure when she needed support to take on certain entities.
Barrera said she has been working in the community, and that her skills include communication that will bring people to the table. When she addressed Pearce as "Pearce" in her response, Pearce replied promptly that "It's Councilwoman Pearce," which Barrera then corrected in her response and to which Pearce then muttered that she was kidding.
There's nothing The Backroom enjoys more than a well-executed bit of passive aggressiveness. We wanted to throw roses.
There was nothing passive about a tweet issued the following evening by Austin, the incumbent in the 8th, who has been getting out-endorsed and out-funded by Thrash-Ntuk. Referring to Pearce's shilling for Thrash-Ntuk (and for the body of Pearce's work, for that matter), Austin tweeted at Pearce: "You have never been known for class or collegiality. Now the shady Ntuks are paying you to be their pit bull.
"Your track record of being messy and compromising your integrity for [a couple of emojis depicting sacks of money] has already cost you and others around you dearly."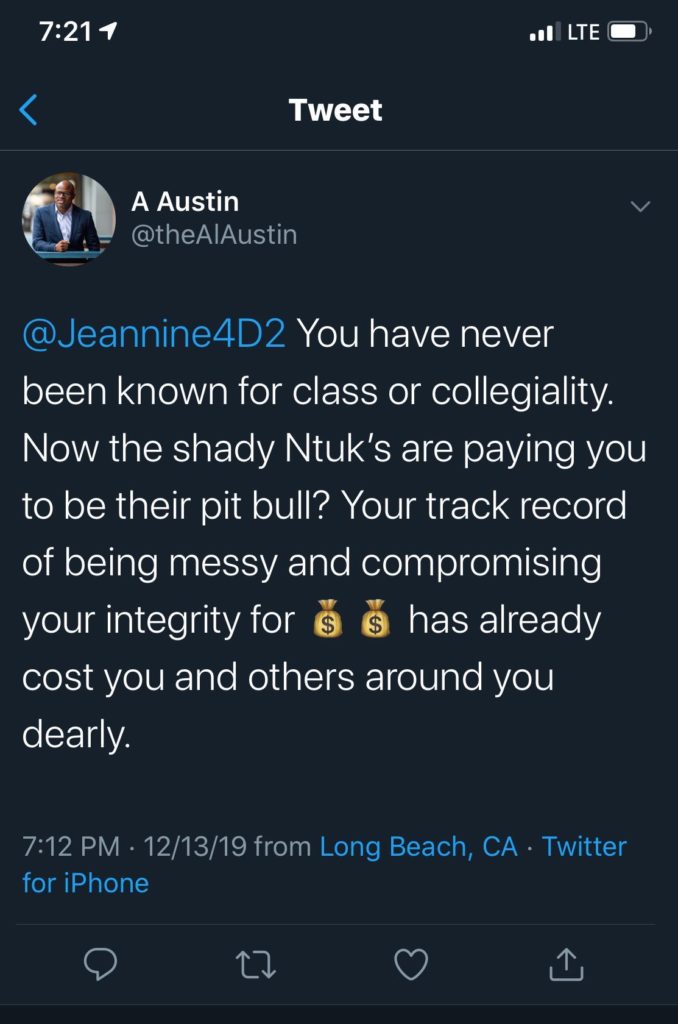 Austin deleted the tweet later (universal truth: The Backroom keeps receipts).
By Wednesday, both Austin and Pearce had retreated to their corners to be worked on by their respective cut men. Pearce issued us an "I don't tweet 🙂 no comment" text (Editor's note: Pearce later responded here) and Austin replied that the issue is "not one I want to touch right now."
Then, he touched it. "I took down the tweet," he said. "I just don't think right now it's worth my time to comment on someone who was forced out of office for lack of integrity. I wish I could say more. I wish I could give you some drama, but I don't want to deal with this silliness right now."
Almost incidentally, the Our Revolution endorsements went to Eduardo Lara in the 2nd, Suely Saro in the 6th and Thrash-Ntuk in the 8th.
Presidential pick 
In other endorsement news, Councilman Rex Richardson announced his pick for president: Elizabeth Warren now has the power of Uptown Long Beach in her corner—though Richardson has yet to be spotted leaping into her arms for a hug that lasts a bit too long.
The results are in! 
We're ready to call it: Daryl Supernaw is officially the first winner of the March 2020 election. After receiving no challengers, he was appointed Tuesday to a second term, which will begin in almost a full year (362 days, to be exact).
Meanwhile, Herlinda Chico, who ran unsuccessfully against Supernaw in 2015 when Patrick O'Donnell was elected to the Assembly—despite having the endorsement of seven of the eight sitting councilmembers—is reportedly talking about running for Doug Otto's open seat on the LBCC board in November (potential open seat, we should say, if he wins his LBUSD school board race next year).
Chico, who works as a field deputy for Supervisor Janice Hahn and is a member of the mayor's "Crew," told us that she is "strongly" considering running for the position and will make a decision next month. (The Backroom strongly suspects that she has already made her decision.)
Chico was just appointed this week to the Parks and Recreation Commission, a sure springboard to higher office. May the luck o' the Irish be with her, as they say.
Meanwhile, Dick Gaylord, a Belmont Shore Realtor, has also said he is seeking the seat.
Support our journalism.
Hyperlocal news is an essential force in our democracy, but it costs money to keep an organization like this one alive, and we can't rely on advertiser support alone. That's why we're asking readers like you to support our independent, fact-based journalism. We know you like it—that's why you're here. Help us keep hyperlocal news alive in Long Beach.