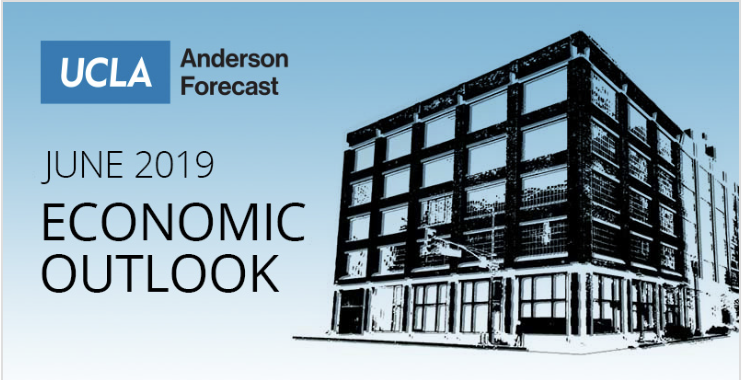 The quarterly UCLA Anderson Forecast released Wednesday predicts recession in the coming years.
Despite data from the federal government that the gross domestic product, or GDP, was a strong 3.1% in the first quarter of this year, a closer look "leaves little reason for celebration," according to the forecast. GDP is a commonly-used measure of the market value of all the goods and services produced in a specific period of time.
The rate of production may have been bolstered by several factors, including surprising strength in exports and a bulge in state and local spending on road repairs associated with this winter's storms, the report says. That production is likely to decline to 1.4% late this year and into early 2020 before rebounding to 2.1% in 2021, expert said.
UCLA Anderson Forecast senior economist David Shulman warns that "when the economy slows to 1% growth, the risk of a recession becomes very real, with the second half of 2020 being most problematic."
Professor Emeritus Edward Leamer writes that the previous four quarters provide signs of recession precursors, including weak residential investment and intellectual property and weak residential construction, among others.
The report sees a 15% chance of recession for the next year, and between 24% to 83% chance of recession for the following year.
The UCLA report also says that recent employment data may not be as robust as it seems. Growth in new employment may slow to 40,000 per month in 2020, with inflation forecast to run about 2%.
Trade tensions, along with a lack of skilled workers—particularly in California, with its heavy reliance on the tech industry—are also problematic, experts said.
Support our journalism.
It's been one year since the Long Beach Post began asking you, our readers, to contribute to keeping local journalism alive in the city.
Thousands have contributed over the past year giving an average contribution of $12.39 a month.
Please consider what the news and information you get every day from the Post means to you, and start a recurring monthly contribution now. READ MORE.