To no one's surprise, adopted hometown girl Misty May and partner Kerri Walsh will compete for an Olympic gold medal in beach volleyball on Thursday, and the Long Beach Century Club took time out of their Tuesday meeting at Legends Sports Bar to send them a good luck picture.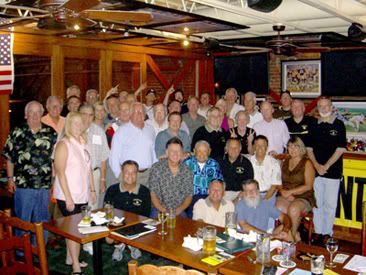 Thanks to Dan Gooch for the photo
(Note: three of your esteemed sportswriters giving the "LB" hand signal in back of the photo… GO MISTY!)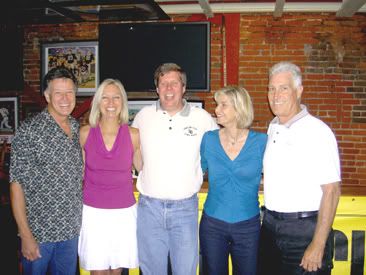 Also in attendance to send good luck and share past experiences were former Olympians Bob Seagren, Joan Lind Van Blom, Susie Atwood and Bruce Bradley (L-R, Century Club President Bob Hoyt center).
As Mike Guardabascio notes in this piece, twelve Long Beach athletes have a combined record of 23 wins, 2 losses and 1 tie in these Olympic games. Also see Mike's TV schedule so you don't miss a single Long Beachian in action as they attempt to bring Gold back to the International City.
While our Olympians fight for world medals, one Long Beach team has already accomplished the feat, as the 13-14 year-old Long Beach Pony All-Stars captured the Little League World Series title with a win over Taiwan on Saturday. LBPOSTSports.com followed the team's entire run to the crown, and we'd like to congratulate the players who made it happen. Get used to some of these names, as you'll see most of them in Long Beach high school programs next year: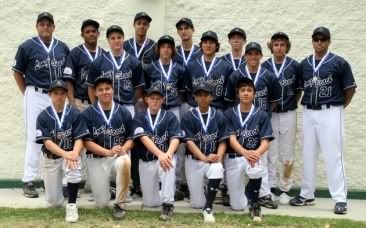 Chase DeJong
Avery Flores
Thomas Walker
Soloman Williams
Cody Elder
Brett Harper
Irie Elizalde
Matt Maccarrone
Oliver Van Buskirk
Daniel DeWolf
Jake Hardy
Matthew Heavin
Victor Martinez
Ty Provencher

Miss anything from the Long Beach sports world in the past week? Then click here to listen to our weekly SportsNight podcast, where we catch you up to date on all Olympic news and local goings-on.
Also, click below to check out video from this weekend's Plane Pull, which raised money for Southern California Special Olympics. See the bearded, red-faced man sweating bullets as he pulls on that 158,000-lb. plane? Hi Mike!
{loadposition bottomshare}