Smile! You're on a doorbell!
The Backroom is a column by the staff of the Long Beach Post with notes and analysis, along with bloops and blunders, from the city's political scene. It runs every Thursday. To contact us, email [email protected]. For questions or concerns, please contact Managing Editor Melissa Evans: [email protected] or 562-437-5814. 
How do we look right now? Good? No lettuce in our teeth? Hair's OK? We're concerned because we're pretty sure we're on camera right now. And so are you, shady reader.
---
Be the first to know.
Get the Backroom delivered to your inbox every Thursday.

---
Long Beach is littered with surveillance cameras, ranging from city-owned high-res videocams to a network of cameras owned by businesses and residential complexes, to your neighbor's nosy Ring doorbell and its associated cameras.
And it's the latter group that concerns us now that your Long Beach Police Department has partnered up with Amazon's Ring system. The pact will allow police to request videos from vigilant residents to help them solve crimes, as well as to post information about critical incidents to those residents.
So now we've got these digital Deputy Dawgs keeping tabs on us as we stroll through the neighborhood. Or, rather, stride purposefully through the neighborhood, eyes lasered straight  ahead, hoodie down, gloves off, lest we be taken for a meth-cooking, homeless, house-casing porch pirate, as virtually everyone is these days when it's better to be safe (assume a person is a criminal) than sorry (assume a person as innocent and then having all your power tools stolen).
Ring's app, Neighbors, available to everyone at no charge, is a sort of YouTube version of the oft-reviled Nextdoor app and a close cousin in terms of paranoia, profiling and panic. A brief scamper through the local Neighbors app shows the sort of frantic suspicion that makes these sites both humorous and disturbing.
"Transients roaming around on Los Coyotes Diagonal" is one Neighbors post, with a video showing a woman, apparently in a bathrobe, fiddling with the reporting neighbor's hose bib, with the description, "Female transient trying to get water at 2:30 a.m."
Another one, captured in broad daylight, shows a guy wearing gloves walking down the sidewalk. The headline: "What's up with this dude walking by with gloves on?" The responses indicated that the glove-wearing dude was a worker with Vector Control. Sometimes a cigar is just a cigar.
Last one: A video shows a young woman reaching over to try to open a backyard gate, but it's locked. She turns and leaves. "Woman tried to get in our backyard!" was the post's headline, followed by Neighbors' comments "She's not dressed to commit a crime, that's for sure," and "She has a backpack on so to think she is OK is just wrong," and "She is probably used as a scout for others, pretending to be an American student."
The videos are most effective in showing people stealing Amazon packages from porches and we suppose there's a bit of a chance that a Ring camera may occasionally assist police, but there's also a bit of a chance that we can be mistaken for a coyote and having neighbors throw things at us.
Friday, bloody Friday
The Backroom spent part of last week in the French Quarter, concocting metaphors and screaming at the Mississippi River in a drunken fog (did you know it's 200 feet deep at Algiers Point??). It was a perfect way to spend Friday the 13th, a full moon beaming above.
Our cynicism has immunized us to silly superstitions, however—as well as alcohol toxicity.
It was a far better night than that of Long Beach's newly-elected senator, Lena Gonzalez, who spent the evening at the state Capitol, the final day of the session, where an anti-vaxxer hurled what appeared to be menstrual blood onto the floor.
"I had to wash blood out of my hair & the Senate floor was disrupted for many hours…we got out of session at 3am," she wrote on Facebook, and posted a picture of a blood-splattered binder.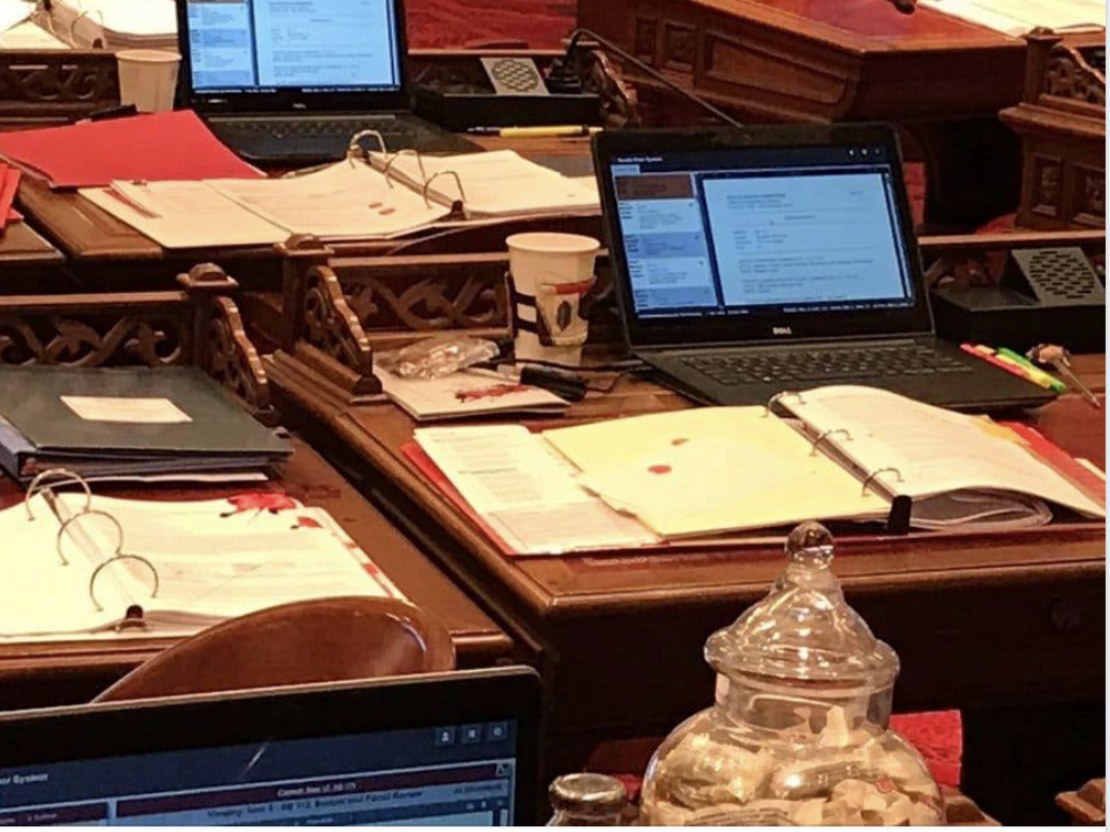 According to Politico, Friday's melee marked the first time the Senate did not meet in its own chambers since 2001, when a man drove a semi-truck into the south side of the Capitol.
She didn't let the incident get her down; Gonzalez went on to less sanguinary matters, deploying exclamation points while talking about the many bills passed: "For every ONE crazy moment, there are TWENTY more that outshine it all."
We give her props; we would've handled it differently, perhaps soaking in a tub of turpentine and scrubbing our skin raw with coarse-grain sandpaper while downing a bottle of Jeppson's Malört.
Campaign trail
The Post this week is interviewing six of the eight candidates seeking office for the 1st Council District on Nov. 5, a special election to replace now-Sen. Lena Gonzalez. We'll be publishing complete profiles of each, including their positions on homelessness, housing, air quality and other issues facing the Downtown area district.
Candidate interviews for upcoming @LongBeachCity 1st Council District special election are underway at the @LongBeachPost – all candidates are scheduled to meet with the newsroom throughout the week, with @jganem3, @TagaloaMisi & @shirleyhuling the first three to visit today. pic.twitter.com/WV4NeM2CDO

— David Sommers (@david_sommers) September 18, 2019
One subject on which all of the candidates we've talked with so far agree, and it's a matter that's poisoned politics for a long time: The political machine (as it's invariably termed) is out in full force.
The bulk of endorsements, including labor unions and elected officials, have gone to Mary Zendejas, the chosen candidate of the establishment. Only one other candidate has been able to claim support of any elected official: Misi Tagaloa snagged the endorsement of District 6 Councilman Dee Andrews, which is somewhat stunning.
Of the candidates interviewed so far, there is palpable despondence, but perseverance, that the deck seems to have been dealt long before voters have their say.
The Backroom has one request of you, our faithful readers: Study each candidate and their views, and make an independent decision. Read our profiles; read profiles and stories in other publications; listen to interviews with the candidates on the Palacio Podcast.
Support our journalism.
Hyperlocal news is an essential force in our democracy, but it costs money to keep an organization like this one alive, and we can't rely on advertiser support alone. That's why we're asking readers like you to support our independent, fact-based journalism. We know you like it—that's why you're here. Help us keep hyperlocal news alive in Long Beach.