After his players and their parents had left, PONY Manager Ken Jakemer sat down with us over a beer, and summed up his team's improbable 15-0 run to the World Championship in three words: "It was magic." After all the twists and turns and breaks that got the stellar team to the World Series, and the fact that they won it with a walk-off home run, you'd have to be crazy to disagree with him. And the magic didn't wear off after the team touched down in Long Beach, either. Since then they've been fêted by the Long Beach City Council, the Armada, the Angels, and the Dodgers, as well as greeted at their home ballpark by hundreds of fans and family. Last night, we did our best to keep the party rolling, co-hosting a parade down Pine with Smooth's, to give the citizens of Long Beach a chance to cheer on their World Champions.
The ride for the players was smoother than their road to the Championship, as they were waved on by onlookers from balconies and local businesses. The Wilson Drum Corps did a great job of letting everyone know the champs were coming, sending their staccato beat ricocheting off the Pine buildings. The players, restricted by a "No Mooning" policy, opted instead to cheer for Long Beach, as the city cheered their title run. As they passed street signs ("Pacific Ave! Pacific Ave!"), businesses ("Subway! Subway!") and bus stops ("Metrolink! Metrolink"), they chanted and shouted their approval. When the bus passed Hooters, of course, pandemonium broke out.
For a great look at the team's trip around downtown, check out the video JJ Fiddler put together (with additional footage by Shar Higa).
The party didn't end when the bus cruised to a stop in front of Smooth's, though—inside was food, and a table full of trophies for the team to add to its burgeoning collection. Coach Jakemer handed out the hardware, and shuffled his players down to the makeshift SportsNight recording booth, where we put together a special episode featuring interviews with all the coaches and some of the players from the PONY team. If you want to hear their story in their own words, click play on the player to the left, go to our home page and click on the Special Episode story, or go to this website. We're making it as easy as possible.
Well, I guess a video and a podcast are worth a thousand words—the lingering championship magic is worth even more. And if you'd have seen Coach Jakemer or his kids last night, you'd know: sometimes magic that strong can last a lifetime.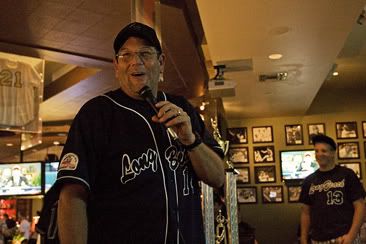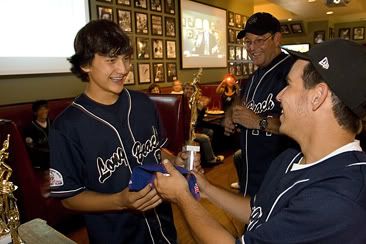 Disclosure: Smooth's is an advertiser with LBPost.com.
{loadposition bottomshare}