Rasheena Mccord says her son was walking home from school Wednesday afternoon when he was violently attacked.
Her son, who is black and a special-education student, was at 16th Street and Long Beach Boulevard when a handful of teenagers asked him where he was from—a common challenge among gang members.
"He tried to run, but they caught up to him," Mccord said. She described a video posted to social media showing the group punching and kicking her son near the Poly Academy of Achievers and Leaders.
Mccord said the attack lasted about two to three minutes. The video also shows the person filming, a black girl, getting attacked afterward, she said.
One of the attackers, who were Latino, was wearing brass knuckles, Mccord said. Fortunately, the weapon did not make contact with her son, she said. In the end, he had bruises on his head, a torn eardrum, scrapes on his elbows and muscle soreness. He is currently walking with a limp.
On Monday, Mccord was one of a handful of concerned parents and community members in front of Poly High School calling on school administrators and police to take action.
She believes the group that attacked her son was composed of current and former Poly High School students who targeted her son because of the color of his skin. She said the same type of attacks happened to other students on Thursday and Friday.
Videos posted on social media recently have shown groups of black and Latino boys or young adults attacking each other. Some of the posts are laced with racial epithets.
"I'm told it's being investigated, but I would like to hear more from school and police," Mccord said.
Shaunna Dandoy, a spokeswoman for the Long Beach Police Department, said police responded to a nearby hospital after Wednesday's attack to take the battery report. She said police are investigating it as "gang-related," which means they suspect the crime was committed for the benefit of, at the direction of, or in association with a gang.
So far, Mccord said she does not know of any arrests being made nor has her son been called into a police station to identify any suspects.
"That's very disturbing because if this was Beverly Hills it would be solved quickly," said Mccord.
Kim Williams, whose family and friends go to Poly High School, was also at the school Monday and called for a greater police presence.
Williams said she's been told that the attacks started based on gang affiliations but have shifted to race-based: "It's just about color now."
Some of the social media posts documenting the violence reference local gangs.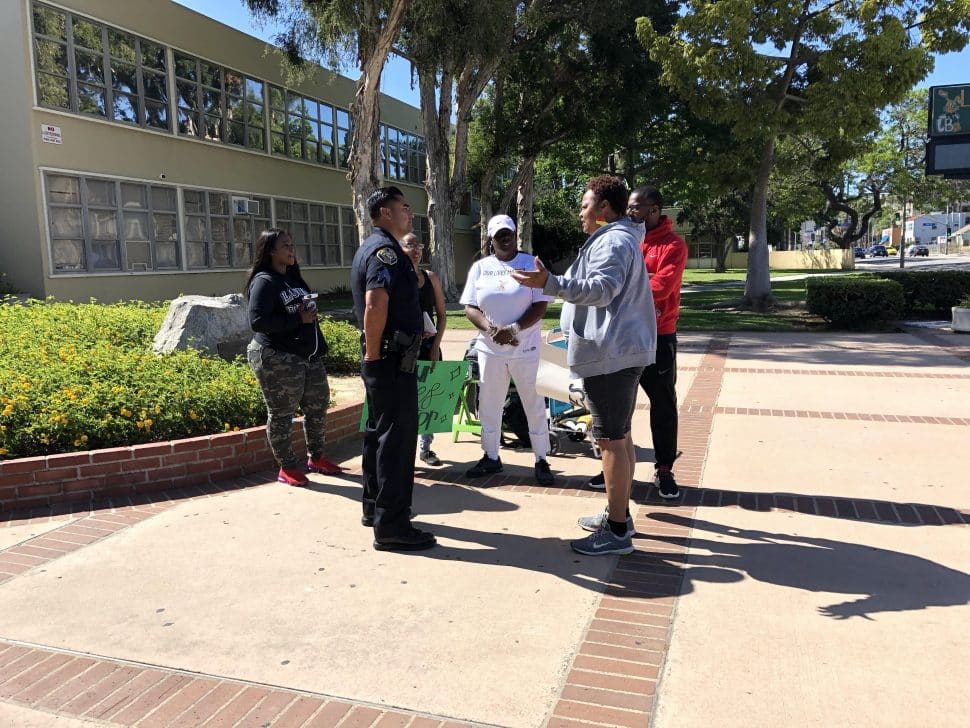 The incidents have been taking place for at least three weeks and have primarily happened on 16th Street, between Linden and Elm avenues, Williams said. They have all involved Poly High students, she said.
Dandoy said the police department has contacted school security officers, who are employed by the Long Beach Unified School District, to coordinate "visible patrols in the area before and after school."
Police "are working closely with the Board of Education security officers and school staff to identify the suspects," said Dandoy.
Dandoy acknowledged that while only one incident has been reported, it doesn't mean others didn't happen, and urged the public to report such incidents to the police.
Chris Eftychiou, spokesman for the school district, said school officials "do not have confirmation that students have perpetrated the off-campus fights" and that neither the school district nor Poly High administrators can comment on off-campus crimes nor individual conversations between parents and administrators.
Since Friday, Williams and other community members have started conducting their own patrols. They'll watch over students as they walk from school to a nearby bus stop in the morning and afternoon, she said.
"We need more police presence and some type of community town hall meeting with all minority groups involved," Williams said. "We need to all come together and have that dialogue."
Mccord said she didn't know about any of the previous incidents until she met Williams and others rallying in front of the campus. She said she doesn't understand why she and other parents hadn't been informed.
"We're trying to protect our children," she said.
Valerie Osier contributed to this report.