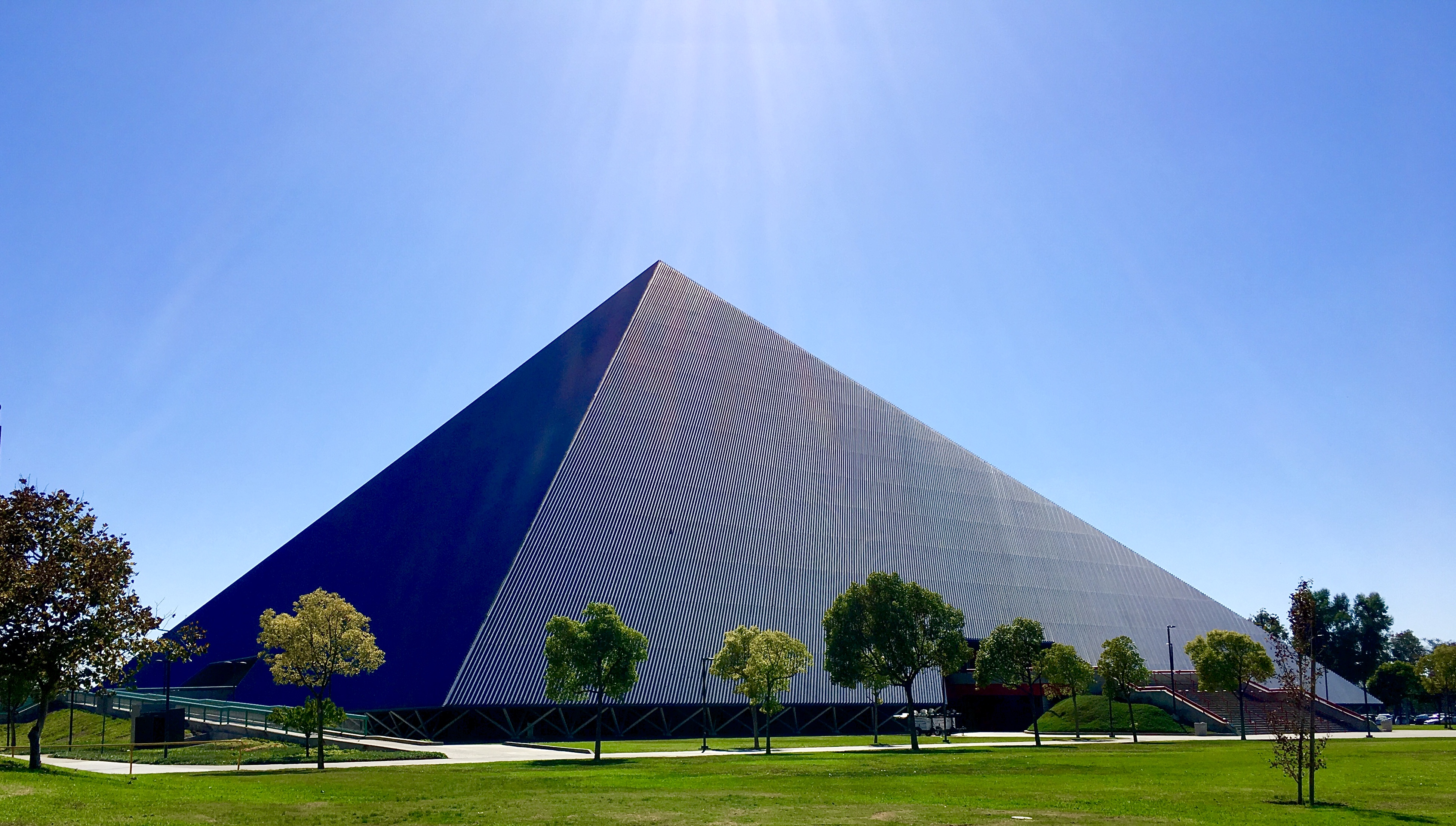 There is an ancient Arab proverb: "Man fears time, but time fears the pyramids."
It's poetic explanation about how these triangular peaked structures continue to stand the test of time—particularly those which survived thousands of years in the Egyptian desert. It's been a mere 25 years since the sleek, corrugated cobalt of the Walter Pyramid, rising 18 stories above the Cal State University Long Beach campus, first opened its doors to the public—a 71-64 victory by the LBSU men's basketball team over Detroit Mercy—but its impact has already been significant and impressive.
As a point of reference for cars traveling the 405 Freeway, or flights coming into Long Beach Airport, "it speaks to people in the community like a beacon," Cal State Long Beach athletic director Andy Fee said this week. "I believe it's the landmark for our city, not just the campus."
As an inspiration for artistic interpretation, illustrator Jordan Lance, who graduated from the CSULB art program in 2015, believes it belongs with a series he was once commissioned to do on the city's prominent touchstones, along with the Breakers Hotel, Villa Riviera, the International Tower and the Queen Mary.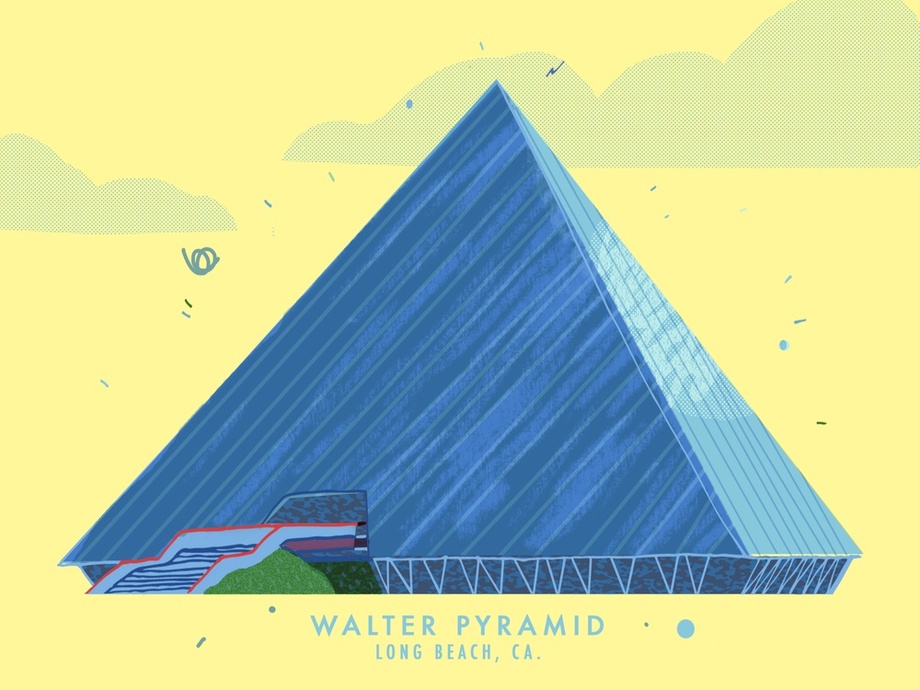 "I think it's a great symbol for such a unique place as Long Beach," Lance said.
Don Gibbs and the Neilson Construction Company of San Diego fashioned the unique space-frame structure that uses 18,000 steel tubes measuring out to more than 25 miles. It remains the only "true" pyramid-style facility in the U.S. that's primarily a sports-and-entertainment venue. The only thing comparable was The Pyramid Arena in Memphis, Tenn., former home University of Memphis and the NBA's Memphis Grizzles. It has since been converted to a Bass Pro Shops megastore.
But don't be baited into thinking this is just another odd-looking sports venue. Built for $22 million with 345 feet on each side of the square base, the home of the 49ers' men's and women's basketball and volleyball teams can accommodate three full basketball courts and nine volleyball courts when the unique seating platform sections are hydraulically positioned up.
The capacity listed at 4,200 can also accommodate nearly twice as much if need be, as a state-of-the-art conference center, The Pointe is used for workshops, seminars, academic lectures and public speaking events. Nearly 200,000 people pass through the Pyramid's doors each year.
Outside, it's a thing of wonder, on the inside we wondered: what are the most amazing moments in the quarter century history of this pointed palace?
Amidst the championship banners and retired numbers hanging from the rafters, from the night it opened with a nationally-televised Long Beach State men's basketball game, to the 49ers men's volleyball team clinching a national title on its home floor just months ago, we ranked the top 25 happenings in the 25-year history of the Walter Pyramid.
1. May 4, 2019: The Long Beach State's men's volleyball team captures its second straight national title on its home court, outlasting Hawaii 23-25, 25-22, 25-22, 25-23, to finish 28-2 behind tournament MVP, TJ DeFalco. "Even for someone who is relatively new in this arena's existence, this was absolutely tremendous," said Fee. "I've spoken with so many people who've been coming here for the last 25 years and saw some amazing teams—Brian Gimmillaro with Misty May in women's volleyball, Caspar Ware playing basketball—to compete for a national title is special in itself. To do it on your home floor is more special. Then to win it, that's beyond special. There was so much energy that weekend, a real sense of pride in the city that the rest of the nation and the world could see on ESPN."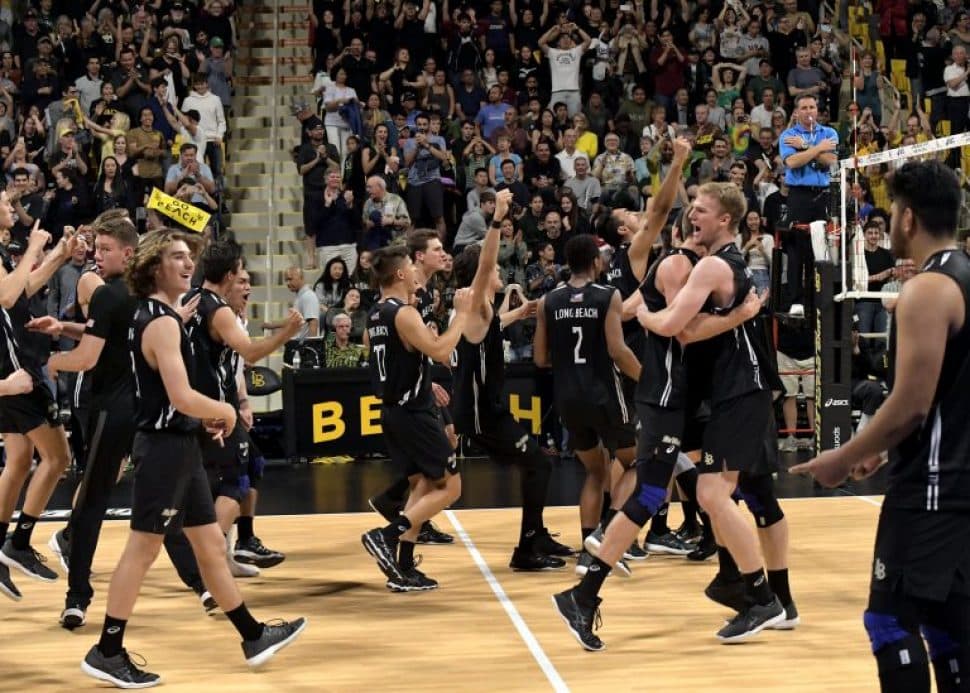 2. July 13, 1996: Kobe Bryant makes his Lakers debut during the Southern California Summer Pro League, a league that included NBA teams stocked with recent draft picks or undrafted players trying to make their mark. The SCSPL had its home at the Pyramid from 1994 to 2007 and included a team fielded in 2001 by Magic Johnson with football players Terrell Owens and Tony Gonzalez. The 17-year-old Bryant scores 27 points in 26 minutes during a 123-113 loss to Detroit. Pistons coach Alvin Gentry said: "I don't want to compare anyone to Michael Jordan, but I'll call [Bryant] Jordanesque. I have never seen a better player his age at his position." Two weeks later, Bryant signs a $3.65 million deal. He averages 25 points a game in the SPL with teammate Derek Fisher.
3. Nov. 30, 1994: The Pyramid's opening night sees the Long Beach State men's basketball team coached by Seth Greenberg take on Detroit Mercy before a standing-room-only crowd of 5,021 as well as an ESPN audience. The 49ers win, 71-64, behind future NBA players James Cotton and Juaquin Hawkins. The facility will officially be renamed the Walter Pyramid in honor of donors Mike and Arline Walter on March 5, 2005. Mike Walter was the dean of Long Beach State's College of Business Administration from 1993 to 2000.
4. Nov. 16, 2012: An attendance record of 6,912 is set as the 49ers men's basketball team takes on No. 11 North Carolina. The 49ers trailed by one at the half and took several leads in the second half, but the Tar Heels prevail 78-63 to snap a 23-game Pyramid win streak for Long Beach State.
5. Dec. 3, 1998: The 49ers women's volleyball team, featuring All-American Misty May, opens the NCAA tournament with a perfect 15-0, 15-0, 15-0 sweep of Southern, marking the only time a school held an opponent scoreless in an NCAA tournament match. They would advance to the Final Four after a three-set win over Texas on Dec. 11, eventually winning the title over Penn State.
6. Dec. 14, 1994: The first NCAA tournament game in the facility gives the defending champion Long Beach State women's volleyball team, seeded-second in the Northwest Regional, a place to record a 15-10, 15-6, 15-8 win over Montana behind 17 kills from Brita Schwerm.
7. Sept. 1, 2001: Long Beach State's third-ranked women's volleyball team upends No. 1 and defending national champion Nebraska 30-26, 28-30, 31-9, 30-25 to snap the Cornhuskers' 36-match win streak. The early season matchup drew 4,940 fans.
8. Nov. 22, 2008: The first fall homecoming game is also the first time the 49ers men's basketball team has what it calls its "Fab Four" together—Casper Ware, Larry Anderson, T.J. Robinson and Eugene Phelps—who went on to win two Big West titles. Long Beach State rallies from a 23-point deficit with 11 minutes left to win 73-69 in overtime against a Weber State team featuring Damian Lillard.
9. Jan. 28, 2012: Before a then-record 5,649 without expanded seating, the 49ers men's basketball team improves to 9-0 in the Big West behind James Ennis (19 points), Larry Anderson (16 points), Casper Ware (11 points, five assists) and T.J. Robinson (10 points, nine rebounds) by beating Cal State Fullerton 75-61. The 49ers win the conference title and gain an NCAA Tournament appearance.
10. June 8, 1997: The Dalai Lama delivers a 40-minute speech before some 5,000 Vietnamese expatriates from Orange County. The exiled Tibetan spiritual leader said: "We both remain in other countries as refugees. But on this Earth, in these modern times, democracy and freedom is almost like an unstoppable force… I feel that definitely there will be a change."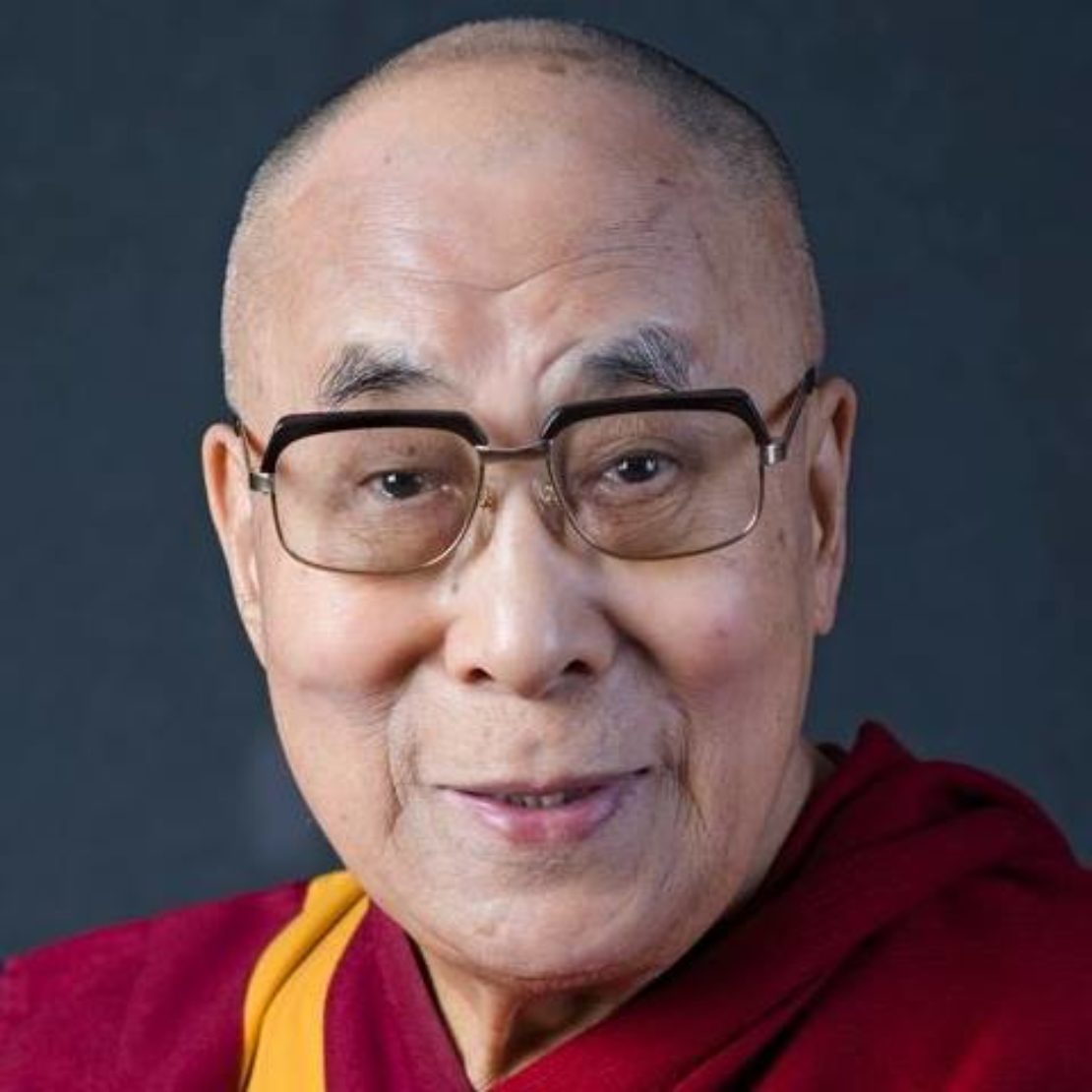 11. Feb. 3, 2018: Gabe Levin's 45 points in a double-OT, 105-104 loss to UC Davis, ties the 49ers men's single-game record set by Long Beach State legend Ed Ratleff in 1970.
12. Nov. 7, 1998: The 49ers women's national championship volleyball team, destined to be an undefeated national champion, sets a then-Pyramid attendance record of 5,118 with a 15-9, 15-5, 15-6 win over rival UC Santa Barbara behind 12 digs by Misty May.
13. Feb. 24, 1996: The 49ers men's basketball team finishes 17-11 overall and clinches the Big West regular-season title at 12-6 with a 105-86 win over San Jose State, its first championship at the Pyramid.
14. Sept. 29, 2016: Candace Parker scores 30 points and Nneka Ogwumike adds 27 points and 10 rebounds as the Sparks win the opener of the best-of-five WNBA semifinal series against the Chicago Sky. The game was moved from Staples Center to the Pyramid because of a conflict with a Los Angeles Kings hockey game. Before the contest, Magic Johnson helped WNBA president Lisa Borders present Ogwumike with the WNBA regular-season MVP award. The Sparks play several WNBA playoff games at the Pyramid over the years, including Sept. 22, 2019, Game 3 of their WNBA semifinal series against the Connecticut Sun.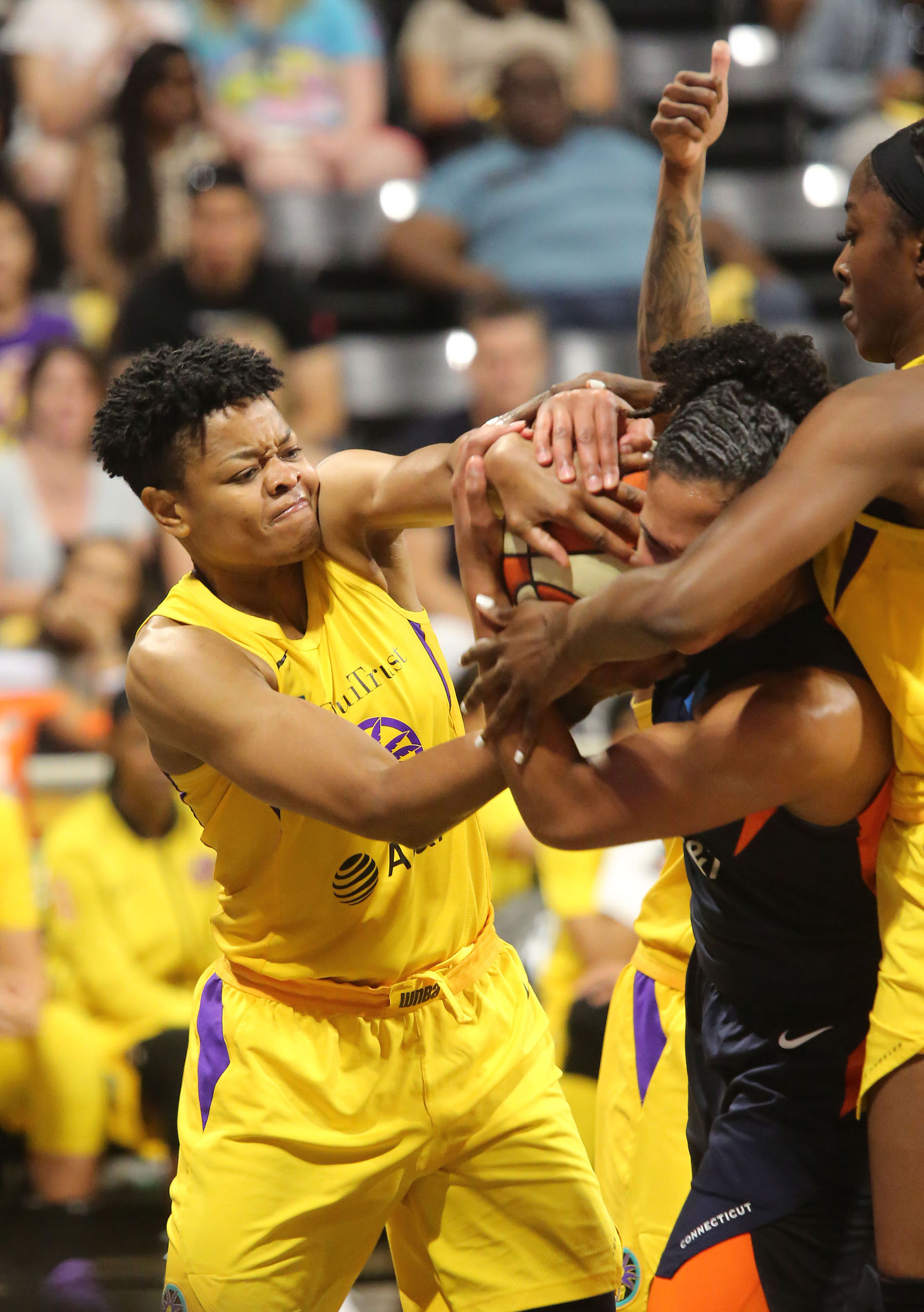 15. Nov. 30, 1995: The Long Beach State women's volleyball team, ranked 16th in the nation with setter Misty May, opens the NCAA tournament with a three-set win over Colorado State as the host school for the eight-team Mountain Regional.
16. Dec. 19, 2013: Mike Caffey's driving layup in the closing seconds secures a 72-71 win over USC for the 49ers men's basketball team, improving their mark to 3-1 against the Trojans at the Pyramid. UCLA has never played Long Beach State in the Pyramid.
17. Jan. 18, 1995: The first Long Beach State women's basketball game at the Pyramid is an 85-67 win over Cal State Northridge.
18. Jan. 25, 1995: The first Long Beach State men's volleyball match at the Pyramid is a 17-15, 6-15, 15-10, 15-9 win over Princeton.
19. Nov. 2, 1997: No. 2 Long Beach State, featuring All-American Misty May, records a three-set win over No. 14 Hawaii before 5,015 fans in a season that would lead to another national title, causing head coach Brian Gimmillaro to say to the L.A. Times: "I loved the Gold Mine, but the Pyramid is heaven." This is right in the middle of a 57-consecutive match win streak.
20. March 11, 1998: The women's pro basketball Long Beach Stringrays of the American Basketball League, knock off the Columbus Quest 71-61 in the second game of the championship best-of-five series at the Pyramid. The Stingrays, who finish 26-18 led by center Yolanda Griffith, last only one season.
21. May 4, 2003: BYU is upset by Lewis University in the NCAA men's volleyball championship, but the small school located in the  Chicago suburbs, does not go down as the first non-Division I program to win the title when the NCAA Committee on Infractions takes its away and vacates the title. The Pyramid is also host of the 2001 NCAA championship where BYU defeats UCLA.
22. Oct. 15, 2004: Then-senator Hillary Clinton delivers a speech before the upcoming presidential election.
23. March 23, 2019: The 19th annual U.S. Sumo Open, the largest and longest-running sumo event in the world outside of Japan takes place featuring more than 50 wrestlers.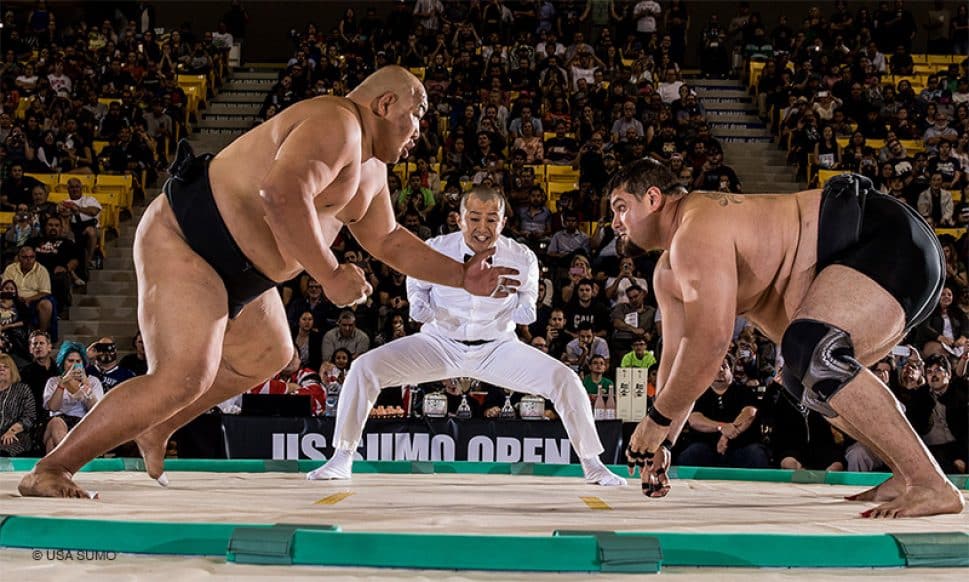 24. May 2001: The Pyramid is used for the first time to stage the CIF Southern Section boy's basketball title games. Bishop Montgomery wins the III AA division behind brothers Derrick and Errick Craven, who went on to star at USC.
25. June 9, 2019: The Southern California Special Olympics celebrates its 50th year with the annual Summer Games, with the opening ceremonies outside the Pyramid and several sports competed inside. The event is led by Bill Shumard, president and CEO of Special Olympics Southern California, who is a former Cal State University Long Beach athletic director and alum. In 2007, Special Olympics of Southern California moved its headquarters to Long Beach.