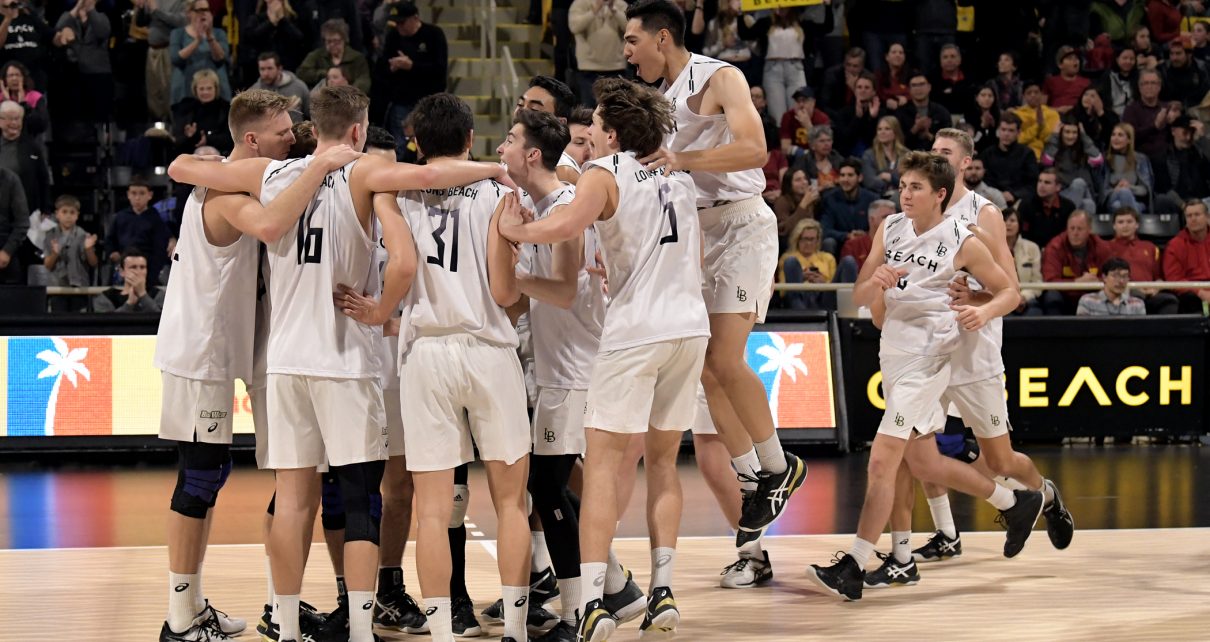 College Corner: Banner Day For Long Beach State men's volleyball
Break out the banner puns!
Saturday evening will be a Banner Day for the Long Beach State men's volleyball team, which will be carrying the banner against Pepperdine in the Walter Pyramid at 7 p.m. on a night that will also see them raise a banner.
And breathe…
The Beach will unveil the 2019 NCAA championship banner in the spacious Pyramid rafters before its game against the Waves, with a ceremony that is sure to make coach Alan Knipe bristle.
After they raised the banner last year for 2018's title, before a win over USC, Knipe was eager to talk about anything else. He is the ultimate "stay in the moment" coach, which is probably why he's produced so many great moments for Long Beach sports fans. Saturday will also see the team trying to keep its program-record 45 match home win streak going as they host the Waves.
Long Beach State Basketball
There were a pair of positive results for Long Beach State basketball fans in desperate need of some good news after slow starts for the men's and women's teams at the school.
The men's team snapped a 16-game Big West win streak for UC Irvine with an impressive win at home earlier this week, handing the Anteaters their first conference loss. The Beach is 2-3 in league—7-14 overall—and in seventh place in a pretty dreadful Big West.
But a win over first-place Irvine shows that on any given night they can go toe-to-toe with anyone in the league, which is all they need to do to win the Big West Tournament in March. Darkening the big win was a bad loss to Fullerton, a bottom-half team alongside the Beach. As JJ put it after the Fullerton game, we know that the Beach can beat anyone in the Big West, and they can lose to anybody, too.
For the women's team, things are trending up as the squad is in third place in the Big West with a record of 3-2, 8-10 overall. They just handed CSUN their first loss in conference and beat a tough Hawaii team at home. The Beach is leading the Big West in steals and their aggressive zone held Hawaii to five points after one quarter and just 15 points in the first half at the Pyramid on Thursday night.
The LBSU men visit UC Riverside on Thursday next week then host UC Santa Barbara Saturday at 4 p.m. The women will visit UC Irvine on Saturday and then host UC Riverside next Thursday evening.
Gruesome Injury For LBCC
LBCC star basketball player Jace Bass has been in the midst of a great run for the Vikings, averaging nearly 30 points a game for the Top 25 squad. But he sustained a gruesome injury last week, landing after shooting a three and dislocating his ankle, which was pointed at a decidedly incorrect angle as he hopped off the court.
The Vikings' trainers were able to assist him, and the hope is that Bass will return to play soon. If it were us we'd probably take a decade or two to recover. The Vikings are 14-5 and will visit Cerritos tonight then host Compton College on Wednesday at 7 p.m. in the LBCC Hall of Champions.
Support our journalism.
Hyperlocal news is an essential force in our democracy, but it costs money to keep an organization like this one alive, and we can't rely on advertiser support alone. That's why we're asking readers like you to support our independent, fact-based journalism. We know you like it—that's why you're here. Help us keep hyperlocal news alive in Long Beach.