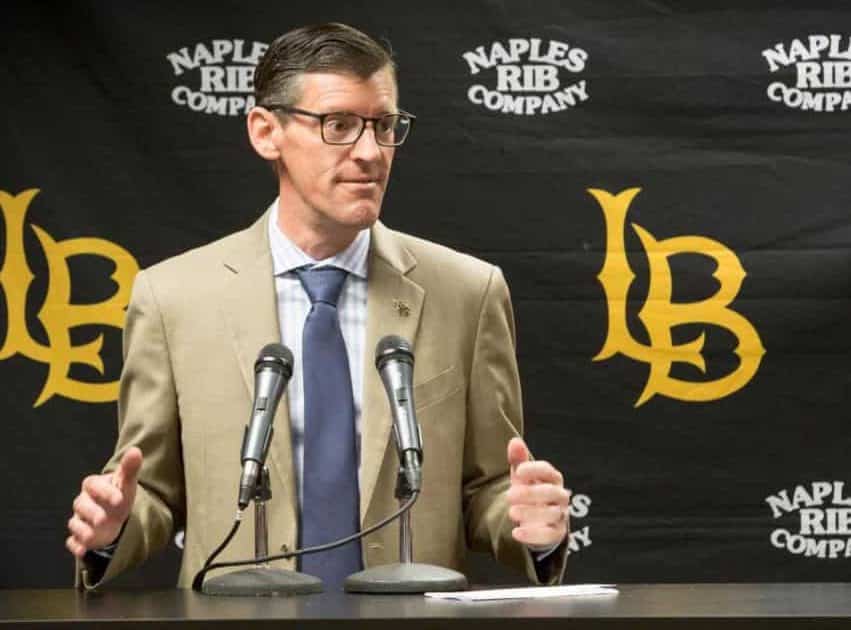 College Corner: How SB 206 changes California college athletics
Paying NCAA student-athletes has been a hot button issue for years, and California is at the forefront of changing the conversation.
However, Long Beach State Athletic Director Andy Fee hasn't been shy about his opposition to SB 206. The California Senate Bill 206, which Gov. Gavin Newsom signed into law on Sept. 30, will allow NCAA student-athletes to profit off their name, image or likeness.
Other states have proposed similar measures in order to pressure the NCAA into changing its bylaws. SB 206 will go into effect on Jan. 1, 2023, when the NCAA will no longer be able to punish a California university if its student-athletes are compensated. Student-athletes will also be able to hire an agent while in school.
Fee has expressed his concern in national publications that this law is not how to resolve the issue. On Monday, he responded with an official statement.
"We hope that an ongoing effort to make adjustments to NCAA name, image and likeness rules will ultimately lead to a more robust experience for our student-athletes, while not changing our core mission," he wrote.
Fee isn't the only one concerned with the repercussions. The University of California, California State University, USC and other major universities have all come out in opposition to the bill because they believe it will increase compliance costs.
Fee has been quoted on this issue in the New York Times, Los Angeles Times and elsewhere but was much more candid when The562.org interviewed him last week on their podcast.
"It's a substantial departure from where we currently reside in collegiate athletes," Fee said. "I believe SB 206 will have some negative consequences. I've used the analogy of playing Monopoly. Right now you have everyone playing the same rules. With SB 206, we're sitting at the board with two sets of rules. In that case, how is anyone playing with any standard of fairness or equity? That's the scary part of doing this at the state legislature level."
Women's Volleyball
Long Beach volleyball legend, and current Long Beach City College coach, Misty May-Treanor added another hall of fame to her already impressive resume last month. The three-time Olympic gold medalist has been inducted into the Long Beach Century Club Hall of Fame, the Long Beach State Hall of Fame, the Newport Harbor Hall of Fame, the International Volleyball Hall of Fame and the Southern California Volleyball Hall of Fame over the last several years.
Now, May-Treanor will become a member of the newly-revived United States Olympic & Paralympic Hall of Fame during a November ceremony in Colorado Springs.
"I'm truly humbled, words can't express," May-Treanor said. "I can't believe I'll be standing among the greatest athletes in the world. I never played this sport for the money or the accolades—I love it. I wish I could still play today, but my body said no."
May-Treanor was a national champion and National Player of the Year at LBSU. At LBCC, she's led the indoor women's volleyball team and beach volleyball teams to consecutive conference championships, earning conference Coach of the Year honors for both.
Long Beach State Women's Soccer
The Beach (2-7) may have bitten off more than it could chew with its ridiculously difficult nonconference schedule this year. Six of LBSU's seven losses this season have come against teams who have either been nationally ranked or have received votes this season.
Coach Mauricio Ingrassia talks every year about how his mid-major program has to play the best programs in the country in order to raise their RPI (Rating Percentage Index of opponents) and stay eligible for an at-large berth into the NCAA Tournament. Ingrassia and other top Big West Conference teams have to do this because the bottom half of the conference schedule can only hurt the RPI of the top teams.
For example, LBSU is starting its Big West season at Cal Poly on Thursday night. The Mustangs (3-7-1) have one of the worst RPIs in the conference, and no matter the score, the game is an RPI killer for the Beach.
Interestingly enough, LBSU was picked to win the conference in the preseason coaches poll, and Cal Poly was picked to finish last. However, the Mustangs got one vote to win the conference. In other words, eight coaches think Cal Poly is the worst team in the Big West, and one coach thinks they're going to win it all.
All of this is just another reason to ignore college rankings and only pay attention to RPI standings. They're all that matters when it comes to making the NCAA Tournament.
LBSU is currently No. 151 in the RPI rankings, fourth-best in the Big West.
Long Beach City College Water Polo
The LBCC women's season is off to a great start, and they got a unique experience at the Mt. SAC Mountie Classic last weekend.
LBCC (9-1) opened the showcase by beating Santa Monica and then the Vikings took down the Philippines Women's National Team 14-10 in the last game of the weekend. Sophomore Jillian Schultz and Long Beach Poly alum Sydney Brightenburg each scored four goals against the Philippines.
The LBCC men are 13-0 after dominating four games as part of the Cuesta Invite last weekend. Sophomore attacker and Montenegro native Vedran Latkovic leads the Vikings with 42 goals this season. Both LBCC water polo teams are hosting El Camino at 3 and 4:30 p.m. on Wednesday.
Support our journalism.
Hyperlocal news is an essential force in our democracy, but it costs money to keep an organization like this one alive, and we can't rely on advertiser support alone. That's why we're asking readers like you to support our independent, fact-based journalism. We know you like it—that's why you're here. Help us keep hyperlocal news alive in Long Beach.