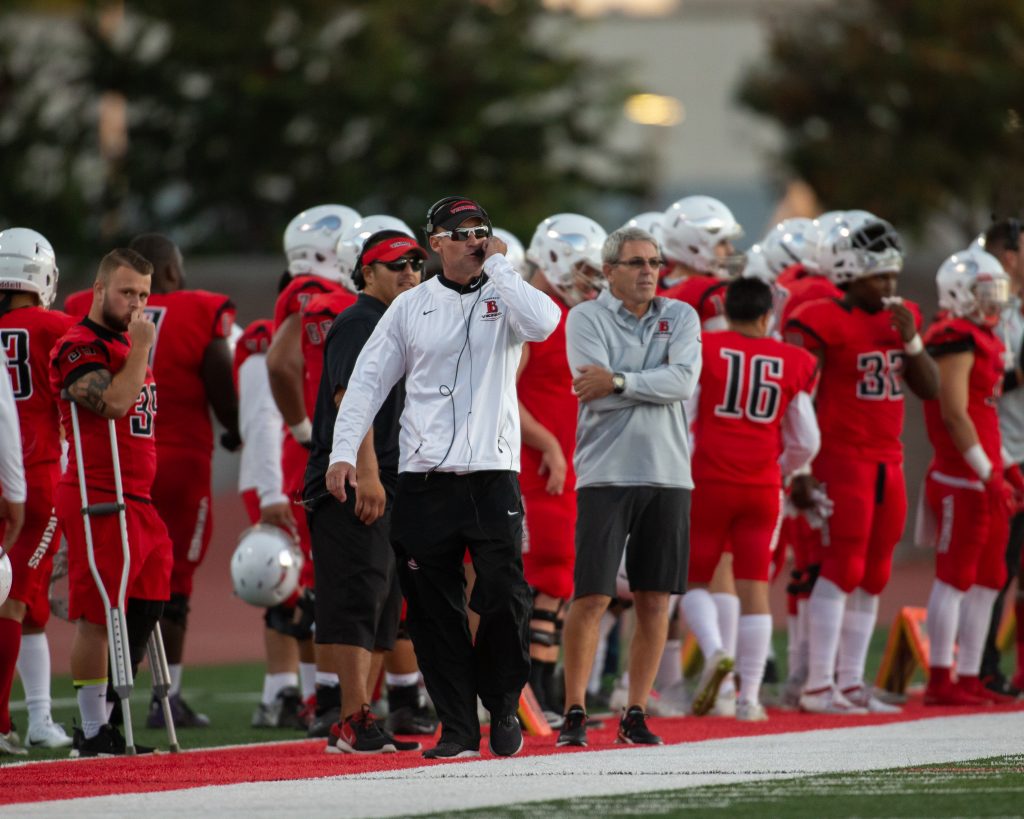 College Corner: Long Beach City College football showing its hard knocks
Everyone who knows him knows that Long Beach City College football coach Brett Peabody is an intense, dedicated professional who speaks his mind. LBCC media producer Bradlee Crihfield is putting that personality on stage in the five-episode YouTube web series "REDEMPTION," a behind-the-scenes look at the Vikings football program.
Crihfield, 33, has been at LBCC for a year making commercial enrollment-based videos. The Lakewood High grad is a wrestler and MMA fighter who only played a year of football but jumped at the opportunity to get outside and promote the college through the athletic department's culture.
Peabody had talked about this show idea with LBCC media producer Jerome Thomas before Crihfield came on board last year, and Peabody was impressed when he saw Crihfield's work on campus.
"When [Crihfield] came to me I was definitely interested," Peabody said after watching the first episode last week. "Obviously, I had some concerns with how some things could be represented, but I feel really good about it. I'm really proud of how we run the program here. We really do care about our kids, and hopefully, that's conveyed. I think (Crihfield) has done really well capturing the kids' personalities and what our program stands for."
Crihfield agrees that the series is far less about football than about "Peabody's influence on the young men, and what he does for them through academics and mentorship."
On the practice field this summer, Crihfield quickly learned how much raw footage he could get, but chose his moments carefully in the editing room, giving Peabody the final cut.
"Obviously, I'm cutting out anything that can be derogatory or hurtful, but this project excites me because I'm not the most politically correct person, so I like the idea of using the medium to convey a message," Crihfield said. "In today's climate, people are looking to be offended. There's a lot of opportunity to show the positive side to guys who talk incorrectly, harshly or insensitively by showing they're still good people. Not everyone is mean or evil because they talk a certain way."
In the first episode, you can hear Peabody yelling at his players to "Shut up and take it like a man!" after a tough loss. Crihfield has already received comments about the quote.
"People said that's toxic masculinity, and that these young men are being told to shut up," Crihfield said. "But the context matters. That's what long-form [documentary] has the ability to do— to take it out of being a sound bite and give it context where he's really expressing ownership and responsibility for these young men who need that more than anything."
LBCC Men's Water Polo
The Vikings (14-0) are ranked No. 1 in the California coaches poll this week; nothing new for Chris Oeding's program. The Olympian and Team USA assistant coach has found success in and out of the pool by attracting players who have plans to transfer out of LBCC. That includes the three to six international players that Oeding brings in every season.
"We're one of the schools they're looking at when they come over here and try to join our collegiate system as a program that will help them integrate and get on a four-year level," Oeding said of the international transfers. "These kids are pretty good athletes coming in but they're not used to having school connected with their sport. In Europe you have school and then you go to a club to play your sport. The school here does a great job in terms of athletic counseling and guidance to give them a plan of classes to be able to make that next step."
Oeding doesn't have to sell himself too hard after almost 20 years at LBCC that has included seven state titles for the men's and women's teams. Oeding was also a US water polo Olympic team captain and is currently the USA Water Polo Women's Senior National Team assistant coach. He said those connections only make his program better.
"Having the street cred and my past with the national team probably gets me an email or a phone call to just open the door," Oeding said. "It helps in the process but it's definitely not the reason why these guys are coming here. You can have the best coach at an institution but if those student athletes aren't transferring on and having success then it really doesn't mean much."
Last year, LBCC sophomores Karlo Krmek and Ivan Mercep transferred to UC schools. This year, LBCC is led by international transfers Vedran Latkovic's team-high 44 goals and Jose Loubriel's team-high 14 steals and four blocks. Latkovic is from Montenegro and Loubriel is from Puerto Rico.
Major Awards
Long Beach State women's volleyball libero Hailey Harward and LBCC football linebacker De'Anthony Jones were rewarded for their efforts last weekend.
Harward was named Big West Conference Defensive Player of the Week for the fifth time in her indoor career after leading the Beach to a win at CSUN. The senior had 22 digs, three assists and a pair of aces to help LBSU snap a six-match losing streak. Harward now has five 20-plus dig performances this season.
Jones was named the Southern California Football Association National Division Defensive Player Of The Week. The sophomore had nine tackles, three tacks for loss and 1.5 sacks in the 36-24 win over Cerritos.
Scoring In Bunches
It looked like the LBSU women's soccer team was going to start its Big West schedule with a 1-0 loss at Cal Poly last Thursday, until sophomore Elysia Laramie scored two goals in a 32-second span with five minutes left in regulation to turn it into a 2-1 victory. Those two goals account for 20 percent of LBSU's offensive output this year.
Support our journalism.
Hyperlocal news is an essential force in our democracy, but it costs money to keep an organization like this one alive, and we can't rely on advertiser support alone. That's why we're asking readers like you to support our independent, fact-based journalism. We know you like it—that's why you're here. Help us keep hyperlocal news alive in Long Beach.