Tom Pontac, one of 15 legacy runners participating in Sunday's 35th Jet Blue Long Beach Marathon, was describing not only what it's like to have run in all 35 events, but what it's like to do it as an 83-year-old dealing with Parkinson's Disease.
"At this point, it's really just about keeping my balance," he said. "I tend to lean to the left and forward now. I probably had a few mini-strokes on my left side as well. I keep reminding myself: You have to move with intent. With Parkinson's, things that used to be normal—running, walking downstairs, standing up straight—you can still do, but you have to think about it because it's not a natural reflex. The part of your brain that stores muscle memory isn't operating the way it should, so you have to take the dopamine."
He paused to reflect on what he was trying to explain, then added: "Having said all that, screw it."
Indeed. Pontac has run in every Long Beach Marathon and then some, including the race's incarnations before that 1982 launch, even if the last few appearances have been scaled back to the 13-mile, half-marathon variety.
Still, there is nothing leisurely about how the Seal Beach Leisure World resident has pushed himself to this point. Having run in some 300 marathons, Pontac decided in 2015, just seven weeks after undergoing 44 weeks of radiation treatments for cancer, he would focus on half marathons instead.
Then came the Parkinson's diagnosis.
Devastated, he said he curled up in bed for a week, deeply depressed.
"I was thinking: What the hell else is next, a meteor strike? I finally figured out, that isn't going to work. Let's go run."
Even if it means he needs to bring along a couple of trek poles to stay steady, even if it means recruiting some loyal friends to run alongside him for support.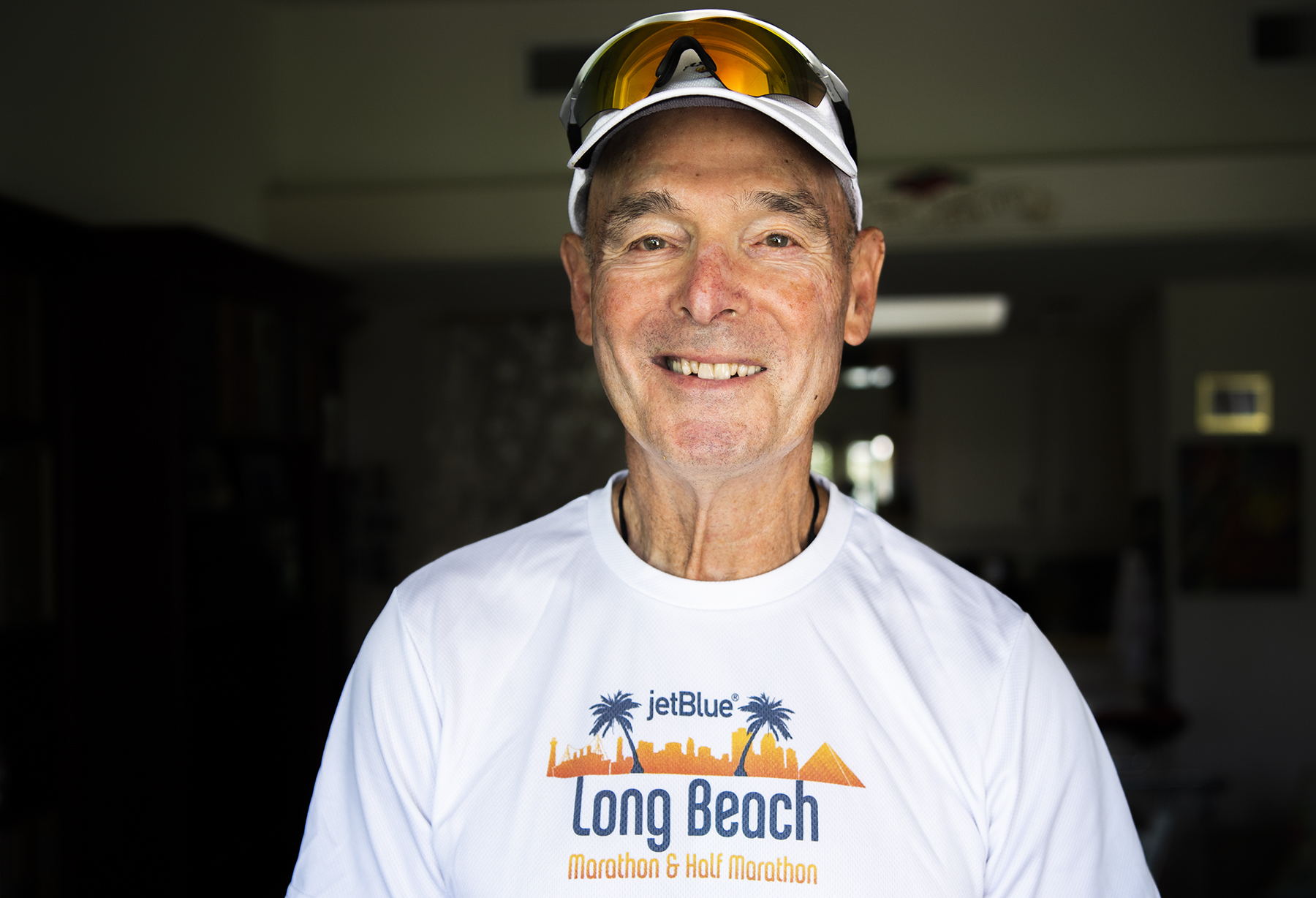 Pontac isn't one to go the expected route. Consider that, at age 60, he left behind a career in commercial furniture sales and challenged himself go to Cal State Long Beach and get a bachelor's degree in psychology, plus a certificate in gerontology so he could help create programs helping older athletes. One of those challenging him? His wife, Dr. Jeanne Pontac, a psychologist who works with U.S. war veterans.
The CSULB degree led to Pontac starting the Leisure Leggers running club 20 years ago where the average member is in their 70s, their late 70s.
As Pontac's marathon career started in his 40s, it has taken him from L.A. to New York, Paris and London and grown to include ultra-marathons—he's competed in a dozen such events on Catalina's rugged terrain—he said at one time he was doing an event every other week for a year in his 50s, often finishing in three-and-a-half hours. He's thankful to get through a half-marathon now in about two hours, and appreciative of the crowd support along the way that helps fuel his energy.
As part of the Long Beach Marathon's legacy group, Pontac has pride in "being the living link to the very first race. We appreciate the respect we get from the organizers. This really make us old geezers feel pretty special. It ain't over til it's over.
"Someone once asked the patriarch of the Flying Wallendas family why they continued to do tightrope walking when, time after time, some would fall off and die. He said: 'When I'm up on the wire, I'm alive. The rest of the time, I'm just waiting.' That's how it still is when you cross the finish line of a race. You are alive in a full way that you can't experience any other way. The only limitations you have is what you put into your mind.
"I heard a story once about Clint Eastwood—he just turned 88 and was still directing movies. He was asked how he kept such a young attitude. He said: 'I wake up every morning and say to myself, 'Don't let the old man in.' That's what I do, get up every morning, start stretching, and don't let the old man in. Maybe you can't lift as much weight or swim as far. But there is very little you can't do. You just might not be as fast as you used to be."
As proof to himself, he started going to a boxing club, Rock Steady Boxing, twice a week to help combat the Parkinson's, which he says has not gotten to the stage where he feels tremors. He's also is on the rowing machine three times a week.
"Actually, I'm in better shape now than when I was first diagnosed," he said.
And yes, you may have noticed, Pontac is a bit of talker. He's also a published poet and continues to write verse as a therapeutic way to keep sharp. At his most recent birthday celebration, six months ago, he decided to write one about himself.
As he shared it with friends, he did so by singing it to the tune of "Look At Me, I'm Sandra Dee," from the hit musical "Grease."
Look at me, I'm 83
With a few infirmities
Still my child is wild and free
Although I'm 83
Look at me, I'm 83
Lousy with serenity
The kid inside, I cannot hide
Although I'm 83
Look at me, I'm 83
The future still looks great to me
It looks as if it's my fate to be
Around at 83