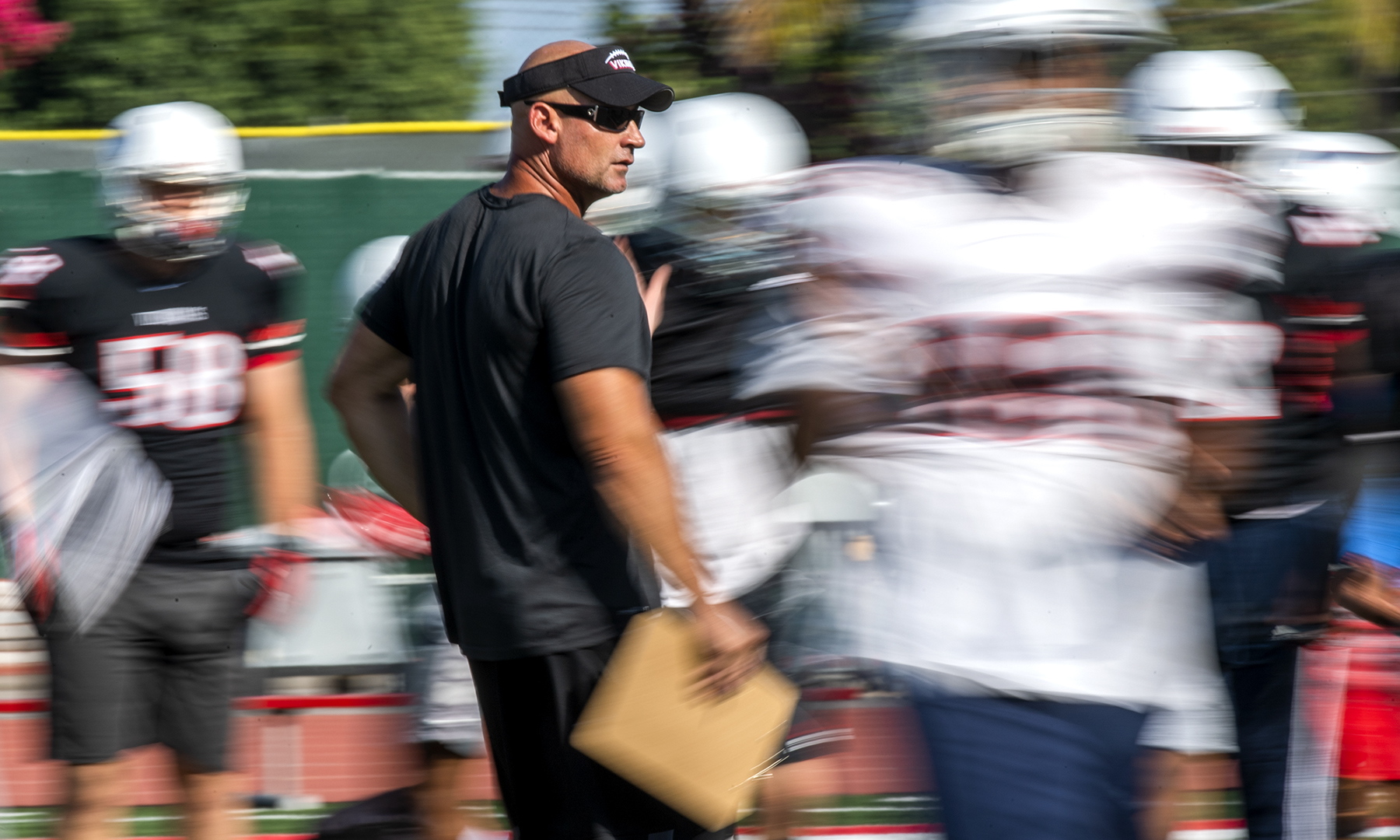 Football, family and tragedy at LBCC
It's a sportswriting cliche to say that a football team is like a family, but, like most cliches, there's some truth to it.
The best of families are about constancy and endurance, especially during tough times, and the Long Beach City College football family has endured a particularly tough time, recently. Over the last two years, four players or recent alums of the program have passed away.
In 2017, Tim Johnson died after a car crash. The next year, safety Guy Alford was shot and killed in North Long Beach. Earlier in 2019, former Vikings safety Bryce Turner passed away after a heart attack while home-training between semesters at Cal.
Most recently, in August, a month before the Vikings' first game of 2019, it happened again, with a  late-night phone call and a coach trying to keep himself from answering because he knows bad news is on the line. This time, the call was about Brent Le Roux, a Vikings lineman who lost his life to what is believed to be an accidental overdose.
The call left Vikings head coach Brett Peabody "speechless," but didn't change the fact that LBCC had to prepare for a football game on Sept. 7. Peabody was in a dark place for a time, and privately admitted he was having a hard time getting himself emotionally prepared for the season ahead. He wondered how many seasons he had left before the fuel tank was empty. After a mountain getaway with his family, however, he arrived at Veterans Memorial Stadium smiling and ready for fall camp.
Labor Day Cookout
The week leading up to LBCC's opener was surprisingly light, emotionally. One of the ways that a football team differs from a family is that families don't graduate 50 kids every year and replace them with 50 new kids.
"Honestly, there aren't any kids in the program who knew all four of the guys," said Peabody. "So what you have is that everything that's happened weighed really heavily on myself and on the other coaches, but most of the kids didn't have a personal connection."
Peabody loves this year's Vikings team. He said last year's team was beset by bad work ethic and off-field character issues. He said last season sapped the fun out of coaching for him and his staff. This year's team really does feel like a family—Peabody hosted a cookout at school for them on Labor Day after practice, and then the team went and jumped in LBCC's pool together to cool off after a 90-degree day.
LBCC vs. Grossmont
After a good week of practice, Sept. 7 brought the first game day of the 2019 season. With buses set to depart Vets at 9:45 a.m., Peabody played the role of the grumpy dad impatient to get on the road before a long drive. His frustration was piqued by a mishap with the bus company, which sent one bus for the Vikings instead of two.
So, half the family shipped off to San Diego for the Vikings' game against Grossmont on schedule, while the other half waited another hour for a second bus to be routed to Long Beach.
Before the game began, the team bounced around in the locker room to stay loose. Now, Peabody's smile made him look less like a father figure and more like a kid on Christmas.
"I can't frickin' wait," he said.
Before the team took the field, they huddled around each other, arms over arms, and prayed for strength, safety and success. Then they took the field and blew out Grossmont, leading 48-10 at one point early in the fourth quarter before taking the starters out and cruising to a 55-24 victory.
An Emotional Dedication
One of the stars of the game for LBCC was receiver Zion Bowens, a Long Beach Poly alum who initially signed a football scholarship with Air Force before bouncing back to LBCC. Bowens caught two 45-plus-yard touchdown passes in the first six minutes of the game, giving the Vikings a commanding 14-0 lead. After both, he flexed and roared at the LBCC sideline.
Bowens is one of three siblings to play sports at Poly then move on to the next level, as both his sisters became Division 1 NCAA volleyball players. The Bowens family is known for rolling deep to each others' games, and it was noteworthy that Zion's parents weren't in San Diego for the opener.
Bowens said his father, George, had surgery as part of cancer treatment earlier that day at Long Beach Memorial.
"I was really hurt when I first heard about him having it," said Zion. "It really weighed on me. I was thinking about him all day. Both those touchdowns were for him."
Moving On
After a tragedy, families and football teams move on, slowly, both of them because they have to. Grieving parents go back to work, football teams have to show up and play every week. For Peabody and the Vikings, working with this group and moving forward is something they relish, not regret.
"These guys have rekindled a love of coaching in me and in the staff," said Peabody. "I really mean that, they all root for each other."
The week of their opener, Peabody spoke to the Long Beach Century Club and spent most of the evening answering questions about this year's team and the upcoming season. The last question of the evening came from former LBCC Board of Trustee and current LBUSD Board of Education candidate Doug Otto, who asked Peabody about how he's handled all the tragedy around his program.
Peabody paused, then choked up, and gave an emotional answer about trying to honor those players with commitment and work ethic.
Peabody didn't want to answer that question then, and he doesn't want to answer it now. What he wants to talk about is his team, and the huge test they have coming up against Mt. SAC, Saturday, at Vets at 6 p.m. The Vikings are the No. 31 team in the nation and Mt. SAC is No. 24, and the two teams have had some epic battles the last few years.
"I'm sick of talking about death," said Peabody. "You just try to do what's right for your team every day. That's all you can do. And then you try to go and win the game."
Support our journalism.
Hyperlocal news is an essential force in our democracy, but it costs money to keep an organization like this one alive, and we can't rely on advertiser support alone. That's why we're asking readers like you to support our independent, fact-based journalism. We know you like it—that's why you're here. Help us keep hyperlocal news alive in Long Beach.