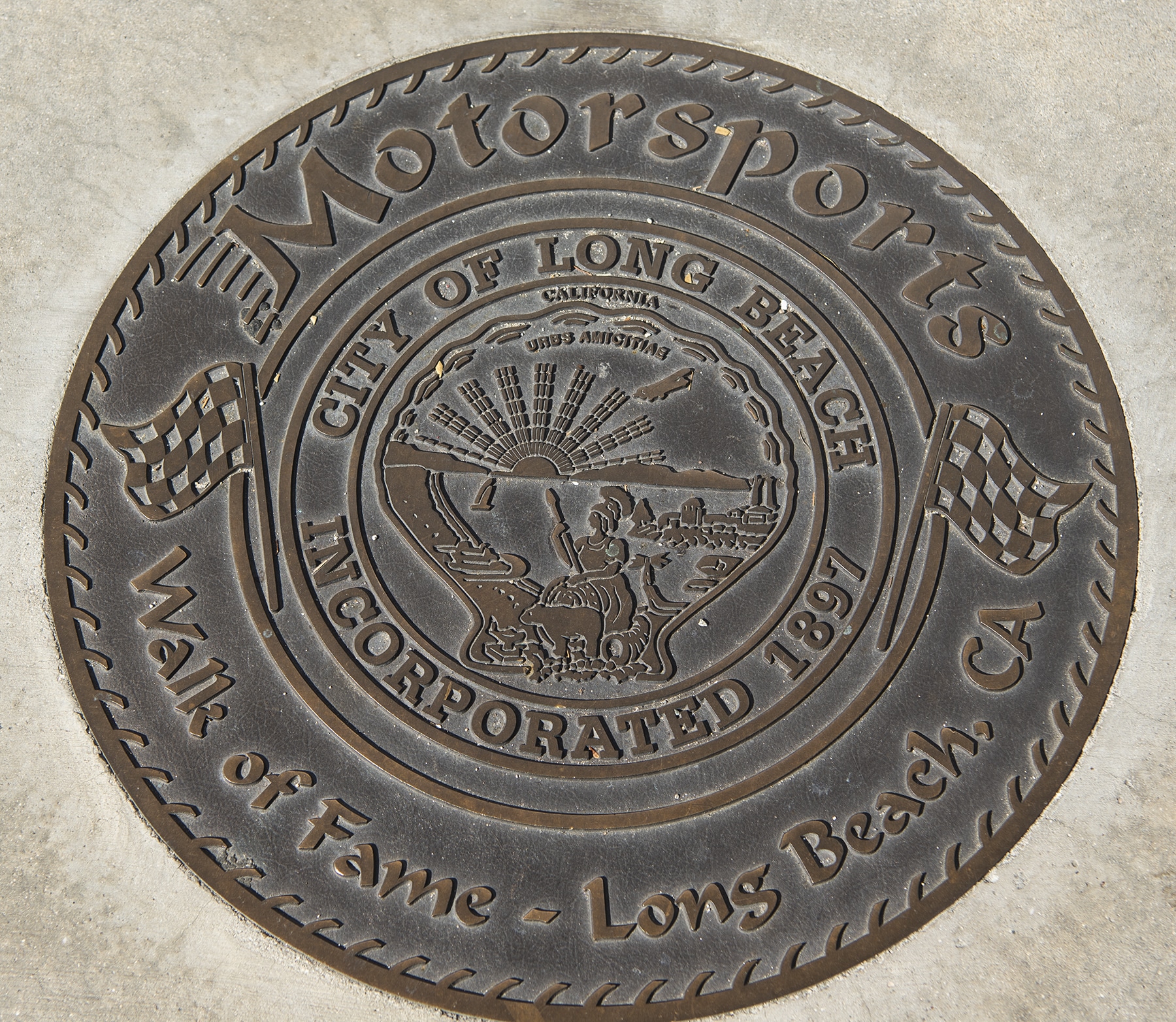 For the first time, 2 active IndyCar drivers to be inducted in Motorsports Walk of Fame
Hall Of Fame inductions typically come after an athlete is done playing their sport, but there's nothing typical about the Long Beach Motorsports Walk of Fame.
Located on the Pine Avenue sidewalk in front of the Convention Center, the 29 Walk of Fame medallions include renditions of the racers' Long Beach-winning cars, as well as a list of their major motorsports achievements. These 22-inch awards are laid in the concrete just feet away from the famous downtown street course where the cars will be racing for the Acura Grand Prix of Long Beach.
Sebastien Bourdais and Will Power will become the 30th and 31st medallions in the line on April 11—then they'll both return to their IndyCars to race on a course they know so intimately.
"We're trying to recognize individuals for their success at Long Beach first, and then their overall success second," President and CEO of the Grand Prix Association of Long Beach Jim Michaelian said. "(Bourdais and Power) are the best in that regard right now."
Power, 38, is the defending Indianapolis 500 champion, and has been a constant contender on the streets of Long Beach since winning his first race here in 2008. The Australian also won here in 2012, has 35 career wins, and was the 2014 IndyCar Series champion.
Bourdais, 40, won four consecutive Champ Car season titles from 2004-2007 while dominating three consecutive races in Long Beach from 2005-07. The Le Mans, France native has 37 race victories in his 20-year career.
"It's kind of weird to be inducted as an active driver, but it's also pretty cool," Bourdais said in an interview this week. "It's something I'll be able to enjoy and cherish for quite some time."
Power and Bourdais have a combined five wins, seven podium finishes and five pole positions in their 24 appearances on the streets of Long Beach.
"This is a cool, historic race," Power said last year after finishing second. "It's second to (the Indianapolis 500) as far as wanting to win."
Bourdais had a much more interesting race last year, after he started ninth but was plagued by multiple cautions and penalties. The veteran driver made the maneuver of the day after a restart on lap 48, when he passed three cars with a diagonal move into turn 1. However, he had to give back his position to another driver because it was ruled that he veered into pit lane to make the passes. Bourdais ended up finishing 13th after a couple more incidents.
"I was still (in the race) and that's where you want to be as a race car driver," Bourdais said.
Bourdais added that he's not surprised that Power has performed so well in Long Beach because, "Will is just good everywhere."
"There are always tracks that work for your setup better, and Long Beach does promote our driving styles a little bit," he said. "Long Beach is a place where I can express myself on the track and get the car where I need it to be to perform. It works for me."
Michaelian noted the difficulty of the Long Beach track: "With walls surrounding the circuit basically everywhere, you can't afford to miss at all or you're going to get into trouble."
He and Bourdais agreed that drivers who are better at braking have the advantage in Long Beach.
"One of the keys to be able to make a pass is to be able to out-brake your opponent," Michaelian said. "That applies in turns 1 and 9. Those are the best opportunities to get up underneath your opponent, brake later harder, and try to get around."
Bourdais and Power will be trying to do exactly that for their respective race teams when the green flag drops on Shoreline Drive on April 14 for the Acura Grand Prix of Long Beach, but first they will be honored at 11 a.m. on Thursday, April 11.
The City of Long Beach and Grand Prix Association of Long Beach created the Walk of Fame in 2006, and Mayor Robert Garcia will be presenting medallions to the honorees at the ceremony on South Pine Avenue in front of the Convention Center. Admission is free.
Phil Hill and Dan Gurney were the first Walk of Fame honorees, and last year veteran drivers Helio Castroneves and Juan Pablo Montoya were inducted.
"Legacy is built over a long period of time," Bourdais said. "Long Beach has been going for so long, people know and care about the event, the track hasn't changed for quite some time … so it really feels like you're going after a very desired trophy, and one that means more because there are so many great names that have been able to win this one."
Support our journalism.
Hyperlocal news is an essential force in our democracy, but it costs money to keep an organization like this one alive, and we can't rely on advertiser support alone. That's why we're asking readers like you to support our independent, fact-based journalism. We know you like it—that's why you're here. Help us keep hyperlocal news alive in Long Beach.