Ryan ZumMallen and JJ Fiddler watched the same race, but Ryan looked down on the track from the 17th story Shoreline Hyatt rooftop, while JJ stood right next to the track at the start/finish line. Here's what they saw…
JJ: Pre-race festivities are under way. Mayor Bob Foster takes the mic and thanks the fans and racing teams. No one's really listening when he says that although this is Champ Car's finale, the Long Beach Grand Prix future looks bright with the merger right around the corner. PA announcer Bruce Flanders gets the mic back just in time to announce that three skydivers are descending on Long Beach. Each jumper lands on a different section of the track. The jumper coming down near the start/finish gets almost vertical before he soars down the street, his feet inches away from concrete. I think I just heard a mother of two curse in amazement, "Holy (expletive), did you see that!" After the national anthem, and the F-16 flyover, Grand Marshall Bobby Rahal instructs the drivers to start their engines.
RZ: What a day for racing. We mentioned in our Sports Night podcast last week that Long Beach has been getting beautiful weather – or as I like to call it, "Racing Weather." I'm enjoying the action from atop the Hyatt on Shoreline and Pine, where I've got a wonderful 17-story view of the entire Start/Finish line straightaway and Turn 1, where most of the action that will be reported here happens. It's warm but not hot, a cool breeze but not windy – perfect for the fans.
But perhaps more importantly, perfect for the drivers. And this weather will benefit no one more than pole-sitter Justin Wilson, who has been spectacular all weekend and is clearly driving the best car in his #02 McDonald's Newman-Haas-Lanigan. Last year, Sebastien Bourdais dominated the weekend in the same McDonald's car, but I predicted victory for Australian Will Power who began in second but finished in fourth, while Bourdais ran away with the race. This year, Wilson has almost exactly mirrored Bourdais' performance. Fool me once, shame on you. Fool me twice… my money's on Wilson.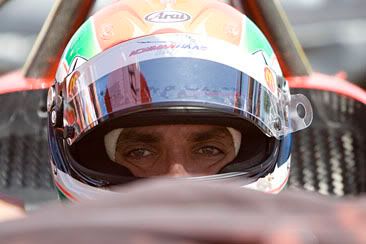 Pole-sitter Justin Wilson was the heavy favorite entering Sunday's race.
JJ: The cars take a formation lap and roll to a stop right in front of me. As the flag drops the front row (Justin Wilson and Alex Tagliani) spins out, and that was more than enough for Will Power to charge out of the second row and grab the lead at turn one. It would be a perfect start to an almost perfect day for Power. "[The tires] spun too much, and I just went on the outside," said Power after the race. "I was happy… I said, I'm gonna get this lead, no matter what happens."
RZ: Well, wouldn't ya know it: Power steams right past the three drivers ahead of him and has taken the lead before entering Turn 1. Yesterday, after qualifying in a disappointing fourth, Power told me that the car had a downshifting problem that held him back. Apparently, there's no problem upshifting.
The rest of the field squeezes into Turn 1, sometimes two or three wide, with a few position exchanges but nothing major and thankfully, no accidents.
Through lap 1, Power, Wilson, and Alex Tagliani round out your top three, but are unable to gain any ground as an early yellow flag slows the action to a crawl. Meanwhile, phenom Graham Rahal began in ninth – the same position from which he won an IRL race two weeks ago – and has already moved up to sixth.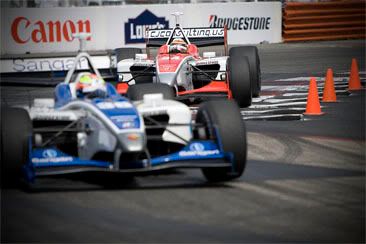 Throughout the field, battles for position were fierce around the tight street course.
JJ: 1:21pm- After a yellow, Wilson tries to pass Power on the restart, but at turn one it's, Power, Wilson, and then Tagliani.
RZ: Wilson's off! The heavy favorite was running in second down the high-speed straightaway, when Tagliani caught up to him and seemed to effortlessly glide past. But Wilson just kept on going right past Turn 1 without braking, and it was obvious there was a problem. The smoke coming from his #02 car at first signaled locked brakes, but when he didn't immediately turn around it became clear that the problem was more serious, and was almost certainly an engine failure. The easy money pick to win the race is out with just 12 laps under his belt. A pair of green and yellow cars lead the pack as Power's #8 & Tag's #15 speed away.

Franck Montagny was one of the day's most pleasant surprises.
JJ: 1:27pm- Two laps later coming down the home stretch, Wilson is forced to pull off the track due to mechanical trouble. The man who owned most of the weekend is done for the day. Meanwhile, two thirty-something ladies standing in front of me start to make-out. Two seasoned race fans to my right cheer them on. Another guy joins the gathering and asks the guy to my right, "Hey man, can I bum a cigarette?" The man hands him the remaining half of his pack, "Keep 'em dude. Enjoy." The leaders come around again at top speed. In this moment, I've become a race fan.
RZ: Frankly, with Wilson out, and most of the more familiar drivers near the back of the pack, this race is getting harder and harder to follow. From all the way up here in the clouds, Power and Tagliani's green and yellow cars stand out, especially in the top two positions, but after that the field is made up heavily of rookies and also-rans. Rahal's black and white is recognizable and has crafted his way up to fourth place, but a handful of big names – Paul Tracy, Jimmy Vasser, Bruno Junquira and Nelson Philippe – are mid-pack. Meanwhile, Mario Dominguez is continuing his impressive weekend by pushing hard for a Top 3 spot with last year's Cinderella Oriol Servia drafting hot on his trail.
JJ: 2:08pm, 42 min. remaining- About halfway done on lap 47, Graham Rahal and Franck Montagny battle for third coming around turn 10. Montagny would later say that he thought Rahal made a good move on the outside, but that that part of the track on 10 is slippery, and when the two racers touched wheels, Montagny had a better hold on the street than Rahal did. Rahal falls to 12th. When I walked back through the paddock after the race, a wiry man with a nicotine mustache yelled in Rahal's direction, who was drinking water in the shade, "That was a good move on 10 kid, I thought you had him." Rahal shrugged, "Yea, so did I."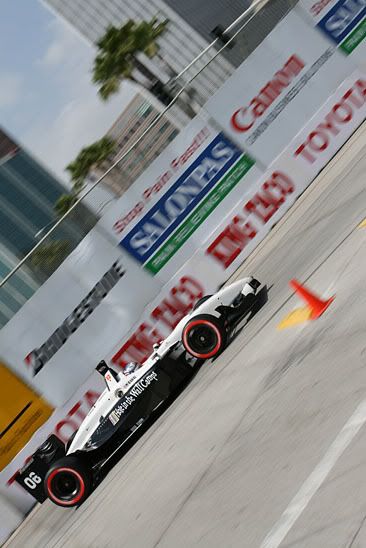 Graham Rahal came into the Long Beach Grand Prix with high hopes, but ended his Champ Car career on a sour note.
RZ: Tagliani is fading. He hasn't been able to gain ground on Power for some time, and now those following behind are closing quickly. As a small tire wall collision sends the field into a yellow, most of the front-runners pit. When they emerge, Tag has dropped behind to fifth, while Dominguez, Servia, and Franck Perera – in his first and only Champ Car race, ever – line up Power in their sights.
The rooftop buffet is being refilled. Hey, eu claires!
JJ: Lap 60, 25 min. remaining- Power has opened up a three second lead, and if nothing changes, it looks like he'll run away with the race. He's lead all but two laps. A young lady in front of me almost falls over after tripping on a blade of grass. She looks lost, but the surrounding masses are too enthralled with the race to care.
RZ: Surveying the rest of the remaining field, it is worthwhile to note that many of the drivers on the track do not have jobs waiting for them after this race. And even if you're not familiar with the situation, it's easy to tell – a dogfight is brewing for positions between spots two and six. Young guns, here's your chance to make a name for yourself. Note: if Enrique Bernoldi or Franck Perera have not yet signed with new teams, they will very soon.

Alex Figge had trouble with his #29 car all weekend and couldn't put it together when it counted.
JJ: 5 min remaining- Power sees a warning light in his car, and backs it off a little. He cruises to the victory as I walk behind the grandstand. I see a golf cart at full capacity headed my way. I jump to the side, but it's impossible for me not to recognize the good-looking woman in the passenger seat. I waved my hand and yelled, "Way to go, Danica! Congratulations!" Patrick (who just flew into Long Beach from Japan after becoming the first woman to win a major auto race a day earlier) and I made eye contact as I called out my kudos, and even though by the time I was done yelling and the cart was more than 10 yards pass me, Patrick turned all the way around and wave to me in appreciation. These racecar drivers are a different breed of celebrity, for sure.
RZ: Power cruises down the last few laps to a flurry of fireworks that erupt at eye-level from my view atop the Shoreline Hyatt. Franck Montagny an impressive second, and I'm happy to see Mario Dominguez finish strong in third place. Then Bernoldi. Servia, Perera and Tagliani in seventh. You know, there was speculation as to whether or not the race would be competitive, since many of the drivers will not receive any points for their efforts. But no one is saying that after watching the last few vicious laps. It was a battle, a thrilling spectacle whether you're in tune to Champ or not. This is what open-wheel racing is all about. You don't need to know the names or history, just enjoy the thrill of the chase and the skill involved in piloting these machines. Racing in the IRL will be all right. Yes sir, it will be all right.
JJ: At the post-race press conference, the winners are all smiles even though this will be the last Champ Car press conference ever. After questions about the race, the rooms attention turns to the future. Surprisingly enough, the smiles got even bigger, from drivers and journalists alike. With Patrick's victory and this finale on the same weekend, it's easy to get excited about open wheel racing. Come on, jump on the bandwagon with me. It's perfect timing.
Free news isn't cheap.
We're

5%

of the way toward meeting today's goal!
We believe that everyone should have access to important local news, for free.
However, it costs money to keep a local news organization like this one—independently owned and operated here in Long Beach, without the backing of any national corporation—alive.
If independent local news is important to you, please consider supporting us with a monthly or one-time contribution. Read more.