Jason's very awesome, mustachioed sports weekend
Sometimes it gives you lemons and other times the bartender lets you keep the half-poured pint for free because the keg blew.
On Monday, the wife and I found ourselves stranded at a gas station in Gorman with a flat tire on our rental car.
Sunday I was basking in the glow of a flawless football weekend.
You heard that right. This weekend represents the rarest of moments, where the stars align and the unholy trinity of W's fall into place. UCLA Bruins. Dallas Cowboys. Fantasy.
Now would be a good time for me to buy a lottery ticket.
This may be the last time I get to write about a weekend like this so I'm going to enjoy it. Please publish this, Steve.
From Yosemite Valley to The Farm
As my wife and I were summiting Half Dome Tuesday morning, my hands desperately clenching the wires so I didn't tumble down the slick granite to certain death, I couldn't help but think of the climb as an analogy for my fandoms.
Both the Bruins and, as of late, Cowboys have been on the ropes and are one or two bad moves from being legitimately finished this year.
OK, so maybe I was just trying to take my mind off of the fact that I was more than 8,000-feet above sea level with no harness and just my neglected upper-body muscles to keep me alive.
But like typical Coach Speak, the kind of Coach Speak I loathe, we took things one board at a time. Not looking back or focusing on what was ahead.
Board by board we inched up the side of the dome until we were atop it with an unrivaled view of Yosemite Valley and the looming dread of having to traverse the slick rock again. This time in reverse.
Is this the kind of grind to the Promised Land that Chip Kelly has the Bruins on? Probably not. But, hey, at least they beat the vaunted Christmas Trees for the first time since 1998.
Sure, Stanford was on its third-string quarterback. And protecting him were three true freshman offensive linemen. But when you're in the throes of a historically putrid season like the Bruins, you relish any victory.
The weather was perfect and the tree-lined stadium provided a picturesque backdrop to two floundering teams slugging it out on a Thursday night in October. The game was in hand early for the Bruins which provided ample time for fans, with little else to cheer for, to start belting out chants directed at the placekicker.
He was, after all, a perfect two for two on the night.
Right around the time UCLA was lining up in victory formation with a fifth-string running back getting garbage time carries, I was in line to take a picture with the team mascot, Joe Bruin.
My wife and I waded through the line of children who were hugging the bear in a way that would get you ejected from Disneyland and got to the front of the line. Still feeling the effects of the The Old Pro, an off-campus sports bar we visited prior to the game, I leaned in and whisper-yelled "We came a long way to be with you tonight."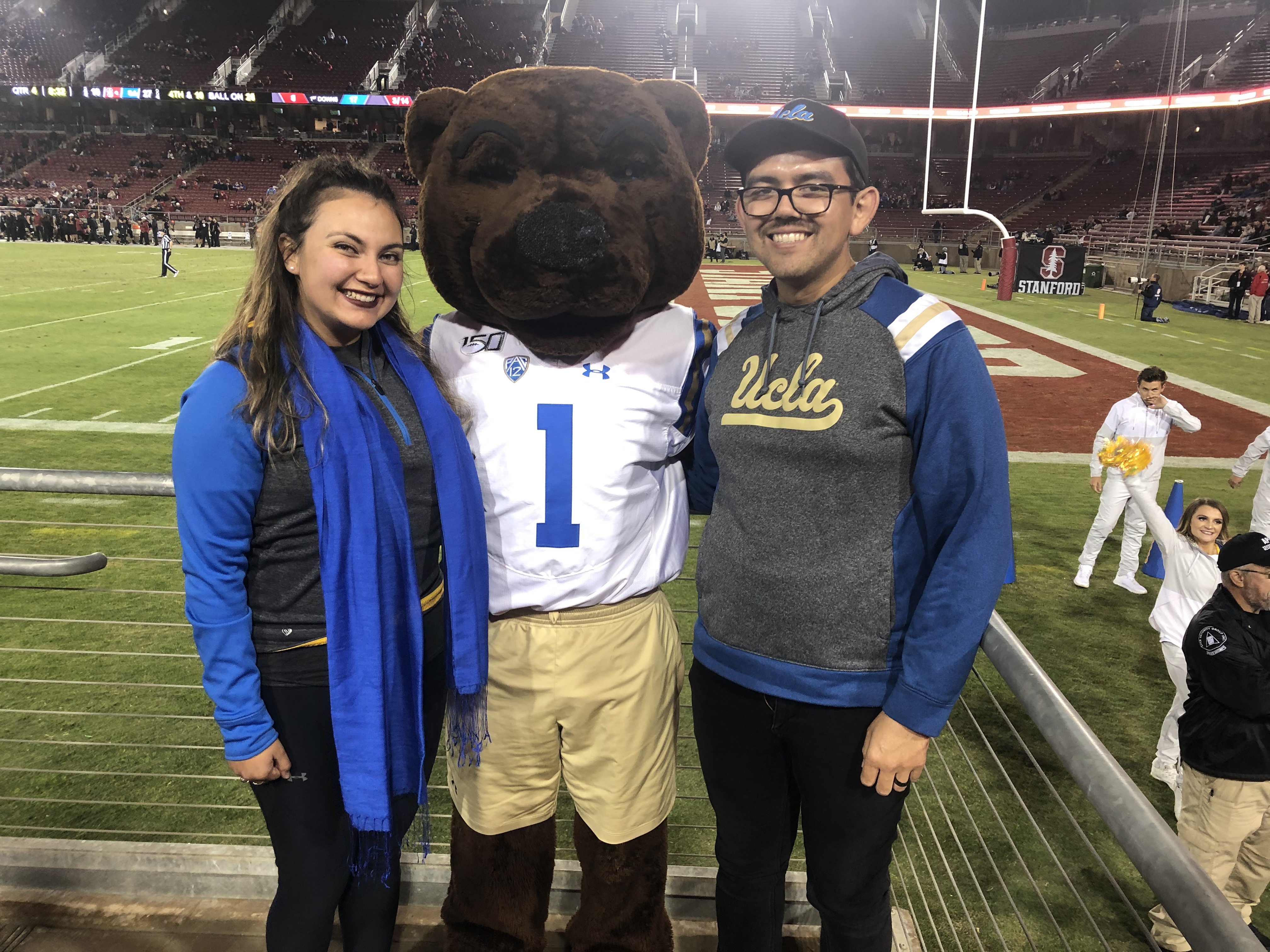 Its lifeless eyes stared back at me with judgment. So I held out my knuckles and bumped mine against his furry, oversized paw, shouting "Go Bruins" before scurrying back to my seat.
Final score
UCLA 34, Stanford16
How 'Bout Them Cowboys? 
Around the time that I was waiting for a tow truck to deliver me to to the next patch of civilization (Bakersfield), Philadelphia Eagles Coach Doug Pederson was skillfully wedging his foot into his mouth.
He proclaimed on Monday that the Eagles would march into Dallas and come out with a win. That's called bulletin board material and generally it's ill-advised unless you're playing the Miami Dolphins.
Generally speaking, called shots don't materialize.
Sure, there is Babe Ruth, maybe, pointing his bat toward the outfield and then hitting a home run. And there' s Joe Namath's gutsy prediction he'd lead the Jets to the championship. And then there's that super weird speech that Tim Tebow gave that is now emblazoned on a plaque on a building somewhere in Gainesville, Florida.
But usually guarantees tend to blow up in your face.
Pederson had poked a bear that was already irate after dropping a game to the hapless New York Jets. And as a Cowboys fan I don't know that I can thank him enough for that.
The game was so far in hand early on that there was never a moment where my dog thought I hated her this weekend. Instead of trading barbs with my former neighbor and hardcore Eagle fan via text message we talked about my visit to the Winchester Mystery House.
The Eagles were dead about halfway through the first quarter so it was only fitting the conversation moved onto ghosts.
He once told me that he was really mad to find out that he had moved cross country from Philadelphia to Long Beach only to live next door to a Cowboys fan, but we've gotten over our differences.
He attended our wedding and on occasion will even watch the Boyz play with me. He gives me credit for not being the bad kind of Cowboys fan; the kind that get Super Bowl tattoos and are hilariously reenacted by Scooter Magruder every week.
Cowboys Fans During the Jets Game 😂😂😂 pic.twitter.com/6mv26cVfEM

— Cameron Magruder (@ScooterMagruder) October 17, 2019
Our friendship should be able to whether this 27-point beatdown on national television, right? But as I told him Sunday night, I needed this game more than he did.
No, not for divisional standings or for my pride. I pledged last week that I would keep this unsettling mustache on my face until the Cowboys won again.
Okay guys. I'm rocking this dirty Uncle Rico mustache until the @dallascowboys win another game. God help us all. pic.twitter.com/UefacVK4K3

— Jason Ruiz (@JasonRuiz_LB) October 14, 2019
So, now that it's clear that if the Cowboys lost this week we would all be losers everyone reading this should feel relieved in joining me in a jubilant "We Dem Boyz."
Final score
Eagles 10, Cowboys 37
Now, where's my razor?
Support our journalism.
Hyperlocal news is an essential force in our democracy, but it costs money to keep an organization like this one alive, and we can't rely on advertiser support alone. That's why we're asking readers like you to support our independent, fact-based journalism. We know you like it—that's why you're here. Help us keep hyperlocal news alive in Long Beach.