Jason's very bad, completely awful sports weekend
A few hours ago, our venerable arts and culture/sports editor, Steve Lowery, reached out to me with a proposal: how about you write a column about how much your sports team suck every week? Turn it in to me every Monday. And, as always, never to make eye contact with him.
Now, I'm not sure if Steve is merely trying to chase some sympathy my way—I follow a tortuous trio of the Los Angeles Angels, UCLA Bruins and Dallas Cowboys—or to channel my energy off my Twitter feed where I often shout into the void about poor play calling and clock management on Saturdays and Sundays during the fall.
OK, I'm game.
Saturday
No matter how bad or good the Bruins are, the Rose Bowl in Pasadena will never not be a beautiful place to spend a Saturday afternoon. The stadium, while a pain to get to and a pain to park at, has a panoramic view of the Arroyo Seco Mountains and its tailgating is consistently ranked among the best in the country.
And that's where the good stops this year.
My wife and I were recently adopted into a tailgate that has been together so long it actually has celebrated a conference champion. For those at home keeping score, it's been about 25 years since UCLA actually played in the Rose Bowl rather than merely played at the Rose Bowl.
The tailgate crew is about 50-60 people deep and really is something to behold. There's an ice cream station, a full bar—helpful the past few years—and, this week, there was a $4,000 gourmet pizza oven pumping out artisan pies.
We commiserated about the state of the team and the scourge that is Chip Kelly, the head coach that is not only running the offense that got him run out of the NFL but also salting the earth on the recruiting trail so that no other top prospect will ever consider being a Bruin.
How could someone so prolific at Oregon be this horrible now? I remarked maybe Oregon had captured lightning in a bottle and just before the cork went in they tossed in Kelly. It drew a few laughs, like most of my jokes.
If you follow college football at all, I don't have to tell you that Saturday peaked for me when I bit into a slice of pie made with imported Italian dough, mozzarella so fresh and creamy that I had mistaken it for goat cheese and a drizzle of homemade balsamic as a garnish.
But UCLA's football team this year is more like the cafeteria pizza you got in grade school. You tried every week to imagine that those little cubes of pepperoni were appetizing but week after week you ended up shoveling disappointment into your mouth.
Many have opined on just how historically bad this year's team is. Is it the worst in school history? It would be hard to top the early days when UCLA was a two-year school, routinely mowed over by other schools in the region, including USC, which has helped it pad its all-time win-loss record against the Bruins.
Still, it's one of the worst in my lifetime. And on Saturday they rolled out onto Spieker Field at the Rose Bowl just like those disappointing cubes of pepperoni I looked forward to every week in 3rd grade for reasons still unknown to me.
They proceeded to lose to an Oregon State team that had up until Saturday won four games in three years. I caught myself mid-BOO! somewhere in the first seven-minute onslaught that the Beavers put on the Bruins in a 21-0 punch to the face and found myself looking at the face of a child looking back at me.
Should I be doing this? Am I setting a good example? Why Is Kelly running that play again?
The answer to all those questions is if he intends to be a Bruin fan, he needs to get used to it.
Final score: Oregon State 48, UCLA 31
Sunday
We started the day catching the new "Joker" movie because Batman and affiliated films are the only thing in the DC universe that isn't trash. Do you hear that, mayor? Trash.
Without providing any spoilers, the film kind of set the tone for what was to come in the Cowboys-Packers matchup; it was violent, unsettling and I didn't know whether to laugh or cry.
For some odd reason, optimism is something I've reserved for the Cowboys despite the fact that, much like the Bruins, they haven't been relevant since the mid-'90s. They were playing the Packers, a team they owned when the Wrangler-wearing Brett Favre was under center, but one that has crushed my trusting heart year after year with Aaron Rodgers at the helm.
The man is a Cowboy killer but, on Sunday, he wasn't. The Cowboys still lost.
My optimism dissipated at the very moment Amari Cooper dropped a touchdown pass into the hands of the defensive back guarding him on the opening drive.
I'm not superstitious, I definitely don't wear corresponding colors with the team based on if they're playing at home or on the road or change hats or shirts in the middle of the game if they're playing poorly. And I most definitely don't stay pinned to a good spot on the couch if they're playing awesome.
OK, I do. So what?
But bounces like that are a bad omen and that was just the first of many on a long, frustrating, flag-filled Sunday afternoon.
Final score: Green Bay 34, Dallas 24.
Now, it wasn't all bad. I do appreciate Long Beach Post publisher David Sommers thinking of me and publicly calling out to me on Twitter to reopen the wounds I had sustained, and thought I had closed, over the weekend. Thank you, David.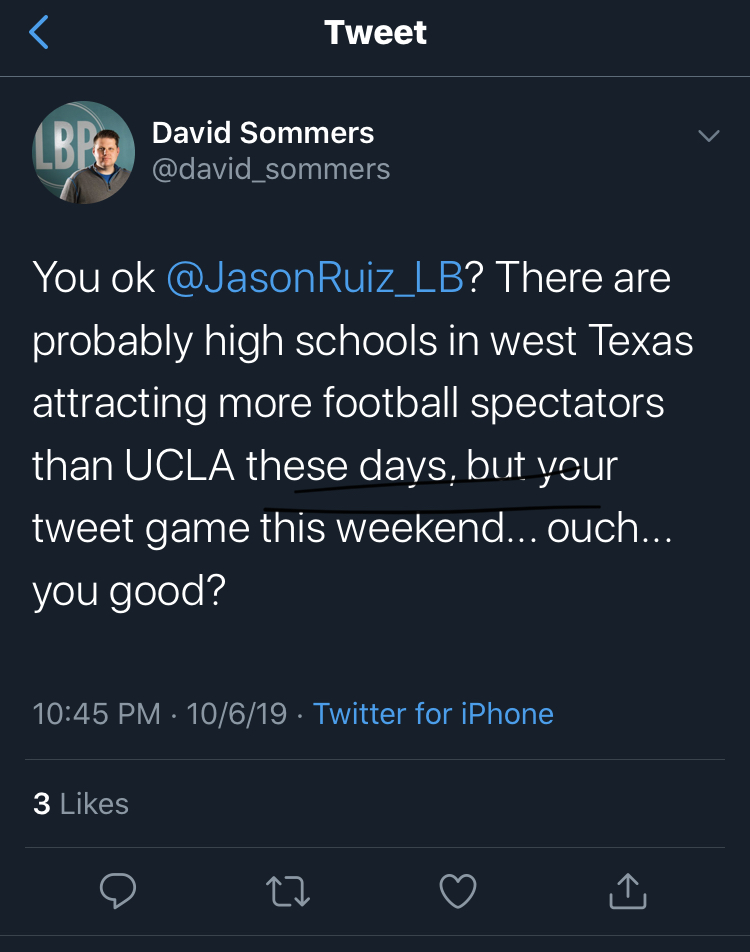 Mercifully the Bruins have the week off. You know, time to get right and point this lead-lined ship in the right direction. The Cowboys play the Jets this weekend, so, you know.
But, before that, yours truly and two other members of the Post will run the Jet Blue Long Beach Half-Marathon Sunday morning. Don't worry, I won't go lightly on my performance either.
Support our journalism.
Hyperlocal news is an essential force in our democracy, but it costs money to keep an organization like this one alive, and we can't rely on advertiser support alone. That's why we're asking readers like you to support our independent, fact-based journalism. We know you like it—that's why you're here. Help us keep hyperlocal news alive in Long Beach.