Jason's very unexpected, purrrfect sports weekend
"We won a game yesterday, if we win one today that's two in a row. If we win one tomorrow that's called a winning streak. It has happened before. SO LET'S SEE SOME HUSTLE!" -Lou Brown
Lou Brown was a great man. He was a fictional man whose quotes won't echo through the pantheon of history like Lincoln's or Gandhi's, but nevertheless, a great man.
If you've picked up by now that I'm referencing the 1994 sports classic "Major League II" then we should probably be friends.
But if you've been a regular reader of this column, who, like my editor, Steve Lowery, takes pleasure in my emotional anguish, we probably aren't.
But we still can be. Please?
The term winning streak, which Brown eloquently outlined as a string of three or more consecutive victories, hasn't been attached to the UCLA football program since 2015.
That changed Saturday night when they defeated the Colorado Buffaloes 31-14, establishing their first winning streak since Josh Rosen was tapped to take this program to an elite national status.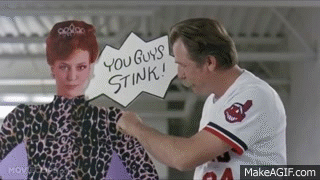 You don't want to know which article of clothing I ripped off of my life sized cardboard cutout of outgoing Athletic Director Dan Guerrero when I returned home that night before pouring out a nightcap of rum for Jobu and myself, but it's working. But it should suffice to say that it's getting weird at home and my wife covers the dog's eyes when they walk past my office.
The Mighty Bruins are getting mighty close to doing something special, and now they face a bye week where they get to try and figure out how to beat a physically dominant team in Utah in Salt Lake City where the temperatures are likely to be lower than the alcohol percentage in "Utah beer."
Between my voodoo and Lowery's foaming at the mouth to see my teams lose I think we've found a winning combination. I'd like to take this moment to point out that the Bruins are undefeated since this column started its run.
And with the annual implosion of the team across town some are starting to notice that there's a squad from Westwood. They've got uniforms and everything, it's really great.
They really are ruining this column, Steve. Sorry, not sorry.
Cowboy fans are feline fine
To say that I enjoy an emotional roller coaster or two is an understatement. They're actually the only kind of coasters I like. Even the ones at Disneyland make me mildly nauseous.
By now it's been established that I am an avid fan of arguably two of the least consistent football teams that have existed over the course of my 33 years on this planet. Oh god, there goes the nausea.
The Dallas Cowboys are a big reason that the grays sprouting from my head have started to accelerate their presence. At least they match the team's color scheme.
Call it a silver lining. (Yes, my wife also hates my dad jokes.)
Down 12-3 to a struggling New York Giants team Monday night in the same building it crumbled against a New York Jets team just one month ago was nightmare inducing.
Halloween surely had passed, I dressed up and everything, so why was this horror moving playing out on my television? I tried to remain calm, gently applying Just For Men to my luscious locks, when a black cat crashed my pity party.
Black cats have historically been looked at as bad luck, to the point that people don't even want to adopt these things. The Cowboys shoot themselves in the foot often enough that they didn't need a black cat interjecting itself into this game, but here it was, mocking Cowboy Nation just before halftime.
I'm a dog person. Maybe it's because I'm weak and need unconditional love. But it's mostly because the last cat I trusted punched me in my eye while I was sleeping.
The crowd had a laugh as the grounds crew and law enforcement struggled to corral the cat. It danced, purred, zigged and zagged before finally crossing the goal line. I think that was the first time the Giants' fan base cheered that hard this year.
The entire time my phone was frantically buzzing with text messages from other degenerate Cowboys fans as we tried to ascertain what this all meant. Surely it wouldn't be good.
After the devil cat exited the field and the focus one again turned to the game it became clear that this kitty was actually a saint. My spirit animal.
The Cowboys proceeded to outscore the Giants 34-6 after that marvelous mouser made his appearance.
I certainly hope the team made an effort to trap that thing and give it a proper home. I hear that Fort Worth-Dallas metro area is nice this time of year.
I've even worked up a name: Dak PresCatt.
Support our journalism.
Hyperlocal news is an essential force in our democracy, but it costs money to keep an organization like this one alive, and we can't rely on advertiser support alone. That's why we're asking readers like you to support our independent, fact-based journalism. We know you like it—that's why you're here. Help us keep hyperlocal news alive in Long Beach.