Long Beach Legends Lend Support To Ambitious Kroc Center Project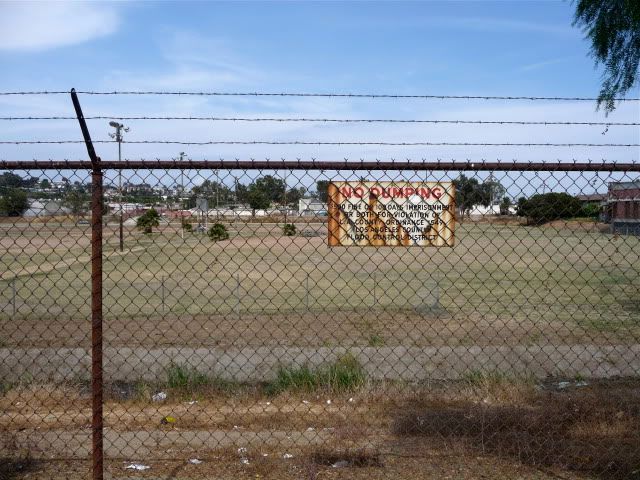 All photos by Shar Higa
If you've seen Chittick Field (formerly known as Hamilton Bowl) recently, you know that it represents a lot of problems with Long Beach's Sixth District. Graffiti covers the surrounding walls, and the playing surface (once used for baseball and softball, now for soccer) is a gritty dirt. Yet if all goes according to plan, two years from now, that hole in the ground could be a beacon of hope for Long Beach's Eastside, if plans to construct a Kroc Center come to fruition.
The Center would be the site of world-class pools, soccer fields, and basketball courts, as well as provide space for a performing arts center and class rooms. In other words, it would turn next to nothing, into everything. Standing between the dust bowl and this incredible vision for the future is about $17 million of the $140 million needed to build the center. The rest of the funds will be supplied by the Kroc Fund, and the Salvation Army–$8 million has already been raised.
Two of the Sixth District's native sons, former NFL player Willie McGinest and recording superstar Snoop Dogg, joined councilman Dee Andrews and LB Salvation Army's Dave Neary at a press conference yesterday to discuss how to move this project forward, as well as what it would mean to one of the city's poorest areas. "This project reflects all aspects of the community," said Andrews. "And we're taking one giant leap with the help of Snoop and Willie."Snoop provided an incredibly large step, with a $5 million in-kind donation—he's also going to record a single to be available for download, with 100% of the proceeds going to the Kroc fund, as well as put on a benefit concert in the future. "This is a special project," said Snoop. "This is something I've wanted for a long time. This gives the kids something to do all the time." He talked about the trouble local youth can get into when seasonal activities such as pop warner football reach their dead period. "Now," he said, "There'll be no idle time."
McGinest echoed his sentiment that this Kroc Center won't just be a world-class sports, music, and arts facility, but an important step in community improvement. "Right now it's a war zone out there, and we're losing a lot of kids." He referred to he and Snoop as "A couple kids who grew up in the Sixth District," and said, "This is a dream come true for kids like us. It's about time."
McGinest grew up playing youth baseball with the Rangers in what was then known as Hamilton Bowl, and recalled how dirty everything would get when the wind picked up. "And nobody wanted to slide," he said. Looking at the building plans behind him during the press conference, he said, "You can't even imagine this with what's there now. It looks like a magical world compared to what's there now."
According to Neary, the EIR will be completed shortly, and ground-breaking could occur as early as August if the funds are raised. If you're interested in donating, please contact Ivy Leeson with the Salvation Army at [email protected].
If you're a longtime resident, this may seem like a familiar story, with a preordained unhappy ending—something great almost happens for the community, but falls apart in the end. According to Andrews, the potential good from this project is too great to allow it to do so, which is why he's involving two of Long Beach's most influential native sons. "Can this be a reality?" he asked. "Yes, it can. Be with us: we promise we'll take it to fruition."
Support our journalism.
Hyperlocal news is an essential force in our democracy, but it costs money to keep an organization like this one alive, and we can't rely on advertiser support alone. That's why we're asking readers like you to support our independent, fact-based journalism. We know you like it—that's why you're here. Help us keep hyperlocal news alive in Long Beach.