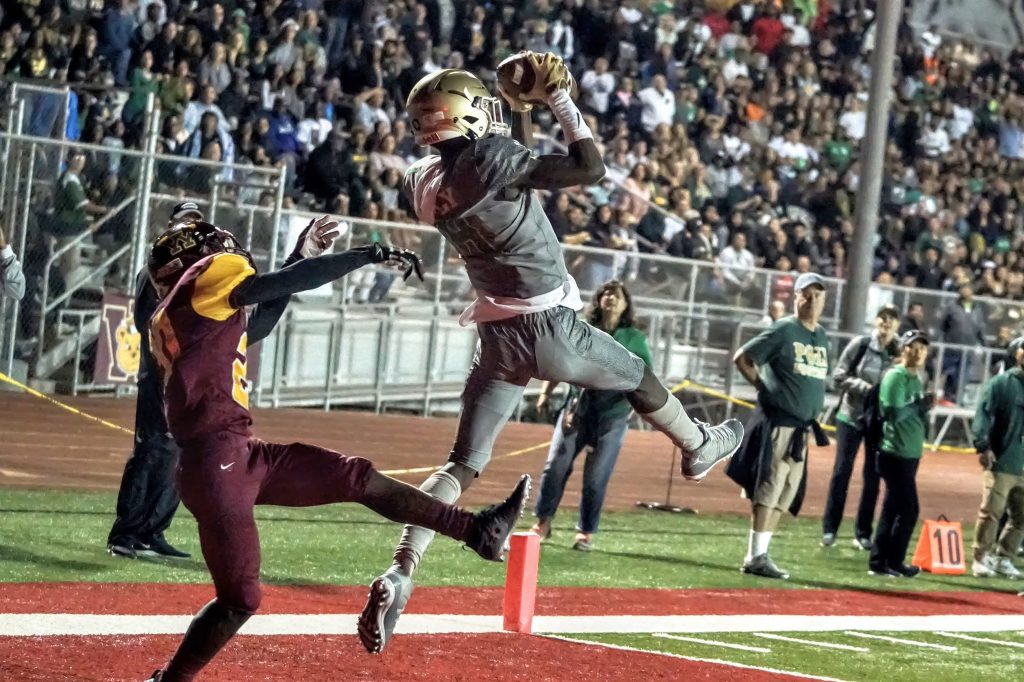 Poly, Wilson game had plenty of off-field action, too
That was some week and some big Friday night with more than 4,000 Long Beach Poly and Wilson fans descending on a sold-out Stephens Field for the 88th incarnation of the Big Game.
There was so much crammed into the evening that the game almost seemed incidental. There was all the drama surrounding the location of the game, which was temporarily shifted to Cerritos College earlier in the week before shifting back to Wilson later that afternoon. There were the challenges for the school on how to manage the lines of hundreds of fans that were waiting for the gates to open an hour before they actually did.
As the gates opened and fans streamed in, the action picked up quickly—off the field. Wilson alum and comedian Gabriel Iglesias was on hand and spent at least a half an hour posing for selfies with Wilson students. His recent Netflix sitcom, "Mr. Iglesias," is set at his alma mater, with Iglesias starring as a teacher.
Wilson coach Mark Ziegenhagen, who had a few other things to worry about, had to break away from pregame preparation to accept a $1,000 donation from the Los Angeles Chargers, his reward for winning the team's Coach of the Week award a few weeks back. The image of Ziegenhagen flanked by a pair of Chargers cheerleaders was a funny one: Ziegenhagen is a lifelong Chargers fan and his daughter, Hailey, was a Chargers' cheerleader a few seasons back.
Poly, meanwhile, came out not in the new Nike uniforms they got as part of their Nike deal this year, but with an even newer and fancier set of uniforms bearing the Michael Jordan "Air Jordan" logo. Nike made Poly the first high school to be sponsored by Jordan Brand this year, with a new gray uniform and new Jordan cleats, the kind of special gear you have to make sure you never leave in a locker at school.
For the first time in the history of Long Beach Poly's football team, the Jackrabbits had a sideline that was less packed and chaotic than their opponent—Wilson had scores of alumni including a large contingent of the 1991 team that was the last Bruins squad to beat Poly. It was also Junior Cheerleader Night, which meant that the Bruinette cheerleaders were joined by tiny versions of themselves. If all that pomp and circumstance wasn't enough, Wilson also inducted a new Hall of Fame class at halftime, headlined by Cynthia Barboza, the best volleyball player to ever come out of a Long Beach high school.
Like we said, whew.
Oh, and there was a football game. Poly won 42-24.
Game of the Week
It's Homecoming Week in Long Beach, as the two oldest high schools in town will celebrate their homecomings with football games on Friday. Long Beach Poly hosts Cabrillo (the youngest football team in town) for the Jackrabbits' 112th Homecoming Game, the longest-running sports tradition in Long Beach. St. Anthony, meanwhile, will host La Salle in the second league game of the season. The Saints beat Harvard-Westlake last week and are in a three-way tie for first place in the Del Rey League.
Ironically, the two schools are separated by exactly a mile, but neither of them play on campus. Poly plays at Veterans Memorial Stadium, and St. Anthony plays at Clark Field. Both stadiums are about six miles from the schools' campuses, but Vets and Clark Field are a mile apart, just like the schools.
Slow Week
After all the excitement last week, we're really happy to report that this is a slow sports week in Long Beach. Or it's supposed to be. Whenever we think we have a slow week some big news story breaks, so we'll be on guard for a surprise announcement about the Angels or something.
As the schedule reads right now, there aren't any major high school sporting events besides the usual Friday night football fun.
Girls' Volleyball
It wasn't a big surprise, but Long Beach Poly swept Wilson and Lakewood swept Millikan last week, which sets up a championship showdown in two weeks, provided Lakewood takes care of business against the Bruins this week. Given that Wilson is dealing with injuries, that seems pretty likely, which means that a winner-take-all Moore League championship match would happen between Poly and Lakewood at Poly on October 17.
Cross Country
We told you we expected last week's Moore League cross country opener to be exciting, and we were correct. Long Beach Poly won the boys' and girls' races by a single point, defeating the Wilson boys and the Millikan girls by the narrowest possible margin.
The next cross country meet will be Tuesday, Oct. 15, at Signal Hill's Discovery Well Park at 5 p.m. Since we've got some downtime this week, we'll be spending our evenings running the trails in Signal Hill trying to get in shape for the Moore League meet.
Support our journalism.
Hyperlocal news is an essential force in our democracy, but it costs money to keep an organization like this one alive, and we can't rely on advertiser support alone. That's why we're asking readers like you to support our independent, fact-based journalism. We know you like it—that's why you're here. Help us keep hyperlocal news alive in Long Beach.