The Millikan locker room wasn't very loud at halftime tonight, with the Rams down 20-0, but head coach Kirk Diego and his staff managed to get their point across. After allowing a quick touchdown, Rams put up 21 unanswered points in the 3rd quarter, bringing them within a touchdown of the Lancers. However, the Rams couldn't quite get it done, and junior defensive back Dion Bailey swung the momentum back in the Lancer direction and helped Lakewood to a 33-21 victory, ensuring the Hamilton Trophy would stay out of Long Beach for another year.
Bailey knocked down what would have been Millikan's go-ahead touchdown, forcing a punt that would set up a Lancer touchdown to put the game out of reach. Bailey received the game ball from coach Thadd MacNeal, and finished the night with 3 interceptions, keeping the Rams scoreless in the first half and helping to stop the bleeding in the second. "This was my coming out game," Bailey said, laughing, after the game. And it couldn't have come at a better time for Lakewood.
Tonight's game saw yet another rivalry game in Long Beach, as the Rams and the Lancers played for the Hamilton Trophy, a rivalry that started 51 years ago. "It's a big game," said Bailey, "we just go out there and leave it all on the field to make sure the Hamilton stays where it belongs." Coach Diego, who won the trophy his first year as head coach, said he was "really proud of the guys" for coming out strong in the second half, letting their supporters know that "Big Blue didn't quit" during this important game.
The Lancers started the game strong, posting 20 points in the first half, racking up 228 offensive yards, most of which came on the ground. Running back Eric Ornelas finished the night at the head of the Lancers running corps with 127 yards on 18 carries for 3 touchdowns and a 2 point conversion. On the other side of the field, quarterback Jake Holtz was really the dominant force for the Rams, finishing the night 16 of 32 with 164 yards and 2 touchdowns in the air. Holtz didn't stop there, however, running one in from 11 yards out in the third quarter.
Lakewood will take a breather next week, but Millikan will jump right back into the fire as they take on the undefeated Compton Tarbabes in Compton next THURSDAY—repeat, Thursday, not Friday.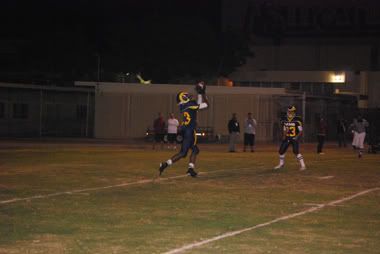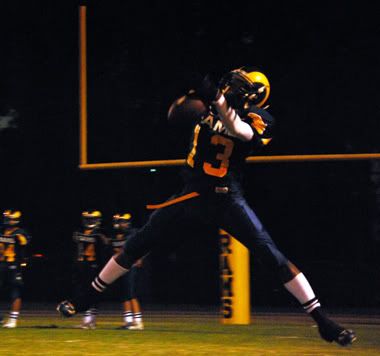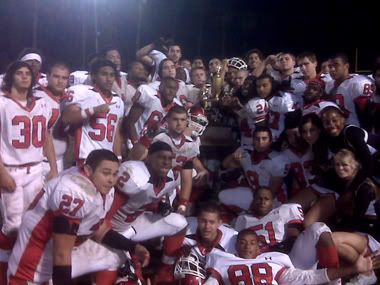 Some Lancers pose with their trophy, photo by Matt Guardabascio
{loadposition bottomshare}