Al Huntley was surrounded by friends and family in the Stearns Championship Park baseball field dugout, but alone with his thoughts.
"I miss this dugout, and not being out there," Huntley said, holding back tears. "I've worked with a lot of kids over the years. I just miss that comradery, and that spark in their eyes when they learn what they're doing."
That spark motivated Huntley to work with the Long Beach Little League for almost 50 years as a coach, umpire and member of the B Board of Directors. The LBLL honored his time and effort by renaming its main field, Al Huntley Field during the closing ceremonies earlier this month.
"I didn't expect that," Huntley said of the honor. "It was a big surprise. And to see my family there. Wow."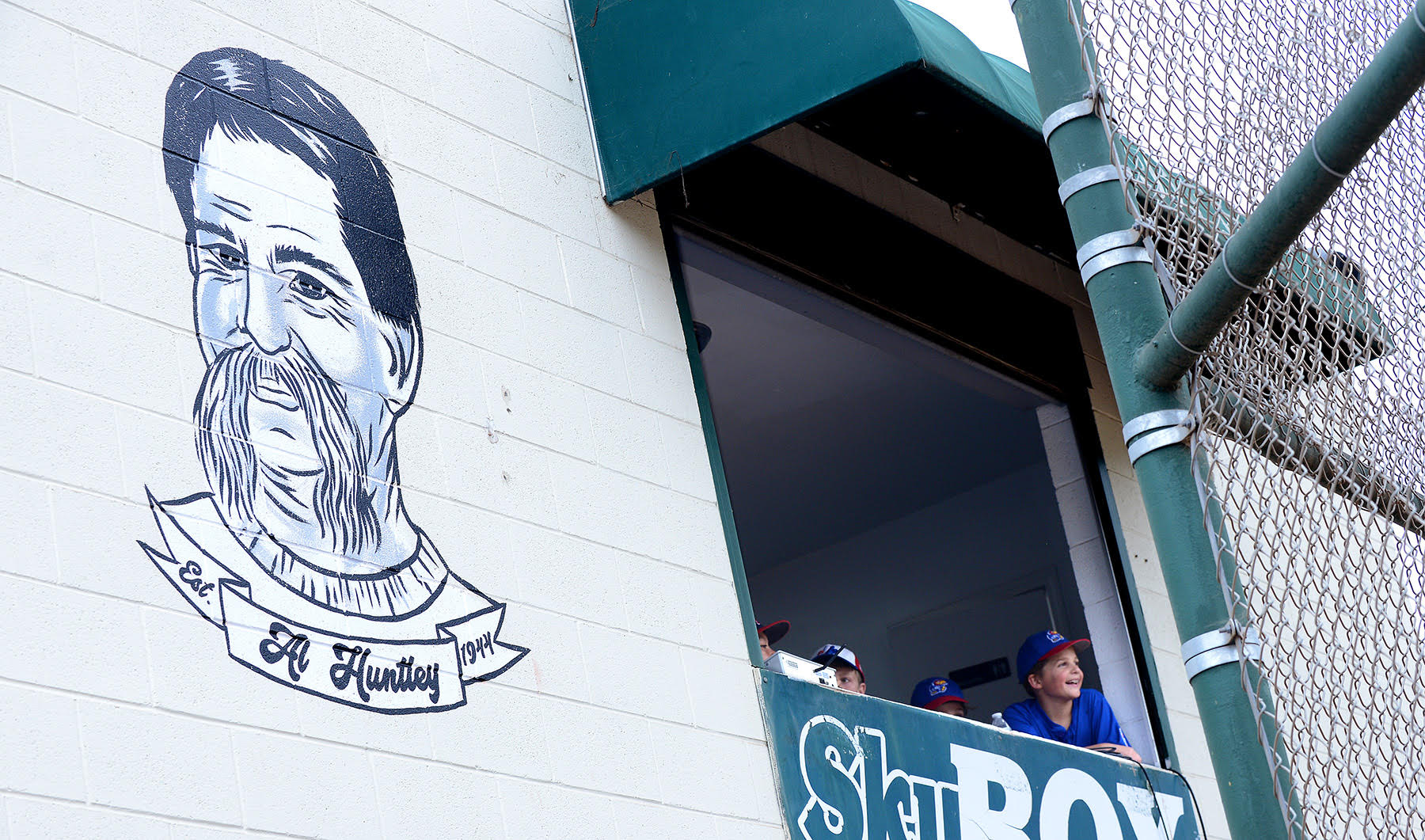 Huntley, 76, is an unassuming man who presents his opinions as facts that he's picked up on his journey. His handlebar mustache defines his gruff exterior, but everyone knows he's got a big heart that only wants the best for the young baseball players of Long Beach.
Longtime Board of Directors members David Rima, Steve Klaus and Scott Royal took the lead in organizing the event for Huntley. While the LBLL announced all of the teams and players during the closing ceremonies, Huntley and his honored guests mingled in the dugout and traded old stories.
"He has some great stories of building the fields over the last 48 years," Rima said. "He drove a dump truck to work for the Long Beach Gas Company every day, and when he thought it was time that LBLL built a snack shack, he 'borrowed' a backhoe and dug out the snack shack at night."
Huntley has been on the LBLL Board of Directors for almost 50 years and started coaching LBLL in 1975. He managed 25 District champion teams and was part of the coaching staff that led the LBLL All-Stars to a pair of consecutive Little League World Series titles in 1992-93. No other team has won back-to-back titles.
"Those kids had heart," Huntley said. "They didn't like to lose, so they'd go out of their way to beat you. I think 11 of them all lived within a mile of each other and grew up together. It was awesome. After a game, all of these grownups were asking those kids for autographs. We would just sit there and laugh."
Still, it wasn't all fun and games for Huntley's players. His tough-love style and sly sense of humor intimidated some young players, but most of them came away grateful.
"He doesn't coddle you," said former player Thomas Walker after Huntley's last game as a manager nine years ago.  "He… well, whatever the opposite of coddling is, that's how he is."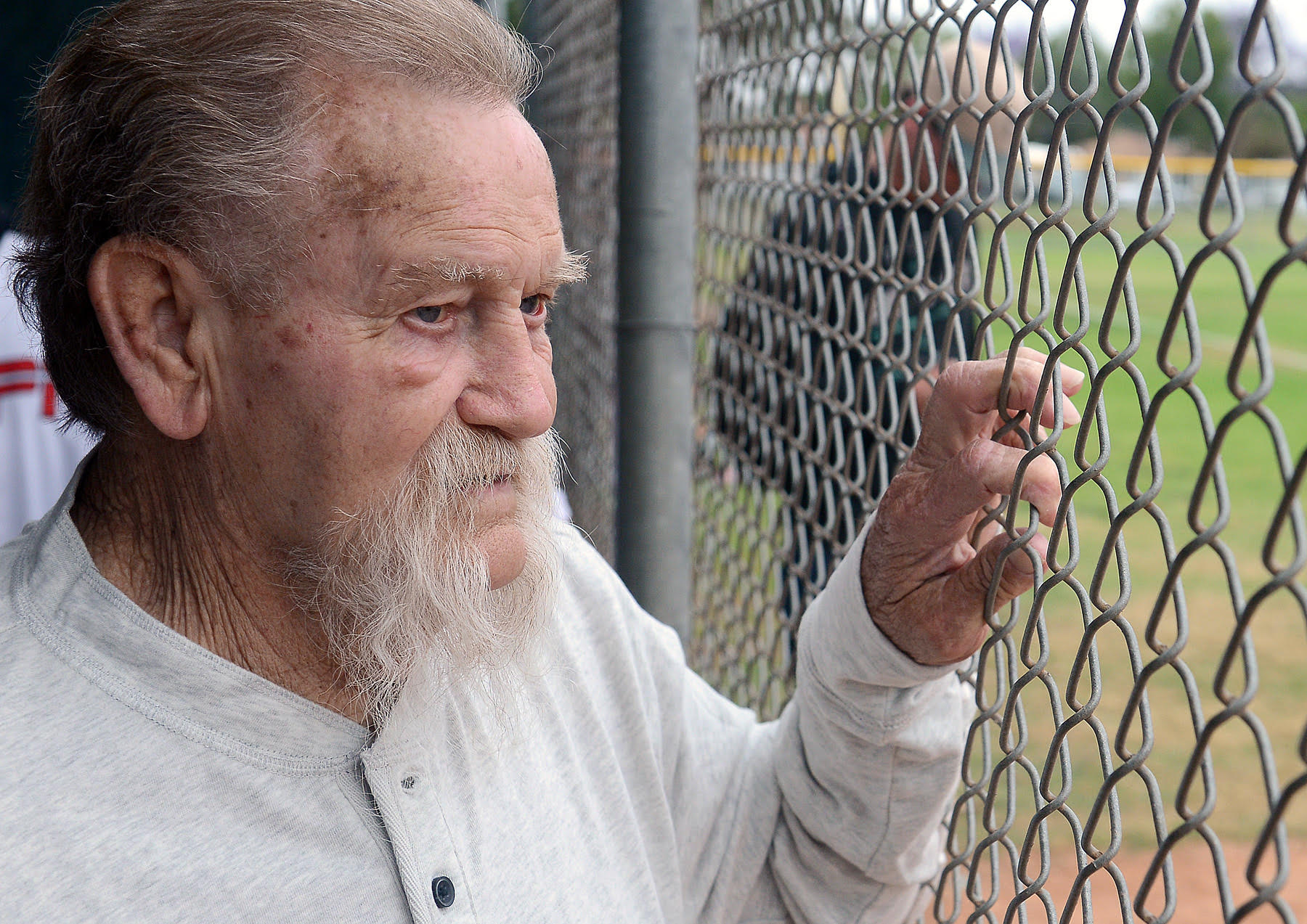 "It's all changed over the years," Huntley said. "Back in the day when I was managing, you could get on a kid and the parents wouldn't do anything… parents nowadays come unglued. They have to let them grow up."
As a coach with LBLL, Huntley never changed his routine of throwing batting practice in the outfield.
"He would always throw on the same patch of grass at the corner of Stearns and Harcourt," Rima said. "That was Al's piece of grass. No other coach ever thought about using it. People knew not to park cars on that part of the street because there was a chance of getting hit."
Huntley was also an accomplished fastpitch softball player, and would routinely go from throwing batting practice at Sterns and Harcourt to pitching for his adult softball team at Joe Rodgers.
"I remember, one time we played a managers and coaches softball game," said Joe San Jose, who coached with Huntley. "Al had a no-hitter going, and the other team didn't like that, so they asked for a new pitcher. Al called on me to come in and close it out. That's just one of the great memories I have with Al."
Huntley started umpiring for the LBLL after he stopped coaching, and said it was a much more physically demanding position.
"I umpired for the 8- and 9-year-olds," Huntley said. "But you get beat up back there. If the catcher can't catch, it goes right by him and hits me."
When Rima and his wife finally called Huntley out for the field renaming ceremony, Pam had to wipe away tears while the entire LBLL family gathered around home plate to hear Rima tell stories of how Huntley helped shape their league, something Carol was quick to note he didn't do alone.
"Al didn't do these things by himself," said his wife Carol Huntley. "Rick Shoemaker, Bill Marshall and Bob Mertz all helped build the snack shack and run the league fairly. We have had the pleasure to meet and make so many friends. Al truly loves baseball, and it was fun watching him coach, but now his four daughters and grandson are his cheer group."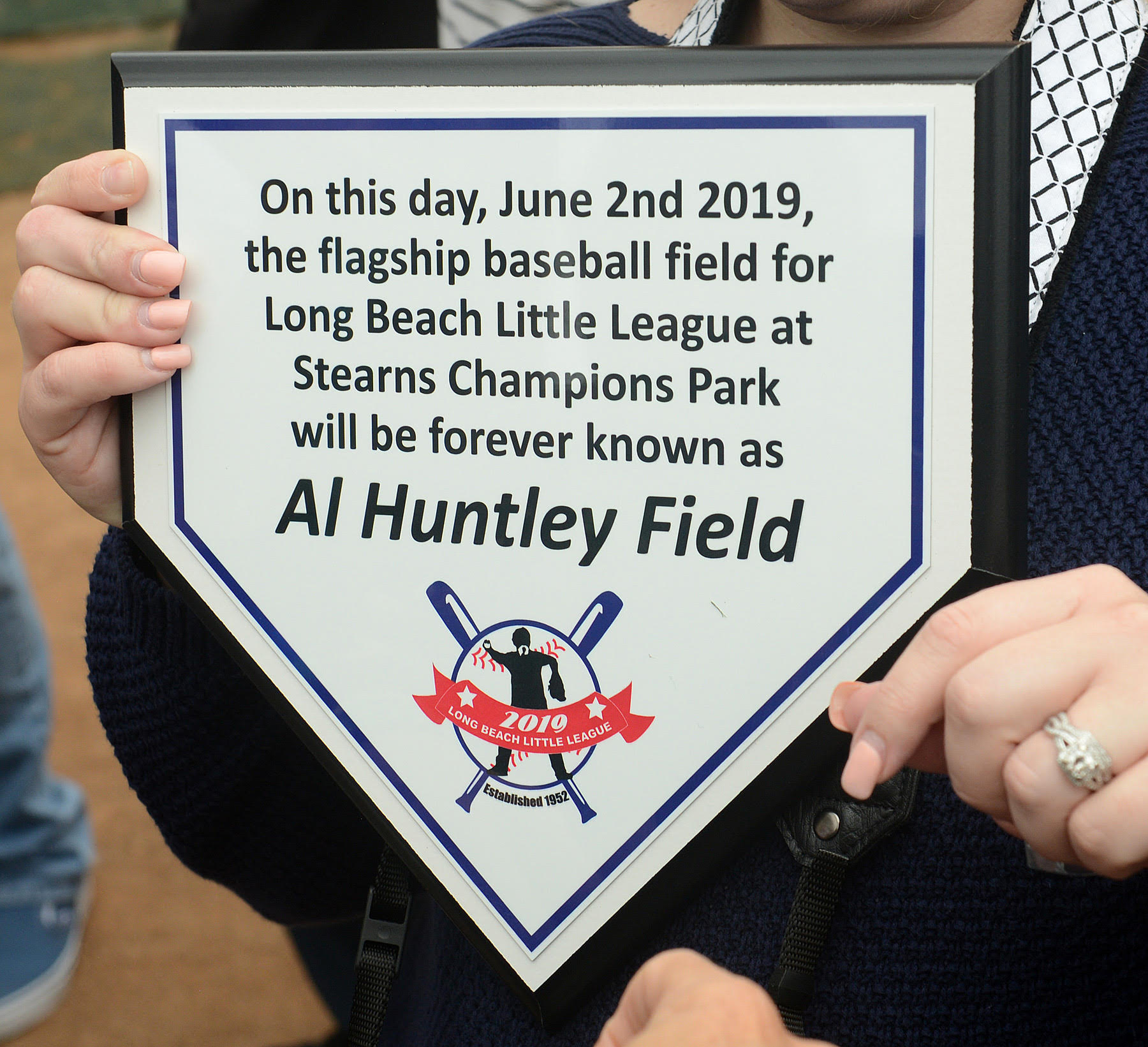 Rima also handed out commemorative pins for all of the LBLL players with Huntley's likeness on it, and the mural of Huntley on the press box behind home plate was unveiled to a roar of applause.
"He deserves it all," Rima said. "Now everyone here knows Al and what he's done for us."
So, after years of doing the unseen dirty work behind the scenes, Al Huntley has now literally left his name on Long Beach Little League.