Where the Buffalo roam and ruin Thanksgiving
There are plenty of ways to ruin Thanksgiving dinner.
You could burn the turkey. You could engage your 85-year-old grandma on the state of race relations or you could make eye contact with that particular relative who yearns to make everything political.
This year I chose to watch the Dallas Cowboys play football.
Surely, the Boyz could pull themselves together for a must-win game on Turkey Day in front of their home fans. Their opponent, the Buffalo Bills, has a dubious history with the Boyz. (This is where you Google "biggest beat downs in SuperBowl history" and I smile, if only for a moment.)
This year, the teams were trending in different directions, but that's not going to dampen the spirits of a delusional Cowboy fan and, really, are there any other kind? Raider fan, back me up!
For decades, playing on Thanksgiving was a tradition reserved for the Cowboys and the Detroit Lions, but now as the NFL has tried to maximize its advertising revenue, Thursday night games are played every week. So Dallas' historic advantage of knowing how to prepare for an NFL football game on a Thursday is out the window.
But surely a team that had just taken a gut punch from the New England Patriots could pull itself together, play a complete game and prove the preseason optimism right. Right?
And that's why they play the games.
After an inspiring first drive of the game culminating with the Boyz scoring a touchdown, things went downhill and fast.
In the spirit of Thanksgiving, Dak Prescott did his best impression of your favorite drunk uncle, fumbling and bumbling his way into gifting the Bills three turnovers. (I was sent this meme in the middle of my misery by an unnamed source. Thanks for nothing.)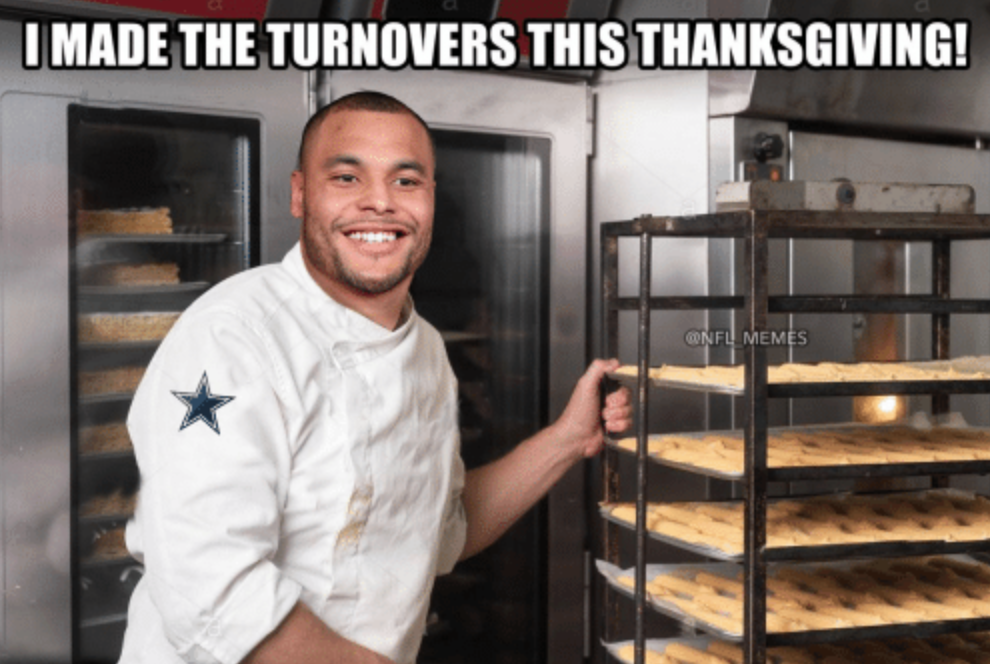 The eventual 26-15 loss dropped the Boyz to .500 and edging dangerously close to not making the playoffs.
Two things saved Thanksgiving weekend from being a complete disaster. My family was impressed with my bacon-wrapped asparagus and the Eagles, the team the Cowboys have desperately been trying to hand first place of the NFC East, lost to the Dolphins, a team that had started the day with a 2-9 record.
I promptly messaged a GIF of Flipper smiling into the camera to my dear friend, Kevin, who was likely halfway through a rendition of "Why, Eagles? Why?"
As the season winds down—there are four games left—and the Eagles and Cowboys continue to play hot potato with the division crown, we all know this is far from over. The two meet one last time in mid-December, a likely play-in game for a division that has become the laughing stock of the league.
Let it rain down on me 
If you wanted to capture the essence of the 2019 UCLA football season, you needed only to show up to the Rose Bowl, Saturday night.
Saturday was Senior Day and the last game of the season in which the team made an improvement of exactly one game over its 2018 mark of 3-9. Any optimism had disappeared weeks ago after Utah reintroduced the Bruin faithful to reality with a bludgeoning of the Bruins in Salt Lake City, so only the most ardent supporters showed up for the game.
They were greeted by rain, and one couldn't have asked for a better representation of what the season has represented to most. Rain wasn't in the forecast Saturday, then again neither was a team that had seemingly showed progress toward the end of last year losing eight games. But here we were.
The usual clamor of the tailgate was more subdued than usual. Maybe it was the weather, maybe it was the holiday rush already infiltrating everyone's psyche, leaving little room to care about a team with four wins. I honestly couldn't tell you if those that showed up came out of obligation from having already bought the tickets or if they needed some kind of closure to such a lackluster season.
If they came for the latter, they got it as the Cal Bears slammed the door shut on the season with a 28-18 win.
While many people follow teams because they want to be part of something bigger than themselves, something truly bigger than all of us cut through the lull of the pre-game festivities. The tailgate draws people from Camarillo to Long Beach and one of the attendees Saturday was a parent of a Saugus High School student who reportedly was kept safe, last month, by a coach who locked his students in the gym.
The pregame that's typically toasted to a Bruins win was dedicated to his family and his son.
Support our journalism.
Hyperlocal news is an essential force in our democracy, but it costs money to keep an organization like this one alive, and we can't rely on advertiser support alone. That's why we're asking readers like you to support our independent, fact-based journalism. We know you like it—that's why you're here. Help us keep hyperlocal news alive in Long Beach.