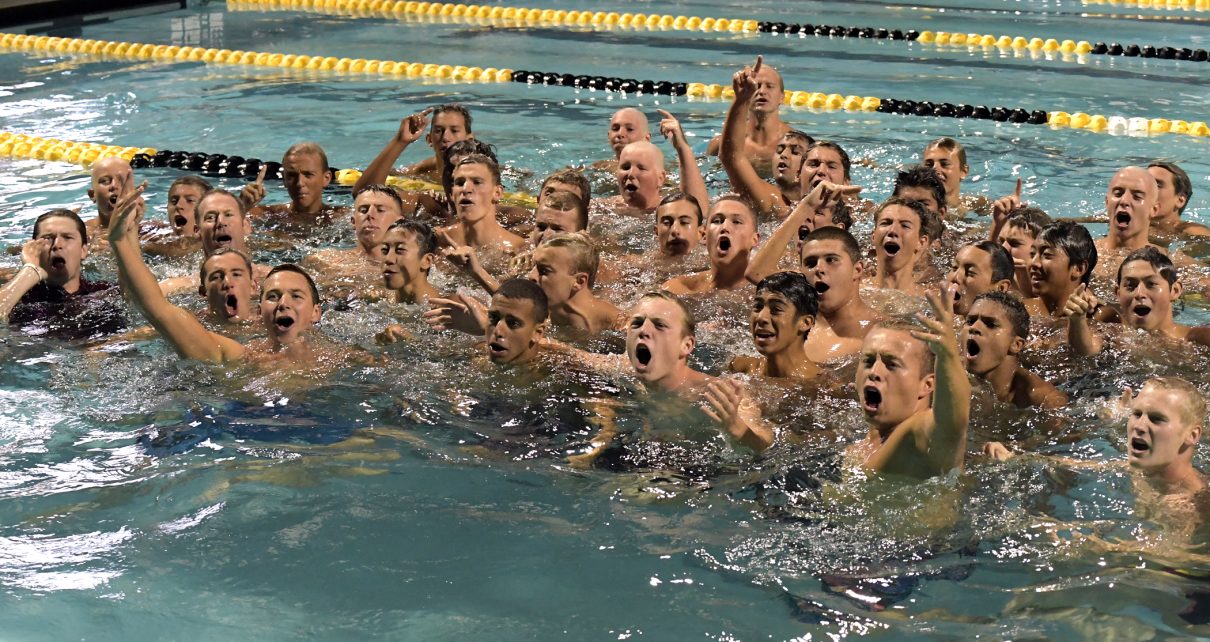 Wilson High boys swim title streak is the best in the nation
Long Beach was experiencing an unusually warm spring in 1972. Richard Nixon was president, American troops still had their boots on the ground in Vietnam, movie fans were packing theaters to see "The Godfather" and Al Green's "Let's Stay Together" was burning up the airwaves.
That year, the Moore League boys' swimming championship was won by Lakewood High, the last time a team besides Wilson brought home the hardware. If you're counting, that means the Bruins have won 47 consecutive league championships, including 2019, making it the longest active league title streak, in any sport, in California or anywhere else in the country.
"The streak means a lot to all of us," said longtime Wilson swim coach Eric Berg, a former Bruins swimmer himself. "A lot of people have a part of that over a lot of years."
Berg Family Business
Berg is right: a lot of swimmers have contributed to the aquatic success of Wilson over the generations. But few families have contributed as much as the Bergs, who've made Wilson's championship history the family business. In addition to the titles he was part of as a swimmer there, Berg has been the head coach of the Bruins since 2006.
This year's championship came in drama-free fashion. Wilson scored 580 points at the league finals meet, almost 200 more than Millikan's second-place score of 386. The team's senior leader was Max Berg, the second son of Eric Berg's to swim for him.
"I'm part of a really small group that has the opportunity to coach their kids at this level," Berg said. "It's so rewarding. Over the years, starting with my son Jack, and now Max, they've been so cooperative and helpful in shaping the program into what I wanted it to be. I couldn't have done it without them. Obviously, I've had to grind on them, and lean on them and make them examples. Things I couldn't do to other kids."
"Coach sucks, but Dad is a homie," joked Max after he and his father climbed out of the pool following the traditional championship dive-in. "It's the most special experience I've ever had. I love my coach, and I love my dad."
Win it For Bell
Not every title has come easily. Max dedicated this year's league championship to the memory of Latham Bell, a longtime Wilson aquatics coach who passed away in 2017 on one of the most emotional and memorable nights in local sports history.
That year, Wilson lost a dual meet to Poly, putting them in second place headed into the league finals. It was the first, and only, dual meet the Bruin boys had lost in the 47-year run of titles and the streak was suddenly in danger. Berg's projections put Wilson as a 30-point underdog headed into the league finals, but something strange happened; Wilson swimmers kept setting lifetime bests, kept edging points here and there out of races in which they weren't expected to score.
"It was like something was pushing them through the water on a wave," said longtime Poly girls swim coach Kalani Caldwell.
Wilson ended up winning the league championship by two points, prompting swimmers to jump in the pool together for a 50-man aquatic mosh pit; videos of the celebration went viral on Twitter and Facebook, as raw emotion and the weight of history came pouring out.
"Every guy on the team had the swim of his life today," said Berg on the pool deck after the win.
Twenty minutes later, tears of joy became tears of pain when the team learned that Bell, a beloved assistant coach, had died following a car accident while on his way to the meet. The coaches and swimmers weren't aware of Bell's passing during the meet or the celebration. Berg's wife got a phone call during the meet and waited to tell him until afterward, while they were in their car in the parking lot.
"Thank God she chose not to tell me," Berg said the next day. "She knew I needed to be there for the kids in that moment and stay focused."
The highest of high emotions gave way to the lowest of lows as the entire program mourned Bell. Two years later, after dedicating this year's championship to Bell, Max Berg said, "He brought me up, he's the best coach ever and may he rest In peace."
The Future
This year's league title was secured with relative ease and it doesn't look like the last time that will be the case. Wilson has a loaded freshman class that includes record-setting Hank Rivers, who broke decades-old league records in the 100-yard breaststroke, the 50 freestyle and the 200 freestyle relay with fellow freshman Gray Carson, junior Mazen Abouelela and senior Max Berg.
"Time will allow him to show exactly what he has," coach Berg said of Rivers. "He's got a lot more in him, and it's really exciting. There's names like Tim Shaw, Hank Wise, Jessica Hardy and Daniel McArthur more recently… looking at where he's going right now, you can't not mention him in that circle."
That's lofty praise and exclusive company for a ninth grader to be mentioned in. But like the city's other great legacy sports programs—Poly football and basketball; Wilson baseball and Millikan wrestling—kids grow up steeped in Wilson swim history from a young age. When asked about the streak, Rivers wasn't surprised to hear about it, and he didn't give a canned Sportscenter-ready answer about taking things one day at a time.
"Keeping the streak alive [is most important] because my senior year, if we keep it up, will be 50 and that means a lot to me and my peers," said Rivers after one of his record-setting swims. "I'm at a loss for words, this is a great night."
There's nothing wrong with one golden night—but 47 years worth of them in a row is a legacy that only the Bruins can claim.
Support our journalism.
Hyperlocal news is an essential force in our democracy, but it costs money to keep an organization like this one alive, and we can't rely on advertiser support alone. That's why we're asking readers like you to support our independent, fact-based journalism. We know you like it—that's why you're here. Help us keep hyperlocal news alive in Long Beach.