Words can't describe how excited we are about high school volleyball right now, so we'll do our best to just walk you through this. The Moore League has seven teams—three of them (Wilson, Lakewood, and Poly) are in the top ten rankings for the entire Southern Section. Two of them, Wilson and Lakewood, played at the Wilson gym Tuesday afternoon—the match had plenty of storylines before it even started, since Lakewood is the defending state champion, and since Wilson is currently ranked higher than them. Both teams looked nervous before the match—it's entirely possible that nobody on either side of the court had played a league game with so much riding on it.
Wilson started off looking tentative but solid, jumping out to an 8-4 lead, with three of Lakewood's points coming off Bruin service errors. They eventually powered their way to 21-10, before the Lancers became the first of the two teams to relax, and just start playing ball. They closed on Wilson, going on a 10-3 run before Wilson finally put them away, winning the first set 25-20. But Lakewood took the momentum they had at the end of the first set and rode it into the second, winning handily, 25-16. And then Wilson head coach Susan Pescar gave her team the best advice a coach could give when they've got a talented group of athletes: "Just swing," she said.
And swing they did, as the Bruins finally shook off their nerves and took command of the next two sets, winning 25-15 and 25-18 on their way to a 3-1 set victory. In the final two sets they really showed off their outside hitters, especially Janisa Johnson, who had the bulk of her 8 kills in the third set. Wilson's defense has looked like their strong suit in every match I've seen, and tonight was no different—at one point in the third set, they notched three consecutive stuff blocks.
It wasn't that Lakewood didn't play well—in streaks, they looked nearly unstoppable, and the run they made at the end of the first set was the most impressive of the match—it's just that Wilson doesn't have as many ups and downs. Both Lakewood and Poly have looked hot and cold in the matches we've seen, while the Bruins have been evenhanded, patient, and not given to panic. Standouts for the Lancers were Jazmine Orozco, who had 12 kills, two blocks and four digs, and Tyler Jackson, who finished with 13 kills, a block, and five digs. Wilson's top players were Johnson, and Amanda Pacheco, who was dominant at the net, with 10 kills and four blocks.
Both teams are at such a high level of talent, it was no wonder that both coaches put their team's struggles on their own shoulders. Both Pescar and Lakewood coach Mike Wadley praised their opponents' ability, but they both see their own teams' mood and attitude as the biggest key to success. "We didn't play as a team," Wadley said.
"Some people say this game is 80% mental," said Pescar. "I think it's probably more like 90%. We have to get over our nerves in these big matches, because our girls just want to play." She also acknowledged that with Lakewood's roster and experience, their second meeting in the last week of Moore League play will be huge. "We're thrilled, but this is not over," she said. Thank God, coach.
The next time two teams in the Moore League Triumvirate play will be next Thursday, when Lakewood visits Poly. Check back then for a writeup and another highlight video.
Johnson skying for one of her 8 kills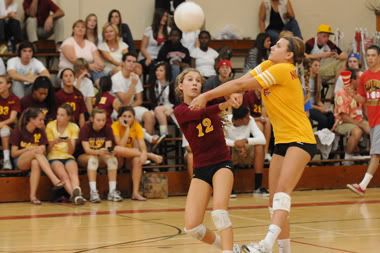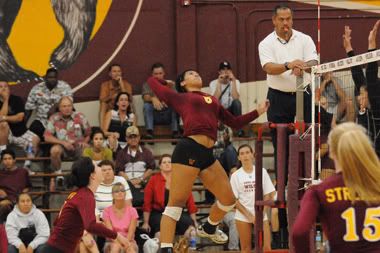 More big hitting from Wilson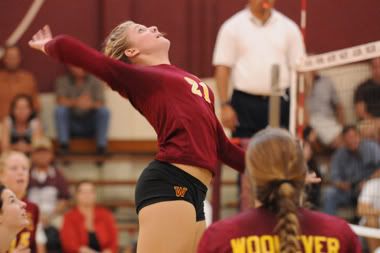 Even more big hitting from the Bruins
{loadposition bottomshare}