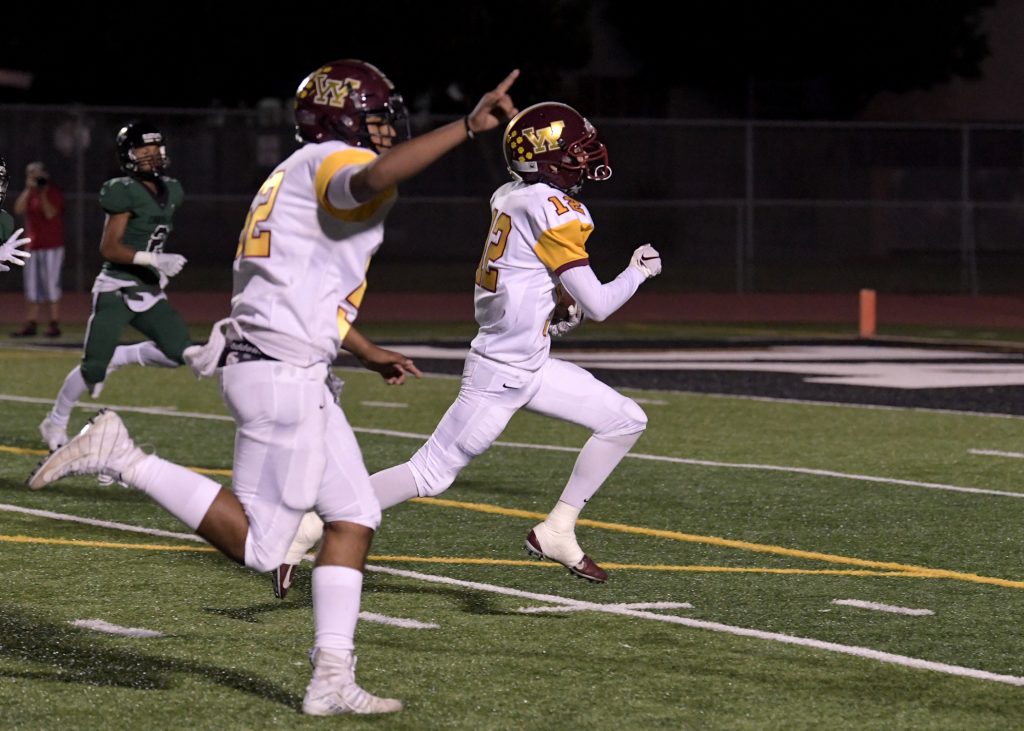 Yes, Long Beach Poly/Wilson Football is a rivalry
Friday, October 4th has been circled on a lot of calendars around Long Beach for the last few months, including ours. Long Beach Poly (2-3, 1-0) will visit Wilson (6-0, 2-0) for a meeting of the two best football teams in the city and a renewal of the oldest rivalry in Long Beach.
The game is so big that there were plans to move it to Cerritos College's 12,000-seat Falcon Field to accommodate the expected crowd. (Those plans ultimately didn't come to fruition, and the game will be played at Wilson.)
Poly has been struggling a little this year, but still looked like a powerhouse in a 38-3 win over Millikan, last week. Wilson, meanwhile, is having the best season in school history, sitting at 6-0 for the first time ever. The Bruins are ranked No. 1 in Division 7 and could win the school's first-ever football CIF-SS championship this year, but their fans are probably more excited at the prospect of beating Poly for the first time since 1991.
Bruins coach Mark Ziegenhagen is hoping his team wins all of their games this year but when pressed, he admitted he'd rather make history with the CIF-SS title than beat Poly, if he had to pick just one (which, of course, he doesn't).
Many Wilson fans respectfully disagree with their fearless leader.
"I understand what he's saying, but #$*)@ that," said Wilson superfan Dan Gooch, who did not actually say '#$*)@'. "If you beat Poly, it was a great season. If you don't, you don't."
By that measure, there haven't been a lot of great seasons for Wilson, they've lost 28 consecutive times in the rivalry series long known as "The Big Game," which dates back to 1932, just a decade or so after Notre Dame's Knute Rockne revolutionized the game with the forward pass. Poly beat Wilson the first 11 times the teams played, but that didn't stop the game from looming large in the minds of Long Beach football fans, with more than 30,000 flocking to the Rose Bowl to see them play in the 1930s and 1940s.
Because Poly has dominated the Big Game for so much of its history, Poly fans will occasionally turn their noses up at the idea that it's a rivalry, citing how one-sided it's been. That's silly, of course. The game is older than the Cowboys, 49ers, Patriots, Colts, and a total of 26 NFL franchises. There's too much passion over too much time wrapped up in it to call it anything other than what it is: Long Beach's oldest, and best, rivalry.
Tickets are $8 general admission, $4 children/seniors, $3 students with ID. Tickets are available at both schools' bankers this week for students or the general public, from 8 a.m. to 11 a.m. and from 12 p.m. to 3 p.m. Both campuses are closed to visitors during lunch.
Game of the Week
Read the previous 500 words. Poly/Wilson will be the biggest regular season game in Long Beach this year and it won't be close. Athletic directors from both schools have been swamped by fans looking to get tickets, and the game will likely sell out before Friday.
Water Polo
The Moore League Water Polo Showcase was last week at Cabrillo, with all six Long Beach teams participating to open up league play. The big news of the week is that Wilson is indeed legit. The Bruins are one of America's premier programs and have produced dozens of aquatic Olympians over the decades, but fell on hard times the last few years, slipping to Division 3 in the process.
This year's Wilson team is made up of legacy players whose parents were in the program, and they're determined to put Wilson back on top of Southern California. They dominated rival Long Beach Poly 16-2 and are No. 1 in the Division 3 rankings, favorites to win this year's CIF-SS championship.
Girls' Volleyball
The two top teams in the city met last week as Long Beach Poly visited Lakewood and put up a dominant sweep to force their way into a first-place tie with the Lancers. We also saw something we haven't seen in a decade: a triple-double in a high school volleyball match. Poly sophomore Adonia Faumuina had 12 kills, 13 assists, 10 digs, five blocks, and an ace in the match. That's about as rare as a quadruple-double in basketball.
Faumuina, a 6'2" setter/outside hitter, is one of the top five recruits in the nation in the sophomore class, has scholarship offers from every college in America and will be a star to watch for the next three years.
Cross Country
The first Moore League cross country meet of the season is happening Tuesday at El Dorado Park at 5 p.m. Cross country doesn't have a reputation as an outstanding spectator sport, but we've grown to love it. Every school in the city is there, with crowds that rival a well-attended high school basketball game cheering for all of them.
Editor's note: This story was updated with the information that the Poly/Wilson game will remain at Wilson High. 
Support our journalism.
Hyperlocal news is an essential force in our democracy, but it costs money to keep an organization like this one alive, and we can't rely on advertiser support alone. That's why we're asking readers like you to support our independent, fact-based journalism. We know you like it—that's why you're here. Help us keep hyperlocal news alive in Long Beach.