I still sit, a mixture of feeling both blessed and affectionately amazed, by the fact that we are home to a place—squished between a design firm and açai bowl joint on its west and a now-shuttered fast-casual space on its east—that has some of the region's best Levantine food, offering a distinctly Long Beach interpretation, especially when it comes to brunch.
This hit me as I looked at a piece of toast presented to me over the weekend, one of many times I have stopped in to experience their special weekend menu: a crusty, chewy, thick slice of sourdough from the local bread masters at Gusto, its edges barely holding a brightly fuchsia-tinted spread. That spread, a tart and earthy blend of house-made labneh, a thick strained yogurt common in Middle Eastern food, and red beets, is sliced with more bright colors. Plucks of vibrant green dill, purple violets and bits of white chickweed are nestled between golden fried bits of cauliflower with drops of deep black sesame painting the top-most layer.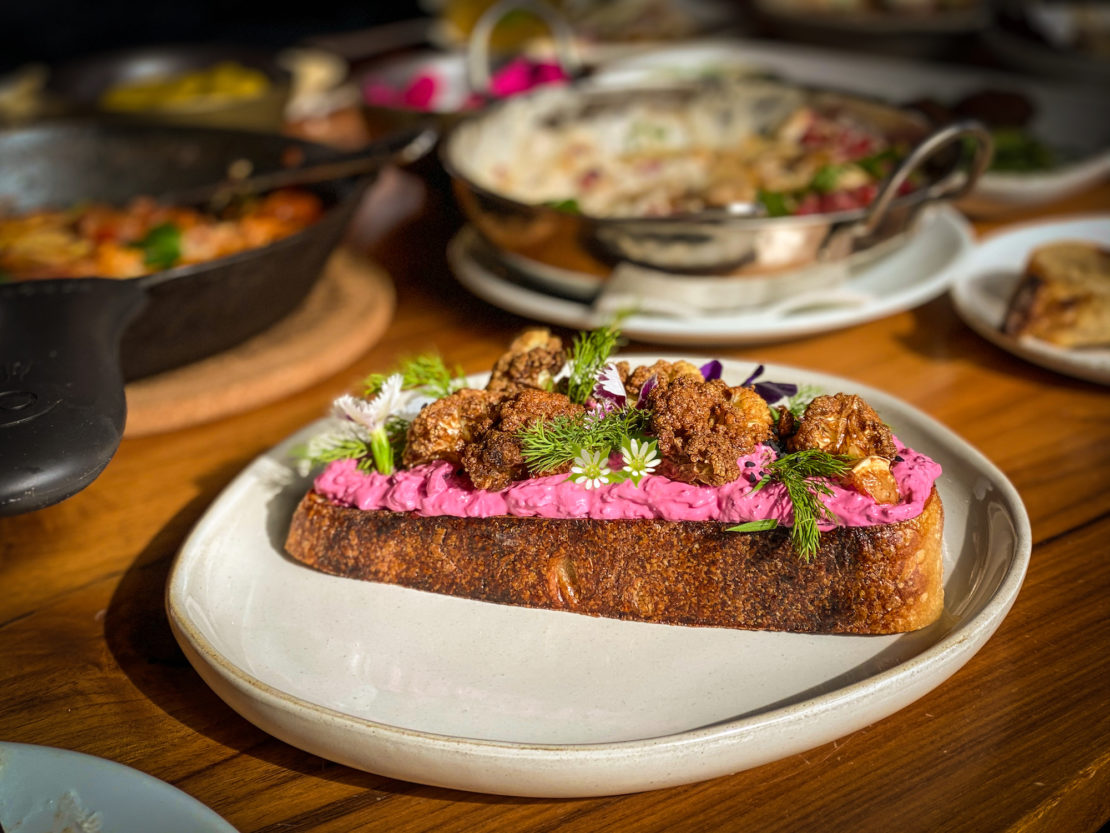 The result, like an abstract of saturated colors from nature itself, is a playful eschewing of the all-too-common avocado toast that makes way for a meshing of California and the Levant—and it is but one of many examples of Chef Dima Habibeh's ability to play with the Levant's gorgeously complex cuisine while catering to an idea as distinctly Western as the weekend brunch.
Ammatoli has been one of the more quiet successes of the Long Beach food scene, with Chef Dima constantly churning out consistently high-caliber food that encompasses the beautiful culinary traditions of the Levant: Israel, Cyprus, Palestine, Lebanon and, particularly important for Dima, her home of Jordan.
Chef Dima's hyper-focus on Levantine cuisine is one which not only exemplifies accessibility—you'll find a divinely spicy hummus along with some of the region's most astounding forms of shawarma on the restaurant's regular dinner and lunch menus—but, with seamless skill, entices patrons to dive deeper into the restaurant's ambitious ideas.
Her brunch is no exception: wildly and wonderfully different from the onslaught of brunch-gone-decadent items, here you will find no hefty plates of mascarpone-stuffed French toast, add-bacon-on-anything option or cheese-filled excess.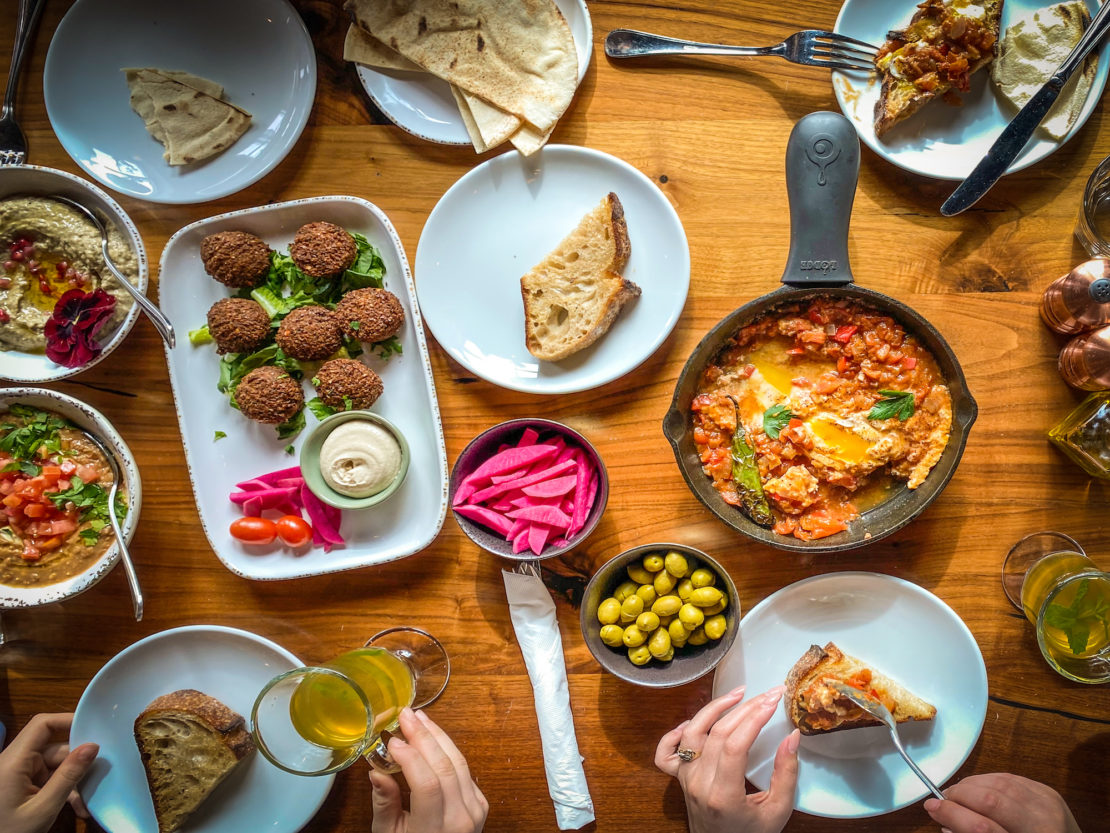 Instead, you will find a beautifully balanced version of shakshuka, a North African dish that has become a breakfast staple throughout the Levant. Tomatoes are stewed with harissa, a paste-like concoction of blended chiles, garlic and other spices and then eggs are poached in said sauce. Dima's stellar version is topped with a charred Serrano pepper, layered with veggies and served with perfectly hearty, toasted bread.
There is fattet hummus, a Levantine bread pudding that combines savory and tart qualities into an overall nutty, creamy dish. Chunks of hearty bread are soaked in a hummus-yogurt mixture before being topped with crispy bits of fried pita, toasted almond slivers, whole chickpeas and a healthy dose of citrusy pomegranate seeds. With each bite, the pops of tart sweetness from the pomegranate seeds cut through the hummus and pair perfectly with the almonds in a dish that is as addicting as it is an ode to quality vegetarian cooking.
Other dishes direct from the Levant stand out—a giant bowl of hummus topped with strips of beef shawarma and pine nuts, the heavy doses of clove and cardamom drifting from its steam plumes—but when Dima begins experimenting with her surroundings is when things become both fun and genuinely tasty.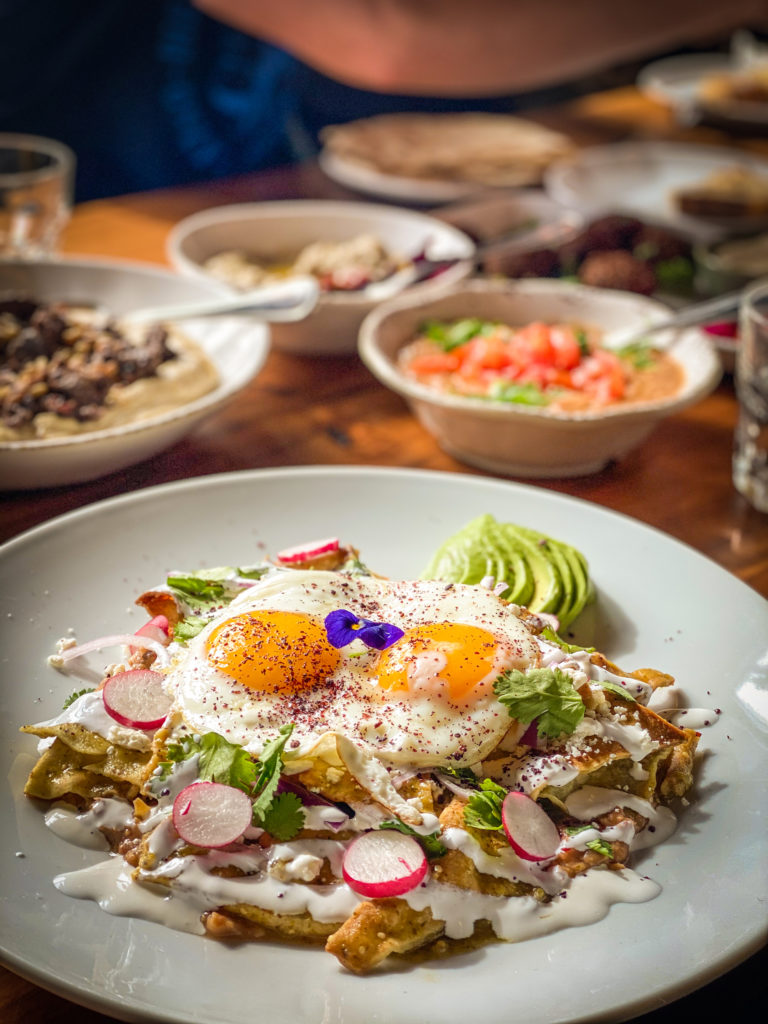 "Practically my entire kitchen is Mexican," she once told me. "I watch them cook on their own and it inspires me because I have always believed that food is a language understood by all."
That inspiration becomes tangible when Dima focuses on fusing her food with that of her cooks. Spectacularly great fusion food is one of the hallmarks of the Americas: from tacos árabes out of Puebla, Mexico to the Thai curry pizza out of Dean's in Long Beach, great fusion comes when the things being fused seem to be polar opposites—like Levantine and Mexican cuisines.
Much like the aforementioned tacos árabes, Dima's "Hola Shawarma" wrap is, basically, a Levantine burrito. Chef Dima's spectacularly spiced chicken shawarma is wrapped in a pita and then slathered in a tomatillo sauce, drizzled with labneh, feta, cilantro, onions and a sprinkle of sumac for extra tartness.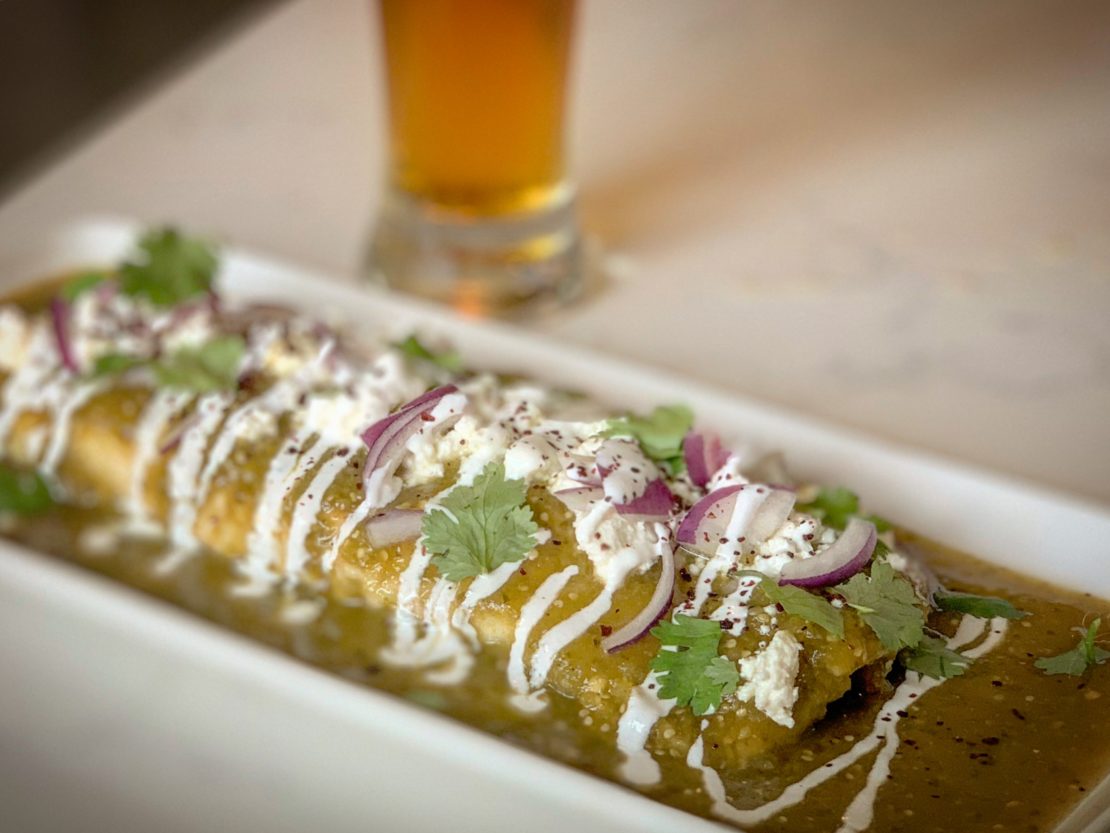 Not feeling meat? Get it filled with foul and falafel instead and one will remain satisfied—or you can order her Levantine Chilaquiles, a warm interpretation of the Mexican breakfast classic that substitutes fried tortilla chips with crisped pita slices and refried beans for foul (pronounced "fool"), all topped with a drizzle of labneh instead of sour cream and bits of feta instead of queso fresco.
Foul is a common breakfast item throughout the Middle East, especially in Lebanon and Egypt: pale fava beans, cooked and re-cooked for hours on end, mashed with garlic, lemon juice, tahini and a heavy pour of olive oil. The result is a chunky, hummus-like bowl of dip, or, if you prefer, a bowl of beans that needs no flour-based forklift; a regular fork will do fine.
Perhaps, as I still sit amazed we are home to such a restaurant, it is most mind-boggling that I can still go on about this brunch (and space) being such an incredible addition to our city—but, in all frankness, I just encourage you to go on your own.
And say hi to Dima.
Ammatoli is located at 285 E. Third St.
Brian Addison is a columnist and editor for the Long Beach Post. Reach him at [email protected] or on social media at Facebook, Twitter, Instagram, and LinkedIn.