5 places to carb load for the Long Beach Marathon
The best part of training for a marathon? Getting to stock up on carbs—that normally taboo category of food—the last few days before the race.
Sports nutritionists say that roughly 85% to 95% of your calories in the few days before running 13.1 or 26.2 miles should come from carbs: Think bread, pasta, rice and starchy, delicious potatoes.
Here's our suggestions for the best places to fuel up for the JetBlue Long Beach Marathon on Sunday.
****
The 4th Horseman
121 W. Fourth St.
Who can go wrong with pizza?
At the 4th Horseman, the stars are its pizzas. The creation of chef Adam Schmaltz, these pies are not Neapolitan-style nor New York-style. Rather, they're odes to the Californian culture of fusion; a chewy, not-too-thick-not-too-thin crust that comes with an abundance of options.
Schmaltz likes to say that anything that can be a sandwich can be a pizza and so, along with pizza classics, you'll find unique creations such as "Pastrami Dearest," a creamy ode to the almighty Reuben sandwich: Chunks (not slices) of peppery pastrami and sauerkraut bits thrown onto a mix of Swiss and mozzarella cheeses and drizzled with 1000 Island dressing. Gooey, rich, and surprisingly balanced.
****
Tito's Bakery
1107 E. Fourth Street
Here, Long Beach, is the home of the best breakfast burrito in town and certainly one of the best burrito joints period—and you can add some pan dulce on top of it all.
Nope, this isn't your heavy-cheese-and-egg concoction that borders the American palate preference but this is a hot-damn taqueria rolled into a tortilla for $6.
One of the few places that isn't afraid of refried beans, any burrito of your choice—breakfast or otherwise—gets a slather of those delicious kernels of protein (and surely lard, considering how smooth and delectable they are). This is then paired with onions, cilantro, and your protein of choice. At breakfast time, that's chorizo, chicharrones (when available and they're wondrous), bacon (chopped fresh and cooked right there—not precooked for days beforehand so specifically request crispy if that's your preference), shredded beef, or chicken (though the pollo is not listed).
Wrapped, tossed into a small paper bag with a grilled jalapeño and your choice of red or green salsa—get both, FYI—this is the kind of  burrito that by its end will be soaked, hard to hold, and bring a sense of sadness when the last bite is consumed. But that's OK, because you can always order another if you dare—or you can just go full beached-whale status and have some pan dulce.
****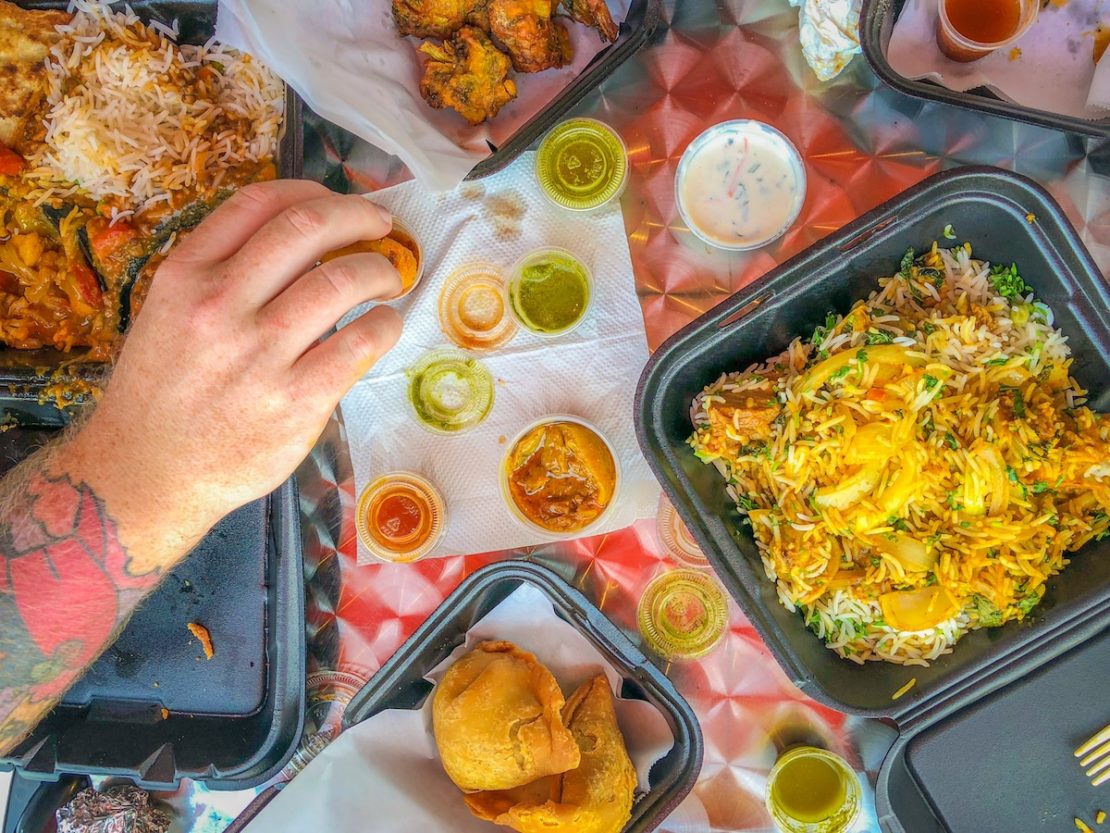 Flamin' Curry
3344 E. Broadway
Rice, rice, and more rice.
While great Indian food is remains difficult to find in Long Beach, this joint is unapologetically straightforward, a line of steam trays offering up a splendid array of Northern and Southern Indian staples that help my inner cravings for channa masala and biryani and, of course, various curries with the type of spiciness to transcend dining experiences.
Surely, some of the dishes can lean toward the salty but that being said, it is quite possible that the city's best biryani—the dish that defines the city of Hyderabad in India and is centered on two things: Rice and meat—is right here at Flamin' Curry.
If I were to be entirely forthright with any eater—at least the meat eaters of Long Beach—this plate should be ordered with the goat. (As should their curry.)
Succulent, bone-barely-clinging chunks of marinated goat sit atop a bed of basmati rice, where strips of steam tinged with the aromatics of lemon, coriander and saffron lurk up from the pile of food when you open the lid of its black styrofoam vessel. It's nothing short of wondrous.
****
Vino e Cucina
4501 E. Carson St., Suite 105
Pasta is the main goal here.
Vino e Cucina is the type of place that lacks any sense of pretense. Bright yellow walls meet white tiles and various hung knick-knacks. It reminds of a place my Grandpa Natalino and Mom would enjoy and, more importantly, one they would both cook at.
Take their gnocchi—basically a potato dumpling in pasta form—can often come out excessively hard, excessively chewy, or excessively flour-y. Vino e Cucina's version is none of that; instead it's rolled into soft, pillowy goodness and garnished with either a wonderfully creamy gorgonzola and walnut cream sauce, slathered in a cheesy basil pesto, or—echoing my time in Florence—doused in a tangy, bright red sauce with chunks of fresh mozzarella and strips of basil.
It's straight-forward pasta at its best, all made in-house and fresh. You'll find the giant tubes of rigatoni, almost reaching the size of larger cousin paccheri millerighe, tossed in any sauce you can imagine.
****
Coffee Cup Cafe
3734 E. Fourth St.
This is one of the true staples of Long Beach breakfast—y'know, up there with The Breakfast Bar and The Potholder in terms of status as a local icon. And you can carb up on everything from toast and pancakes to burritos and enchilada eggs.
Their Baja Breakfast Burrito is one of the grub hub's best offerings. (And in all honesty, I hope one day they take their undeniably fantastic Chicken Chile Verde and convert it into a breakfast burrito because I would be on cloud nine.) Their Enchilada Eggs, pictured above, are beyond addicting.
And that Chicken Chile Verde? It's is par none: a spicy, cheesy wonder of an omelette whose heat depends on the attitude of the chef who whipped it up in the wee hours of the morning.
Long Beach Food Scene
Public group · 3,866 members
This group is to share stories about Long Beach's new restaurants, classic joints, hole-in-the-walls, food porn, cottage culinary businesses, amazing …
Support our journalism.
Hyperlocal news is an essential force in our democracy, but it costs money to keep an organization like this one alive, and we can't rely on advertiser support alone. That's why we're asking readers like you to support our independent, fact-based journalism. We know you like it—that's why you're here. Help us keep hyperlocal news alive in Long Beach.