Now, before I get into Chef Jason Witzl of Ellie's and his secret, 12-seat space dubbed Ginger's that will offer diners a seven-course dinner for $65… Before I really get into that, let's have a discussion.
Witzl has quickly built up a reputation for himself. I have lauded him for having the best restaurant in the city; the opinion of others, given its stellar Yelp! reviews and restaurant write-ups, seem to be the same. Still, beyond the food, which is magnificent, there's a history.
Taking over the much-loved At Last Cafe—whose chef suddenly reappeared out of retirement to take over the struggling Table 301—Witzl had to work to convince the neighborhood that his food was worthy of their trust. And I mean work: introduce himself, take questions, walk around, eat around, drink around… Go around.
All of which can sound a bit pastoral: Los Angeles chef moving into a Long Beach neighborhood, having to prove himself worthy. But we all know that Long Beach has long suffered from/reveled in an allergy to outsiders, one which makes us toxically positive boosters without welcoming those that can elevate our city positively or, worse perhaps, unable to be critical of locals who have achieved success that is, perhaps, a bit unwarranted.
"I feel like sometimes saying, 'Hello, my name is Jason Witzl and I too was once an outsider in Alamitos Beach,'" Witzl said. "But I've become fully embraced."
That embrace was actually years in the making and came because Witzl took the time to work with the neighborhood. Acknowledging his outsider status, he invested in it instead, and not just with money. He moved here, decided to start raising his family here and began infusing his Mexican and American heritage into the place where he opened his first restaurant.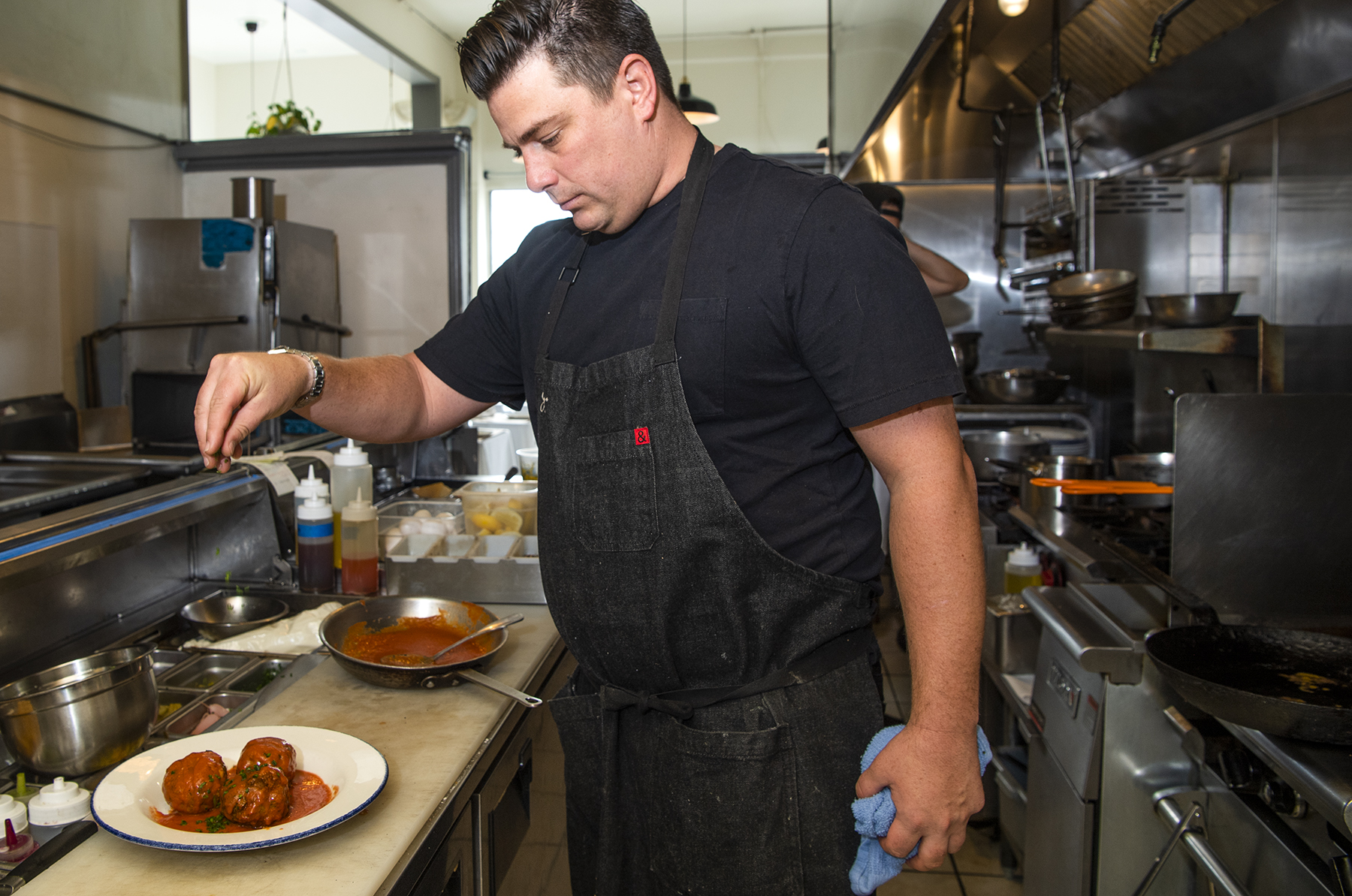 In a word, Witzl worked. At Ellie's, he introduced a beyond-inexpensive option, a four-course dinner for $25.  He offered appetizers that didn't reach into the two-digit dollar mark and his pasta entrees have remained at a steady 15 bucks or so. He remains open for lunch in a neighborhood known for its quietness before 5 p.m.
"I literally talked to everyone I could," he said. "I would talk to every passerby. I would touch every table personally. I would listen to all the complaints. I would listen to all the compliments. I would take serious concerns expressed seriously. It sounds like something everyone should be doing but they don't. It takes work; it takes building trust."
From that trust has come his latest creation which he's preparing to officially debut—there's been a soft-open happening the past few weeks: the 12-seat, single-table restaurant called Ginger's that serves family-style, seven-course meals. At $65, the price of the meal teeters somewhere between ridiculously to dangerously low but Witzl sees it as part of the give-and-take of becoming part of the community.
"When you've built trust among your patrons," he said, "They are more willing to invest in you."
Witzl made himself and his family visible; his wife Alexandria and their newborn son Aiden are as much staples at the restaurant as the chef himself. He has, in a sense, become part of Alamitos Beach and he did so by introducing food that wasn't here before he arrived but that people could access.
That last part is key. The conversation surrounding the cost of food is one that is other-worldly to the Old Guard of Food Writing: "We write about the food and the food alone on its merits, dammit!" But that is not only speaking from a dangerously privileged platform, it ignores the space in and around food while ignoring the question of, "Who is this food for?"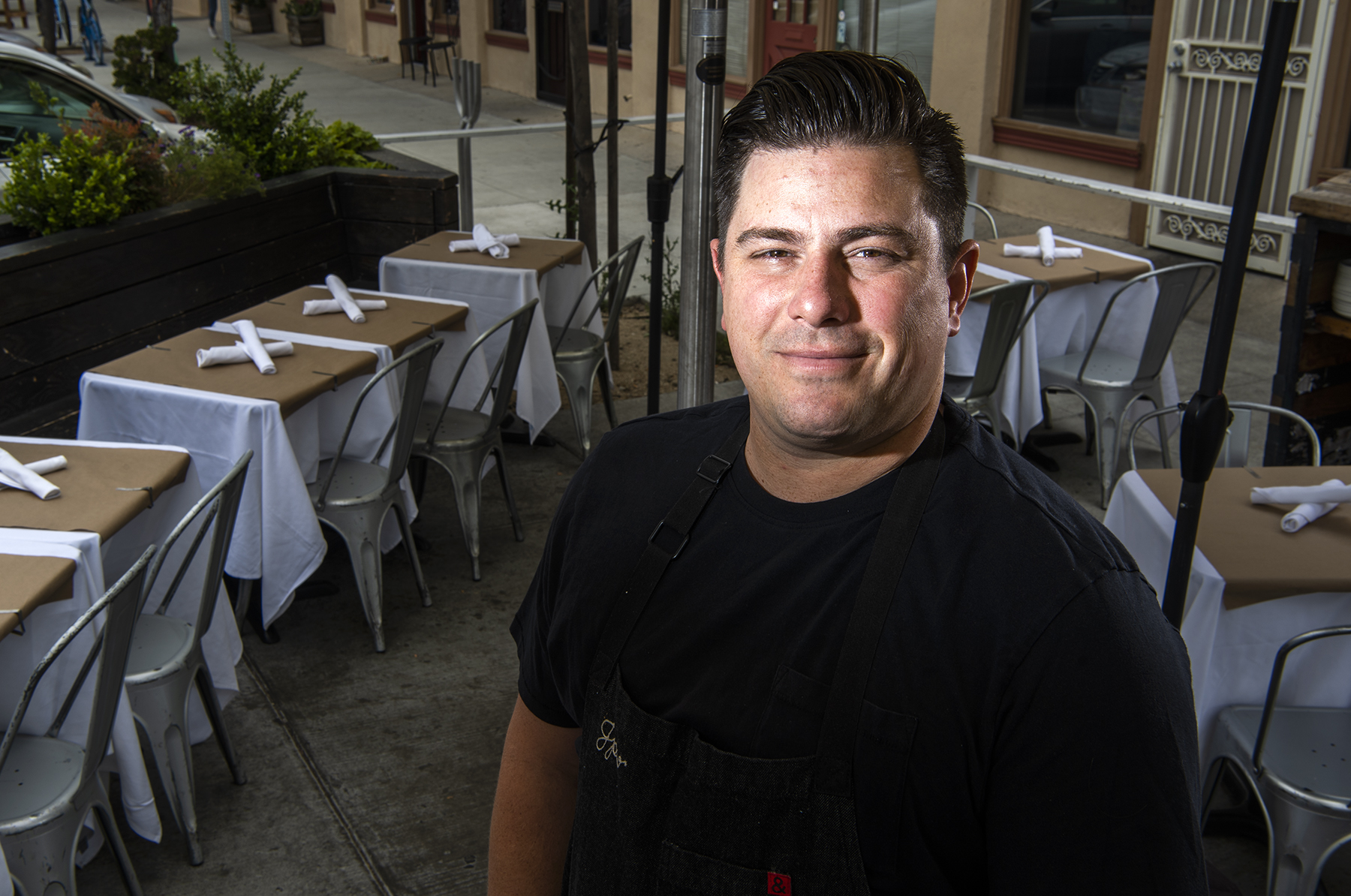 Notwithstanding the massive amount of confusion that patrons seem to have when it comes to running a restaurant—the overhead of restaurants lies not in food but in build-outs, labor, insurance—the question of who restaurants are making their food for is an essential question.
Witzl wants to give folks access to types of food that would, in any other major city, be shuttered out from.
"You know, this concept has a lot of layers for me. I want it to lack pretense, I want it to be a mixture of people from all the neighborhoods of Long Beach," Witzl said. "But, most importantly, I really believe that we are separating ourselves from what the dinner table is. We don't talk around the dinner table anymore; we don't gather around it anymore. We're on our phones. We're disconnected."
The lament of Witzl is one he hopes to ameliorate through the food at his as-of-now unnamed, family dinner concept.
"There's a way to make a very high-end dining experience also very approachable," he said. "This is my Sunday dinner concept. I want people from Belmont Shore to sit across from people from North Long Beach and talk. Share. Witness the relationships people will make."
Attach to this Witzl's healthy obsession with execution and it is clear that this dining experience will not only be stellar but antithetical to the same type of dinners served elsewhere.
"I'm long-gaming this, Long Beach," Witzl said. "I'm breaking even on this—and that's not something I'm bragging about but trying to say I'm investing in my city and I'm investing in my neighbors. I want them to have something they can approach with happiness."
To put "approachable" in perspective, Trois Mec—sadly given just a single star by the reaching-for-obsolescence Michelin Guide in its latest California rankings—and its fixed-course dining options are so popular that they are offered on a lottery system. Tuesday through Thursday, if you are lucky, you can score a four-course dinner for $85; $110 for the six-course dinner every other day of the week.
Witzl is not attempting to create a new space catering to a Los Angeles crowd; he is creating a fine-dining experience specifically for Long Beach, one that is, as he said, approachable.
Diners, when the operation opens somewhere around August, will be permitted to add a wine pairing option for $35. As for now, Witzl has already launched into previews of the concept for guests that he personally invites each weekend before fully diving into the concept.
"If you really want Long Beach to embrace you," Witzl said, "Listen to them. They have amazing ideas."
Ellie's is located at 204 Orange Ave.
Brian Addison is a columnist and editor for the Long Beach Post. Reach him at [email protected] or on social media at Facebook, Twitter, Instagram, and LinkedIn.
Support our journalism.
Hyperlocal news is an essential force in our democracy, but it costs money to keep an organization like this one alive, and we can't rely on advertiser support alone. That's why we're asking readers like you to support our independent, fact-based journalism. We know you like it—that's why you're here. Help us keep hyperlocal news alive in Long Beach.