Essential tacos in Long Beach: Pretty much every good taco, 2019 Edition
The almighty taco is the quintessential food of SoCal, spanning economic and social strata to fulfill the desires of multiple folks through a single Mexican dish—and the culinary worthiness by way of ranking said tacos is one that is, admittedly, subjective.
With this, I've also decided to avoid overtly popular joints—Taqueria La Mexicana and Los Compadres immediately come to mind—because there's no need to advertise them; this list is about a very specific type of taco at a very specific place.
With that, I have been delving into Long Beach's taco scene in order to grasp what is best, what is most unique, and of course, what is most delicious.
In no particular order…
****
Tripas Taco at El Taco Loco #3
1465 Magnolia Ave.
I've talked about this taco before and I will never cease from talking about it because it is a representation of the classic taco at its finest, served with a part of the pig all-too-often dismissed by boring appetites.
In the picture above, you'll see two tacos—and surely the buche [pictured left] is legit but when it comes to the best tripas I've ever had, it's shoved into that little tortilla pocket on the right in the picture above.
Handmade tortillas—not too small, not too thick, and plenty of room for a meaty filling—come with a healthy dose of clean tripe, marinated and wonderfully charred to a perfect crisp, slathered in salsa and topped with onion and cilantro.
Even better? The joint is open 24/7—just make sure when you get to the counter after waiting in line, you're not the one holding up the hungry folks behind you.
****
The Tepito Taco at Amorcito
3991 N Lakewood Blvd. inside the LBX's Hangar extension
With Amorcito, Chef Thomas Ortega's head-first dive into a taco-centric joint, his love of the almighty, hand-held Mexican dish is intensified, honed and, per usual his aura, played with.
Take, for example, his gloriously complex Tepito Taco. An ode to the pig, carnitas are paired with slivers of cueritos—pickled pork skin—a generous chicharrón chip, and fries. The beiges of the pork and potatoes are sliced with bright greens and reds from two salsas and cilantro.
Ortega is paying homage to Mexico's famed (and infamously dangerous) Tepito Market in Barrio Bravo. On a trip with food writer Bill Esparza—"I had the feeling he definitely had a hookup to keep us safe, y'know, because that place is truly crazy," Ortega said—he discovered the beauty of fries in tacos and honoring the full pig.
"With every taco, you would get asked, 'Papas?' and they would throw fries in there," Ortega said. "Then I met a taco man… Every morning, this guy would butcher a full pig and cook the whole damn thing. Then he'd asked you what parts you wanted. Some carnitas. Some cueritos. Some cheek."
And the Tepito Taco was birthed.
****
The Burnt Cheese Taco at Chinitos Tacos
11130 Del Amo Blvd.
Hidden in an unassuming, ubiquitous strip mall in suburbia sits a taco joint whose "owner y chef" is a disciple of Chef Thomas Ortega, the man behind Playa Amor, one of the city's best restaurants, and Amorcito, (mentioned above and home to some of the city's best tacos).
Meet Cambodian-American Chef Beeline Krouch and welcome to his world of Chinitos Tacos.
The influence of Ortega on Krouch's cuisine is clear: the bright magentas of pickled red onion, in-house crafted tortillas, the melding of heritages. But Krouch holds his own with wonderful nuances, a dash of togarashi on top of an egg here, Thai tea with a splash of horchata there and like any good Cambodian kid in Long Beach, a straight-up fried chicken special on Thursdays.
The span of Krouch's reach is astounding. He, at one point, honors the famed fantasma taco from Tijuana's Taconazo by creating a burnt cheese taco shell that is as decadent as it is blissful while, at another point, honors his own heritage by melding flavors like lemongrass, ponzu, and a house-made Chinese five spice into Mexican styles of protein, from barbacoa to carnitas.
****
Smoked Marlin Taco at Cheko el Rey del Sarandeado
343 E. Market St.
I will never stop singing the praises of this taco, created and served in a tiny, off-the-grid seafood joint dedicated to the Sarandeado-style preparation of fish, where it's cooked over the high heat of simmering coals.
What makes Cheko—one of Long Beach's most underrated joints—so special is that the SoCal chef responsible for introducing us northerners to the style is Chef Sergio Peñuelas, who developed a cult-like following at his former place, Coni'Seafood.
Now, his work is right here in Long Beach inside the most unassuming of places creating Long Beach's best fish taco: Cheko's marlin taco. Yes, Long Beach's best fish taco is found in this tiny-but-mighty North Long Beach restaurant.
It's smoky, salty, downright spectacular, and even minimalist with just smoked marlin that is then heated over hot coals, cheese, and a single avocado slice smudged inside a wonderfully hand-crafted tortilla.
****
Taco al Vapor at El Bukanas
306 W Anaheim St.
El Bukana's is a definitive diamond in the rough.
Tucked on the very northern edge of Downtown Long Beach on Anaheim Street between Pine and Magnolia Avenues, it's a space that has no seats—just a counter—and legit tacos, especially the one for which it is known: taco al vapor.
Roughly translated, it means a steamed taco. In the case of Bukana's, layers of handmade, extra-soft tortillas and filling are put in a tamale steamer and steamed for hours. The result is pockets of tenderness that make you come back for more.
(And given that the food truck that is Tacos Al Vapor La Güera—offering equally epic tacos al vapor—is open only a handful of hours a day in West Long Beach at 22414 S Alameda St., I opted to go with the Bukana's given the expanded hours. But check out La Güera.)
****
Al Pastor Taco at Panchos Tacos
449 W. Anaheim St.
If you ever have the chance to visit Jalisco, you'll find the pockets of every plaza from Guadalajara to Jalos filled with a giant slab of pork, layered with pineapple and spices, spinning on an upright stick called a trompo, massive sources of heat surrounding it while a talented, well-seasoned knifesman slices and dices away as slivers of succulent meat fall into a tortilla.
This is al pastor—and it's a wonder of a meat to add to a taco.
Panchos, the food truck parked on the northeast corner of Magnolia Avenue and Anaheim Street, serves up the epitome of this dish every evening (until 3 a.m. on Fridays and Saturdays no less). Even better? It is stumbling distance from one of my favorite watering holes in the city, The Hawk.
****
Beer-Battered Avocado Taco at Seabirds Kitchen
975 E. 4th St.
Vegans and veggie lovers were beyond ecstatic when food truck pioneer Seabirds Kitchen opened its second brick-and-mortar just west of Retro Row.
After all, Long Beach is undergoing a vegan/vegetarian food revolution, and Seabirds leads the way in terms of tacos with its utterly decadent, savory, creamy beauty that is its beer-battered avocado taco.
Located in a sense of irony directly across from McDonald's—scoring extra points for Awesome Dichotomy—it is very easy to shove one of these folded wonders into your mouth, one after the other, laughing at the drive-thru across the street.
****
Short Rib Taco at Playa Amor
6527 E. Pacific Coast Hwy.
Playa Amor is, unquestionably, one of Long Beach's best restaurants—and, even more important, it is Chef Thomas Ortega's very personal love letter to Mexico. And like any great confession of love, it comes with challenges to the status quo-definition of love. This is modern, intellectual Mexican cuisine for which Ortega is unapologetic about—and he is unapologetic because his homage to Mexico is not lost but simply cascading a new light on a cuisine that has become a direct part of California culture.
Expect nothing less with his tacos—specifically his short rib tacos, topped with caramelized onions, cotija cheese, and a brightly colored, outright addicting ají rojo sauce.
****
Cabeza Taco at Joliza's Tacos
2233 Pacific Ave.
I think, particularly as of late, meat is beginning to find its way out of daily human diets due to both the havoc we're doing to the environment through animal farming and the ugly, unethical way many farms treat their animals.
And when it comes specifically to the American consumption of meat, we are the most egregious, disposing of massive portions of animals because we deem those parts "inedible," including, say, the head of a cow or pig. I, being Italian, never understood until I was older that my love of head-cheese—an Italian cold-cut comprised of pig head—was "lowly."
Sorry. If you're going to skip out on personally killing an animal with your own hands, leaving that to the slaughterhouses, the least you can do is respect the animal by leaving nothing behind and consuming every bit you can.
And Joliza's Tacos is a way to do that with their stellar cabeza taco. While not quite on the level of Tacos Estilo Guadalajara in Lynwood or the Tacos El Güerro truck in Boyle Heights, this is a prime example of how things we oddly dismiss as inedible create some of the most delectable foods.
****
The Standing Outside a Restaurant Taco at El Sauz
1616 E Anaheim St.
El Sauz used to be a Brite Spot before all of them closed, outside the questionable one on PCH (including the one further east on Anaheim, which is now the formidable Cañadas Grill).
And it was all for the better.
El Sauz has quickly become a cult favorite and it goes beyond its taco window in the parking lot. (Yes, a taco window.) It's the fact that its tacos are genuinely solid, all the while creating a unique street atmosphere.
Simple, to-the-point, no-frills, and accommodated by sides of salsa that are drool-worthy, El Sauz is the El Shi…
****
Korean Tacos at Sura Korean BBQ & Tofu House
621 Atlantic Ave.
Sura is, surely, an underrated joint in the spectrum of Long Beach food. Consistent, quality-centric Korean grub—both classic and fusion—have made it a local fave, even amid menu changes which, given said quality, are more welcomed than dismissed.
But one menu change that was very much lamented was the removal of their Taco Tuesday menu: Using tortillas from Long Beach's sole tortilleria, La Fiesta, Sura offered up everything from tofu tacos to ribeye bulgogi taco lathered in a wonderfully addictive habañero crema.
Fear not, Long Beach: Sura's Taco Tuesday has returned—and while it has brought back the aforementioned favorites, there is a new star in their array of Korean taco offerings: their battered vegan shrimp tacos. Yes: battered vegan shrimp tacos. While I know my many vegan friends just salivated a bit, I want the carnivores to hear me out, carnivores: crispy, creamy, meaty, these tacos are topped with a heated habañero salsa aioli, white kimchi, and some Gochujang.
They're not just good, they're outright stellar.
****
The Street Taco at Tacos El Sapo
Various locations
Originally parked solely on Olympic Boulevard in Los Angeles, Tacos El Sapo has crept its way down to Long Beach to offer what Angelenos have long considered a base late-night food: the street taco.
Typically parked on the southwest corner of Pacific Coast Highway and Atlantic Avenue, Sapo is the truck with the bright green lettering.
More importantly, they are a prime example of the street taco: small-but-hefty, you order four or seven—you can go from tripas to carne asada, your choice—watch them masterfully fill up a paper plate by stacking tortillas and meat and onion and cilantro, throw on a lime or three, direct you to the salsa counter, and voila.
****
Tocino Taco at Tux & Chucks Street Food
1916 W. Willow St.
This West Long Beach treasure is smushed between two dive bars off of Willow in what was once a Samoan joint by the name of Island's Best (sorely missed by some.)
But what once started as a catering gig in 2013 between three friends soon became a full-fledged culinary affair with a humble brick-and-mortar dedicated to their obsession with fusion grub.
Like their solid tocino taco.
Tocino might mean "bacon" in Spanish but for Filipino families, it is a rich, sweet pork dish that is deeply steeped in tradition, from being an essential part of their breakfast routines to always showing up at family gatherings. Chunks of pork are marinated in a Sprite-meets-pineapple-and-ketchup concoction—or something along those lines, usually with garlic, soy, and pepper—and then cooked until the chunks begin to crisp.
It might be served over garlic fried rice in the Philippines, but on the Westside, it's folded up in a tortilla-like any great thing should be.
****
Shrimp Taco at Aguas Way
5248 Long Beach Blvd.
This North Long Beach gem is, somewhat oddly, known for its funnel cake and carne asada fries. (Yes, you read that right and, another odd-but-cool note is that it has a tiny but dog-friendly patio in the back.)
And the Long Beach Post has long sung its praises.
Its popularity lies in, of course, the reason for its moniker: the plethora of aguas frescas it offers. (Get the blueberry—it's nothing short of awesome.)
But its shrimp taco should be up there as well in popularity. Battered and deep-fried, it might not reach the echelons of taste that its Ensenada counterparts do, but with a dollop of crema, come pickled onions, and cabbage, it definitely gets the trick done. Feelin' healthier? Get the shrimp ceviche tostada, pictured above.
****
Potato Taco at Linda's Mexican Delights
951 Redondo Ave.
I'll be the first to admit that my introduction to potato tacos was through Holé Molé—and I have no shame in admitting this because I still stand by those folded little treasures.
But Linda does it better.
Like her chain counterpart's version, her shell is fried and she tops her potatoes with generous portions of lettuce, tomato, and jack'n'cheddar cheeses; it's a vegetarian ode to the Golden Taco. But her potato mixture—creamier, tastier, and more generous in its dollop than Holé Molé's tater tot-like stuffing—is where it's at.
****
The Smoked Tri-Tip Taco at The Harbor
130 Pine Ave.
At The Harbor, Chef Chris Krajacic of Piet 76's latest Downtown restaurant, there is a hidden wonder: his tri-tip tacos.
These massive folded beauties are some of the most unique tacos in the city and, before my critics scream because Krajacic doesn't make his own tortillas, we're talking about a $7.50 lunch combo. (At dinner time, three of them are $14 and, even for an always-hungry chubster like me, I would prefer to split them with someone. Or you can get them dirt cheap on Taco Tuesday—2 for $5 last I went.)
Smokey, tender bits of tri-tip shoulder (though Krajacic isn't a formally designated pitmaster, his abilities to handle smoking and barbecuing beef with such consistency shouldn't be dismissed) are stacked on top of salty french fries, lathered in pickled cabbage slaw, and topped with a not-too-spicy roasted jalapeño salsa. Layers of smoke, salt, acid, and creaminess create a taco that is as addicting as it is unique.
More please.
****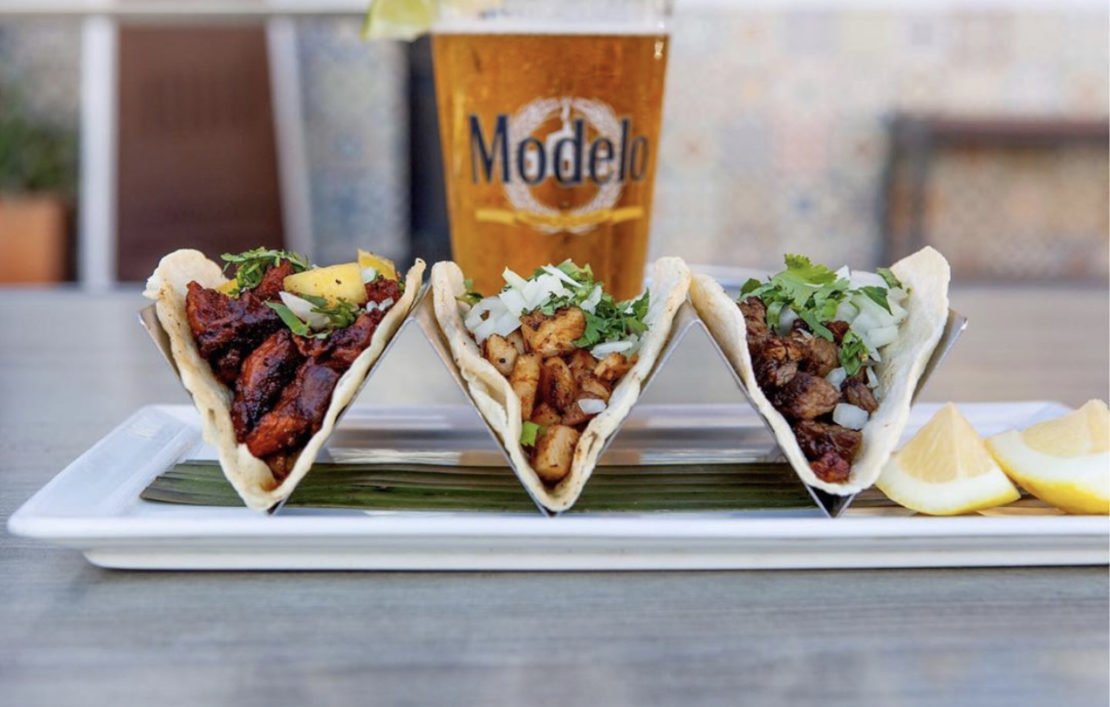 The Taco Tuesday Taco at Lola's Mexican Cuisine
2030 E Fourth St. and 4140 Atlantic Ave.
I get that, in the broad picture of popular eateries, things can get divisive. When I controversially asked what restaurants are the city's most overrated, the city's most popular joints were naturally mentioned—Lola's included.
But I stand by the joint's Taco Tuesday, where hefty heaps of their pork and veal birria, Mexican Coke-glazed carnitas, their solid al pastor, and other options—including a genuinely good squash and mushroom option—are available for utterly reasonable price. Like, $2.
Brian Addison is a columnist and editor for the Long Beach Post. Reach him at [email protected] or on social media at Facebook, Twitter, Instagram, and LinkedIn.
Long Beach Food Scene
Public group · 3,866 members
This group is to share stories about Long Beach's new restaurants, classic joints, hole-in-the-walls, food porn, cottage culinary businesses, amazing …
Support our journalism.
Hyperlocal news is an essential force in our democracy, but it costs money to keep an organization like this one alive, and we can't rely on advertiser support alone. That's why we're asking readers like you to support our independent, fact-based journalism. We know you like it—that's why you're here. Help us keep hyperlocal news alive in Long Beach.