Missed one or two of these monthly lists? Click here for the full archive of Favorite Things I'm Eating. Looking for other food listicles? Click here.
****
A few years back, I wrote an Essential Long Beach Dishes listicle. I wrote it because there's something so elemental and useful about a specific great dish at a specific place. It was less about some grander proclamation than it was about, "This is just great food."
And I want to return to that, but the reality of that list is that some restaurants went out of business, some ingredients aren't around, moods shift, seasons alter, food changes. Constantly.
So why not just own the moment? Without further ado, here are the favorite things I'm eating right now—and this month, following our attempt to go vegan for January, is definitely a meaty list…
****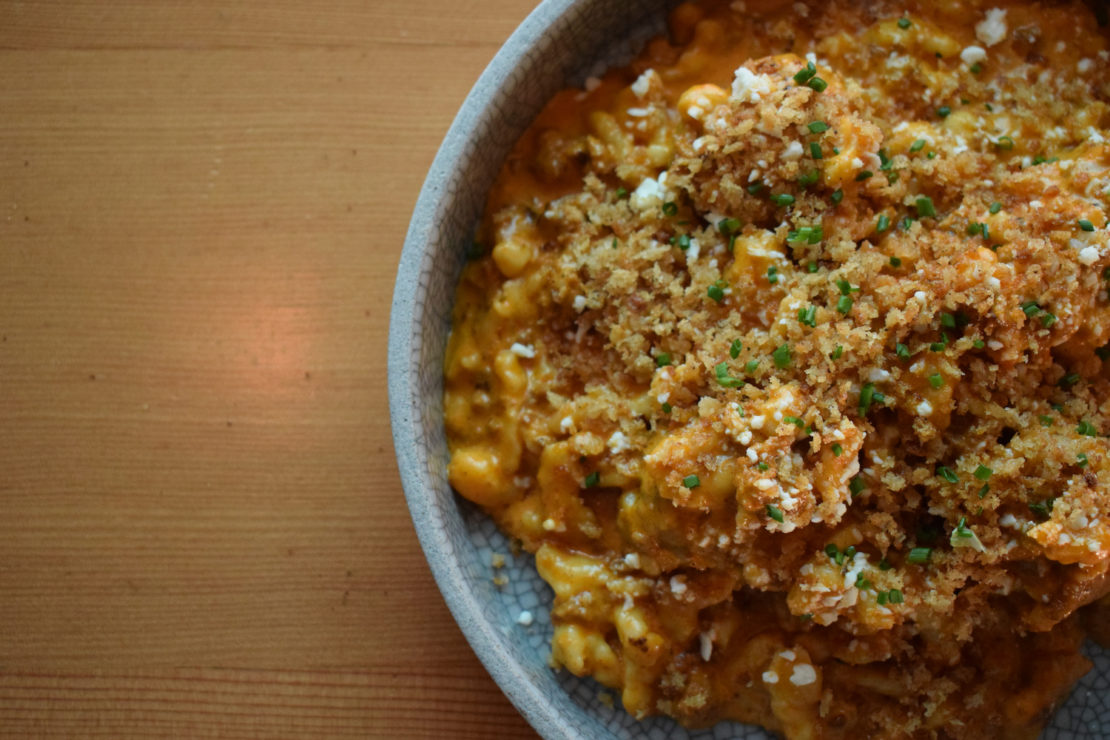 Albondingas con spaetzle at Panxa
3937 E. Broadway, Belmont Heights
Chef Arthur Gonzalez's Panxa is his ode not only to New Mexico—the southwestern state which earned his affection with its hatch chile wonders—but to his own blend of heritages: half German, half Oaxacan.
This is unquestionably best exemplified in his wonder of a dish, albondingas con spaetzle, that has been on its menu since day one.
Albondingas take many forms throughout Mexico—you can find everything from beef to chicken versions of the meatballs—and it most often takes on its full form in a piping hot caldo, one of the soul foods of Mexico. Meatballs, stuffed with rice and layered with salt, cilantro, onion and whatever your Abuelita feels like putting in them, are cooked in a light, soup broth with various other things that depends on the chef's heart at the time. Sometimes potato, sometimes not. Sometimes chayote, sometimes not.
Spaetzle is like albondingas; it too takes on many forms in Germany: spätzli, spatzen, and knöpfle. But the base is relatively the same: a handmade egg pasta that is boiled and then tossed in browned butter, which creates a creaminess to the dish that is both simple and wondrous. Some add other things on top of this—cheese, sauces, gravies—while some don't.
For Gonzalez, his albdonginas are created with a triad of proteins—beef, pork, and veal—that sits atop a plate of house-made spaetzle tossed with butter and cotija, all of which is lathered in a chorizo gravy. It's utterly full of flavor, it's wonderfully weird and it's as comforting a plate you can have in Long Beach.
****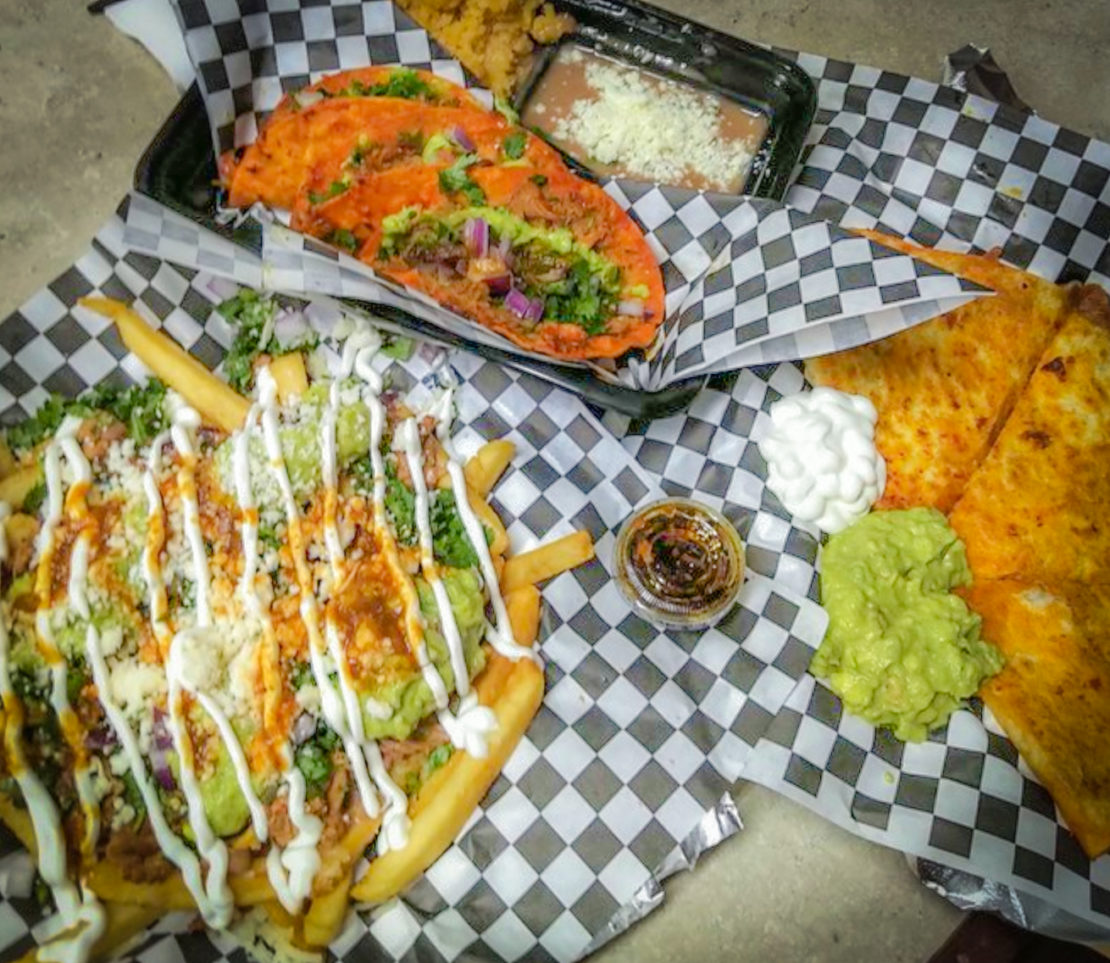 Tri-tip birria at Bryan's Birrieria 
1537 E 4th St. inside Jerry's Place during nighttime hours; Fourth Street Corridor
At nighttime, Jerry's Place—the breakfast joint that used to be called Tony's Place—shifts over to a man named Bryan. And Bryan makes birria out of tri-tip, something I learned from my cohort Sarah when she mentioned it on our last podcast.
Slow-cooked over the course of seven hours, Chef Bryan braises his version of the Jaliscan classic in a stew of tomatoes and oregano after marinating the slab of beef in a concoction of Guajillo chiles, garlic, vinegar and other sorts of magic. The result is a birria that harkens to some of the best versions I've had in Guadalajara: succulent, shreddy and perfection when slathered in onions, cilantro and Bryan's house-made chile oil.
You can also get them in taco form, where Bryan uses the juices from the birria to dip the tortillas in before throwing them onto a griddle and filling them with chunks of meat and whatever else your heart desires.
Of course, where the deviations away from Jalisco come in is where California grub shines: Bryan's birria fries—a concoction you are unlikely to find in the heart of Guadalajara—is a decadent assortment of fries smothered in birria, sour cream, guacamole, cotija, onions and cilantro.
It's the type of place that a neighborhood, especially given the bars sprinkled along Fourth Street, really needs and deserves. 
****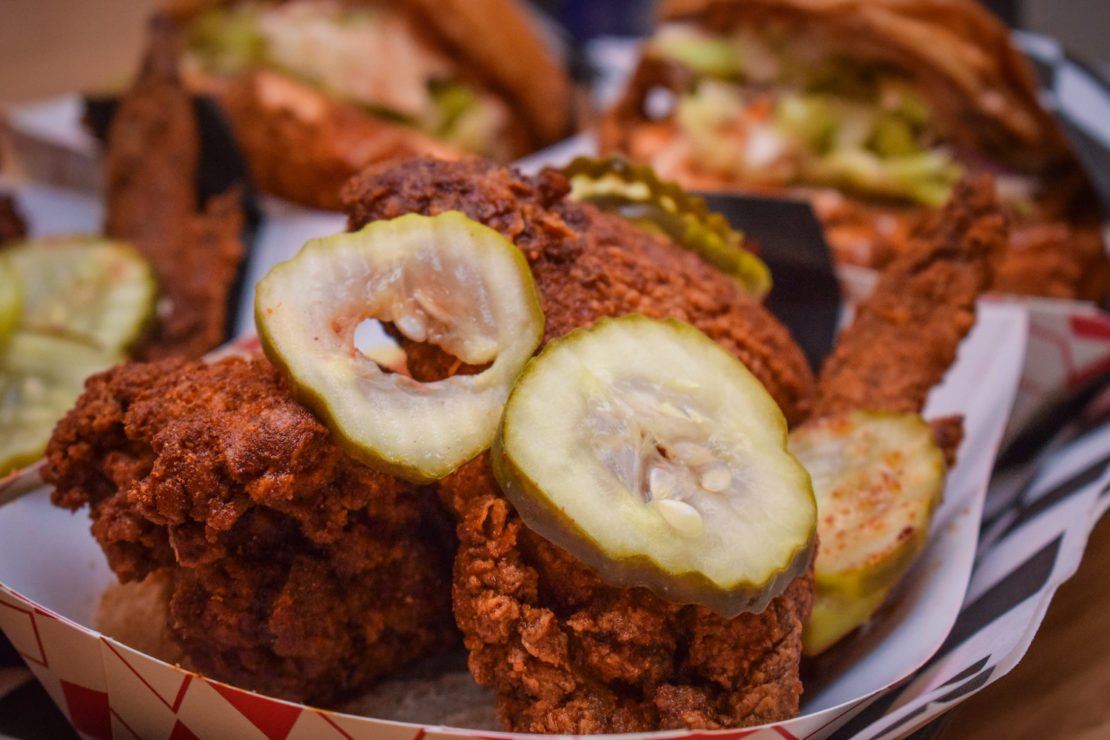 Nashville hot chicken at Fire Bird
3630 Atlantic Ave. inside Liberation Brewing Co.; Bixby Knolls
How could I write about not only the city's best version of Nashville hot chicken but one of the region's best version of the dish and not include it in my favorite things I am eating?
Thyda and Chet Sieng's ode to the Tennessee staple comes in many forms—a stellar sandwich a la Howlin' Ray's, mozzarella sticks, jalapeño poppers—but the true star of Fire Bird are their whole, three-joint wings.
Here, in the Nashville tradition, the talents of the cook are laid bare. You get nothing but two whole wings sitting atop a slice of white bread and topped with pickles, the latter accoutrements designed to help with the heat. Completely on par with Hotville and, in some ways, even surpassing Howlin' Ray's—yeah, I said it—Thyda's fried chicken are bits of fowl so succulent and so perfectly crafted that I encourage some folks to order them without the heat so one can have the simple enjoyment of stellar fried chicken.
But I am a glutton for pain with an inner masochist so itchy to express itself that I find myself unable to escape the heat. Ordering wings at Fire Bird's third level of five different heats, dubbed "Hot Chick," I definitely found myself in a sublime state of pain and adoration. I can only imagine what the "Ex-Wife" and "Suicide" levels might induce.
With the wing, beware: unlike the sandwich, there is no barrier between your lips and that spice. For those willing to endure the suffering, it is a trip unlike any other.
****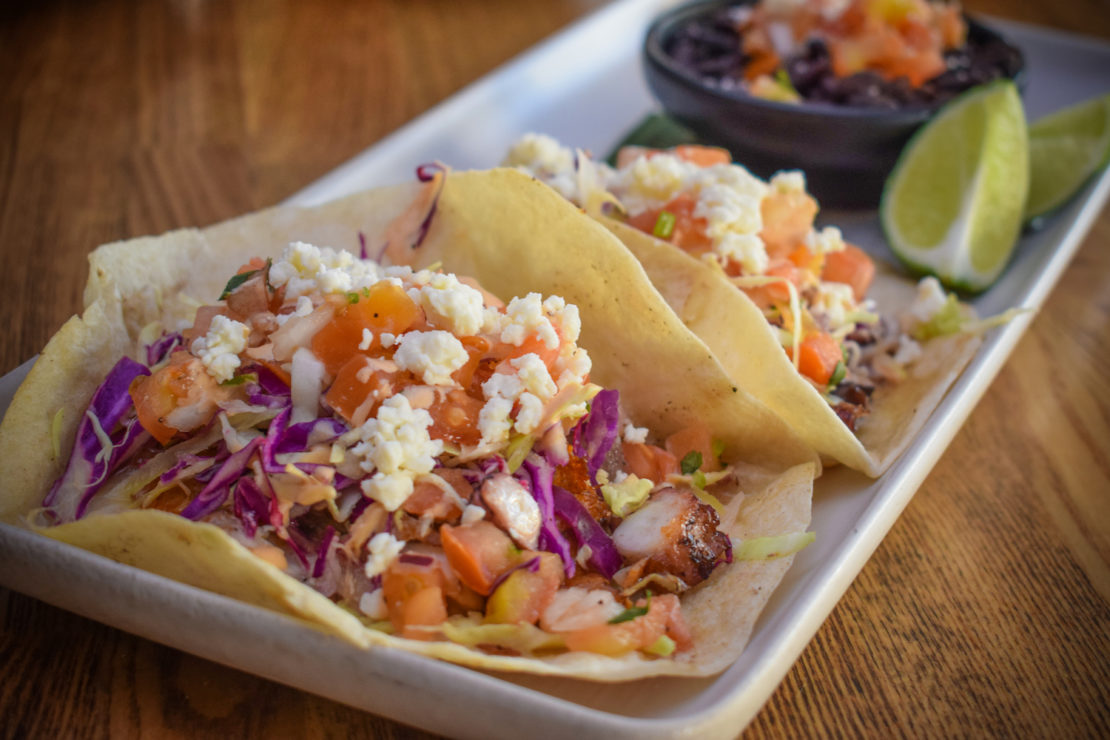 Octopus tacos at Lola's
2030 E. Fourth St., Fourth Street Corridor | 4140 Atlantic Ave., Bixby Knolls
I have a lot more to say about Lola's latest menu update—I was genuinely torn on what to include from it because I am also in love with the cochinita pibil tacos, the duck breast slathered in a deep, dark mole, the pulpo y camarones ceviche—and Chef Luis Navarro has a lot to say about his personal struggles as he joins me and other chefs on a special series about wellness in the restaurant industry.
Yes, there's more, but it's all going to have to hold for now.
The first time I ever had these tacos was when Navarro made them for no other reason than making them. He just wanted to make dinner. Out comes a plate with two massive tacos, stretchy flour tortillas stacked with rounded slivers of octopus, cabbage, cotija and a wonderfully creamy drizzle.
"Why aren't these on the menu?" I asked. "They're amazing."
Navarro, sadly, said that people just "didn't get it and they didn't order it." I never found octopus to be strange but then again, I was raised by an Italian mother that loved seafood, especially calamari and pulpi, using both to create carpaccio, soups and salads.
But Long Beach sometimes needs to be led, especially the patrons at Lola's, whose demands for regular menu items have blinded them to the incredible wide range of Mexican cuisine. Maybe they haven't ventured to places like Guelaguetza in Koreatown to experience tlayudas or, hell, up the street to Cheko el Rey del Sarandeado to experience the beauty of mariscos. 
Either way, it seems like Navarro is finally taking a step toward letting patrons understand his palate rather than catering to the masses—and it has resulted in wonders like this spicy octopus taco.
****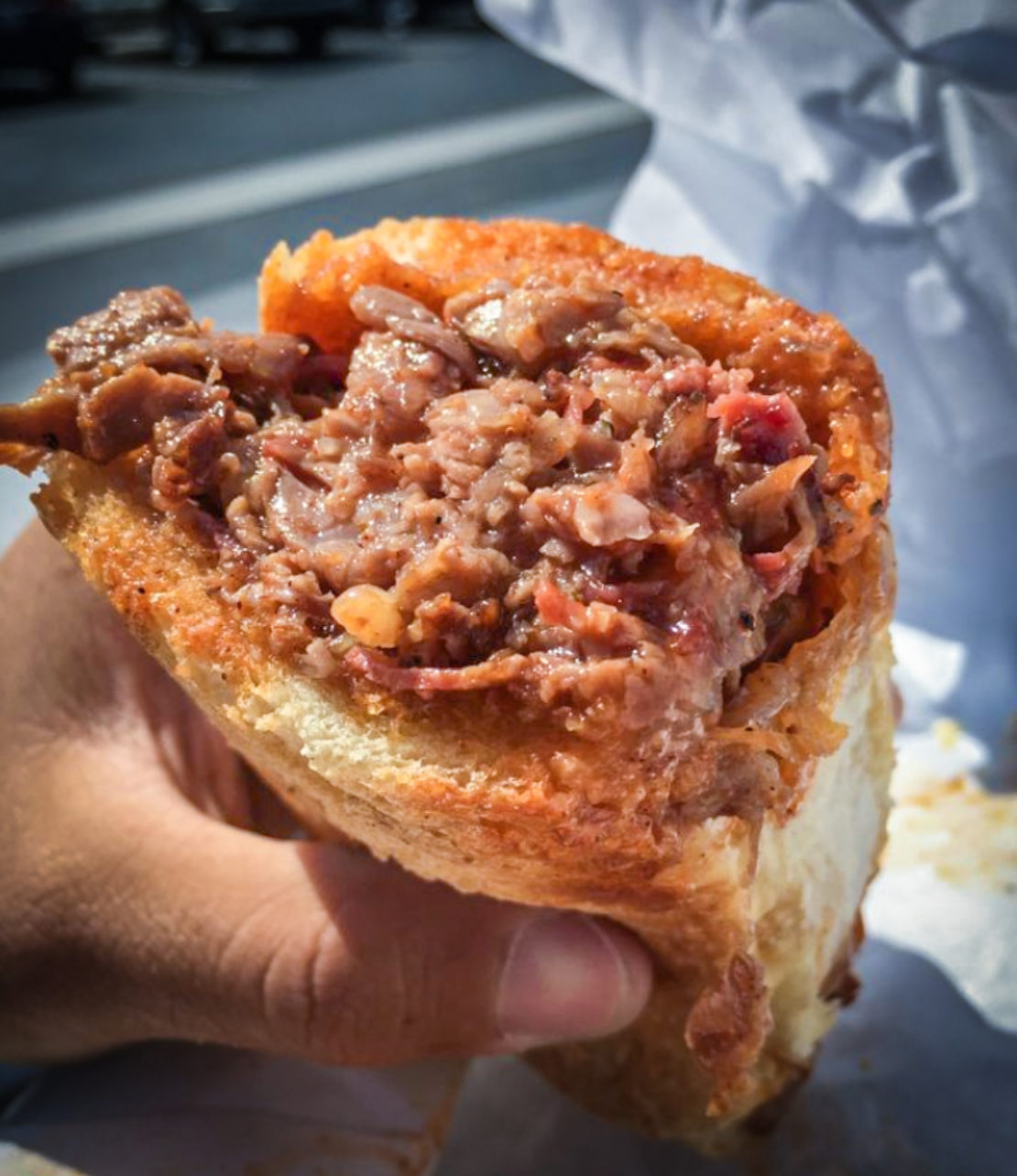 A sandwich at Beach City Deli & BBQ
1714 Clark Ave.; Traffic Circle
At first I was torn. Do I highlight the brisket or the tri-tip? The pastrami or the lamb dip? The corned beef or French dip?
The thing I am admitting is this: Beach City Deli & BBQ honestly deserves a piece of its own—and I'll get there, I promise.
For now, I am going to keep this short and sweet: Go there for some of the best sandwiches in Long Beach.
Located next to dive legend Interlude in the small strip mall on the eastern side of Clark Avenue at Atherton Street, it is one of those sandwich shops that is desperately needed in any city. Hot or cold, sweet barbecue or salty pastrami, pasta salad or potato salad, everything is precisely what you want from a sandwich shop while also have a bit of hominess that is hard to replicate. 
****
But, if I had to pick just one to live with for the rest of the month—just one—it would definitely be Thyda's Nashville hot chicken, an exemplary example of one of the most respected foods in the American culinary canon.
Brian Addison is a columnist and editor for the Long Beach Post. Reach him at [email protected] or on social media at Facebook, Twitter, Instagram, and LinkedIn.