Missed one or two of these monthly lists? Click here for the full archive of Favorite Things I'm Eating. Looking for other food listicles? Click here.
****
A few years back, I wrote an Essential Long Beach Dishes listicle. I wrote it because there's something so elemental and useful about a specific great dish at a specific place; it was less about some grander proclamation than it was about, "This is just great food."
And I want to return to that, but the reality of that list is that some restaurants went out of business, some ingredients aren't around, moods shift, seasons alter, food changes. Constantly. So why not just own the moment? Without further ado, here are the favorite things I'm eating right now…
****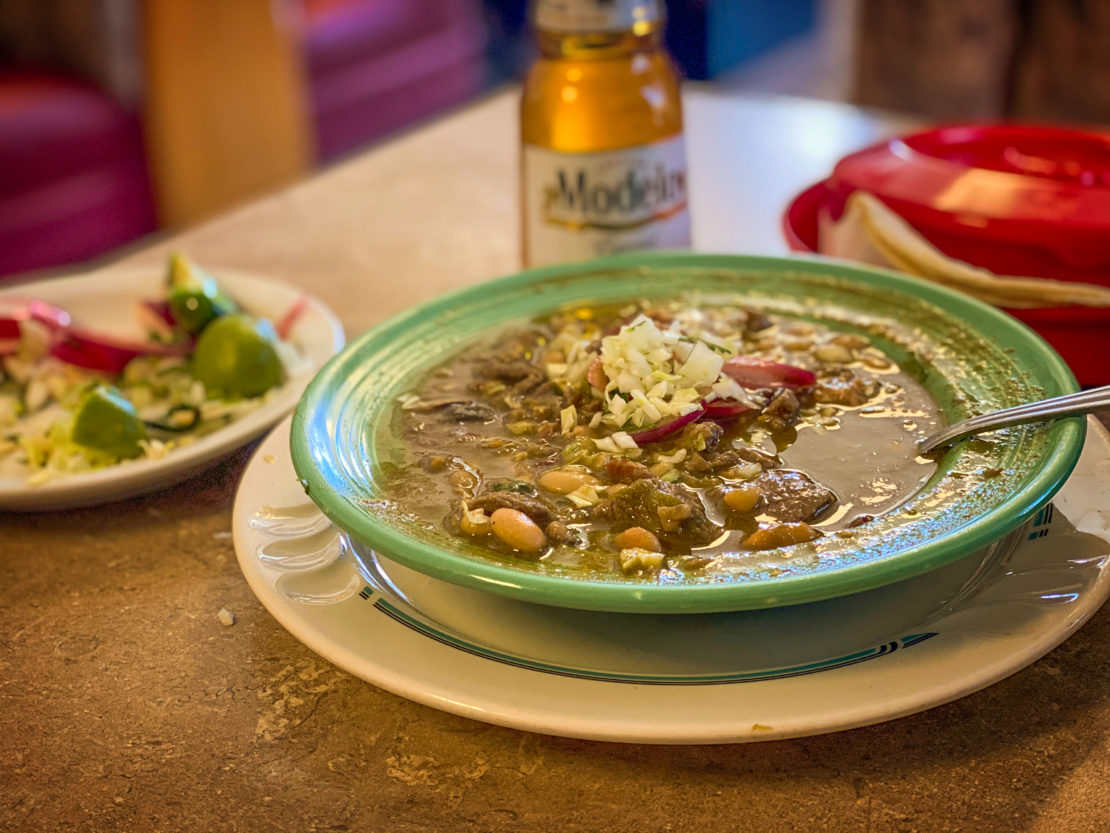 The carne en su jugo at Cañadas Grill
3721 E. Anaheim St.
Like many of Mexico's grand states, Jalisco is one that is filled with culinary glory: from being the birthplace of torta ahogadas and birria to being home to brilliant interpretations of classics, like the Jaliscan version of flan known as jericalla, it is no shocker that the owners of Cañadas Grill in Long Beach's Zaferia hail from this area, given their menu.
And one particular stand-out is their utterly delectable caldo known as carne en su jugo, roughly translated as "meat in its juice"—and one of the most satisfying, hearty representations of Jaliscan cuisine.
This chunky soup, where minced and roasted bits of beef marinate and stew in their own juices with tomatillos for hours on end, combines that beefiness with chunks of bacon and whole white beans. Cañadas gives you a healthy side of lime slices, raw onion, cilantro, cabbage, roasted jalapeño, and pickled onion to add to your liking. 
Grab a cerveza and I promise that you'll be in autumn heaven.
****
Barbecue at Robert Earl's BBQ
703 E. Artesia Blvd.
It has been way too long since I've given Robert Earl and his masterful pit skills some love.
And he deserves it because real barbecue—whether you're talkin' Texan or that of Carolina—is actually extremely difficult to find on the West Coast. But the best Texan barbecue west of Texas is right here in Long Beach.
Honestly, the lack of recognition for Long Beach's BBQ scene—and yes, that includes the much-missed Bigmista—is, at least for me, offensive by this point. Have I not screamed my praises loud enough that the Los Angeles Times will finally move past Bludso's and into the smokey Church of Robert Earl?
Beyond Robert's smiling mug and humble demeanor, and beyond the straight-forward paper tray with red-and-white checkered paper that everything is served in, it is the meat and the talent of the man cooking the meat that makes Robert Earl's BBQ the best of the best.
Even those who opt for the chicken will rejoice at Robert's ability to make it succulent, moist and with a skin so perfectly charred and crispy that it's actually worth ordering again. Should one be resistant to clogged arteries, their links—bites that look overcooked yet pop with a moist spiciness that makes them spot on—are one of many pork options and lay testament to the fact that their beef and pork is where it's at.
The ribs are simply and generously seasoned with salt and pepper, charred to perfection and slathered with Earl's not-too-sweet sauce that makes it extremely difficult to not overeat.
If there's one thing at Earl's that will certainly make you gluttonous, it's unquestionably the brisket. It's the stuff of legend: beef so tender that it falls apart without much effort while causing one to slowly close their eyes in full, meat-fueled bliss.
****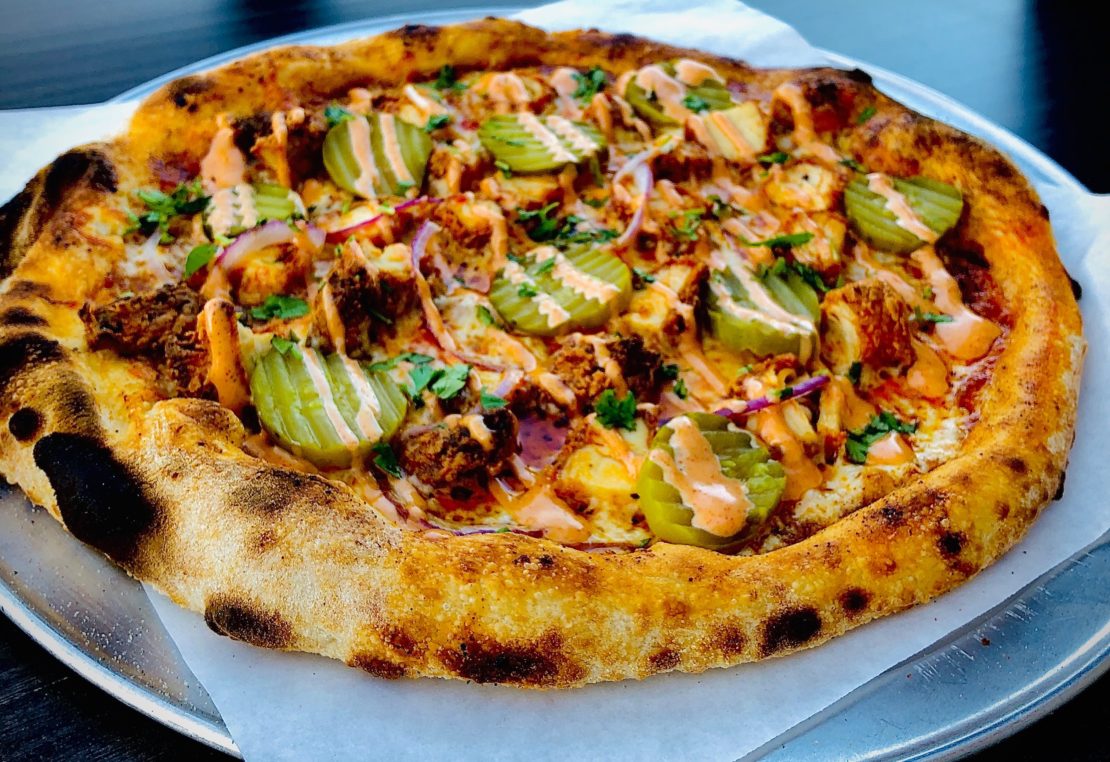 The Nashville Hot Chicken collaboration pizza at Pow Wow Pizza with Fire Bird
4085 Atlantic Ave., Unit B
It was only a matter of time before two of my favorite joints—Pow Wow Pizza, featured on my underrated restaurants list earlier this year, and Fire Bird, easily the city's best version of Nashville's famed hot chicken—came together for a masterpiece.
Yes, this is the Nashville Hot Chicken Pizza and, this is important, it isn't available until tomorrow, Nov. 1. I had the pleasure of sneaking a bite into this bad boy and the result is a wondrous, creamy concoction where the immense heat of Chef Thyda Sieng's hot chicken is countered with the milky comeback sauce and layer of cheese underneath. Then the saltiness of it all is sliced through with the tartness of snappy dill pickles.
It's fusion food—Long Beach fusion—at its finest.
And if for some reason there is not enough heat in Thyda's fiery bird…
****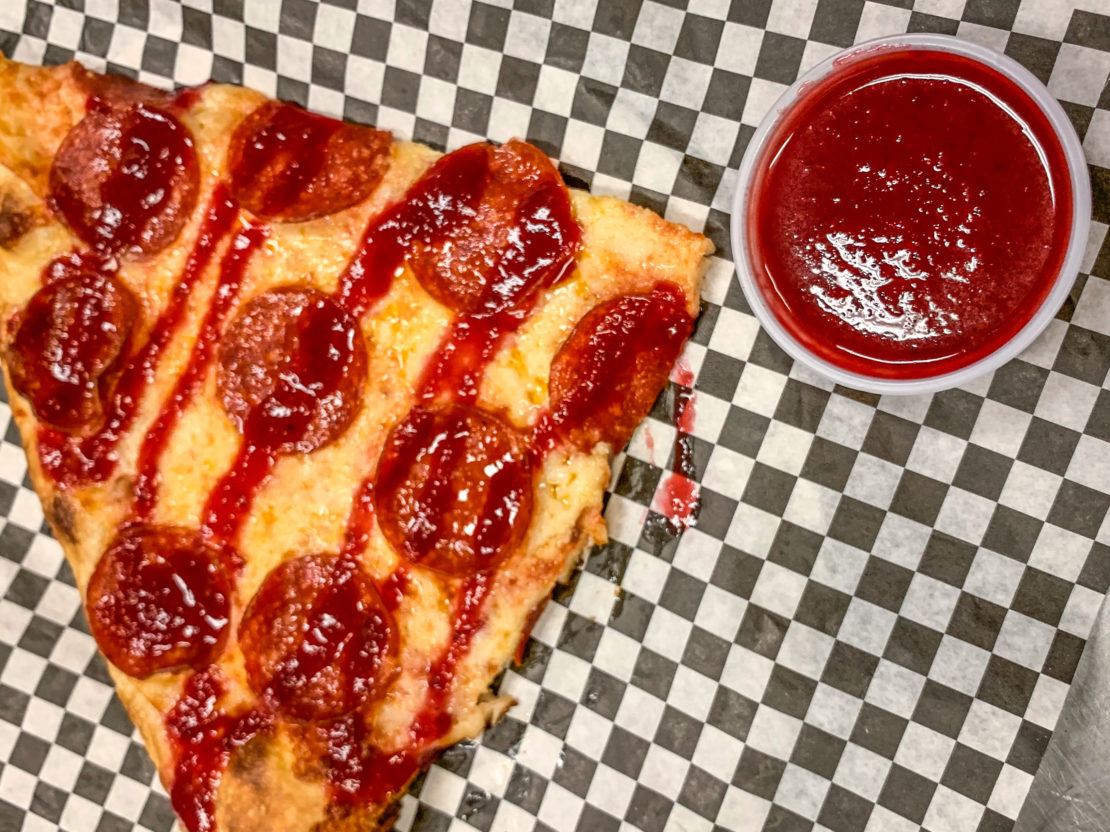 The Damnation hot sauce at The 4th Horseman
121 W. Fourth St.
…then look toward Chef Adam Schmalz of The 4th Horseman. 
Listen, I don't want to make this pretty. This isn't "nice" and it isn't "classy." This is a no-Fs-given, take-the-heat-or-get-the-hell-out-of-hell blend from the craziness that is Schmalz's steel-like palate for heat—a palate, mind you, that will put anyone on "Man vs. Food" to shame.
His already-packin'-heat apocalyptic sauce, the beautiful concoction he has been offering since the pizzeria opened its door, was already addicting for me: pineapple and habañero married together where, for once, the chile and not the fruit was the star—and most can't handle it.
Damnation is beyond this. Well beyond. It was first featured on a pizza with the same name, where bits of spicy braised pork were countered with mozzarella and ricotta cheeses, tart artichoke hearts and balsamic mushrooms—and then blown to a whole new level of hell with his Damnation sauce, a brightly purple/blood red mixed berry sauce where the almighty scorpion pepper stars. The result? A hot sauce where the tart sweetness of the berry hits you first before a long, deep, sustaining fire perpetually burns more and more with each bite.
This one is dangerous—I really mean that. So beware but, of course, suffer through the beauty of it all.
****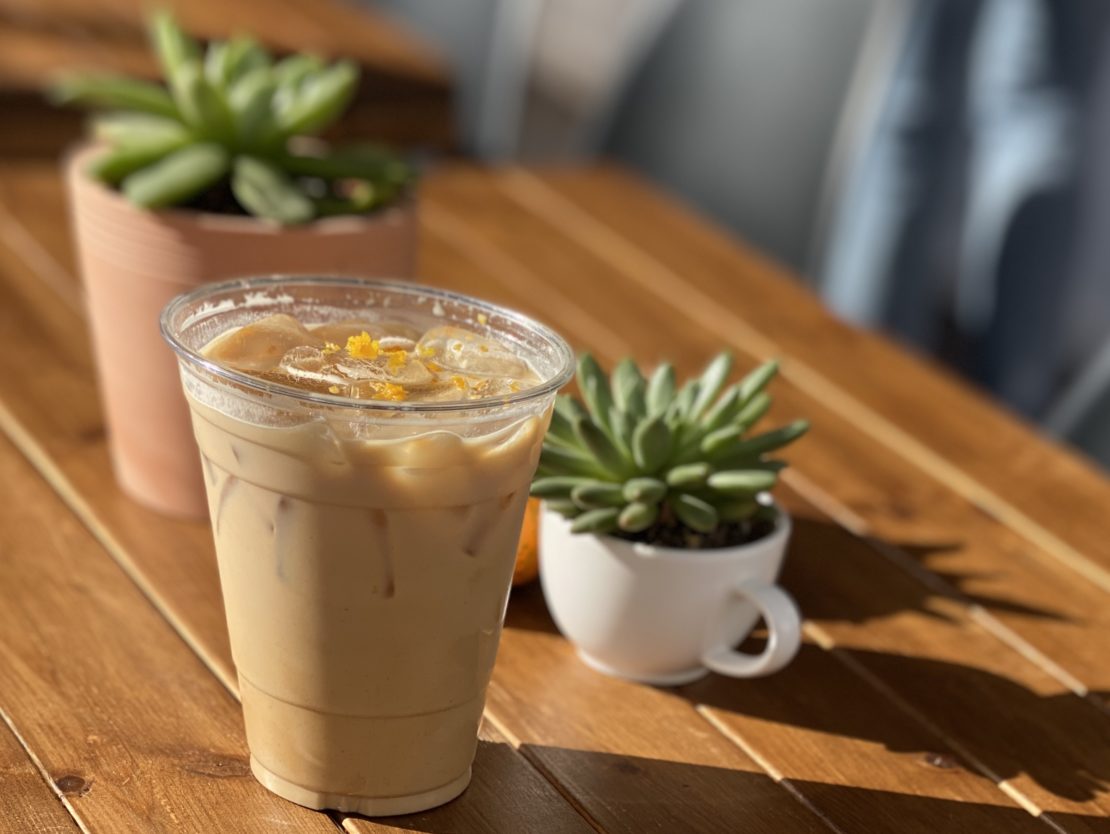 The Orange Cardamom Latte at Ground Hideout
356 E. Fourth St.
My new favorite house of caffeination is one I've kept relatively quiet about because, well, I like having it to myself.
The Ground Hideout is everything you want in a coffeeshop—serves stellar beans like those from Verve, offers a limited-but-not-boring selection—but with a truly beautiful, Long Beach twist: It is owned and operated by the Bonilla family, a Honduran crew where dad, often handling pastries in the back, and Mom, have immigrated to help son Alex and daughter Andrea achieve business greatness.
And their children deserve that chance: Andrea has a great palate for coffee and her orange cardamom creation proves that. Reminiscent of the balance that Bobby Hernandez's crew over at Recreational strain to put into every mixed drink, Andrea's latte is one that is what makes specialty coffee so wondrous: never excessively sweet, it is aromatically astounding and beautifully balanced; a drink worth coming back for over and over.
***
But, if I had to pick just one to live with for the rest of the month—just one—it would definitively be Robert's barbecue, an ode to a man's lifetime of dedication to the pit.
Brian Addison is a columnist and editor for the Long Beach Post. Reach him at [email protected] or on social media at Facebook, Twitter, Instagram, and LinkedIn.