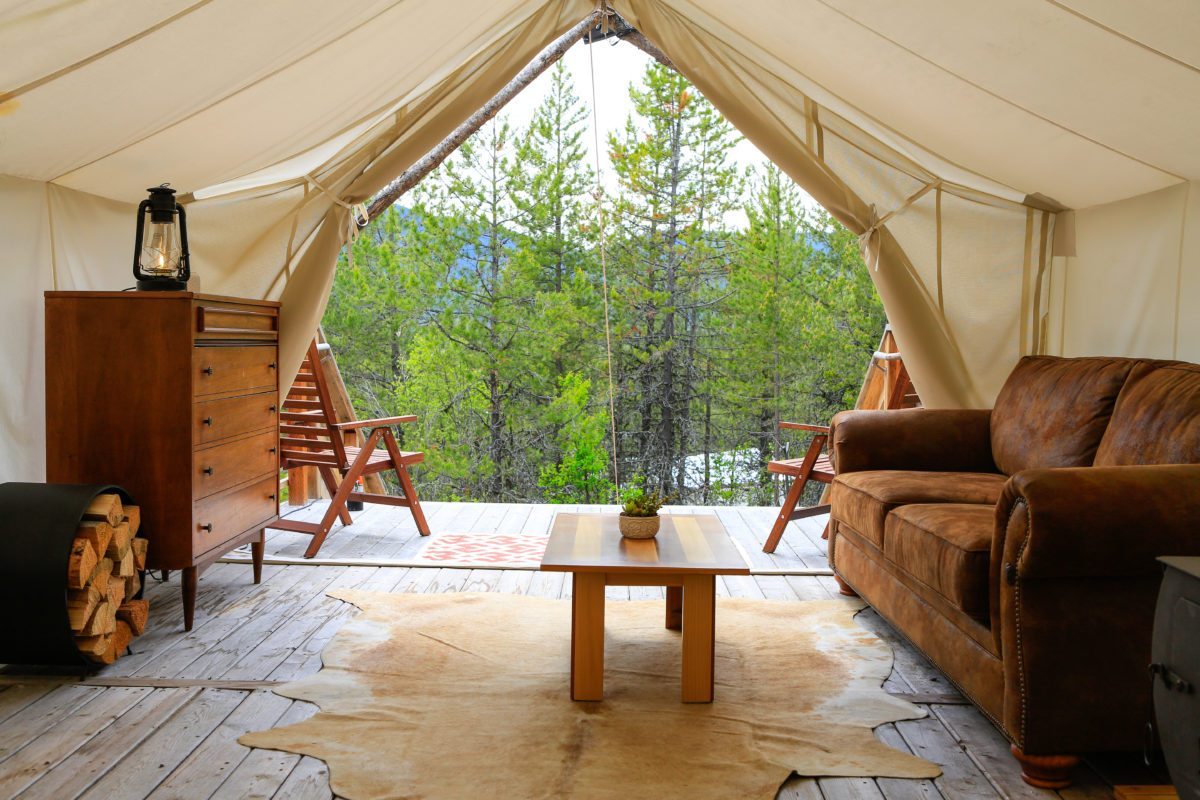 'Glamping' is coming to one of Catalina Island's most secluded areas
Glamping, Camping-in-Quotes where comforts and luxuriousness are brought to nature instead of roughing it side-by-side with the wild, is nothing new. But for Southern Californians, it's largely cast to spots in or above Santa Barbara, with the ultra glamping sites—like the Redwoods Treehouse in Sonoma or the Big Sur Treebones camping area—reserved for NorCal.
This is why the fact that glamping coming to one of Catalina Island's most secluded areas is great news for those seeking the more comfortable side of nature.
Under Canvas—founded by Sarah and Jacob Dusek, who profess that "ethically experiencing the outdoors doesn't mean you have to sacrifice the creature comforts"—has been partnering with various organizations in order to open four new California glamping locations: Yosemite, Joshua Tree, Sonoma and Catalina Island. For the island, the pair has been working with the Catalina Island Conservancy for the past year in securing exclusive glamping rights to White's Landing, a secluded area on the east side of the island just north of Avalon.
Currently, two yacht clubs—the San Diego Yacht Club and the Newport Yacht Club—share the harbor, with retirees often docking all summer, while an environmental education non-profit organization called The Catalina Experience operates a youth camp at White's Landing Beach. Canvas have an operation in the harbor separate from these entities.
Glampers can expect the usual from the Under Canvas team: a variety of tent options that often include private decks, flushing toilets, full showers, king size beds, fresh linens daily, and more. Tents range from around $220 to upwards of $400 per night.
According to Jessica Boudevin of the Catalina Island Conservancy, Under Canvas is not expected to be ready to welcome glampers until next year.
For more information about Under Canvas, click here.
Brian Addison is a columnist and editor for the Long Beach Post. Reach him at [email protected] or on social media at Facebook, Twitter, Instagram, and LinkedIn.
Support our journalism.
Hyperlocal news is an essential force in our democracy, but it costs money to keep an organization like this one alive, and we can't rely on advertiser support alone. That's why we're asking readers like you to support our independent, fact-based journalism. We know you like it—that's why you're here. Help us keep hyperlocal news alive in Long Beach.