For 36 years, Joe van Ruiten has gotten up at 5 a.m. to begin the day at Milk Barn Pizza & Dairy, the grocery drive-thru and restaurant that has sustained him and his family while serving the community since 1983.
Sporting his black polo, proudly embroidered with the business' well-known logo, he sits at one of a handful of tiny tables, hands folded, looking at the space he's called home for nearly four decades—and one he will call home for the last time when the Milk Barn serves up its last slices of Sicilian pizza and hefty pastrami sandwiches on Saturday, Nov. 23, before beginning the process of creating a new home for the Italian-American staple.
"It's been one helluva ride," he said. "But I just can't keep up anymore. My business has gone totally downhill. The moment Costco moved in—I mean, these tables used to be filled every day. But they come in with dollar-fifty hot dogs and it killed me."
It wasn't just lunchtime that slowed down thanks to the warehouse giant moving in: The Milk Barn's mainstay—dairy—saw a huge downturn. With Costco offering two-gallon packs of homogenized milk for a full dollar cheaper per gallon than Joe could offer himself, he watched his business income slashed by two-thirds over the past decade.
"Milk has gone up in cost 12 out of the past 13 months, and I have to raise my prices up with it," Joe said. "I have to. And then the [Long Beach Exchange] moved in: 20 different places just thrown into the neighborhood and it's affected every single one of us old-timers. Just ask any other business. Every restaurant is down."
Joe, now 65, also notes the rise in rents without the rise in income: "It's not just the cost of business going up, ya know, it's the cost of rent. These poor people spend so much money on rent that they have to brown bag their lunch for work. It's… it's disheartening."
Hands still calmly folded, Joe smirked as he looked toward the traffic passing by on Bellflower Boulevard.
"And while I have mixed emotions—I'm gonna truly miss this place—I am excited to take on this new adventure of reimagining the Milk Barn," Joe said. "I'm 65, I have health concerns, and I look at my family—my wife, her sister, their father—and this is for them."
****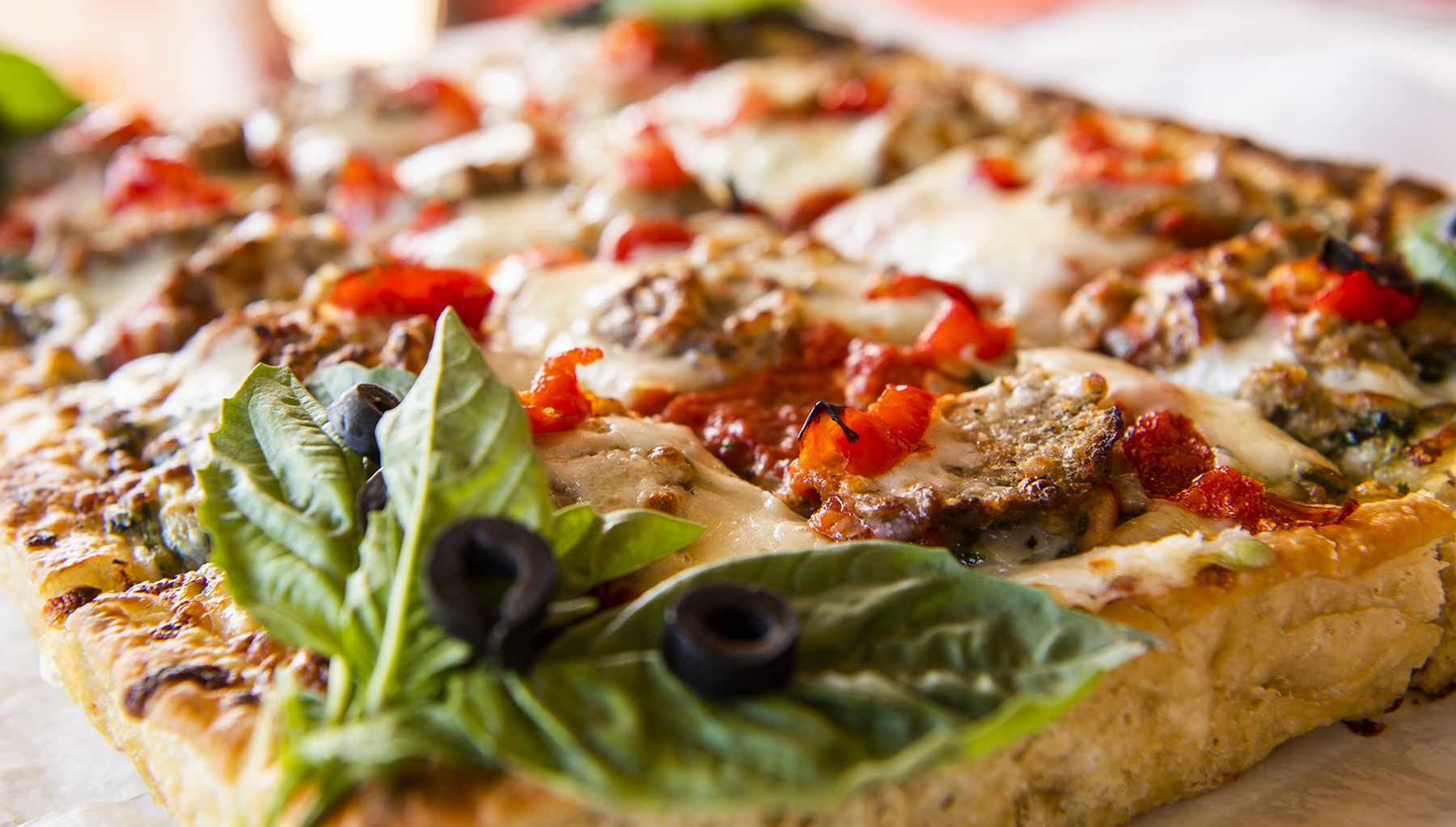 When Joe first met his wife Hester, the daughter of Filipino immigrants, he wasn't so sure of what he wanted to do with his life. While Hester was confident in the medical field as she worked toward becoming a registered nurse, the sight of blood made him squeamish and the sterility of the hospital environment left him uninspired.
"He knew he had something else within him. We never knew it would be this," Hester said, gesturing toward the line of cars, three already there at 11 a.m., waiting to grab their groceries. "There was a lot that could have gone awry. Truly. But by the grace of God, we've been here for over 30 years."
Noticing the drive-thru dairy market on Bellflower Boulevard, just south of Del Amo Boulevard on the west side, was for sale, Joe saw a double opportunity: the drive-thru was already successful, but a small building in the back held potential. Reimagining the space, he turned it into an Italian-American, serve-through-a-service-window—to much success.
His pastrami sandwiches—a generous heap of succulent pastrami stuffed between a flaky French bun, slathered in mustard and pickles—became the stuff of legend, where a hand-painted sign still stands on its ceiling proclaiming, "Press-Telegram: People's Choice Award! Voted Best Sandwich Shop."
And do not discount the grocer: Hester said it was always a "tug-of-war" between the front-of-house grocer and the back-of-house food counter.
"Do you remember that big grocery strike from its workers?" Hester asked. "Oh, there was a line for The Milk Barn down the street and around the corner because everyone in the neighborhood refused to cross the picket line. Of course, the heart was always here though, where we serve food."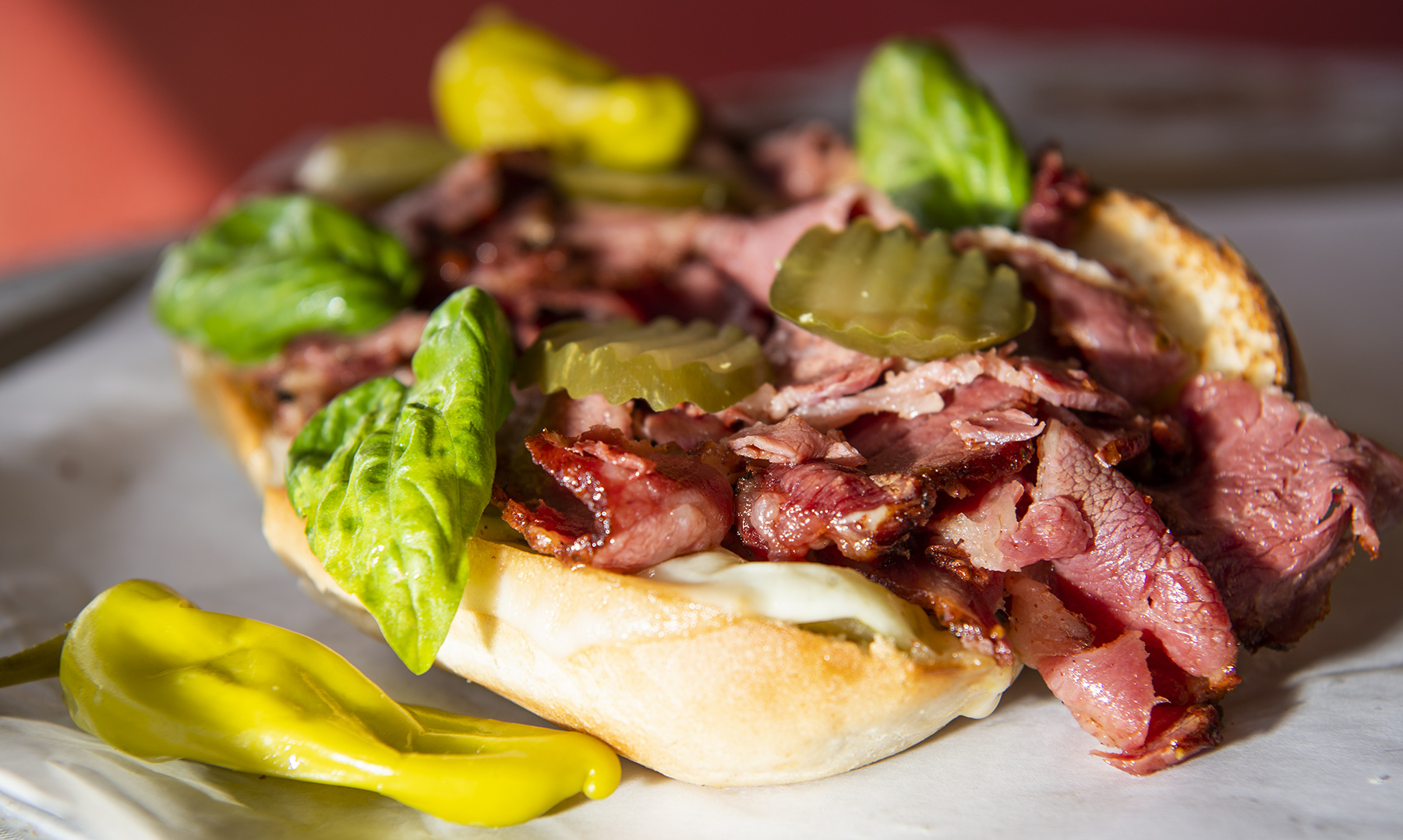 The years of serving up dependable but quality food couldn't keep the passion within Joe down. Wanting to hone his pizza skills and become a true pizzaiolo, there was no better way than to be under the watchful of chef Tony Gemignani.
Gemignani is the stuff of pizza legend: In 2007, the man became the first American (and non-Italian) to ever win the World Pizza Championship in Naples. Police had to actually protect him when he stepped on stage for fear that Gemignani would be attacked by the crowds.
A San Francisco favorite, Gemignani created a school—and that is precisely where Joe found a way to expand The Milk Barn's offerings.
"My Sicilian dough is from a starter that's nearly a decade old," Joe said. "It gives it a sourdough like quality after its been rising for 48 to 72 hours."
The result is a thick-but-airy crust that browns beautifully on the outside while staying soft and chewy on the inside—the perfect type of dough for, say, breadsticks.
"Oh yeah," Joe said. "The new spot will use this dough for breadsticks, which we'll serve with our housemade pesto or maybe even our pistachio sauce. We'll see. With way more sit-down tables, it's going to definitely be a different space."
****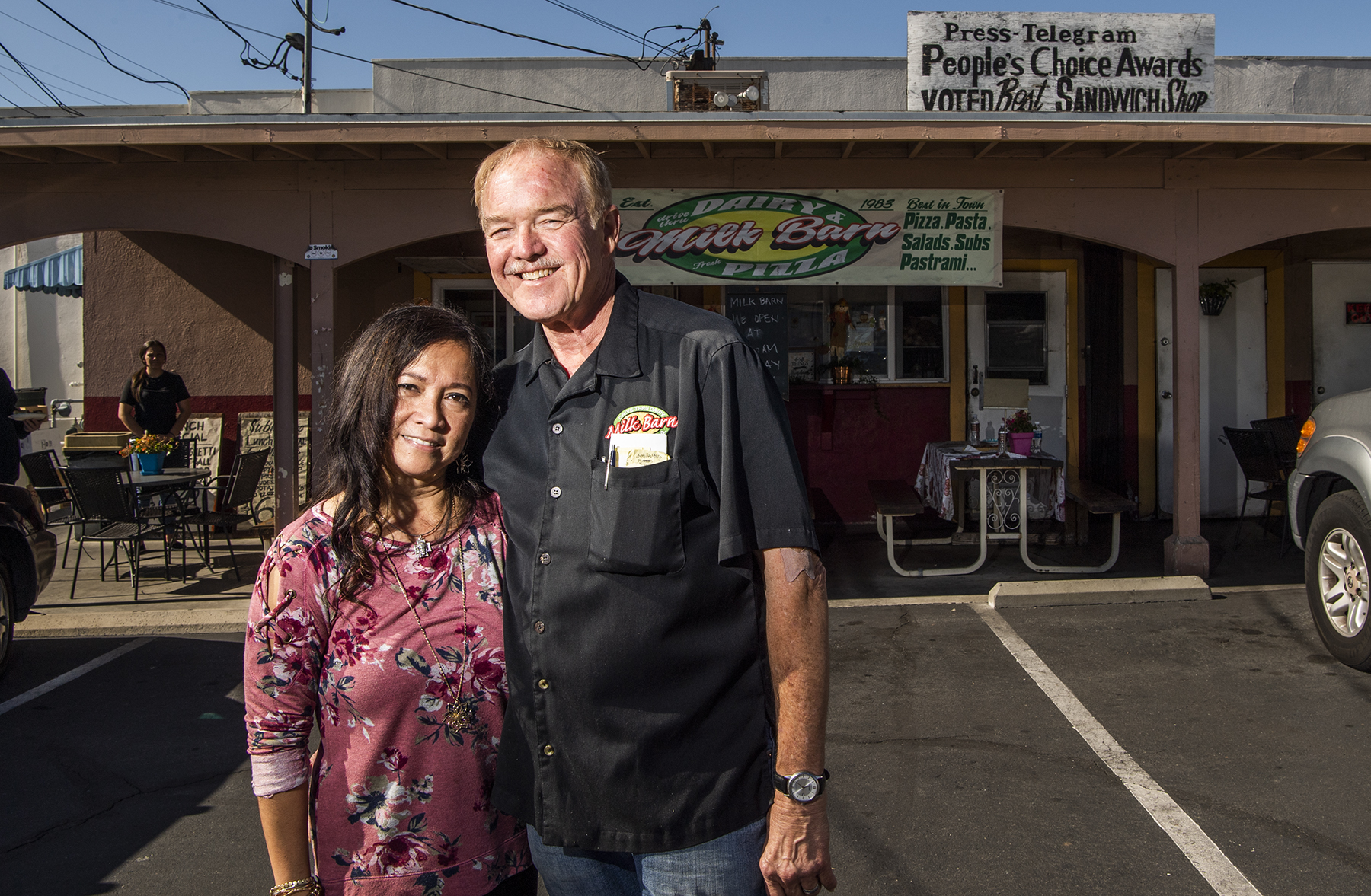 As the current Milk Barn makes way for a marijuana dispensary—the change is business has already affected Hester and Joe: they had to hang a sign proclaiming they were not a marijuana dispensary—the new Milk Barn will hopefully take over a space in Lakewood on Woodruff Avenue.
While it is still very much in the works, it will give both Joe and his family an opportunity to explore Italian-American food in a way they hadn't before.
"We're looking at a wood-gas combo oven to install that allows to fluctuate between really high temperatures and more moderate ones," Hester said. "I am so excited to be offering new things that we love—meat and cheese plates, even some vegan options—that we just can't do here."
Hester's optimism is always coupled with resilience. "Life happens" is a phrase that continually pops up when she looks back on her three-decade-plus life of bouncing between nursing and supporting her husband's business—which is perhaps why she is so proud to focus more on The Milk Barn.
"My personality is such to where I will make certain your visit is filled with warmth and generosity in our little restaurant to the point where you're gonna want to come back. I want to make sure you're getting good food and good service but more importantly, a respectful warmth. And we're not talking hanky-panky-warmth, you know" Hester said, laughing.
While husband-and-wife team hope for a six-month buildout of their new space, they are keeping mum on specifics because of the all-too-common process of opening a business in a new space: From contractors to permitting, time fluctuates in a way that is often unpredictable.
But there is one thing that is for certain when The Milk Barn re-opens.
"You're going to step in and want to bottle up the smell," Hester said.
The Milk Barn Pizza & Dairy, located at 4855 N. Bellflower Blvd., will have its last day of service on Saturday, Nov. 23, from 11 a.m. to 3 p.m.
Brian Addison is a columnist and editor for the Long Beach Post. Reach him at [email protected] or on social media at Facebook, Twitter, Instagram, and LinkedIn.